Squash and the Olympics
13th August 2009, Decision Day ...
Letter from Jacques Rogge ...


Programme – Games of the XXXI Olympiad in 2016


Dear [WSF] President,

Following the meeting of the IOC Executive Board in Berlin held today, we would like to inform you that the IOC Executive Board has decided to present the sport (in alphabetical order) of Golf and Rugby to the 121st IOC Session in Copenhagen. The decision of the IOC Executive Board was taken by secret ballot, in order to ensure an equal chance for each sport.

On the occasion of your presentation to the Programme Commission and the Executive Board, we have been most impressed by the professionalism and thoroughness of your proposition. Upon review of your documents, we certainly noted progresses on many fronts since 2005, and you should be commended for this positive evolution. We are convinced that your dedication will further contribute to the development of your sport.

Once more, on behalf of the IOC Executive Board and the Programme Commission, I would like to thank you and the entire Squash family for the work engaged and the excellent collaboration we have enjoyed throughout the 2016 Programme review process.

With my best personal regards,
Jacques ROGGE

on the forum


Gough laments Olympic omission - BBC Video

Grainger Gutted

"Squash ticks all the boxes and this time we put together a fantastic campaign. The IOC were looking for certain criteria and we feel we fitted the bill really well.

"But I really feel for the athletes - it would have been the pinnacle of their career to have competed in the Olympic Games in 2016. I'm devastated on behalf of the whole sport.

"But we're a growing sport, with two tours that are going from strength to strength, and we're getting more and more people playing Squash."

Alex Gough
PSA CEO

"The news is really upsetting to all those who have supported our bid and especially the players.

"Although the bid for 2016 didn't go our way we do have the 2010 Commonwealth Games to look forward to and will certainly push for inclusion of squash in the 2020 Olympics, as we believe that it should be recognised as a mainstream sport.

"Squash is played by men and women of all ages and is an extremely athletic and fast paced sport with both health and recreational benefits."

Zena Wooldridge
President, England Squash

From Facebook

"Forgive them, for they know not what they do."
Poku Salo
Finnish Squash

"Breaking News 3016: Squash finally makes it to the Olympics !!!!!!...... "Wait a second.......

"Nope sorry a slight mis-understanding it's Squach the new sport where players pick an IOC member and kick his ass to score ..."
Tarek Momen
PSA player

"Lost all faith in the olympics ... golf and rugby sevens voted over squash.

"They may as well have put darts and short tennis in!"
Joe Lee
PSA player

"Very disappointed & sad for our great athletes that deserve the Olympic stage. No way a Squash player would win a major at 59!"
Chris Walker
PSA Player

"Golf????? And Rugby 7's?? That'd be like having Mini Squash as an Olympic Sport!!!!!!!!!!"
Andy Holland
Austrian Squash

"Looking forward to seeing John Daly at the Olympics in 2016, smoking and hungover....the perfect Olympic athlete!!!"
Ramon Chan-a-Sue

How can you put an offshoot of a sport to the olympics????" ps golfers aren't athletes.
Kasey Brown
WISPA Player

"At least I can now retire before I'm 36... I'm off to get good at golf for 7 years' time ..."
Nick Matthew
PSA Player

"Dear IOC, upon inclusion of the pastime/game/leisure activity of golf please remove the term "athlete" from all Olympic reference material."
Brad Burke

"We have to work much harder to raise the profile of squash if we are to mount a new bid for 2020."
Alan Thatcher
World Squash Day

"Squash won't be olympic in 2016... Golf and rugby at 7!!! May be we can try to play squash at 7 on the court, we might have more chance..."
Celia Allamargot
WISPA Player

"Requiring immense skill, stamina and courage, and being played and represented globally by some of the fittest sportsman in the world, most people believe that squash is already in the Olympics because it's the sort of sport that should be!"
Phil Nightingale
PSA Player

"Sick of squash being considered a second class sport. Does Tiger Woods really need an Olympic Gold?"
Simon Parke
PSA Player

"Gutted Squash has not made it into the Olympics, where is the logic? Answer: these people do not know what they are doing!"
Fiona Geaves
WISPA Player

"Quitting squash to take up golf, maybe I'll get to play that in the Olympics when I'm 80. Get real IOC... Golf???? HONESTLY???"
Melody Francis
WISPA Player

"I'm bitterly disappointed at the decision to recommend golf and rugby 7s for inclusion in the 2016 Olympic Games ahead of squash.

"I remain firmly of the belief that squash is far better suited to the Olympic Games than either of the other two sports.

"Squash has invested heavily in developing the sport over the past four years and has greatly improved the game both for players and spectators.

"Squash players are renowned for their endurance abilities and their fighting qualities, and I'm sure everyone involved will stay focused on the ultimate goal of becoming an Olympic sport.

"We are fully deserving of being in the Olympic Games."

Gary O'Donnell
Chief Exec, Squash Australia

Golf's Olympic nod
is travesty
Brian Viner,
Independent, 15 August 2009

Never mind the furore over women's boxing, it is the admission of golf as an Olympic sport that depresses me. I love golf, but as a general rule of thumb, no sport should be admitted into the Olympic Games if there is negligible chance of an Olympic gold medal ever representing its most prestigious achievement.

Thus, tennis has no place in the Olympics, and nor does golf. It is sad, if not downright pathetic, that the International Olympic Committee pandered to the powerful golf lobby while again overlooking the claims of karate and squash, to name but two examples of globally popular sports that would benefit immeasurably from the IOC's endorsement.



BBC: Golf & Rugby set to join Olympics

MTTG: Golf & Rugby's delight

ESPN: IOC recommends Golf & Rugby

Telegraph: Where now the discarded?

Willstrop: Rejection not unexpected


The 15 Decision Makers

"After hearing the news that squash has not made the final two for inclusion in to the 2016 Olympic games I think it is fair to say the whole squash community is devastated.

"Maybe to some people squash being part of 2016 was nothing more than a pipe dream, but I can tell you many people have worked tirelessly trying to make all our dreams become a reality.

"Everyone involved (far too many to mention, but you know who you are) deserve much praise for the effort they have put in over the past six months in order to give ourselves the best possible chance of getting in and I think that is exactly what we did, give ourselves the best chance, but unfortunately on this occasion we came up short.

"The WSF has to learn from the experiences of the last four years, put together a strategic plan and most importantly make sure the right people are in the right positions to make things happen.

"People who genuinely love the game of squash don't give up and never will, there has to be a period of reflection on what went right and what went wrong but make no mistake, when that period is over we have to come back bigger and stronger than ever before.

"We will raise the profile of the game, we will raise the profile of the players and we will give this sport the 'commercial value' that seems to be so important to the IOC.

"With or without the Olympics our sport needs to improve its commercial value and this is something the IOC's decision has clearly highlighted.

Lee Beachill
PSA COO

"I speak for the whole sport when I say that we are hugely disappointed that the IOC Executive Board have not selected squash to face the wider IOC vote in Copenhagen in October.

"I believe that squash has come a long way in the last four years, not just in order try and gain Olympic inclusion but for the benefit of the sport as a whole.

"We have invested in developments and listened to players at all levels in order to help progress the sport. I believe that through this we have been able to take squash to a new level.

"Although we will not see our dream of being part of the Olympic Games from 2016, we will continue to improve the sport wherever possible, and will not give up on the belief that squash is deserving of and ready for Olympic status."


WSF President

Squash: 'Nul Points' ...

It actually took six regular rounds of voting to determine the winners. Rugby made it with the necessary majority of nine votes in the second round after receiving seven in the first round in which Squash and Roller Sports received no votes at all.

Golf started with only one vote in rounds one and two, received three in the third round and made the necessary nine votes in the sixth round after receiving six and seven respectively in between.

Karate came closest to joining Rugby, actually leading the first round with five votes, gaining five votes in the third round, four each in rounds four and five –but only three in final round. Softball was the only other sport to make it to the final round, steadily receiving two points from the second through to the sixth round.

| | | |
| --- | --- | --- |
| First Sport Election | Round 1 | Round 2 |
| Rugby | 7 | 9 |
| Karate | 3 | 1 |
| Baseball | 2 | 1 |
| Golf | 1 | 1 |
| Softball | 1 | 2 |
| Squash | 0 | --- |
| Roller Sports | 0 | --- |

Second

Sport Election

R1

R1x

R2

R3

R4

Karate

5

---

4

4

3

Baseball

2

---

2

1

---

Golf

3

---

6

7

9

Softball

2

---

2

2

2

Squash

1

10

0

---

---

Roller Sports

1

4

---

---

---

So squash got one vote, but we thrashed
Roller Sports in the playoff ...

Rogge:
"Golf & Rugby will be a great addition ... it came down to adding value ..."

"Golf and rugby will be a great addition to the Games", Jacques Rogge said after announcing the IOC Executive Board's decision to propose to the Copenhagen IOC Session in October to vote for GOLF and RUGBY to be added to the program of the 2016 Olympic Games in London.

The IOC president saw reason to have it stated in a press release he "elected not to take part" in the secret vote.

"All seven sports made a strong case for inclusion, and the EB carefully evaluated them in a transparent and fair process. In the end, the decision came down to which two would add the most value," said Dr. Rogge.

After referring to the key factors in determining a sport's suitability for the Olympic programme include youth appeal, universality, popularity, good governance, respect for athletes and respect for the Olympic values, he added: "Golf and rugby scored high on all the criteria.

"They have global appeal, a geographically diverse line-up of top iconic athletes and an ethic that stresses fair play."

All changes to the sports programme for 2016 are provisional and will be reviewed after the 2016 Games.


Grainger Gutted ...

"Huge disappointment. We've done more than we've ever done and it's a gut-shot. Squash deserves on paper to be an Olympic sport but with the IOC have a set of criteria and by their choices it is quite obvious that we have some work to do in terms of our governance and the exposure of our sport.

"Rugby and of course golf are another world. They are machines. I don't think we are looking to compete with them but I think we can show we can bring something to the Olympics.

"In terms of athleticism, skill and universality we deserve to be there. However we have some work to do on how we approach the bid and what we can do to make our sport more of a commercial vehicle.

"I felt like I have put my heart and soul into this bid and personally I am gutted. I think we have some very exciting things coming up and some joint ventures with WISPA and the PSA which is essential going forward.

"If we keep pressing on I think we will get seen. If we make the right decisions and we treat it much more like a business and get much more corporate we will be able to do some wonderful things. This is a terrific game and people love it.

"I think it is going to be a bit of a wake-up call for the WSF. They really need to sit down and take a hard look at what was and wasn't done. We need to start working much more together and we can't hide behind political this and political that. We need to take a hard look at ourselves and not just think we deserve something.

"We work our arses off to compete and I think we need to work our arses off to get into what is the biggest sporting event in the world – the Olympic Games. Resting on our laurels and leaving it too late has possibly been to the detriment of squash.

"We need to find out what it is that the IOC really want. I think getting no votes from the executive board in the first round - that's unbelievable to me. That we could be so far off – thinking that we were potentially in the top three for inclusion but we were nowhere near.

"Looking at it then it seems it was always going to be golf and rugby sevens. When you then examine what we were up against you get an understanding of where we need to get to if we are serious about getting into the Olympics. Golf and rugby sevens know about the corporate world and they know about business and that's what it is."


World #2, WISPA President

Sevens? Why not Olympic pitch and putt?
Des Kelly, Daily Mail, 15 August 2009

Having already delivered one excruciating verdict, the Olympic committee are now trying to pass two more decisions that I hope hurt more than kidney stones. They plan to add golf and rugby sevens to the already overblown Games itinerary by 2016.

Quite simply, golf has no place at the Olympics.

Advocates point out it is a very popular participation sport, but then so is fishing and I don't see anglers being ushered to the podium.

The rule for the Olympics should always be: ' Is winning gold the pinnacle of the sport?' If not, it shouldn't be at the party.

No golfer will ever care more about winning an Olympic gong than the Open Championship. It's the same with tennis and football; two more sports that have no place there.

As for rugby sevens, it's just an artificially truncated version of a proper game. What next, Olympic five-a-side football? Or how about pitch-and-putt instead of golf, just to be consistent?

Sevens chiefs insist a huge number of countries take part, but here's a list of every World Cup finalist since the inception of the competition: England, Australia, South Africa, New Zealand, Wales, Fiji and Argentina.

Add France, Ireland and Tonga to the list and you've basically named the entire 'rugby world'.

The truth is rugby sevens is only being introduced to enable organisers to fill stadiums left empty until the athletics starts in the second week.

Golf is only being courted because it attracts juicy, big-name commercial sponsors.

The Olympics is meant to be about gold, silver and bronze. But these days they prefer cash, thanks very much.

BBC previews: Olympic Chiefs to add new sports Seven sports seek Olympic love


10-Aug-09:
Strong we look...

Of course, this poll doesn't mean we've won. But it makes us feel good. In a few hours, 5835 people voted for squash, placing us with a nice 37% in the race.

What was nice as well, is to have French posts in the comments. Would be nice to have a few comments in Arabic, Russian, in Spanish, Portugese, Chinese, Malaysian, etc.

Still, let's not fall in the trap of criticising the others sports, people. That's not the point, is it? We just want to get on the list by merit, not by slendering the others....

Like our PSA CEO Alex Gough said in Singapore, 'We don't care what the second sport is, so long as the six letters of ours are up there too."

Come on, a few more votes on that poll, a few more multi-lingual comments, that will make our representative to the Games' work easier...
17-Jun-09:
Squash for 2016,looking good!

It may be a little premature, but we all know that squash truly deserves a place in the Olympics, so why not imagine what it would be like if we actually got there ...

After the presentations of the seven candidate sports in Lausanne, the IOC listened to presentations from the four candidate cities for 2016.

Whichever one wins, one thing is sure - squash would look good in any of them ... the cities' bids
15-Jun-09:
Hanna Shines at IOC Presentation

Today marked a crucial step for the sport of squash in its bid for inclusion in the Olympic Games from 2016. A team of six squash representatives made their most important presentation so far to the International Olympic Committee (IOC) Executive Board in Lausanne, Switzerland. But it was the youngest member of the group, 13 year old Hanna Fekede Balcha, who was the star of the show.

Hanna is Ethiopian, but her family moved to San Diego, USA, when she was nine years old to build a new life for themselves. Hanna was accepted to the Surf City squash program in San Diego which enables students to play squash alongside their studies.

Through a structured programme which promotes hard work, both academically and physically, Hanna has progressed to being a Grade A student as well as Under 15 Urban Squash Champion. Her aspirations are now to push boundaries even further in becoming the first member of her family to go to university but also, at 20 years old, her dream is to represent Ethiopia at the Olympic Games in 2016.

Hanna joined the team consisting of IOC Member and Squash Patron, HRH Prince Imran of Malaysia, President of the World Squash Federation (WSF), N Ramachandran, women's world No 1, Nicol David of Malaysia, former world champion, Frenchman Thierry Lincou and the up and coming South African, Siyoli Lusaseni.

Prince Imran introduced the team, and the Executive Board was then shown a spectacular video, highlighting a number of the key areas that squash believe make them a worthy candidate for inclusion.

Among these were the progression the sport has made to be easier and more enjoyable to watch on television, the pledge that the top athletes would compete, the range of nationalities that would be represented (current rankings show there would be 30 different countries involved) the low cost and accessibility of the sport around the world.

President Ramachandran went on to explain how the WSF has improved the infrastructure of the game, and the way in which the professional organisations work to ensure that squash is totally ready to be easily incorporated into the Olympic Games.

He also talked about the ease and low cost addition of squash as well as how the sport can easily be hosted in any of the four 2016 bid cities. The players each outlined why, as athletes, the Olympic Games are so important to them personally, and the many benefits which squash can bring to people's lives, and to the Olympics.

"I was really nervous but enjoyed doing the presentation today. It has been amazing to travel to Switzerland and meet my hero, Nicol.

"I feel like squash has given me so many opportunities that I wouldn't have had otherwise that when I was asked to take part in this presentation I jumped at the chance.

"I would be so happy to compete at the Olympic Games."



"I am very proud of the presentation we have put together and what we have achieved in getting this far.

"I believe that we have showed squash to its full potential.

"I know that we have much to offer the Olympic community, and I hope that the IOC will see the merits of our inclusion."




New Squash 2016 Video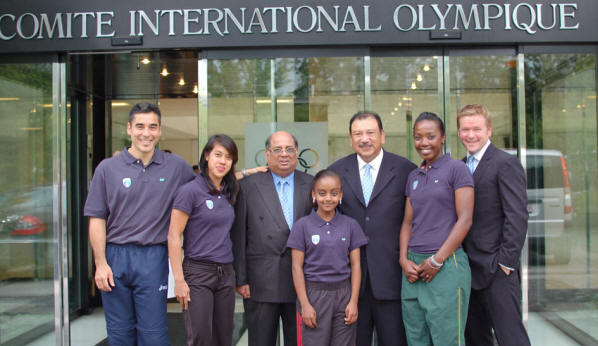 Thierry Lincou, Nicol David, N Ramachandran, Hanna Fekede Balcha,
HRH Tunku Imran, Siyoli Lusaseni, Scott Garrett

The Presentation: Rami introduction, Nicol, Siyoli ...
HOT OFF THE LINCOU PRESS…

We just got out, we are all still like shellshocked, but also like freed, the pressure, a positive one, and now, the relief. Tears were running, tension just disappeared, the feeling of a great team work well achieved… It's just an amazing moment we just all lived through.

It has to be noted that we were last on, so, we told each other that we had to be really stunning, as all the committee members must have been a bit tired, listening to the six previous presentations…

I must admit that I've done a few presentations in my career, and I have felt great emotions, but when I entered that room, when I saw the distinguished audience… you know you are about to talk to la crème de la crème, you know you are entering a different dimension.

And not only I could feel my heart beating like never before, but I swear I could hear it beating, resounding, boom boom, boom boom, it was impressive!

It was all about the team work we had to do, the responsibility I was carrying, the message I was trying to transmit, but all about the implication and the repercussion of the words that I, as part of the team, was about to pronounce…

But really, it must be stressed that the star of the show, the one that impressed me, and all in the room, was Hannah, the little girl from Ethiopia. At 13, her poise, her calm, her speech and delivery were impressive, and everybody fell under her charm.

To the point that when Jacques Rogge, at the end, asked if there were any questions, nobody raised their hand. It was like nobody dared break the spell.

From my own point of view, I never felt such pressure. Now, we have done our utmost best, our destiny is within their hands… To win our bet, we had to play the Perfect Match, we didn't have the right to a single tin.

And I truly believe that is what we did…


THE FRENCH VIEW

You may not know this, but Thierry Lincou was playing on Sunday for his Marseille Team in our French Team Championship.

Normally,we would have played the final around 14.00, maybe 15.00.

Well, thanks for the Presentation, Thierry had to be in Lausanne at 17.00 that day. Mmmmm.

Only solution, to play his match at 10am, for him to catch the 12.30 train from Aix, to get a car from Lyon and then drive to Lausanne.

I can't tell you how glad we were all to be following a final at 10 freeking am!!!!

But then, it was for the best reason of them all, our possible inclusion to the Olympics.

Right after the presentation, Thierry expressed the emotions he felt throughout the "show".

Emotions, yes, I guess that's the right term for it….


PS. And Marseille did win the title, for the first time in their long history… Could that be an omen?

The Presentation: Thierry, Hanna, Rami conclusion.

"Interesting", "Informative" - IOC
Games Bids.com

Only two to go forward

According to reports on "Inside the Games", it looks likely that after today's presentations only two sports will be put forward to the whole IOC assemble in October.

There had been speculation that three, or four, may be put forward to give the assemble choice, but those hopes were dashed today when IOC President Jacques Rogge made clear at the end of the presentations that it would be a choice of two.

Rogge said: "All seven sports made interesting and informative presentations. All have something to offer. In the end, the decision will come down to which are the best fit for the Olympic programme."

Christophe Dubi, the IOC's Sports Director, said: "They were asked what value added do you think you will bring to the Games and the Olympic Movement and in return what will the Games bring to your sport. They have all done this exercise with different arguments."

All the sports emerged from their presentations professing confidence about how well they had done. But the feeling remains that golf and rugby sevens remain the strong front runners, reported Duncan Mackay in Lausanne for Inside the Games Full story

BUT ... In a new twist, the IOC said that even those five sports which fail to make the cut in August will be invited to Copenhagen.

If the two recommended sports fail to win majority approval from the IOC assembly, it's possible the other five could still get a chance to be voted onto the program, IOC sports director Christophe Dubi said.



As part of the bidding process, squash was invited to send a representative to the recent 4th International Athletes Forum, the meeting of the IOC Athletes' Commission in Marrakech, Morocco.

Alex Gough, CEO of the Professional Squash Association, attended on the sport's behalf and took part in valuable discussions with a variety of Olympic sports and IOC representatives.

"It was a really valuable experience, and I felt that we made some very good input across the board as well as learning from sports who have enjoyed Olympic status for years.

"In particular, squash players are very well represented by our professional bodies, and a number of sports were very interested in how we do this so successfully," said Gough.
11-Jun-09:
'Low-Cost High-Impact' Squash prepares for Presentation of a Lifetime

The Squash 2016 bid team is making final preparations for its presentation of the low-cost high-impact sport to the International Olympic Committee (IOC) Executive Board in Lausanne, on Monday 15 June, in its endeavour to have squash included in the Olympic Games from 2016.

All seven bidding sports will make presentations, and squash believes that it has all the right attributes to make it worthy of a spot. The bid team will have 30 minutes to prove its worth to the Executive Board. The team of six will be led by IOC Member, HRH Prince Tunku Imran of Malaysia, and will include N Ramachandran, President of the World Squash Federation, and women's world No1, Nicol David, along with three other players from across the globe.

As well as debuting a brand new video that highlights just how good squash looks on television, the team will also talk about the impressive universality of squash, and what a low-cost addition to the Olympic Games the sport would be. Just two glass squash courts would be required to stage the competition, and the WSF has pledged to donate these to the host city. The courts can be placed almost anywhere and importantly their donation would be permanent, so squash would leave a lasting legacy in Chicago, Madrid, Rio de Janeiro or Tokyo.

The players will explain how an Olympic medal would be the highest honour within the sport; all the top squash athletes in the world have pledged to be there and to compete. Squash has champions in territories that aren't typically successful at the Olympic Games, and is the only sport to have enjoyed World Champions, men and women, from every continent.

"The team has put an enormous amount of work into Monday's presentation, which is a reflection of how important Olympic inclusion is to the whole of squash.

"We are looking forward to the opportunity to address the Executive Board and highlight the many ways in which squash fulfils the criteria to become an Olympic sport."


WSF President
What's Next?

The seven shortlisted sports (Squash, Karate, Golf, Rugby, Baseball, Softball, Roller Sports) make their presentations to the IOC Executive Board next week.

The board will then decide on up to two sports to be put forward to the full IOC in August, where a simple majority vote will be required for the chosen sports (if any) to be included for 2016.
14-May-09:
Where in the World ???

When squash puts it case to the ICO in June, one of the big selling points will be its universality - the questionnaire presented to the IOC said it's played in 175 countries, but we suspect it's more.

The Olympic Bid Team would love to hear of courts in places we didn't know about, so that they can tell the IOC that it's even more universal than we thought.

So, if you know of any courts in farflung locations - the table on the right shows some of the counties and info we're looking for - please let us know, and you can be responsible for helping Squash into the Olympics ...

courts@squashsite.co.uk

23-Apr-09:
European Junior Champions
back the bid

The winners of the European Junior U19 Team Squash Championships in Germering, Germany, have all put their names to the Squash 2016 bid, citing winning at the Olympic Games as the greatest sporting achievement imaginable.

Second seeded team Germany shocked the crowds by beating England, seeded number one and Championship favourites. This was the second time in four years that Germany has won the European Squash Federation title.

The individual element of the Championships was a different story with England clinching both the men's and women's number one spots.

"I know I speak for all my team mates when I say that as athletes, the chance to compete in the Olympics would be a great goal for us all.

"As U19 champions we now have some idea of how good victory feels, but the chance to win an Olympic medal for Germany would be incredible.

"We should all be at the top of our game in 2016 and the perfect age to compete; I only hope we get the chance to achieve this."


Germany, individual bronze, team champion

"In 2016 I'll be 26, which would be the perfect age for me to compete in the Olympics.

"I really hope that this dream can be achieved and squash gets a chance to show what an amazing and diverse sport it is."


European Junior Champion

"By 2016 I'll be 26 when I should be at the peak of my squash career. Being the U19's European champion is fantastic and I now can't wait to make my mark on the senior circuit.

"My biggest ambition would be to get an Olympic medal, it's the ultimate goal and nothing else could come close."


European Junior Champion

Squash for
2016 Day
Sat 23rd May

30-Mar-09:
Squash and the Olympics -
the next step

There is little time to rest for New Zealander Susie Simcock as the bid continues for squash to be included in the 2016 Olympic Games.

The World Squash Federation's Emeritus President has just returned from the United States, where she has been on the campaign trail at SportAccord in Denver. However, the stop in Auckland has been short lived, with barely enough time to re-pack her bag before whistling off to Wellington. Ms Simcock will attend a Parliamentary reception for IOC President Jacques Rogge tonight. The reception will be hosted by New Zealand Prime Minister John Key, himself a former top squash player. Mr Rogge is in New Zealand for this week's Oceania Olympic Committee (ONOC) General Assembly in Queenstown.

Seven sports are vying for two spots available at the 2016 Games, with Squash, Golf, Rugby, Roller Sport, Softball and Baseball on the shortlist.

The squash fraternity has lobbied long and hard after missing out on the vote for the 2012 Games, with administrators and players united in the belief that the sport is a perfect fit for the Olympics.

They will get their chance to state their case yet again in Queenstown tomorrow, when the rival sports will all give presentations at the ONOC general assembly. WSF Vice President Gerard de Courcy, also a New Zealander, will present the case for squash, with Susie Simcock and Oceania Squash President Col Clapper in support.

Representatives of the Tokyo, Rio de Janeiro, Chicago and Madrid bids will also make presentations, ahead of voting for the 2016 hosting rights later this year.

19-Mar-09:
Squash will take
the Olympics
into new markets ...
Richard Eaton reports

Squash would take the Olympics into new markets if it were to succeed in getting into the 2016 Games, according to one of its all-time greats, Peter Nicol, who won four Commonwealth gold medals and was world number one for a total of 60 months - but was denied the chance to play in an Olympics.

The sport-in-a-room should score heavily in the votes to be announced in October because it is well represented in developing parts of the world, and in Asia, and among Muslim women, says Nicol, who is an ambassador for his sport's bid and was making a presentation at the ATCO Super Series finals at Queens Club.



"Represented among the top players in the world there is a huge variety of countries not necessarily going to be in the top part of the Olympic medal table.

"Nicol David has been world number one for nearly three years and could win a gold medal for Malaysia which would be the first Olympic gold Malaysia has won.

"Egypt currently has three men in the world's top four, and Mexico has Samantha Teran who is highly ranked now.

"We have got players from all over the world achieving great things in squash, which is appealing to the Olympic movement.

"We can take the Olympics into new markets, and the Games would do the same for us. Countries not well repvesented in the medal charts would succeed."



Squash also considers its strengths to be maximum impact at$minimal cost. It can place a portable court at any venue in almost any place, and especially where there is a spectacular backdrop, attracting television and enhancing a city's profile.

It is also economical, leaves no waste, and will create a legacy of courts to the host country, Nicol pointed out.

Squash's long-term weakness, not televising well, has been largely eradicated by new technology which makes the ball much more$visible. It can also claim to be one of the healthiest of sports and would offer the organisational advantage of having minimal athlete numbers at the Games.

It was also the new sport which got the closest to inclusion for the London 2012 Games. However it faces tougher competition this time from six sports – golf, baseball, softball, rugby sevens, karate, and rollers sports.

A decision on which of these sports should occupy two places available for 2016 will be made in Copenhagen in October.



Media Info pdf

Squash 2016

05-Mar-09:
Nicol joins Olympic Ambassadors

At a packed press conference in Kuala Lumpur (does anyone have any photos ... photos@squashsite.co.uk ), Nicol David, the Women's World No1 from Malaysia, announced that she is to become an ambassador for Squash 2016, the sport's campaign to be included in the Olympic Games from 2016. An additional four top athletes have been added to the list of three players already announced, meaning the bid team now have eight sporting Ambassadors flying the flag for the sport the globe over.

Nicol, who has been ranked No1 for an incredible three years, highlighted how important the Olympic Games are to her: "For an athlete there is no higher pinnacle of sporting achievement than an Olympic medal. No Malaysian has ever won a gold medal, and I would like to be the first. Squash is really strong in Asia, and making it an Olympic sport would give all Asian women something incredible to aim for."

The other new ambassadors for Squash 2016 are: Rebecca Chiu, Hong Kong's top female player; Siyoli Lusaseni, the South African player; Saurav Ghosal, Indian No1; and Englishman Alister Walker, winner of three PSA titles.

They are joining the initial three ambassadors: former world champion Thierry Lincou (France); world number three and current World Open Champion Ramy Ashour (Egypt); and Samantha Teran, the first Mexican woman to earn a world top 20 ranking.

Natalie Grainger, Squash 2016 Bid Team member and World No4, also spoke at the press conference, saying: "Squash is a sport with worldwide appeal, and the fact that the two top players in the world come from Malaysia and Egypt mean that as a sport we can help take the Olympic Games into countries that don't typically produce Olympians.

"As a player I'm so excited about this opportunity and we're determined to help it happen," added the Pan American Games champion.

Squash, played in 175 countries by over 20 million people, is bidding against six other sports for inclusion in the Olympic Games. The IOC Executive Board will meet to assess submissions from each of the sports in June, before the final vote by all of the IOC voting members in October.


Ziad Al-Turki, Peter Nicol, Thierry Lincou, Natalie Grainger, Ramy Ashour, Samantha Teran, Lee Beachill, Alex Gough

27-Jan-09:
World Squash Athlete
Ambassadors rally in New York

Grand Central Terminal in New York provided the perfect platform for the first meeting of Squash's Olympic Athlete Ambassadors, a select group of leading players nominated by the PSA and WISPA as the sport's two international player bodies rallied to the call from the World Squash Federation to spearhead the sport's bid to join the Olympic Games programme in 2016.



Both organisations have pledged their full and unwavering support to the WSF-led campaign.

"We are working very closely with both PSA and WISPA – both of whose boards and membership are totally supportive of the Olympic campaign," said the WSF's Olympic Bid Manager Scott Garrett.

"The purpose of appointing Athlete Ambassadors is to have real, live, participating athletes to represent the sport to the IOC and any interested parties seeking information about the sport regarding the sport's efforts to get into the Olympics," added Garrett.

Natalie Grainger, ranked four in the world and President of WISPA, echoed the WSF's commitment: "We have come together because we fully represent what Squash is all about: we are not only eloquent, and span a broad mix of cultures, but we are passionate about Squash becoming an Olympic sport," said the new Athlete Ambassador.

"For us, and all elite players, the Olympic Games would be the absolute highlight of the Squash calendar," added Grainger.



The initial line-up of Squash's Olympic Athlete Ambassadors is:

Natalie Grainger (USA), the WISPA President and former world number one who is the reigning Pan American Games champion

Lee Beachill (England), the PSA President; a former world number one and two times Commonwealth Games gold medallist and three-time British National champion

Peter Nicol (England), a board member of the PSA and former world champion who has won four Commonwealth Games gold medals and has held the world number one ranking for 60 months

Thierry Lincou (France), a former world champion and world number one, currently ranked seven in the world, who has been French National champion a record ten times

Ramy Ashour (Egypt), the 21-year-old world number three and reigning world champion who became the first player to win two successive world junior men's titles

Samantha Teran (Mexico), a three-time winner of the Pan American championship and the first Mexican woman to earn a world top 20 ranking