You know the idea of getting Squash2016 banners in iconic locations on May 23rd (if not, here it is) ???

Well, in Los Angeles they've already started - Mr Southern California Squash (retired) Bob Hanscom has taken the banner to some of LA's best and most prominent locations to show us all how it's done ...

We'll show you the LA shots one at a time so you have a chance to work out where you should put YOUR banners on May 23rd, Squash for 2016 Day ...

While taking the photos, crowds gathered and took their own photos of our banner. Who knows where those photos will appear!
#4: The Walt Disney Concert Hall

A downtown Los Angeles icon almost from the moment it opened in 2003, the Walt Disney Concert Hall is the newest part of the performing arts center. Designed by Los Angeles' premier architect Frank O. Gehry, the Disney Hall is modern Los Angeles at its best, with an approachable interior and a sleek design.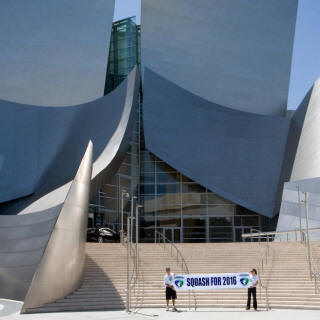 #3: UNIVERSAL STUDIOS
CITY WALK




Universal City Walk is the name given to the entertainment and retail districts located adjacent to the theme parks of Universal Parks & Resorts. Originating as an expansion of Universal's first park, Universal Studios Hollywood, City Walk serves as an entrance plaza from the parking lots to the theme parks.
#2: The Hollywood Sign

The Hollywood Sign is a famous landmark in the Hollywood Hills area of Los Angeles, California, spelling out the name of the area in 50 feet (15 m) high white letters. It was created as an advertisement in 1923, but garnered increasing recognition after its initial purpose had been fulfilled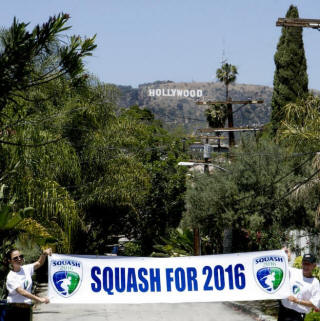 #1: UNIVERSAL STUDIOS
CITY WALK GLOBE

Universal Studios Hollywood Theme Park and City Walk Special Events is a one-stop shop for excellence in events. Only Universal Studios Hollywood brings true Hollywood style to events with several unique outdoor and indoor venues, including the 9,600-square-foot Globe

Photos by by Michael Burke of B1 Photography