Finals:

[1] Vanessa Raj (Mas) 3-1 [2] Pansy Chan (Hkg)
11/3, 6/11, 11/7, 11/9 (52m)

[1] Kush Kumar (Ind) 3-1 [2] Syafiq Kamal (Mas)
11/9, 5/11, 11/9, 11/7 (57m)
India and Malaysia claim their
first Asian Youth Golds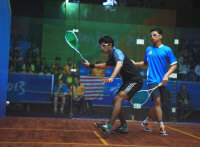 17 year old Kush Kumar, a trainee at the Indian Squash Academy in Chennai, became the first Indian to win a Gold medal at the 2nd Asian Youth Games 2013 being held in Nanjing, China.

Kush started off well with an aggressive pace, but was being caught time and again by Shafeeq's delicate drops and some awesome deceptive play. However, Kush managed to narrowly win the first. The second was an almost one sided affair with Syafiq putting the ball away at will.

In the third, Kush was 8-3 down. He changed to a simple basic game at medium pace. One massive rally and Syafiq surrendered a few easy points and the game. Kush maintained the same medium paced basic game to take the 4th game and the Gold.


Kush was delighted after the match and said "I had to push very hard when I was 3-8 in the 3rd game, because of the training given at the ISA I was able to keep my focus and win. I want to thank all my sponsors, my coaches at ISA, and the federation for all their support."

"It is truly a great achievement for an India winning a gold medal at these games, am sure we are only going to get better" said National Coach Cyrus Poncha.

Mr. N. Ramachandran, WSF President, said "My heartiest congratulations to both Malaysia and India for winning individual Gold medals in the girls and boys categories respectively. The Youth Games is a fantastic event for our budding champions.

The girls finals played first was between Hong Kong's Pansy Chan the 2nd seed and Malaysia's top seed Vanessa Raj. Vanessa won the first easily but let down by errors in the second.

She played much better lengths to win the third and fourth games. Although Vanessa appeared tired she just about managed to secure the last two points and the gold medal for Malaysia.


Squash debuts in Nanjing

The Asian Youth Games is in the second edition, but squash is making its debut here in Nanjing, China. Over 3,500 athletes aged 17 and under from 45 countries are competing in 15 Olympic sports and one non Olympic ( but soon hope to be soon) squash. The first Asian Youth Games was held in Singapore four years ago.

The squash event comprises an individual and a team event. Two players from each country are allowed to play in the individuals whilst all three players play in the team event.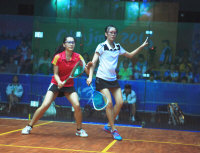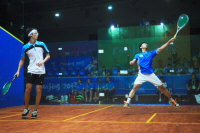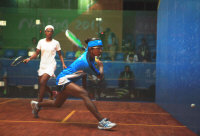 Day One Matches


Morning matches got underway with wins for the players that were expected to win - Choi Uen Shen, Satomi Watanabe and Harsit Kaur all won through in the women's event.

It is great to see so many different countries competing even those that do not have a great history of squash at the moment. China the host nation has 4 players competing in the individual event with one of the boys advancing to the last 16 at the expense of a Thai player.

In the afternoon the Women's event all went to the seeding although the matches were tight, except one match where Meth from Sri Lanka recorded an upset to beat Malaysia's Rachel Arnold. Vanessa Raj from Malaysia won through in three games and will play Meth tomorrow.

Choi Uen Shen and Pansy Chan set up an all Hong Kong affair in their semi final after wins over Harsit and Satomi both in four games.

In the men's event top seed Kush Kumar saw off Hamza Alzubidi from Jordan in three games but the other player from Jordan Mohammed Al Saraj extended second seed Syafiq Kamal to five games.

There were other wins for Vijay Kumar, Ng Eain Yow, Israr Ahmed, Chris Lo, Tsun Yuen Hei and Laksiri Ravindu from Sri Lanka.