24-Oct, Final:
David claims Bicentenario Crown

The evenings entertainment opened with a doubles exhibition that was won by the Rest of the World (Raneem El Weleily & Samatha Teran), who beat Europe (Jenny Duncalf & Madeline Perry) 15/13.

However, the crowd had come to see if Nicol David could maintained her 100% record in 2010 and they were not disappointed. Grinham started brightly enough showing few ill effects from her 5-set win over Kasey Brown the previous evening, however, it was David who got to game ball first leading 10-7.

Grinham tightened up and squeezed a couple of errors from Davd to level at 10-10 but it was the World no.1 who drew first blood taking the game 12/10. From 4/4 in the second the result was never in doubt as David raced away with the game without dropping another point and turned the screw in the third take the game and the title.

"As with the semi-final it was important to win the first game as i know how dangerous Rachael can be," said David. "I just had to keep getting her shots back. It has been great to have so many Mexican fans here, and wanted to thank everyone that has been involved in the event as it is fantastic, the setting, the crowds and everything.

"I have been talking to Samantha about getting an event here and now she has made it happen. I played an exhibition with here 2 years ago and I could see the enthusiasm then, so i knew it would be a fun event for all the girls."

Grinham wasn't too downbeat: "It's nice to get to a final again, and I am motivated at the moment and want to keep enjoying my squash so hopefully there will be some more.

"Nicol has proved she is the best in te World so all you can do is to try and make her work as hard as possible to beat you."


Photos by Luis Alberto Peñaloza Tapia

Torneo Bicentenario 2010
18-24 Oct, Mexico, $65k
Round One
20/21 Oct
Quarters
22 Oct
Semis
23 Oct
Final
24 Oct
[1] Nicol David (Mas)
11/4, 11/5, 11/5 (26m)
[Q] Ivonne Diaz (Mex)
[1] Nicol David
11/8, 11/2, 11/6 (24m)
[8] Jaclyn Hawkes

[1] Nicol David

12/10, 11/6, 11/6 (31m)

[6] Raneem El Weleily

[1] Nicol David

12/10 11/4 11/5 (35m)

[3] Rachael Grinham

[8] Jaclyn Hawkes (Nzl)
11/2, 11/2, 11/0 (20m)
[Q] Karina Heredia (Mex)
[4] Madeline Perry (Irl)
11/9, 11/6, 13/11 (29m)
Annie Au (Hkg)
[4] Madeline Perry
11/8, 11/8, 11/9 (30m)
[6] Raneem El Weleily
[6] Raneem El Weleily (Egy)
11/6, 11/5, 11/9 (26m)
Latasha Khan (Usa)
[Q] Olivia Blatchford (Usa)
11/3, 11/6, 11/5 (27m)
[7] Samantha Teran (Mex)
[7] Samantha Teran
11/9, 11/3, 11/8 (36m)
[3] Rachael Grinham

[3] Rachael Grinham

8/11, 11/2, 11/8, 9/11, 11/9 (61m)

[5] Kasey Brown

[Q] Nayelly Hernandez (Mex)
11/1, 12/10, 11/3 (24m)
[3] Rachael Grinham (Aus)
Rebecca Chiu (Hkg)
11/6, 11/4, 11/5 (26m)
[5] Kasey Brown (Aus)
[5] Kasey Brown
11/5, 12/14, 11/6, 8/11, 11/3 (66m)
[2] Jenny Duncalf
Emma Beddoes (Eng)
11/8, 11/7, 11/5 (30m)
[2] Jenny Duncalf (Eng)

19-Oct, Qualifying:


Karina Heredia (MEX) bt
Maggy Marshall (AUS) 11/5, 11/9, 5/11, 11/8 (30m)
Ivonne Diaz (MEX) bt Lia Paz Noguez (MEX) 11/2, 11/6, 11/5 (22m)
Nayelly Hernandez (MEX) bt Imelda Salazar (MEX) 11/4, 7/11, 12/10, 11/6 (48m)
Olivia Blatchford (USA) bt Graciela Lopez Perez (MEX)
6/11, 8/11, 11/7, 14/12, 11/4 (47m)
19-Oct, Qualifying:
Blatchford comeback stops
Mexican clean sweep in Toluca

It was nearly a clean sweep for the Mexican in qualifying as the Bicentario Internacional got under way in Toluca, but Olivia Blatchford launched a spirited comeback from two down and saving match balls in the fourth to put out Tolucan resident Graciela Lopes Perez.

Earlier Karina Heredia had got the Mexican wave going with a fine four game win over Aussie Maggy Marshall, to join Ivonne Diaz and Nayelly Hernandez in the main draw.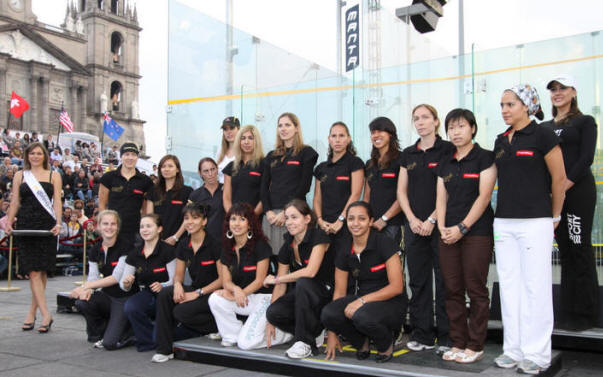 23-Oct, Semis:

Malaysian starlet Nicol David booked her place in the final with a composed win over the talented young Egyptian Raneem El Weleily. The latter started well with some exquisite squash striking the ball purely and easing to a 5/2 lead.

However, David hasn't remained unbeaten for 12 months by panicking at such and early stage and she steadily turned up the pressure on her younger opponent forcing El Weleily to start aiming lower and lower eventually starting to clip the tin. She saved a game ball at 9-10 to level 10-10 but David closed out the game and from then on had the upper hand.

El Weleily still played some beautiful squash but it wasnt enough to trouble David who eased through in straight games to set up a meeting with old rival Grinham.

"It was good to get through in three games," said David. "I expected at least four as Raneem is so talented. The first was a bonus as she started well."



The first semi-final was a classic affair with the deft lobs and drops of Rachael Grinham countered by the supreme athleticism of Kasey Brown. The two Aussies traded shot for shot but despite her five set win the previous day it was Brown that came out faster powering her way through the first.

However, Grinham is know for her clever play and taking the pace off off the ball she deadened Brown's attack and raced away with the 2nd. Maintaining a similar patter she took the third and looked to be cruising to victory at 4/0 in the fourth. Brown had other ideas stepping up the court and mixing short sharp volleys with fierce drives she pegged the game back to 9-9 and eddged in much to Grinham's disgust.

Grinham again came out quicker in the decider leading 3/0, but once more Brown bounced back with 5 straight points to lead 5/3. At 6/4 Brown over-ruled the 3-refs 'Let Decision' to give Grinham a stroke, a decision she may well rue as the match continued to sway backwards at forwards before Grinham was able to break the deadlock at 9-9 to edge home by 11/9 in the fifth.

"Nicol and I used to play a lot but that was when I used to make more finals," quipped Grinham. "We played in Hong Kong but it will be nice to have another match with her.

"The altitude makes it difficult to decide how tired you feel, so hoping I will be fine tomorrow."


Photos by Luis Alberto Peñaloza Tapia

22-Oct, Quarters:
Seeds scattered in quarters ...

No sooner had the chimes from the bell tower faded away than play got under way in Plaza Civica in Toluca.

First up was a battle of the medallists with Jenny Duncalf & Kasey Brown having picked up Silver & Bronze, respectively, in the Commonwealth Games in Delhi. It was Brown who started the best with Duncalf looking a little edgy and at 1-0 10/7 things were not looking good. However, a couple of deft drops and angles later Duncalf was back at 10-10.

The game then ebbed & flowed, with long rallies being disrupted with lets as the tension grew. Eventually Duncalf nicked it 14/12, but Brown came straight back at her to lead 2-1. Duncalf still wasnt done levelling once more but the effort of always chasing the match seemed to have taken its toll as again Brown gained the ascendency to move in to the Semis after over an hour of enthralling squash.

Brown reflected "It's nice to beat someone for the first time, as it gives you the confidence that your game is moving in the right direction."

Samatha Teran came out to a boisterous welcome and she didn't let her fans down as she jumped straight to 5/1 in the first. However, former World no.1 Rachael Grinham put the brakes on and started to chip away at the lead, eventually passing Teran to take the first 11/9.

The Australian kept the large crowd subdued winning the 2nd relatively comfortably and but a Teran fightback from a losing position in the third gave the locals hope. However, Grinham spoiled the party wining the third and setting up and all Aussie encounter.

She said "It's great making a semi-final in major event as it has been to tough to do so over the past year. I am really enjoying playing at the moment and look forward to playing Kasey who is clearly in form tomorrow. It's actually fun playing someone in their home country, the atmosphere is just as electric when you play Nicol in Malaysia."

Nicol David herself clearly enjoyed the atmosphere wasting no time in disposing of New Zealand's Jaclyn Hawkes. The Kiwi fought hard for every point but found David in fine form, soaking up the pressure and then returning it in kind. David moved into the semi-finals and was quick to acknowledge the quality of this first glass court event in Mexico.

"It's been fantastic to be part of this event, everyone has been so welcoming and friendly, it felt good to have the crowd cheering for me tonight. I am really enjoying my stay this week and that always help you play well."

The evening was book-ended by upsets as Raneem El Weleily demonstrated what a talent she is knocking out World no.6 Madeline Perry. Moving apparently effortlessly around the court El Weleily had Perry scrambling as she attacked short whenever the opportunity presented itself. Perry made it as difficult as possible but was unable to take the game that may have changed the shape of the encounter.

El Weleily was as relaxed afterwards as she was during the match: "I played well today and enjoyed the match, it will be tough playing Nicol tomorrow but it should be fun to play her, especially in the Semi final of a major event.."

Photos by Luis Alberto Peñaloza Tapia

21-Oct, Round One part two:
All seeds safely through ...

Raneem El Weleily started of day two of the first round in fine form knocking out USA's Latasha Khan. The skilful Egyptian seemed unperturbed by the altitude causing the ball to speed off the front wall chopping the ball short on the volley and the drop.

She looked to be cruising home leading 2-0 6/0 but Khan mounted a spirited comeback to level at 6-6 and then saving a match ball before succumbing 11/9 in the third.

On being asked by the local press what it was like to have local support, El Weleily commented "its great that people are so friendly here in Mexico, and really nice that some in the crowd want me to win!"

There followed an impressive firework display lighting up the Tolucan sky before Irelands Madeline Perry & Hong Kong's Annie Au stepped on the Manta All Glass Court to continue the evenings squash entertainment.

In a contrast of styles Perry pressurised young AU with crisp drives and boasts, but Au stuck to her game of deft lobs & drops. However, it was the power game that proved most effective as Perry moved up 2-0. Au dug in an indeed had 3 game points in the third, but was unable to capitalise as Perry eventually moved through into the quarter finals.

Having already taken Malaysian Nicol David to their hearts the Mexican crowd was a little torn as she took on local qualifier Ivonne DIaz.

The World number one was always in control but Diaz acquitted herself well, at times competing with the World no.1 and putting the ball away impressively. However, David always looked in supreme control and progressed smoothly to the next round in straight games.

At the press conference David explained how 'all the of the players have arrived her early to get used to the altitude and although you notice it a little in the first couple of days you start to get used to it."

She went on to say "it's great to play in such a public & stunning setting, and I am sure that this event will motivate Mexicans to play squash. Sam has already shown it is possible to be very successful and she is one of the main reasons this event is on. Thanks Sam!"

Jaclyn Hawkes showed no mercy in progressing to to the Quarter Finals at the expense of another Mexican Qualifier Karina Gonzalez. She romped through the first game 11/2 and didn't let up in the second or third pressurising her opponent with the quality of her lengths to set up a meeting with David tomorrow night.

Photos by Luis Alberto Peñaloza Tapia

20-Oct, Round One part one:
"Mexico, Mexico, Mexico ..."

A crowd of over 800 graced Toluca's Plaza Civica to witness the official opening followed by the first round of the Torneo International Bicentenario Mexico Open 2010.

A host of local dignatories, including a representative of the mayor of Toluca Enrique Pena Nieto, aided by World no.1 Nicol David and Mexican no.1 Samantha Teran officially opened the proceedings on the Manata All Glass Court.

Set against the backdrop of stunning architecture that surrounds the the play got under way with an impressive display by Australian Kasey Brown. Coming to the event off the back of picking up a Bronze Medal at the Commonwealth Games Brown was in impressive form in blowing away Hong Kong's Rebecca Chiu.

At 9000 feet above sea level the conditions in Toluca clearly didn't affect Brown as she rattled off a straight games victory 11/6 11/4 11/5.

"Its not often that I win quickly, so its great to get through relatively easily as this could prove to be a tough week at altitude. Obviously the bronze in Delhi has given me a lot of confidence so I am looking forward to a good week here."

World no.2 Jenny Duncalf set up a clash with Brown with a straight games victory over compatriot Emma Beddoes. Duncalf looked in fine fettle as she worked Beddoes around the court before putting the ball away with trademark drops & volley drops.

Beddoes never really recovered from poor starts in the second 0-6 and the third 1-8, leaving herself too much to do against her class opponent.

"It's a great venue to play in and wonderful to see so many people turn out to watch a squash event," said Duncalf in the post-match press conference.

A feature of the event is that like tennis players are required to answer questions from the numerous press in attendance, giving the event an even more professional feel.

A packed press conference greeted local favourite Samantha Teran when she left the court having dispatched qualifier Olivia Blatchford in straight games. Spurred in by a crowd chanting 'Mexico, Mexico!"

Teran showed that she was back to full fitness after an ankle injury that ruled her out of last month's METROsquash US Open.

"Obviously it is fantastic to play in front of your home crowd, and I really wanted to win for them and everyone who has put so much effort into putting on this event."

Former World no.1 and World Champion Rachael Grinham soon quietened the expectant crowd as she raced through the first game 11/1 against Mexican qualifier Nayelly Hernandez.

However, Hernandez proved she wasn't over-awed by facing her experienced opponent matching her point for point in the second and indeed holding a game ball at 10/9 before Grinham closed out the game and then eased through the third.

Grinham also missed the US Open as well as the Sharm El Sheikh World Open and will have been glad of the relatively comfortable return to the World stage, before facing Teran as well as her Mexican masses on Friday night.

Photos by Luis Alberto Peñaloza Tapia

| | |
| --- | --- |
| Getting the court ready in Toluca ... | |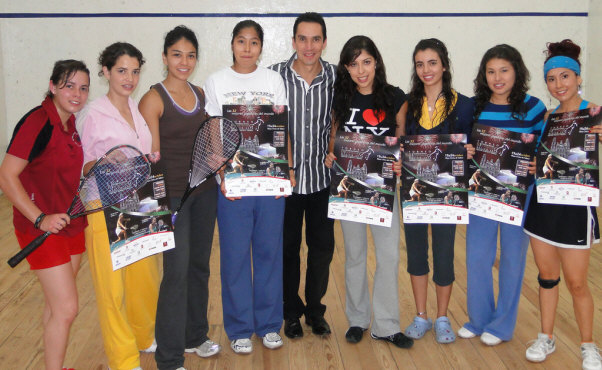 Squash Villa Coapa
XXXVIII ANNIVERSARY ...
Sergio Olvera Garrido reports

The Pre-qualifying tournament for the International Tournament Bicentennial Mexico 2010 took place last weekend in one of the most famous squash clubs in Mexico, the Squash "Villa Coapa".

The Court Stadium Montero has been witness of greatest matches with a lot of famous players like: Sharif Kahn, Mark Talbott, John Nimick, Gary White, Viktor Berg, Rob Dinermann ,Jeff Stanley, Jonathon Power, Graham Ryding, Ned Edwards, Marcos Mendez, Hector Barragan ,Los Hermanos Rodriguez, Erik Galvez , Jorge Baltazar and other high level squash players.

In the framework of the celebrations of the XXXVIII Anniversary of the SQUASH VILLACOAPA, The Family Montero organized the pre qualifying tournament with the best Mexican girls squash players.

The winner of this tournament will be part of the qualifying draw in the International Tournament Bicentennial Mexico 2010.

The winner of the tournament that will be in the qualifying draw is Nallely Hernandez (135 WISPA) who won 3-2 against Imelda Salazar (104 WISPA) in an amazing match.

The girls who took part in the tournament were:

Imelda Salazar(WISPA 104), Blanca Vallarta, Guadalupe Gasca, Dulce Ramirez, Karen Urrutia, Diana Garcia, Mariana Reyes, Melisa Torres, Mariana Aguirre, Lia Paz (WISPA 229), Nallely Hernandez (WISPA 135), Ana Gonzáles, Ileana Novelo, Maria Fernanda Rivera, Karla Urrutia, Maria Fernanda Martinez, Samantha Mendoza and Ivonne Diaz (WISPA 123).