Starting them young with our new tots squash programme designed to engage 2-5yr olds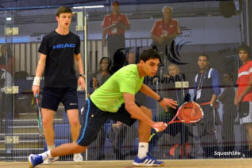 Connor Sheen from the MSA competing in the worlds qualifying round. The youngest player of the competition at 17yrs old

Julian Tomlinson at the Wolrds Qualifying

2013 Manchester primary school winners

Caesar and Miguel training with some of the MSA players before the worlds
I have been the head coach at Manchester squash for the last 4 and half years taking over from Vicky Boswell and previously before that Nick Taylor.

What is Manchester Squash

We've been working hard on Manchester Squash, a jointly funded project between Manchester city Council and England squash. Over the last 4 years we have been successful in achieving the following points:
Three brand new fully constituted clubs being formed out of public leisure centres in the National squash centre, Moss side and Chorlton leisure centre. We know have six clubs in Manchester with over 2,000 members associated to them all.

We know operate a competition structure from primary schools straight through to universityís with this year starting our very own high schools squash league which currently has over 8 schools competing.

There are over four state schools in Manchester and two public schools which now have squash on their school curriculum.

We have the Manchester Squash Academy which is the pinnacle of our junior programme in the city.

The best club and community juniors from across the city get selected to train in the academy. We have over 30 players regularly training and being coached by myself.

Over the last four years we have been successful in creating over 11 players who compete at a National and European level, 4 players which have recently played in the world champs qualifying in Manchester.

Court usage across 4 of our 6 public facilityís has recently shown to be a full capacity off and on peak. The national squash centre itself is now fully booked on peak from the local community and off peak time being used by our schools and performance programme.

We have also been successful in generating £30,000 worth of investment into Moss Side Leisure centre which has been used to turn 2 of the 3 hard back courts into glass courts and upgrade the surrounding area.

Other investment has come into Abraham Moss leisure centre and I am hopeful for a new 4 court facility in the south of the city in 2014.
A true success
All of the above points highlight the success of squash across the city and show its growth in all areas. The showcase of major tournaments in Manchester such as the World Open is the icing on the cake for our whole year round programme. The junior development work around the nationals where we engage over 2,000 children in 3 days highlights this success.

The all year round work by my coaches and the clubs through out the city has allowed us to grow to a level where we are now requesting that more courts are built in Manchester.

This has been a massive goal for me and my team and something that has taken time and shows the strength in which we are now operating. More investment in Manchester is inevitable and for me now, my personal goal is to create a world champion from our programme, something which will take time but im hopeful we can be successful.