Cleveland Classic 2014
30 Jan - 04 Feb,
Cleveland, Usa, $50k
04-Feb, Final:

[1] Nicol David (Mas) 3-0 [Q] Annie Au (Hkg)
13/11, 11/5, 11/6

Nicol the Champion again

Malaysia's top seed Nicol David collected her second Cleveland Classic title with a straight-games win over surprise finalist Annie Au.

Au, who had beaten three Enlishwomen ranked#2, #4 and #9 in the world on the way to the final, led the first, but David recovered from 7-10, saving four game balls before taking the lead, and always looked the likely winner in the next two games.

"It's a great feeling you can't describe it to people to work that hard in training and have it pay off on the court," said David.

The win marks David's 73rd WSA title from 92 finals, and takes her unbeaten run to 35 matches and eight consecutive tournament wins (and she is still to lose a single game in 2014!).


Match Points from Bob Botti

Game one: Both players locked in early on. A marvelous set of retrieves by David. Au answers with 2 nice kills. She moves out to a 6-3 lead, then 8-5.

David claws back to 7-8 but Au is in her groove. 2 beautiful kills and sheleads 10-7. David responds! A point then another then finally 10-10. Phenomenal point at 11-11 to David and she closes it out 13-11.

Game two: Nice touch by both. David pulls ahead 6-2 using good pace down both rails. David happy to exchange points 11-5 game 2.

Game three: Still plenty of fight left in Au. Back and forth to 5-5. Each player making the most of earned openings. Great squash! David working Au to a 7-5 lead.

Au hits a wonderful crosscourt slide drop to pull to 7-8. But David is not deterred. She keeps working the plan. Au is dead on her feet and quickly it is 11-6 match David.

David: "It's a great feeling you can't describe it to people to work that hard in training and have it pay off on the court."

Au: "Nicol top player no matter how I played the ball she just went and got it."

Thanks to Joe the club and the referees. Well done again.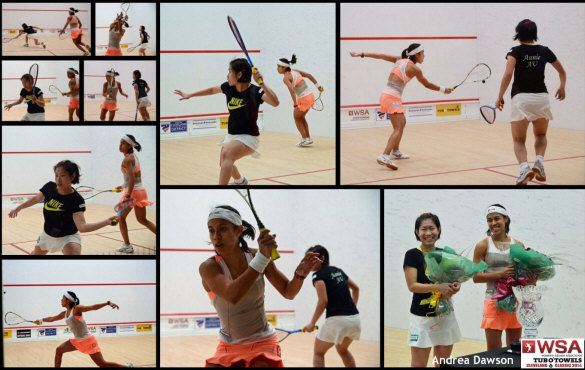 Cleveland Classic 2014
30 Jan - 04 Feb, Cleveland, Usa, $50k
Round One
01 Feb
Quarters
02 Feb
Semis
03 Feb
Final
04 Feb
[1] Nicol David (Mas)
11/2, 11/8, 11/3 (40m)
[Q] Noue El Sherbini (Egy)
[1] Nicol David
11/5, 11/6, 11/6
[5] Camille Serme

[1] Nicol David

11/7, 12/10, 11/4

[Q] Nour El Tayeb

[1] Nicol David

13/11, 11/5, 11/6

[Q] Annie Au

[5] Camille Serme (Fra)
9/11, 11/6, 11/8, 11/5 (54m)
[Q] Sarah Kippax (Eng)
[6] Joelle King (Nzl)
11/6, 11/6, 11/5 (30m)
[Q] Nour El Tayeb (Egy)r
[Q] Nour El Tayeb
8/11, 11/9, 11/4, 12/10
[3] Raneem El Weleily
[3] Raneem El Weleily (Egy)
11/8, 10/12, 11/5, 11/7 (40m)
Kasey Brown (Aus)
Dipika Pallikal (Ind)
12/10, 11/4, 11/9
[4] Alison Waters (Eng)
[4] Alison Waters
8/11, 5/11, 15/13, 11/9, 11/5
Omneya Abdel Kawy
[4] Alison Waters

6/11, 11/7, 9/11, 11/2, 13/11

[Q] Annie Au

Omneya Abdel Kawy (Egy)
11/4, 11/9, 8/11, 11/8 (49m)
[8] Low Wee Wern (Mas)
[Q] Annie Au (Hkg)
11/5, 11/9, 11/3 (30m)
[7] Jenny Duncalf (Eng)
[Q] Annie Au
11/5, 12/10, 14/12
[2] Laura Massaro
Madeline Perry (Irl)
15/17, 11/4, 6/11, 11/5, 11/5
[2] Laura Massaro (Eng)
31-Jan, Qualifying Finals:

Nour El Tayeb (Egy) 3-0 Rachael Grinham (Aus) 11/5, 11/5, 11/5


Sarah Kippax (Eng) 3-1

Line Hansen (Den) 11/8, 11/6, 5/11, 11/9
Annie Au (Hkg) 3-0 Latasha Khan (Usa) 11/4, 12/10, 11/3
Nour El Sherbini (Egy) 3-0 Emma Beddoes (Eng) 12/10, 15/13, 11/3

30 Jan, Qualifying Round One:

Rachael Grinham (Aus) 3-0 Sam Cornett (Can) 11/3, 11/7, 11/6
Nour El Tayeb (Egy) 3-0 Cecilia Cortes (Usa) 11/6, 11/2, 11/1
Line Hansen (Den) 3-0 Sarah Cardwell (Aus) 11/5, 11/6, 11/4
Sarah Kippax (Eng) 3-2 Sabrian Sobhy (Usa) 9/11, 12/10, 11/5, 6/11, 11/3
Latasha Khan (Usa) 3-2 Olivia Blatchford (Usa) 10/12, 11/9, 11/6, 13/15, 13/11
Annie Au (Hkg) 3-0 Nouran Gohar (Egy) 11/7, 11/9, 11/2
Emma Beddoes (Eng) 3-0 Melody Francis (Aus) 11/7, 11/6, 11/4
Nour El Sherbini (Egy) 3-0 Micaala Seth (Can) 11/3, 11/4, 11/1
03-Feb, Semis:

[1] Nicol David 3-0 [Q] Nour El Tayeb
11/7, 12/10, 11/4
[Q] Annie Au (Hkg) 3-2 [4] Alison Waters (Eng)
6/11, 11/7, 9/11, 11/2, 13/11

Au axes English trio to reach Cleveland final

Top seed Nicol reached the final of the Cleveland Classic with a straight-game win over qualifier Nour El Tayeb - recovering from a big deficit in the second - and will meet another qualifier in the final after Hong Kong's Annie Au beat fourth seed Alison Waters 13/11 in the fifth to complete a hat-trick of upset wins over England's top ten players.



Joelle King and her team mates won the Tub O' Towels Play The Pro (Jamie
Lynch, Lauren Cunningham, Joelle King & Matt Sullivan)

Match Points from Bob Botti

Nicol David beat Nour El Tayeb 11-7, 12-10, 11-4

El Tayeb showed nerves early then settled in but David steadily pulled away. 11-7 game one David.

El Tayeb upped the pace and took the lead from the start. She lead 7-2 then 10-7 but David reeled her in and kept going to take the second 12-10.

Out of box David kept the pressure on. Quickly it was 7-0. Soon it was 11-4. Match to David.

David: When down 10-7 "Keep in that mindset. Make every point count."

El Tayeb: "if I win that second game hard to say what would have happened."



Annie Au beat Alison Waters 6-11, 11-7, 10-12, 11-2, 13-11

Good points right off the mark. Both players focused. Waters a little bit better. 11-6 game one to Waters.

Second game more of the same. This time Au a bit better. 11-7 and we are tied.

Third game back and forth. Several nice points at the end 12-10 to Waters.

Foruth game Au comes out hot Up 5-1 and keeps the pressure on to win 11-2.

Fifth game a real dog fight. Several errors late by Waters and Au leads 10-8.

Waters fights back to 10-10. Marvelous kills by both players. Eventually Au wins, out 13-11 on a cross court lob.

Au: "in the second I tried to slow down the pace. Gives me time to set up myshots."

Waters: "We both had times when we were controlling the match. We both played our best in the last game."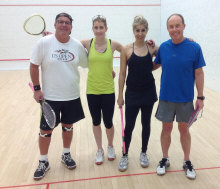 Excitement and Controversy
at Cleveland pro/am

Olivia Bruno Reports

9 am at the Cleveland Racquets club was the place to be Sunday. The annual pro/am doubles, in conjunction with the WSA gold event, featured 6 WSA players attempting to play a version of squash that they were very unfamiliar with.


Adventurous pros Sarah Caldwell, Rachael Grinham, Jenny Duncalf, Nour El Sherbini, Latasha Khan and Sarah Kippax participated in this year's event.

There were various degrees of success in the two pools of three teams format, and the determination of finalists from Pool B was very controversial.

Participants were told it was two games each, and in the event of a tie, points were counted. Defending champions Sarah Kippax and Joe DeGrandis lost the first game 15/13 against Latasha and Jim Naylor, but came out strong to capture the second 15/7.


In accordance of the rules, they should have moved into the final, but club pro Joe Russell came out of nowhere and said that a tie breaking first to 5 points would be declared the winner. Jim and Latasha prevailed 5/3.

Jim and Latasha lost in finals to Marc Spector and Nour, who was playing in her first doubles event. The winners were awarded the highly coveted tub of Tub O' Towels.

Joe and Sarah vow to return next to capture the title as
"they were robbed of a chance of defending the championship". Joe DeGrandis….."I am mentally devastated!"

02-Feb, Quarter-Finals:

[1] Nicol David 3-0 [5] Camille Serme 11/5, 11/6, 11/6
[Q] Nour El Tayeb 3-1 [3] Raneem El Weleily 8/11, 11/9, 11/4, 12/10

[4] Alison Waters 3-2 Omneya Abdel Kawy 8/11, 5/11, 15/13, 11/9, 11/5
[Q] Annie Au 3-0 [2] Laura Massaro 11/5, 12/10, 14/12

Upsets abound in Cleveland Quarters


Qualifiers Nour El Tayeb and Annie Au produced stunning upsets in the quarter-finals of the WSA $50k event in Cleveland as they beat Raneem El Weleily and Laura Massaro - both previous champions, and there was almost a third upset as Alison Waters saved three match balls in the third before beating Omneya Abdel Kawy.

Waters will meet Au for a place in the final while Tayeb faces top seed Nicol David who beat Camille Serme in straight games.

David:
"I have played Camille before and she is a tough competitor. The rallies were long, she made me work hard but I was able to set up the opening and I was able to put the ball away."

Serme:
"I was pleased with the way I played today, it's the best I have played against her. Nicol got everything back and there wasn't much I could do about it."

Tayeb:
"I can't believe how well I played. I was feeling confident so I was going for winners and they were working for me today. I practice with Reneem all the time and the shots I used I have copied from her. I am very happy here in Cleveland!"

El Weleily:
"It was tough as Nour played very well today and she knows my game well. I was finding it hard to keep my focus today and the way Nour played didn't help."

Waters:
"I'm very happy that I was able to come back from being 2-0, I didn't get off to a great start and made lots of errors in the first game.

In the second game I played better and cut down the errors but Omneya was attacking the front very well. Going into the 3rd I knew I had to get stuck in and commit to grinding it out and once I won the third game I knew I was in for a chance. It was a hard match and Omneya is always very difficult to play against."

Abdel Kawy:
Alison did well to come back. I had match points in the 3rd and 4th game and went for some winners but hit the tin, sometimes they work and you win the match. Alison came out strong in the 5th and I couldn't find my way back into the game."

Au:
"I was hitting good length today and was using the lob well. Laura's deep game wasn't as good as it usually is and I was able to take the ball early and was confident finishing off the point."

Massaro:
"Annie played a great match tonight and she always does well here as the court really suits her game. The ball moves off the front wall quite slowly and I was having trouble getting the ball into the back corners.

"Annie doesn't hit the ball hard, lifts the ball very well and was hitting into the back corners more consistently than me. The slow pace of the game and her variation of shots made it very difficult for me to find my rhythm."

01-Feb, Round One:
Egyptians advance in Cleveland

While top seeds Nicol David and Laura Massaro advanced in contrasting styles, the first round of the popular WSA $50k event in Cleveland was marked by the advance of the Egyptian trio of defending champion Raneem El Weleily, unseeded Omneya Abdel Kawy, and qualifier Nour El Tayeb.

Ray Lindsay reports

Nicol David bt Nour El Sherbini 3-0

David was on point for this match. She was very methodical, moving the ball on court, not making any errors. Her game plan was to run El Sherbini around the court, just long enough each point to wear El Sherbini out. Nicol's only scare was in game two, when she went down 7-2, before storming back to take the game 11-8.

Camille Serme bt Sarah Kippax 3-1

The second match of the day was the longest at 54 minutes. The first game was a well fought tense game by both players. They were clearly figuring out how to play one another. With Kippax getting the edge in game one, the crowd was looking for an upset. Alas, Serme had some good between game coaching and came out with more poise and control for the next three games. Although Kippax was able to stay in the match with Serme, it was only a matter of time, before Serme would write her ticket to the quarter finals.

Raneem El Weleily bt Kasey Brown 3-1

This match was one of the more powerful matches of the evening, with both players matching each other's high pace and tempo. After losing the second game, El Weleily took control of the match simply coming out even stronger with a more aggressive tempo. Brown could not keep up.

Nour El Tayeb bt Joelle King 3-0

The first upset of the evening! El Tayeb played a fantastic match, being aggressive and retrieving really well. She was not making any errors and was anticipating much of King's shots. King did not have a great match. She did not seem comfortable on the court making errors on easy shots.

Omneya Abdel Kawy bt Low Wee Wern 3-1

The games were close and the match was well contested. Neither made too many errors in the match. Kawy was thrown off by a few of the referee decisions in game three, but was able to overcome. Although the games were close, Kawy was typically in control and showed to be the stronger player.

Alison Waters bt Dipika Pallikal 3-0

This was a well contested match. Both players were jockeying for position and it looked like Pallikal could pull out a few games. Ultimately, the difference was that Alison did not make mistakes. She was always winning the longer points, which took the wind out of Pallikal's sail.

Annie Au bt Jenny Duncalf 3-0

Another upset today. Au was very good today at slowing the pace down and lobbing the ball into the back corners. It was clearly giving Duncalf trouble. Duncalf was down 9-5 in the second game and it looked like she was about to gain control of the match. However, Au had enough of a cushion to take the game 11-9. The third game was all Au as she cruised to the 3-0 victory.

Laura Massaro bt Madeline Perry 3-2

The last match of the day was a real thriller, and almost a big upset as second seed and 2011 Cleveland champio Laura Massaro came from 1/2 down to deny Madeline Perry.

"I am just happy to get through that match as It was a tough first round for me to have, said Massaro. "Madeline is a tough very tough competitor."

"It is a shame," admitted Perry, "because I played well all though the match but I came off the pace a little in the last two games. Laura played a great match."
31-Jan, Qualifying Finals:
Double Egyptian success in
Cleveland Qualifying

There was double Egyptian success in the qualifying finals of the eighth edition of the Cleveland Classic, as Nour El Tayeb and Nour El Sherbini were joined by England's Sarah Kippax and Hong Kong's Annie Au in the main draw of the popular WSA $50k event.


Ray Lindsay reports

Nour El Tayeb bt Rachel Grinham 3/0

The Egyptian girl showed silky skills in defeating former World Champion Grinham in a match that last 35 minutes. A lack of length from Rachael meant Nour could dominate the match showing impressive touch and deception.

Sarah Kippax Kippax bt Line Hansen 3/1

The first game had a few disputed lets, Line made a few crucial errors in the middle of the game that gave Kippax a buffer to end the game.

In the second Line started well with a 3/1 lead but a series on unforced errors proved her downfall. Kippax got in front and dominated play, forcing the errors.

The third was a reverse of the 2nd,Line managed to get in front and force errors, Line won to pull a game back.

Line had a handy lead 6/1 in the fourth then made a few errors to get Kippax in the game, Kippax drew even and finally pulled away to win a tough game 11/9.

Annie Au bt Lastasha Khan 3/0

Annie showed fantastic speed around the court and made very few mistakes to win the first 11/4, but Khan came out a lot stronger in the second, playing better length.

At 9/10 a lucky service nick got her to 10/10 all but she could not capitalize and lost 10/12. The third was Annie all the way winning 11/3.

Nour El Sherbini bt Emma Bedddoes 3/0

The last match of the night was the best. The English girl was up 10/8 in the first then hit the tin, which gave Nour an opportunity, which she took, winning 10/8.

The second game was the longest of the night, Beddoes again up but could not finish, Nour never gave up and ended up winning a great game 15/13. The third game was a bit of a procession, with El Sherbini winning in 8 minutes 11/8.

Sherbini now meets top seed Nicol David while Tayeb meets sixth seed Joelle King. Kippax is up against France's Camille Serme and Au meets Jenny Duncalf.
Cleveland Classic Qualifying Round One - what they said ...
"I felt good and was moving well which is the main thing for me these days.

"I was hitting the ball quite well too and had a plan with a couple of things to focus on which I managed to stick to. Also didn't make too many mistakes which always helps.

"Hopefully I will play well v Nour tomorrow. I'm just enjoying playing well and feeling physically in shape at the moment."

Rachael Grinham
"I felt like I played well and moved well. I wanted to make sure that I was moving well and that my head was in the game! Happy to be through to play Rachael in the next round."

Nour El Tayeb
"I felt like I was lacking a bit of length to start with and found her quite tricky having only played her once in practice before.

"I felt the court better after a couple of games but she dug in really well although I think I got the better of her in the end through fitness.

"She moves really well and has good shot selection so is a good prospect for the future."

Sarah Kippax
"I think I played ok and I think Sarah can play better than she did today against me. Whoever I play tomorrow will be tough out of Sabrina and Sarah. I hope it's a 5 setter!"

Line Hansen
"I'm really happy I won. I was a bit tense during the match and Olivia played well. I am excited to be playing Annie Au tomorrow."

Latasha Khan
"It's been a while since I've had comfortable match like that so it gives me confidence as I have been out (injured) for a while.

"I haven't been confident in my shots and mentally thinking they are not very good but today I was thinking positively and played my shots well.

"Hopefully tomorrow I will play well again, I have never played Emma or Melody before."

Nour El Sherbini
"Pleased to get off in three. Mel is dangerous in the middle of the court and can either make an error or hit a winner but fortunately today she made more errors. It's good to get going again after Greenwich last week.

"I haven't played Sherbini before so although it will be tough I am looking forward to it."

Emma Beddoes
"She is only 16 and I can see she is very attacking, eager and never gives up so I had to concentrate on not giving her any chances and not to make any errors.

"I enjoy Cleveland, the billets and the people at the club are very friendly. It's a good venue with live broadcasting & a comfortable player's lounge!"

Annie Au
Eight up for Cleveland Classic

The eighth edition of the Cleveland Classic (the first four were billed as the Burning River Classic) sees the world's best players return to Cleveland Racquet Club in pursuit of the WSA $50k title.

The previous three editions have been won by the world's top three - Laura Massaro in 2011, Nicol David in 2012 and Raneem El Weleily last year, and all three are in this year's impressive draw.