Sat 25th:

Women's Final: Poland 2-1 Malta



Men's Final: Israel 3-1 Norway

Fri 24th:

Men's Quarter-Finals:

Israel 3-0 Jersey Malta 3-1 Isle of Man
Slovenia 3-0 Croatia Norway 4-0 Greece

Men's Semi-Finals:

Israel 3-1 Malta Norway 3-1 Slovenia

Women's Semi-Finals:

Poland 2-0 Greece Malta 2-0 Slovenia

Ljubljana welcomes Euro Teams
Tomaž Čampa reports


The Slovenian capital of Ljubljana is this year's host city for the ETC division 3 and we are fortunate to have many great teams compeeting for the title.

Men's tournament sees the last year's relegated teams of Israel and Norway seeking to re-establish themselves in the Division two, while Slovenia, Greece, Jersey, Croatia, Luxembourg, Lithuania, Romania, Gibraltar, Malta and Isle of Man will do their best to keep them in the third division.


Women's event has 9 teams competing and it's close to impossible to decide on the favourite.

Greece and Poland seem strong, Slovenia plays at home which makes it more dangerous than ever, Croatia, Jersey, Luxembourg, Malta, and Ukraine are here to leave their mark as well.


On Day One we saw some memorable matches on the first day already, as if we weren't only in the pool stages.

Yet, every point may count at the end and teams are very well aware of it.

Former world's top ten player Nick Taylor (who is now the head coach for Jersey Squash, by the way) took over an hour to despatch Gibraltar's Anthony Brindle. He had just as much work to dispose of Kristian Solhaug of Norway, both matches ending with 3/2.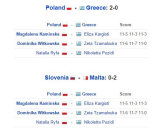 Women's Semis