The European Team Championships Division Three, features 17 teams from some of Europe's smaller nations battling it out for promotion to the top table in Malta this week ...
Roundup after day two ...

In the seven-team womenís round robin itís Scandinavia all the way with top seeds Denmark and Sweden heading the table with three out of three wins. They meet in the final round on Saturday, in all probability to decide the title.

Malta and Greece, both with two wins from four matches, are battling it out for bronze, the hosts look to have the slight edge as they have Norway and Croatia to play, while the Greeks meet Sweden and then Norway.

In menís pool A, top seeds Ukraine have three wins from three with just Malta to play. If Malta can pull off an upset it will set up a three-way tie with Ukraine and Poland, who have finished on three wins, otherwise it will be Ukraine and Poland in the semis.

In pool B Norway and Luxembourg are both unbeaten and through to the semis, so their meeting on Friday will decide the pool positions and, perhaps more importantly, the opposition in the semis.

Day TWO results
---
Wednesday, Day One:


On a sunny but windy day the stage was set for the European Team Championships Division 3 hosted by the Marsa Sports Club in the Mediterranean island of Malta.

The draw for the men's competition seemed to be incredibly competitive with first seeds Ukraine drawn with the extremely focused Poles as well as Lithuania, Cyprus and the hosts Malta. The other pool saw second seeds Gibraltar up against Luxembourg, Croatia, Norway as well as plucky Turkey,

In the women's event there was only one pool with a strong Scandinavian representation. The seeds and hot favourites Denmark were joined by Sweden, Norway, Greece, Turkey, Croatia and again the hosts Malta.

So let the Matches begin......

The first round of men's matches on the Wednesday morning were Turkey v Norway and Poland v Cyprus. Both matches were pretty one sided with Norway and Poland emerging as winners thus securing a positive start in their quest for qualification. In the women's event Greece beat Croatia 3-0 which included a close and exciting encounter between the number one seeds. In the other morning tie hosts made a convincing start to their tournament by basting Turkey 3-0.


The afternoons session saw the Hutchin's Twister hit Croatia at full force leading to a competitive and engaging encounter that was eventually won by Luxembourg. Malta men's began their quest for home soil tournament glory and showed no soft centre with a straight forward victory over Lithuania.

In an eagerly awaited match a packed crowd was ready to be enthralled by the Scandinavian ladies teams of Norway and Denmark. In a fantastic match which contained a high level of play and very few unforced errors Denmark showed their superior touch and came out victors by 3 matches to 0. On the opposing court Sweden ran out comfortable winners against a Croatian side who were tired from their earlier exploits in the day.

The top two men's seeds Ukraine and Gibraltar began their competition late in the day and both ran out comprehensive winners. Gibraltar showed that they "rock" as their number 2 Christian 'Elvis' Navas put on his blue suede shoes to dance over his opponent.

The final ladies matches of the day saw Malta hit rocky shores as they came unstuck against the impressive Danish team. Greece ended the day by defeating Turkey 3-0.

See you all tomorrow

Anthony Brindle and Adam Newnham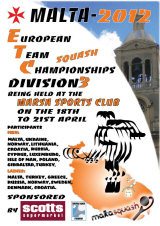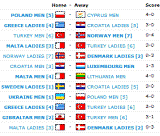 Day ONE results
Updates on
Cyprus Squash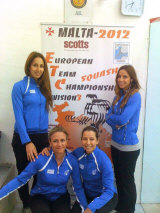 and on Squash.gr