Granite Club Open 2014
02-07 Mar, Toronto, Canada, $25k
07-Mar, Final:
[4] Amanda Sobhy bt [1] Omneya Abdel Kawy
11-5, 11-9, 11-5

Amanda is the Champion
Jessica DiMauro reports

Omneya Abdel Kawy fought hard against Amanda Sobhy right to the end, but it wasn't her night. Amanda, seemed to get fresher as the tournament went on, while Omneya seemed a little off her game.

Either way, it was great squash and the crowd was completely impressed by the level of play. Amanda stayed strong and focused throughout and won the match 3-0, 11-5, 11-5, 11-9.

We were so lucky to have all of these amazing athletes at the Granite this week. The members were inspired and excited and the section was very busy. I look forward to hosting this tournament for years to come!

So happy to win the Granite open tonight here in Toronto beating omneya Abdel Kawy in 3! My largest tournament win to date and 11th WSA tour title.

What an amazing event this has been! The tournament was superb and the people were spectacular and I was so fortunate to have my beautiful grandma here to watch me win this title this week! Definitely looking forward to being back.



Thanks to all of the people who helped with airport pickups, housing players, logistics, Paul Jamieson for our live-streaming, Jim Paton and Gary Caron for all your support. The Granite Squash Committee and Steph Edmison have been so supportive of this event from the start. They helped financially and by ensuring the social environment was awesome. Nikki Todd was an amazing help from start to finish. Thanks to the players for working so hard and playing so great and for playing hardball doubles with the sponsors and playing singles with the kids in our top program. Of course, thanks to everyone for coming out to watch and providing a great environment for these ladies to play in.

We could have hosted this tournament without all of you.

One of our sponsors, Body Bijou, donated a piece of jewellery to Amanda and to Omneya as our tournament prizes.



Amanda wore her new necklace to the final party and looked terrific!


Granite Club Open 2014
02-07 Mar, Toronto, Canada, $25k
Round One
04 Mar
Quarters
05 Mar
Semis
06 Mar
Final
07 Mar
[1] Omneya Abdel Kawy (Egy)
11-4, 8-11, 8-11, 11-8, 11-7
Victoria Lust (Eng)
[1] Omneya Abdel Kawy
w/o
[5] Line Hansen

[1] Omneya Abdel Kawy

w/0

[3] Sarah-Jane Perry

[1] Omneya Abdel Kawy

11-5, 11-5,
11-9

[4] Amanda Sobhy

[5] Line Hansen (Den)
11-4, 13-11, 11-9
[Q] Deon Saffery (Wal)
[8] Sarah Kippax (Eng)
11-4, 11-9, 11-3
[Q] Nouran Gohar (Egy)
[8] Sarah Kippax
6-11, 11-8, 11-3, 11-7
[3] Sarah-Jane Perry
[3] Sarah-Jane Perry (Eng)
11-6, 11-2, 11-8
Misaki Kobayashi (Jpn)
[Q] Heba El Torky (Egy)
11-3, 11-4, 11-7
[4] Amanda Sobhy (Usa)
[4] Amanda Sobhy
4-11, 11-6, 7-11, 11-3, 11-9
Samantha Cornett

[4] Amanda Sobhy

11-6, 11-7, 9-11, 11-5

[2] Rachael Grinham

[7] Joey Chan (Hkg)
11-3, 9-11, 9-11, 11-9, 11-4
(WC) Samantha Cornett (Can)
[Q] Tesni Evans (Wal)
11-8, 7-11, 11-7 rtd
[6] Donna Urquhart (Aus)
[Q] Tesni Evans
11-2, 11-7, 12-10
[2] Rachael Grinham
Aisling Blake (Irl)
11-5, 11-4, 13-11
[2] Rachael Grinham (Aus)
03-Mar, Qualifying Finals:

Deon Saffery (Wal)

3-2 Latasha Khan (Usa) 8/11, 11/5, 11/13, 11/4, 14/12


Tesni Evans (Wal) 3-0 Nikki Todd (Can) 11/7, 11/5, 11/5
Heba El Torky (Egy) 3-2 Maria Toor Pakay (Pak) 6/11, 11/6, 11/6, 8/11, 11/9
Nouran Gohar (Egy) 3-0 Samantha Teran (Mex) 11/8, 6/3 rtd

02-Mar, Qualifying Round One:

Latasha Khan (Usa) bye
Deon Saffery (Wal) 3-0 Hollie Naughton (Can) 11/8, 13/11, 11/5
Tesni Evans (Wal) 3-2 Tamika Saxby (Aus) 11/9, 9/11, 4/11, 11/8, 11/3
Nikki Todd (Can) 3-2 Megan Craig (Nzl) 11/6, 5/11, 6/11, 11/7, 11/3
Maria Toor Pakay (Pak) 3-1 Carrie Ramsey (Eng) 11/3, 6/11, 12/10, 11/3
Heba El Torky (Egy) 3-0 Jaycee Spagrud (Can) 11/6, 11/6, 11/3
Samantha Teran (Mex) 3-0 Maddie O'Connor (Can) 11/3, 11/6, 11/5
Nouran Gohar (Egy) 3-0 Kristen Lange (Usa) 12/10, 11/6,11/8
06-Mar:


Kawy to meet Sobhy in final
Jessica DiMauro reports, photos by Heba El Torky

Well, it's a tiny little write up tonight as we only had one semi-final played.

Before the matches began, several of the ladies volunteered their time to come out and hit with the juniors during our High Performance Programs. Special thanks to Heba, Tez, Sarah, Misaki, Hollie and Sam. The juniors loved it. And we all really appreciate it.

Omneya Abdel Kawy continued her trip to the final after only playing one match to get there. Both Line Hansen and Sarah-Jane Perry withdrew from the tournament due to injury. Lucky for us, Omneya agreed it was the right thing to do to play a few practice/exhibition games with Granite Pro Sam Cornett to keep herself sharp for Friday's final.

So, in place of the first semi-final, Omneya and Sam played a 2 out of 3 match. Sam continued her super speedy ways and ran all over the court, making unbelievable gets, terrific choices and awesome shots. This tournament has been a bit of a break-through for Sam in my eyes. We're all so proud of her! After Sam won the first game, Omneya started to show us why she was World Junior Champion in 2003.

Her shots are the cleanest I have seen. So much accuracy. Omneya won the second in a close battle and the third in an even closer game. It was terrific to watch. Thanks to both girls for playing.

The 7:30 semi-final was highly anticipated. Two clashing playing styles turned out to be tons of excitement for the spectators. Rachael Grinham chopped her drops in, flicked her lobs up and pushed her drives with tons of deception. Amanda Sobhy volleyed everything she could, kept the pressure up and had enough patience to wait until Rachael's calculated drops just hit the top of the tin.

Both girls are such unbelievable athletes. The match was clean, with only two lets called the entire time. The fans were hoping for a fifth, but Sobhy stayed strong and finished the match in 4. 11-6, 11-7, 9-11, 11-5.

THE FINALS ARE SET FOR FRIDAY NIGHT.

COME OUT TO SUPPORT THESE LADIES. THEY WORK SOOOOOO HARD!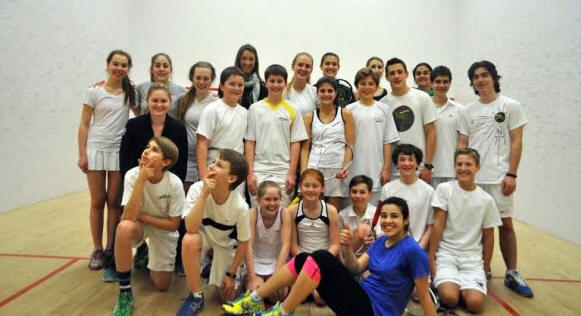 05-Mar:


Top seeds through to semis
Jessica DiMauro reports, photos by Heba El Torky

Wednesday started off with some great hardball doubles matches. The Title and Gold Sponsors paired up with the Pro Women and we played for two hours. The girls were great sports and the Sponsors had a lot of fun!

The singles portion of the night started off with a sad email saying that Line Hansen had to forfeit her match with Omneya due to injury. We were all very sorry to hear this and hope she recovers fast!

In the first match, Sarah Kippax got off to a great start, winning the first game 11-6 over Sarah-Jane Perry. Sarah was fast and patient and really looked in control. In the second game, SJ rolled her ankle and took an injury time-out.

After spraying freezing spray on her ankle and taping it up, Sarah-Jane went back on court and turned the match around. She won the next three games to take the match 3-1. These girls covered the court with ease and made some amazing shots. 6-11, 11-8, 11-3, 11-7

With a bit of bias, I would have to say that the second match of the night was the most exciting for the home crowd. Sam Cornett played "the best she has ever played" to barely lose 11-9 in the fifth to Amanda Sobhy.

Sam took the first game convincingly, but Sobhy came to life in the second to even the score at 1-1. The entire match went back and forth in the same fashion but Sobhy pulled it out in the end. Such great, physical squash. 4-11, 11-6, 7-11, 11-3, 11-9

The last match of the night was very different but equally entertaining. I don't think any of the Granite spectators had ever seen a player quite like Rachael Grinham. "How does she do that?" was coming out of everyone's mouths. She's quick and crafty and fun to watch.

Tesni Evans is always a crowd-pleaser with her wise-cracks, smiles and of course, awesome squash. As much as Tez tried to weasel the ref, Rach was just too strong for her tonight. 11-2, 11-7, 12-10

THE SEMI FINALS ARE SET FOR THURSDAY NIGHT.

COME OUT TO SUPPORT THESE LADIES. THEY WORK SOOOOOO HARD!




Perry out

Sarah-Jane turned her ankle in the second game against Sarah Kippax. Although she was able to continue, and indeed come back from a game down to win, the injury has proved to be too much and so she has had to withdraw, and is flying home for treatment. She has a pair – she turned the other ankle last week in the Windy City Open!
04-Mar:


Round One at Granite Club
Jessica DiMauro reports

Just when I thought things couldn't get more exciting than yesterday, the ladies all proved me wrong!

Although the crowd was pretty thin for the first match and Deon Saffrey got off to slow start, things really started to pick up quickly. Line Hansen won a hard-fought second game in extra points and then an equally tough 11-9 third game. (11-4, 13-11, 11-9)

Sarah-Jane Perry continued to help put the courts back on schedule with her 3 game win over Misaki Kobayashi. Misaki, as always, was moving terrific, but SJ had her all over the court with her great holds and great space. It's nice to see our Granite Open reigning champ playing so well. 11-6, 11-2, 11-8.

Amanda Sobhy, the newly crowned, 3-time NCAA champ, made quick work of Heba El Torky (11-3, 11-4, 11-7). Heba may have been a bit slow from all of her matches in Montreal, along with her physical battle against Maria Monday night. But Amanda dominated the middle, volleyed everything and made some amazing gets.

The highlight of the night for our Granite crowd, was home-club hero, Sam Cornett's, upset win over Joey Chan. The match was a battle all the way through and we're all so lucky and happy to have witnessed this win. Joey moves so well and Sam had to be ultra-patient to find an opening. Thanks for a great match girls. We all really enjoyed it. 11-3, 9-11, 9-11, 11-9, 11-4.

I personally had a ton of fun watching Rachel Grinham play Aisling Blake. The last time Rach played at the Granite, she was doing exhibitions at age 16 when she stayed at my house for a month and caught her first snowflake on her tongue. Bet she's sick of all that 'exciting' snow now!

Anyway, enough nostalgia....Rach got off to a quick start, winning the first two games quite easily. But Aisling put up a huge fight in the third and lost a tight 13-11 game. 11-5, 11-4, 13-11.

Sadly, the Granite Open saw its third player withdraw due to injury, when Donna Urquhart retired in her match against Tesni Evans. Donna has been struggling with a pulled calf this week and couldn't make it through the match, retiring when down 2-1. 11-8, 7-11, 11-7, retired.

Sarah Kippax played an amazing, consistent match, dominating the young Egyptian, Nouran Gohar. Sadly, not enough people got to see that match as we had to put it on the second court to fit all the matches in tonight. But we are certainly looking forward to watching Sarah play on Wednesday. Nouran will take her first stab at hardball doubles when she jumps in with the sponsors on Wednesday. 11-4, 11-9, 11-3.

Admittedly, I had to race out before the last match finished to go play a league match. Omneya Abdel Kawy was down 2-1 to Victoria Lust but pulled it out 11-7 in the fifth game. I hear it was a loooooong, let-filled match with lots of great shots by Omneya and some amazing gets by Lusty! Don't have the detailed scores but will send them tomorrow.

Wednesday night starts off with 6 of the ladies pairing up with our Title and Gold Sponsors to play some hardball doubles! Both the sponsors and the ladies are really looking forward to it.
03-Mar:
Qualifying complete at Granite Club
Jessica DiMauro reports

Qualifying Finals night was filled with emotion. All the matches had different personalities and the crowd was kept entertained all night.

Latasha Khan and Deon Saffrey started the night with a long, five-game see-saw battle that ended in a 14-12 fifth game win for Deon.

Tesni Evans silenced the home-crowd quickly when she pulled away from Nikki Todd at 7-7 in the first game. Nikki started strong again in the second but Tez stepped it up and took 8 points in a row to win that game. The match finished 3-0 in Tesni's favour.

The Heba El Torky/Maria Toopakai Wazir match was the most exciting of the night. Some of the crowd found the antics to be too much but both girls were giving 150% and sometimes found themselves caught up in each other's path to and from the ball. As heated as the battle was, both girls came off and were smiling shortly after. Heba pulled it out, 11-9 in the fifth.

The last match was certainly the saddest of the night. Half-way through the first game, it became apparent that Samantha Teran had hurt her calf while playing Nouran Gohar. She tried to start the 2nd game and took an injury time out at 6-3 Nouran, but realized she could not continue. Everyone is very sad as Sam is a crowd favorite and we all wish her a quick recovery.

Come out to cheer on the ladies tomorrow! We hope to have lots of support for Granite Pro Samantha Cornett as she takes on Hong Kong's Joey Chan at 6:45pm!
02-Mar:


Qualifying under way at Granite Club
Jessica DiMauro reports

Tonight's first round qualifiers started off with a bang. Big crowd for a Sunday night, lots of excitement, lots of players in attendance as well.

We're so excited that the Granite, the sponsors and the members have embraced this event so much! We are looking forward to an amazing week!

Highlights of the opening day's play were Nikki Todd's 3-2 win over Megan Craig, where lots of home crowd support and some great patience by Nikki really paid off, and a great experience for Granite junior Maddie O'Connor to play such a tough but nice opponent in Samantha Teran.

I hope the Granite Sponsors and members will come out to watch these amazing matches Monday night! We are so lucky to have this event right here for all of us to see.

Come cheer on Granite Pro Nikki Todd at 6:30pm - for all others, we are excited to have live streaming on UStream!