25-Apr, Finals:

[1] Alison Waters (Eng) bt [3] Madeline Perry (Irl) 11/6, 11/9, 11/4 (37m).
[1] Thierry Lincou (Fra) bt [6] Mohamed El Shorbagy (Egy) 11/7, 11/6, 11/5 (34m)

Top seeds take Irish titles
Dan Zilic@Fitzwilliam

In the women's final Alison Waters took the far better start out of the two and raced to a 5:0 lead in a few minutes. She managed to remain ahead for the rest of the game, but home favourite Madeline Perry was able to to get into the match thanks to some spirited rallies at 2:7 and 4:7 down.

Waters' volleys are somewhat good though and she set herself up with a gameball to 10:6 thanks to a fantastic forehand kill, then to take the next point and first game with a deceptive crosscourt volley-drop.

Second game was tight with Madeline hitting some wonderfully hard and crisp drives but Alison recovering well. Madeline held an 8:7 lead and it was anybody's game, but some more good volleying by Waters were enough to see the game out 11:9.



The third game was to be the last despite an encouraging 3:1 start to Madeline. A mixture of mistakes and good-play by Alison helped her win 7 points in a row. She didn't give away the lead anymore and won the game and match.

It was a well-contested match, it did seem though that Alison had a tad more to offer at the front court, playing some excellent short volleys and drops. Alison was very light-footed, moved very well and retrieved most balls Madeline threw at her.

Full house for the men's

I think the place got even fuller for the men's final and people actually reverted to watching the match in the bar, which was possible thanks to having some cameras and screens set-up. The presenter reminded us that Shorbagy had indeed beaten Lincou last time round in the World Open in an 81mins game and the crowd were hoping for some of the same.



From the outset it became clear that Shorbagy would not be able to play an as open game as he had done in previous rounds. Lincou was looking really sharp and began to pick up all the short-balls Shorbagy played with interest. Also, much to Shorbagy's frustration, his short shots were just not coming off as they had done before and he was making a good amount of mistakes. I guess this is what happens if you play against Lincou, as you pretty much have to hit a perfect shot not to get the ball whipped back at you.

Nonetheless, the squash was dynamic and you could see why Lincou is still number six in the world. Shorbagy played some unbelievable drops and Lincou would pick them up and play some feathery counter-drops or terrific lobs. It was enough to take first game 11:7, 3 points down to strokes (at least one of them dubious though).

The second game was much of the same and it became evident that Lincou was close to unbeatable today, at least with the error rate Shorbagy was playing at. The "Ooooh" and "Aaaah" rate therefore was not quite as high as before, but nonetheless Shorbagy played some delightful crosscourt drops that were close to unretrievable, but not for Lincou of course, who even found the time to delay his shots and make Shorbagy work tremendously hard. Lincou worked himself into a lead of 9:2 and Shorbagy came back to 6:9, but a no let and winner for Lincou won him the second game 11:6.



The third game, unfortunately, was the shortest of the lot but saw one spectacular rally where Shorbagy gave it his all and picked up balls like a mad man. This rally alone was worth coming down for, but it did ultimately tire Shorbagy enough to lose the game and therewith the match.

Nonetheless, some great entertainment and a very deserved winner.

Lincou's movement, little holds on every shot and look-away kills, were enough to beat the young Egyptian, who, as everyone knows, is a future world-beater and someone who really gets a lot of people excited. Thierry quipped that today it was the old guard against the young guard and seemed to be very happy to get his revenge - and his 20th tour title.

Alex Gough, who made an appearance here in his new role within the PSA, rightly pointed out that there are few tournaments as hospitable and well-run as this, and the whole week, from a Squash-fan perspective, has been just great. I am now off to try that steak that everyone is eating!



Getting there early ...

Finals day is here and I made sure to get into Fitzwilliam a good 25mins ahead of time, only to find the centre court absolutely packed. I have been able to get a seat on the steps, which luckily allows me to use my laptop.

To be honest, my guess is that the seating area should be enough for a good 250 people but people are crammed in all over the place, which I have not seen in years in any Squash tournament and is testament to a great tournament and some exciting players to watch.

Of course the home-interest provided by Madeline really helps as well. All of this is really great - especially for the sponsor: www.cannonkirk.co.uk/ie - who could not have wished for a better outcome (okay, Derek Ryan could have made it to the final).

Anyway, on to the Squash. Alison Waters beat Madeline Perry in the same event 3:1 last year, however, in the semi-finals that was though. I have never seen Alison play before but she will have her work cut-out against a determined looking and large-cheer-receiving Madeline. Luckily, I am not Irish so I am totally neutral on this!

The match I am looking forward to the most however is the men's final, especially as Shorbagy has beaten Lincou before. Shorbagy has been scintillating to watch but the way he has played looked too energy-absorbing for Lincou not to take advantage of, but then again he will not be in love with the idea of playing someone who hits nicks at will.

"Happy with my victory tonight.

"I wanted this match for two reasons. One, to take my revenge from the Worlds, and I also wanted a 20th PSA title. Also, my mates have been pulling my leg so much for entering a two star event that I was even more determined to win tonight...

"This tournament is good for me. Last time I played it, in 2000, I was top 16, and I beat Paul Johnson who was no 4 at the time, to then lost to Power....

"I'll sleep well tonight."


Irish Open 2009
20-25 April, Dublin, $25k
Round One
22-Apr
Quarters
23-Apr
Semis
24-Apr
Final
25-Apr
[1] Thierry Lincou (Fra)
11/7, 11/3, 11/8 (37m)
[Q] John Rooney (Irl)
[1] Thierry Lincou
11/4, 11/8, 11/5 (28m)
[8] Mark Krajcsak

[1] Thierry Lincou

11/6, 11/3, 11/4 (44m)

[5] Daryl Selby

[1] Thierry Lincou

11/7, 11/6, 11/5 (34m)

[4] Mohamed El Shorbagy

[8] Mark Krajcsak (Hun)
11/7, 11/8, 9/11, 13/11 (51m)
Amr Swelim (Egy)
[3] Alister Walker (Eng)
11/8, 12/10, 4/11, 4/11, 11/6
[Q] Nicolas Mueller (Sui)
[Q] Nicolas Mueller
11/9, 4/11, 11/8, 11/3
[5] Daryl Selby
[5] Daryl Selby (Eng)
11/5, 11/9, 7/11, 1/11, 11/6 (80m)
[Q] Mathieu Castagnet (Fra)
[Q] Rob Sutherland (Wal)
11/4, 12/10, 7/11, 4/11, 11/8 (75m)
[7] Renan Lavigne (Fra)
[Q] Rob Sutherland
11/9, 14/12, 11/7 (35m)
[4] Mohamed El Shorbagy

[4] Mohamed El Shorbagy

12/10, 11/6, 8/11, 11/8 (51m)

[6] Joey Barrington

Arthur Gaskin (Irl)
11/6, 7/11, 11/8, 11/7 (43m)
[4] Mohamed El Shorbagy (Egy)
Liam Kenny (Irl)
9/11, 11/5, 11/3, 11/5 (60m)
[6] Joey Barrington (Eng)
[6] Joey Barrington
12/10, 11/6, 11/9 (55m)
Julien Balbo
Julien Balbo (Fra)
9/11, 11/8, 11/6, 11/3 (54m)
[LL] Yann Perrin (Fra)

21-Apr, Qualifying Finals:

John Rooney (IRL) bt Jesse Engelbrecht (RSA) 3/0 (11/4, 9/1 rtd) 10m
Nicolas Mueller (SUI) bt Yann Perrin (FRA) 3/0 (11/8, 11/7, 11/5) 30m
Mathieu Castagnet (FRA) bt Gilly Lane (USA) 3/1 (8/11, 11/9, 11/8, 11/3) 65m
Rob Sutherland (WAL) bt Ben Ford (ENG) 3/1 (7/11, 11/5, 11/2, 11/9) 45m

20-Apr, Qualifying round one:

Jesse Engelbrecht (RSA) bt Rory Byrne (IRL) 3/0 (11/7,11/4,11/3) 18 m
John Rooney (IRL) bt Derek Ryan (IRL) 3/0 (11/5, 11/6, 11/6) 36m
Yann Perrin (FRA) bt James Snell (ENG) 3/0 (11/0, 11/8, 11/9) 37m
Nicholas Mueller (SUI) bt Johan Bouguet (FRA) 3/1 (11/5, 4/11, 11/2, 11/4) 38m
Mathieu Castagnet (FRA) bt Keith Moran (IRL) 3/0 (11/4, 11/7, 11/8) 27m
Gilly Lane (USA) bt Niall Rooney (IRL) 3/1 (11/5, 11/4, 9/11, 11/4) 45m
Ben Ford (ENG) bt Gregoire Marche (FRA) 3/1 (11/8, 11/13, 11/6, 11/8) 61m
Rob Sutherland (WAL) bt Joe Lee (ENG) 3/1 (11/6, 11/8, 5/11, 11/9) 57m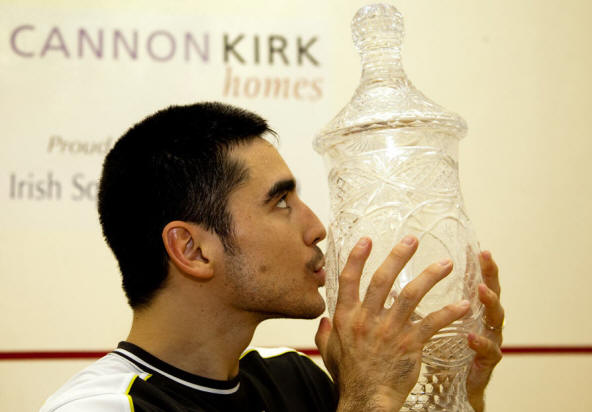 Irish Open 2009
20-25 April, Dublin, $25k
Round One
22-Apr
Quarters
23-Apr
Semis
24-Apr
Final
25-Apr
[1] Alison Waters (Eng)
11/1, 7/11, 11/8, 11/2 (34m)
Aisling Blake (Irl)
[1] Alison Waters
11/5, 11/9, 11/4 (28m)
[6] Samantha Teran

[1] Alison Waters

11/4, 11/1, 13/11 (31m)

Sarah Kippax

[1] Alison Waters

11/6, 11/9, 11/4 (37m)

[3] Madeline Perry

[6] Samantha Teran (Mex)
8/11, 11/8, 11/9, 12/10 (45m)
[Q] Annelize Naude (Ned)
[4] Isabelle Stoehr (Fra)
12/14, 11/3, 11/3, 7/11, 11/9 (46m)
Sarah Kippax (Eng)
Sarah Kippax
11/9, 12/10, 11/7 (32m)
[8] Tania Bailey
[8] Tania Bailey (Eng)
11/7, 8/11, 11/7, 11/7 (33m)
[Q] Manuela Manetta (Ita)
Delia Arnold (Mas)
12/10, 11/5, 11/9 (39m)
[5] Vanessa Atkinson (Ned)
Delia Arnold
11/5, 11/8, 11/8 (33m)
[3] Madeline Perry

[3] Madeline Perry

9/11, 11/7, 11/8, 11/3 (55m)

[7] Jaclyn Hawkes

[Q] Lauren Siddall (Eng)
11/6, 11/4, 11/4 (32m)
[3] Madeline Perry (Irl)
Dominique Lloyd-Walter (Eng)
11/2, 14/12, 16/14 (56m)
[7] Jaclyn Hawkes (Nzl)
[7] Jaclyn Hawkes
4/11, 6/11, 12/10, 12/10, 11/9 (70m)
[2] Laura Lengthorn-Massaro
[Q] Orla Noom (Ned)
11/6, 11/5, 12/10 (35m)
[2] Laura Lengthorn-Massaro (Eng)

21-Apr, Qualifying Finals:

Manuela Manetta (ITA) bt Dipika Pallikal (IND) 3/2 (11/4, 11/7, 9/11, 7/11, 11/5) 43m
Annelize Naude (NED) bt Adel Weir (RSA) 3/0 (11/6, 11/6, 11/5) 25m
Orla Noom (NED) bt Alexandra Norman (ENG) 3/2 (5/11, 11/7, 9/11, 11/9, 11/5) 47m
Lauren Siddall (ENG) bt Joshna Chinappa (IND) 3/0 (11/8, 11/9, 11/5) 24m

20-Apr, Qualifying Round One:

Manuela Manetta (ITA) bt Dagmar Vermeulen (NED) 3/0 (11/7, 11/7, 11/8) 25m
Dipika Pallikai (IND) bt Kerri Lancaster (IRL) 3/0 (11/8, 11/6, 11/6) 23m
Annelize Naude (NED) bt Siyoli Lusaseni (RSA) 3/0 (11/4, 11/3, 11/5) 29m
Adel Weir (RSA) bt Lovisa Forstadius (SWE) 3/0 (11/2, 11/0, 11/5) 18m
Alexandra Norman (ENG) bt Anna-Carin Forstadius (SWE) 3/0 (11/7, 11/5, 11/9) 27m
Orla Noom (NED) bt Birgit Coufal (AUT) 3/0 (11/4, 11/7, 15/13) 30m
Lauren Siddall (ENG) bt Carla Khan (PAK) 3/2 (11/7, 6/11, 11/5, 6/11, 11/9) 36m
Joshna Chinappa (IND) bt Carrie Hastings (ENG) 3/0 (11/4, 11/7, 11/5 ) 21m
24-Apr, Semi-Finals:

[1] Alison Waters (Eng) bt Sarah Kippax (Eng) 11/4, 11/1, 13/11 (31m)
[3] Madeline Perry (Irl) bt [7] Jaclyn Hawkes (Nzl) 9/11, 11/7, 11/8, 11/3 (55m)

[1] Thierry Lincou (Fra) bt [5] Daryl Selby (Eng) 11/6, 11/3, 11/9 (44m)
[6] Mohamed El Shorbagy (Egy) bt [4] Joey Barrington (Eng) 12/10, 11/6, 8/11, 11/8 (51m)

Perry makes final as
Shorbagy shines again

The home crowd were delighted to see Madeline Perry reach the final of the women's event with a hard-fought win over Jaclyn Hawkes, while Mohamed El Shorbagy, quickly becoming a Fitzwilliam favourite, beat training partner Joey Barrington to reach the men's final.

Both will face the top seeds in tomorrow's climaxes after Alison Waters and Thierry Lincou both prevailed in straight games.


Perry powers to another Cannon Kirk Irish Open final

Ireland's Madeline Perry was a convincing winner over New Zealander, Jaclyn Hawkes in today's semi final match at Fitzwilliam Lawn Tennis club.

Hawkes, the victor over the number 2 seed, Laura. Lengthorn-Massaro in yesterday's quarter finals, put up a brave display but just could not match Perry's steely determination and consistency. Despite conceding 6 strokes in the opening game and losing 11/9, Perry went on to establish her authority and was a convincing winner to take the match 9/11, 11/7, 11/8, 11/3 in 55 minutes.

Perry meets number 1 seed Alison Waters in tomorrow's final. Waters looked to be cruising to victory at 2-0 and 10/4 in the third, but fellow Englishwoman Sarah Kippax saved six match balls before finally succumbing to the top seed.

Perry is going for her fourth Irish open title and it will take some thing special to stop her!


Rising star Mohamed El Shorbagy of Egypt ( 22) again put on an exciting display of wizardry to defeat Joey Barrington (28). Barrington was well in the match but had to work extremely hard to win a point.

Winning shots were returned by Shorbagy with amazing athleticism and skill not seen on the squash courts for some time. Barrington had a great chance to take the opening set, leading 8/10, but Shorbagy replied with 3 consecutive nick shots to take the set 12/10.

In the second game, Shorbagy continued his nick spree and finished the game with an incredible backhand high volley into the nick to take it 11/6.

Barrington's hard work paid off and he took the third game with some panache to win it 11/8.

Shorbagy wrapped up the fourth game 11/8 and will play his first Irish Open final against the number 1 seed and former world champion, Thierry Lincou of France.

Dan Zilic@Fitzwilliam

Daryl v Thierry

Unfortunately I got in late due to work and only caught some glimpses of the match. At the bar I talked to my friend Ed who wasn't watching the match any longer and said "the English guy lost his head a bit in the first game" - a fact I cannot confirm since I hadn't witnessed any of it.

I came in and Daryl was 10:4 down in the third and I thought it would be all over in the next rally, however, I got it wrong and the match went on for another 10mins and saw Daryl get back to 9:10, thanks to some great rallying and patient play.

The crowd, who turned out in great numbers today, really appreciated Daryl's fightback and were disappointed when the referee called a cruel no-let at 10:9.

From what I could see Thierry seemed to be playing well - I actually really like watching him since he looks so committed to each and every shot he plays, and his movement is as slick as ever.

"I benefited from Daryl's concentration up and downs, which allowed me to lead 2/0. Then a big scare to try and convert my match balls, with Daryl coming back into the match, playing superb, clean, efficient, error free squash.

"Happy to get through in three. Tomorrow, well, another day...."



Madeline v Jaclyn

Madeline started the better of the two going 4:1 up with Jackie looking a bit nervous. She settled in well though and the match was pretty open. However at 9 all it was Jackie who prevailed, aided by an easy mistake by Madeline, and she took the game 11:9. Jackie has really been playing well as far as I have seen here and I have rarely seen a woman retrieve so well as her, the amount of balls she picks up is really quite deceptive.

The second game started well for Jackie and Madeline seemed to have lost a whole bunch of confidence, going 0:4 and 1:6. However, Madeline came back strongly, stepped up the court and started volleying with confidence and staged a great comeback to win the game 11:7.

There was a bit of controversy after Jackie got two relatively easy strokes in a row before - it did look as if she was able to play a ball but stepped back into her opponent a bit. When she did it a third time the referee only awarded a let and Madeline had a short word to Jackie about this, nothing major though really.

The third game started in similar vein and Madeline remained dominant, although getting herself in trouble once in a while by tinning a few drop-shots. Particularly her cross-court kills/drop-shots seemed to be letting her down a bit.

On went Perry to set four and she proved my last sentence (which I wrote in the break) to be totally wrong - suddenly she hit some sublime cross-court drops. Jackie staged a small comeback at 2:8 down and never gave up, receiving a conduct stroke during the process, but Madeline finished things up to win the match 3:1.


Shorbagy v Joey

The next match was the one everyone had waited for, as Shorbagy has proven to be a bit of a crowd favourite. And the young man did not disappoint.

He actually started a tad slower than yesterday I felt, but then again Barrington also played a more contained game than Robbie Temple, Shorbagy's previous opponent. Anyway, Shorbagy started ramping up the nicks and outrageous shots but mid-way through the game made a few mistakes and Barrington played good, tidy Squash. The Englishman went 10:7 up, but Shorbagy had none of it and scored five points in a row to win the game in the tie-break.

Set two was more straight-forward and Shorbagy was really in the zone. He hit at least five dead cross-court nicks, several off the serve and a few unbelievable ones mid-rally. Apart from hitting ferocious nicks he was bouncing around the court anticipating every second ball and retrieving those he anticipated wrongly at lightning speed. Joey in the meantime did his best to weather the storm but went down 11:7.

In game three Shorbagy made a few more mistakes than before and Joey surprised him with some low and hard cross-courts, hitting it inches past Shorbagy's knees. Every second rally was a total crowd pleaser though and I think everyone was happy that Joey took game three to see some more sublime Squash.

And they were treated to some more in game four. Shorbagy took an early lead and won the crucial point at 8:7 to go ahead 9:7, and did not lose another point after that.

The thing is, with him you never know how serious he really is, at one point he was pumping himself up but it almost looked as if he were doing so for fun, although I did think he meant it. He is a real showman on-court, his repertoire including some jumps and yelps mid-rally, but despite some serious looks Joey took it well and the game was a showpiece of fair squash, I think in all there were no more than 5 or 6 lets called.

@Fitzwilliam

Anyway, it has been great sitting next to some gobsmacked spectators for the day and the finals should be something special tomorrow. People reading this in Dublin should consider coming early though, because the place is going to be jam-packed and the squash, my friends, should be nothing short of amazing.

Also, despite having not tried it yet, Fitzwilliam Lawn Tennis Club make an amazing steak that you see sizzling on almost every plate you see in the bar area. Not that it beats the Guinness though...


23-Apr, Quarters:


Quarters in Dublin


Dan Zilic pops into Fitzwilliam
for a Guinness ... or maybe two ...

Watched the last game between Madeline Perry and Delia Arnold. Madeline seemed a bit too strong and although Delia had her chances she hit about four drops in the tin. Madeline played well, hitting the ball hard and purposeful, and looked like she was in no great danger. It was great to see the crowd really get behind her, despite a 6 o'clock start which means many people came straight from work.

I was really looking forward to the next match between Shorbagy and Sutherland. I used to play Rob when he was about 14 or 15 and I was at university in Cardiff so I am happy he went on to be such a good player and I can claim to have beaten him back in the early days (I lost towards the end of my uni-career though). And I had read a lot about Shorbagy, and what should I say, I was not disappointed.

Rob went 5:1 down in first game but got back due to settling in and hitting two fine winners in a row, one sensational forehand straight kill. The Welshman was 8:6 up but Shorbagy got three points in a row, grabbing the game with a perfect forehand crosscourt that hit the nick. Rob had his chances and will be disappointed to lose the game.

The second started off in a blast and Shorbagy tried to volley every single shot Rob hit and to play a cross-court nick off it. Not all of them succeeded and Rob managed to dig some of them out. The best rally was the second one, which saw some sensational pick-ups and outrageous attempts by Shorbagy, but Sutherland took the point after an unbelievable pick-up.

The game slowed down a bit and Shorbagy tried to disrupt the game by throwing in some great skid-boasts. Rob once again had his chances, holding his own with some great kills, but Shorbagy claimed the most important rallies and saw the game out 14:12, looking quite casual doing so.

Third game started a little slower but featured some more fantastic rallies. This time though Rob wasn't able to keep things quite as tight and while the crowd enjoyed more scintillating rallies, it seemed clear half-way through that Shorbagy was to run this out to a 3:0 win.

A highly enjoyable match that the crowd really got into, I heard loads of "Oooohs" and "Aaaahs" and despite losing 3:0, Rob will have been happy with his performance. Playing Shorbagy seems to be quite intimidating as he hits the ball so hard, but Rob did really well.

I watched Lengthorn v. Hawkes, which proved to be a real nail biter. I came in and Hawkes was 6:0 down in the first, without really doing much wrong. It was the first time I watched Lengthorn play and I was really impressed - anything the Kiwi threw at her she played back with interest. Her boasts were working especially well and despite Hawkes playing good squash and retrieving almost lost balls, Lengthorn was in command.

It tightened up in the second which Lengthorn won and the third saw Lengthorn finally lose control. I cant really say what it was but she just lost a bit of commitment and focus and Hawkes kept on retrieving. At 10:6 for Hawkes, Lengthorn got back to 10:10, only to tin an easy shot and lose the next rally. I really thought Lengthorn was going to get back and win the fourth but she kept on going from really focussed to being a bit passive and Hawkes just seemed that bit more determined.

After another tie-break to Hawkes it was anyone's game and at 8:6 I once again believed Lengthorn had it, but I have to compliment Hawkes for her relentless retrieving, which played a big part in winning the match for her in another tight last game. If Lengthorn had kept up her rock-solid game from the first and second game I truly believe she was going to win the tournament - so credit to Hawkes for really digging in and pulling out a huge upset.

The last game was between Joey B. and Julien B. It started off as expected with Joey hitting the ball to the back-court and Julien being a bit more experimental and showing some great touches. He was ahead for some time and it was a close set that Joey won 11:9.

I think most people felt that Julien really needed that first game to stand a chance, as Joey is known for his fitness and I would think does not lose many matches when ahead - and so it proved to be. Joey went 8:1 up and although Julien hit a purple patch to get back 5 points from 1:8 to 6:9, it was not to be and he found himself 2:0 down.

It was never easy and Joey showed great determination, awesome retrievals and some fine backhand dropshots - and it ultimately proved to be enough for Julien, who is a pleasure to watch but is one of those players who I feel needs to be in front and thrive on his confidence, rather than be on the backfoot.


Talking to the crowd Shorbagy was the big topic, everyone was talking about his match and skill and is looking forward to watching him play tomorrow.

There is a good buzz around here and the matches are well attended, which is great to see. This year they even have a TV with instant replay - mixed in with the fine Guinness it makes for a great tournament!



Perry through to semis as Egyptian Entertains in Dublin
Kevin Moore reports

Ireland's Madeline Perry continued to impress as she won through to the semi final of the $25,000 Cannon Kirk Homes Irish Open in Dublin.

The world number nine from Banbridge defeated Malaysia's Delia Arnold in a comprehensive three nil win to set up a semi-final spot with New Zealand's Jaclyn Hawkes, after the Kiwi produced a remarkable come-back to defeat number two see Laura Lengthorn-Massaro of England.

Hawkes had been two games down but fought back to take the match 11/9 in the deciding set. Perry's semi-final against Hawkes now presents a real opportunity for Perry who is looking to climb back up the rankings towards her previous best of world number six.

In the other half of the draw, top seed Alison Waters beat Mexico's Samantha Teran three nil to set up a semi-final clash with her English compatriot, Sarah Kippax. World number 28 Kippax upset the odds to beat both the world number 10 and 12 on her way to the semi-final.

Shorbagy shines ...

A packed Fitzwilliam were treated to a fantastic night of squash which included a superb display from one of the brightest talents in world squash, as 18 year old Egyptian Mohamed El Shorbagy entertained the appreciative crowd.

El Shorbagy is the current world junior champion and one of a host of up and coming players from a country that possesses the top three men in world squash. He took on the impressive qualifier Rob Sutherland from Wales and both players contributed to an entertaining match with El Shorbagy producing winners from seemingly impossible situations.

His combination of power and touch was too much for Sutherland on the night as he won 11/9, 14/12, 11/7 in 34 minutes.

Top seed and world number seven Thierry Lincou looked in good form also as he eased past Hungary's Mark Krajcsak three nil in just 28 minutes. He now faces England's Daryl Selby after the English number five seed overcame another big talent, Switzerland's Nicolas Mueller who had come through the qualifiers.
22-Apr, Round One:
Top seeds safely through ...
Kevin Moore reports

The Cannon Kirk Irish Open main draw has got off to a great start in Fitzwilliam with a good crowd enjoying some fine squash already and plenty of upsets.

In the shock of the day men's third seed Alister Walker, world number 16, was beaten by Swiss qualifier Nicolas Mueller 3/2. The English favourite fought back from two games down to take it to a deciding set but Mueller pulled off an unlikely upset to take the last 11/6 and book his place in the quarter-final.

Fellow qualifier Rob Sutherland of Wales also won through to the quarter-final defeating France's Renan Lavigne. At world number 74, Sutherland produced a great performance to beat an opponent 35 places ahead of him 3/2 in a 75 minute marathon.

The women's first round has seen the demise of both the fourth and fifth seeds in a day of upsets in Dublin.

England's Sarah Kippax defeated fourth seed and world number 10 Isabelle Stoehr from France 11/9 in the deciding set. In another upset, Malaysia's world number 24 Delia Arnold beat world number 12 and fifth seed Vanessa Atkinson in a comprehensive 3/0 39 minute match.

Not all the seeds were tumbling however as both top seeds progressed past their Irish opponents to book a place in the quarter finals.

In the men's event France's world number seven Thierry Lincou beat Galway's John Rooney who came through the qualifiers. Rooney found the going much tougher against the former world number one and went down 3/0 in 37 minutes.

Sligo's Aisling Blake, at a career high world ranking of 27, was unlucky to draw top seed Alison Waters of England in round one but Blake put up a great fight against the world number six taking the second game to level the match. Waters then squeezed past Blake to take the third 11/8 before increasing the pace to ease through the fourth 11/2 and take the match in 34 minutes.

Ireland's biggest hope Banbridge's Madeline Perry booked her place in the quarter final with an impressive 3/0 win over English qualifier Lauren Siddall. Perry is currently world number nine and will take on Malaysia's Delia Arnold for a place in the semi-final.

Ireland's two remaining male competitors Liam Kenny and Arthur Gaskin both bowed out to leave Irish Hopes with Perry.

Irish number one and world number 55 Kenny lost to sixth seed Joey Barrington from England. Barrington, son of Irish legend and former world number one, Jonah, looked very solid despite dropping the first game to an impressive Kenny. Barrington's strength and pace proved too much in the end as he went onto win 3/1 in 60 minutes.

Carlow's Arthur Gaskin took on current world junior champion and another of EgypMohamed El Shorbagyt's growing list of squash stars, . Gaskin looked a match for his opponent as the first two games were shared but the Egyptian showed his class at the vital stages to take the next two games and the match.



Bailey aims for Irish Cream before Op
From Peterborough Today

Tania Bailey is seeded eighth in Dublin, which will be one of her last events before undergoing a hip operation early next month.

She will play in Dublin, then represent England at the European Team Championships in Sweden next week and the National League final for Duffield on May 5 before having an operation a day later.

She begins against qualifier Manuela Manetta of Italy today in Dublin, hoping to build on her impressive display last month when she defeated top seed Madeline Perry of Ireland in the final.

Bailey has returned to good form following a knee operation that kept her out for most of last year and she'll be looking to impress in Dublin – although she admits her forthcoming operation is on her mind.

"To be honest my frame of mind is quite strange right now with needing an operation on my hip in a few weeks time.

"They are going to repair the torn cartilage as it is gradually getting worse and there is no other option. The surgeon and physio are very positive that the outcome will be good and that I can resume training and playing fully.

"I will know more about the amount of time I will be out once the operation has been done but I am excited about the end of the year as there are a lot of big tournaments.

"I still feel I have many good years ahead of me. I know I've had a few setbacks but the best thing is my knee is good and that was my biggest worry.

"I am willing to work really hard to get back playing again. I have learned a lot about myself and my game and I feel I will be be a better player for it."

The operation comes at a time when Bailey is getting back to her best, her victory in the NSC Series in Kuala Lumpur last month being the biggest of her career.

She added: "I felt really good after Malaysia and it was great to prove to myself that I can play at the top level again. It has also given me the hunger to win more events.

"I am going to do my best in Ireland and over the next few weeks. I am going to take each day as it comes and try to enjoy it as much as possible then I will have the operation and I will look forward to getting back on court again."
21-Apr, Qualifying Finals:
Rooney reaches main draw

John Rooney joined Irish Players Liam Kenny and Arthur Gaskin in the men's main draw of the Cannon Kirk Homes Irish Squash Open taking place in Fitzwilliam Lawn Tennis Club tomorrow.

After beating compatriot Derek Ryan in his first qualifier, Rooney started strongly against top qualifying seed, Jesse Engelbrecht of South Africa. After taking the first game 11/4 it became apparent the South African was suffering from a strain picked up in round one and after Rooney took a 9/1 lead in game two Engelbrecht had to withdraw. Rooney's reward was a place in the main draw against top seed, Thierry Lincou of France, world ranked seven.

Swiss man Nicolas Mueller (ranked 89 in world) caused another upset when he beat the higher ranked French man, Yann Perrin (ranked 76 in world) 11/8,11/7,11/15 in 30 Minutes. He now faces third seed, the talented Englishman Alister Walker.

The big news of the day was the withdrawal of number two seed, England's Adrian Grant through injury. This now opens up the bottom half of the draw and presents current world junior champion, Mohammed El Shorbagy, another of Egypt's rising squash stars with a great chance to progress. Grant's place is taken by 'Lucky Loser' Yann Perrin, who meets Julien Balbo in an all-French matchup.

In the women's qualifiers, Manuela Manetta (Italy) Number 1 seed had a tough battle with young Indian Girl Dipika Pallikal. The more experienced Manetta eventually pulled through in the 5th set 11/9, 11/7, 9/11, 7/11, 11/5 in 43 minutes. Annelize Naude of the Netherlands beat Adel Weir of South Africa 11/6,11/6, 11/5 (25 Minutes).

In one of the strongest draws in recent times the Cannon Kirk Irish Open first round main draw boasts a strong Irish presence in both the men's and women's draws with Ireland's most successful female, Madeline Perry seeded three. The world number nine plays England's Lauren Siddall in round one at 7.00pm.

Play in the main draw begins on Wednesday at 2pm with Ireland's Aisling Blake (27 in world) playing the number 1 seed, Alison Waters (World number 6). Top men's seed Thierry Lincou, former world number 1 plays Ireland's John Rooney also at 2.00 in the opening round in Fitzwilliam LTC, Dublin. Admission is free.

20-Apr, Qualifying Round One:
No shocks on day one in Dublin

Play is underway at the Cannon Kirk Irish Squash Open in Dublin as the players have arrived from far and wide to attempt to qualify for the title and some valuable world ranking points. The atmosphere is building in host venue, Fitzwilliam, as the public filter in to see squash played at the highest level. While day one has gone to form with most seeded player progressing with relative ease, the galleries have been treated to some clinical squash already.

The Rooney brothers from Galway have given Ireland's most impressive performances so far with elder brother John being the only Irish representative to make it to round two of the qualifiers.

Irish number two John currently holds a world ranking of 91 and took on Irish legend Derek Ryan, a former world number seven in the tie of the round. Word spread quickly once the two Irish rivals had been drawn together in round one of the qualifiers and a sizable crowd gathering arrived in Fitzwilliam to watch the match. Rooney however proved far too strong for the 38 former professional from Dublin who struggled with the high pace.

Ryan did display some of the touch that saw him compete with the worlds best in previous years but Rooney's mix of pace and quick drop shots worked Ryan hard in the early stages and took the sting out of the tie.

After a 3/0, 36 minute win John will now take on world number 65 Jesse Engelbrecht from South Africa, who took out Carlow's Rory Byrne 3/0 in just 18 minutes, for a place in the main draw. John's younger brother Niall, who had a brief spell on the professional circuit, went down to world number 79, Gilly Lane from the United States but the Galwegian put up a good fight losing 3/1 in a tough 45 minute match.

The final Irish representative, Keith Moran from Sligo, went down three nil to France's Mathieu Castagnet, current world number 77, in 27 minutes.

Some of the other ties proved a lot closer with 33 year old Ben Ford producing a very solid performance to defeat France's Gregoire Marche 3/1 in a very entertaining 61 minute match. In another four set match, Switzerland's Nicolas Mueller defeated France's Johan Bouquet in 38 minutes.

The women's qualifying first round proved a very one-sided affair with all seeds winning three games to nil bar a very close encounter with England's Lauren Siddall beating Pakistan's Carla Khan 3/2 in 36 minutes.

Indian players Joshna Chinappa and Dipika Pallikal looked in very impressive form as they despatched opponents Carrie Hastings from England and Ireland's only female in the qualifying draw, Kerri Lancaster. Top qualifying seed Manuela Manetta dispatched Holland's Dagmar Vermeulen 3/0 and will now face Pallikal.

IRISH OPEN DRAWS
WORLD STARS TO DUBLIN
Preview from Kevin Moore

The Cannon Kirk Irish Squash Open takes place later this month in Fitzwilliam Lawn Tennis Club from Monday 20th April - Saturday 25th April, and the professional male and female draws have attracted many of the world's top 20 players from across the globe.

The men's draw is headed by world number seven Frenchman, Theirry Lincou. The former world number one is seeded to meet Englishman Adrian Grant in the final. The field contains several top 20 players including talented English players Grant at 11 and Alister Walker, world number 16. One to watch out for is Mohamed El Shorbagy, the 18 year old former world junior champion, who has raced up the world ranking to number 21.

Such is the quality of the entry that Irish number one and world number 55 Liam Kenny is not even seeded. His first round match will attract significant attention from an Irish perspective as his opponent is Joey Barrington, world no 28 and son of former world and Irish champion Jonah Barrington. Kenny is joined in the main draw by Carlow man Arthur Gaskin, who has achieved a career high ranking of 86.

The women's draw is headed by world number six, England's Alison Waters who is seeded to meet Laura Lengthorn-Massaro, the world number seven in final. Before that Alison will have to overcome Ireland's Aisling Blake in the first round, Aisling has recently made a hugely significant leap in the ranking to break the world's top 30, currently at number 27 and continuing on an upward path.

All the women's seeds one to eight are in the world's top 15, including Madeline Perry, Ireland's highest ranked woman player who has recovered from injury and regained her place in the top 10, currently ranked nine. Perry is seeded to meet Lengthorn-Massaro in the semi-finals but would have to overcome her long-term rival and former Irish Open Champion Vanessa Atkinson from the Netherlands in a potential quarter-final clash first.

Several Irish players will battle it out with other hopefuls for the four remaining slots in both the men's and women's main draws. Galway's John Rooney, world ranked 88, along with former world number seven, Derek Ryan from Dublin head up the Irish qualifier list along with Rory Byrne (Carlow), Keith Moran (Sligo) and Niall Rooney (Galway). Ulster's Kerri Lancaster, ranked at 105 is the sole Irish woman attempting to qualify.

Qualifying matches begin on Monday 20th April with the main draw finals taking place on Saturday 25th in Fitzwilliam Lawn Tennis Club, Dublin. Entry is free to all matches, starting on Monday 20th at 2.00 pm. The qualifying draw for last four places in the male and female tournament proper takes place from Wed 22nd April at 2.00pm