Gillenmarkets Irish Open 2015
20-25 Apr, Dublin, $15k x2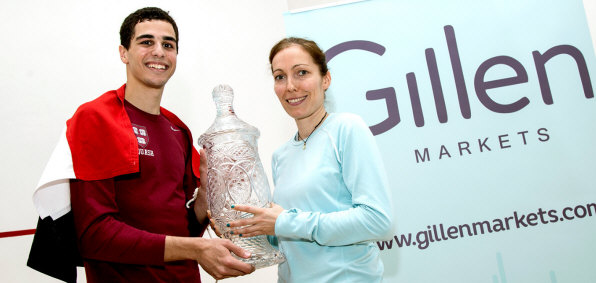 25-Apr, Finals:

[1] Madeline Perry (Irl) 3-0 [2] Nicolette Fernandes (Guy)
11/8, 11/6, 11/8 (43m)

Ali Farag (Egy) 3-2 [5] Lucas Serme (Fra)
11/8, 5/11, 11/5, 9/11, 11/9 (63m)

Sixth, and last time, for Perry
Daz Zilic reports

Madeline Perry played the ultimate match of her professional Squash career today in Fitzwilliam Lawn Tennis Club in front of an absolutely packed center court.

Facing Nicolette Fernandes, the world number 20 from Guyana, there was certainly an air of uncertaintanty whether Madeline would be able to overcome Fernandes, who had looked impressive all week. Nicolette established a lead in game one but Madeline found her range midgame and started wowing the crowd with some excellent shots to the front court.

She claimed the first game 11:8 and established a quick 6:0 lead in game two. She never looked back after that and secured the game 11:5. Madeline continued her good play and Nicolette fought back trying to go in short quicker.

It worked in parts, but Madeline's relentless hitting brought her to 10:8 matchball. Fernandes, who gave it her all and dived full-length twice, pulled one point back but Madeline eventually closed out the game 11:9.

In her winning speech, Ireland's most successful female Squash player was not only awarded a special lifetime award, but also thanked her support from over the years extensively.

"This is one of my favourite events and I want to also thank Nicolette, who is a very fun and fair player, for making it a good final, particularly since it is my very last," said Perry.

"I've been really looking forward to this event, desperate to win it and end on a high. I don't think I've played that well for a long time, I just enjoyed every ball I hit, every moment. I never let the emotion overcome me as I was just in such a focussed state of mind.

"The perfect finish, I guess!"

Perry will still be representing Ireland in the European Team Championships in Denmark next week. With Perry Ireland has not finished outside the top five in the last ten years, and with today's form from the final, she will remain a tough player to beat.

Farag on a roll

The men's final saw a very worth finish to the fabulous week of Squash. Playing in front of the Egyptian ambassador and several countrymen and women, the young Egyptian player Ali Farag overcame Lucas Serme of France in a 81 minute five-set thriller.

Farag looked impressive in game one, not only distributing the ball brilliantly, but wowing the crowd with his court coverage. Serme found a way to withhold the pressure in game two, but it was all Farag in game three, which he took convincingly.

Game four saw Farag request an injury break at 5:6 down. There was uncertainty whether Farag, who seemed to have taken a slight knock to his calf, could continue, but the crowd was happy to see him continue after an 18 minute break.

Serme won game four despite Farag being two points away from matchball, but it was Farag who stormed ahead in game five. Serme fought back from 3:8 down, but in front of a vociferous Egyptian crowd, it was Farag who held his nerve and made his country proud.

Ali Farag, all smiles after his biggest career win, not only thanked the sponsors and organizers, but also paid tribute to Madeline Perry's great career in his victory speech.

"It is so great playing in front of our Egyptian ambassador to Ireland and all the Egyptians who came out to support me today. This title also means a lot, because my fiancť won the title here four years ago!"

The match concluded a great week of Squash, which will stay in memory not only for making the Egyptians very happy, but also for Madeline Perry finishing her career in her typical winning fashion!

Arthur Curran reports

In a repeat of the 2013 Final here at Fitzwilliam we watched almost the same match, with Madeline on top almost all the time but Nicolette fought beautifully to stay in touch, but it was all in vain as Madeline finished off each game with aplomb to take the Irish Open title for the sixth time in what is to be her final professional event, as she retires with a great win here in Dublin.

A fantastic performance of great squash from two young men who are definitely destined to rise up on the rankings very soon. The typical silky racket skills of the Egyptian Ali showed why he has just won his second title in a week following on from the West of Ireland in Galway. Both players pushed each other to the limits as each one took it turns to take the lead, but however well Lucas played he was beaten by a very very good player.

I think I started well but then in the second he came out firing with shots - he was suddenly more aggressive than me. I was getting frustrated with myself. You know, it's been a tough two weeks playing in Galway and then here, two tough tournaments back to back. And somehow I was getting tired and fed up. But then I was so lucky to have Mazen Hesham in my corner, who told me to keep going and reminding me of what I'd feel like tonight in bed if I were to lose.

And then yes, the drama in the fourth. I had hurt my hip slightly and couldn't really lunge or put too much pressure on it any longer. And I was a bit lost - should I go short and for kills, should I extend rallies, I didn't know. But then after losing the fourth I told myself, that I will win this match with spirit. So I started shouting at myself after every point and told Lucas that way that he won't get any presents, I was up for pushing and pushing.

Now I am really tired, and next week I have Egyptian league and then Sharm El-Sheikh with LJ first round. But I actually reached my first goal - top 50 - and now I am aiming for top thirty by end of the year.

And yes, Nour won the tournament here four years ago, so it must be a lucky place. As Damien O'Reilly said in the introduction, if I win today everyone is invited to the wedding. I am not sure about that, but it's certainly a very lucky and great place for us here in Dublin!



Finals photos by Mary Croke

Madeline Retires
Irish Open 2015
20-25 Apr, Dublin, $15k
Round One
22 Apr
Quarters
23 Apr
Semis
24 Apr
Final
25 Apr
[1] Mazen Hesham (Egy)
11/4, 11/6, 11/3 (27m)
[wc] Arthur Gaskin (Irl)
[1] Mazen Hesham
11/8, 11/4, 11/7 (36m)
[6] Rex Hedrick

[1] Mazen Hesham

9/11, 11/6, 11/6, 11/7

Ali Farag

Ali Farag

11/8, 5/11, 11/5, 9/11, 11/9 (63m)

[5] Lucas Serme

[6] Rex Hedrick (Aus)
11/9, 7/11, 11/7, 11/7 (63m)
[Q] Mohamed Elgawarhy (Egy)
[7] Greg Lobban (Sco)


5/11, 11/5, 13/11, 11/9 (62

m)


Ali Farag (Egy)
Ali Farag
13/11, 11/9, 11/5
[3] Karim Ali Fathi
[3] Karim Ali Fathi (Egy)
11/6, 3/11, 11/2, 11/8.(38m)
Abdulla Al Tamimi (Qat)
[Q] Paul Coll (Nzl)
11/8, 11/1, 13/11 (36m)
[4] Mahesh Mangaonkar (Ind)
[Q] Paul Coll
11/3, 11/3, 11/2
[Q] Shehab Essam

[Q] Paul Coll

11/6, 11/8, 5/11, 11/4 (68m)

[5] Lucas Serme

[Q] Shehab Essam (Egy)
11/7, 6/11, 12/10, 11/3.(54m)
[8] Charles Sharpes (Eng)
[Q] George Parker (Eg)
11/9, 8/11, 9/11, 11/3, 11/9 (72m)
[5] Lucas Serme (Fra)
[5] Lucas Serme
13/11, 11/8, 11/6
[2] Alan Clyne
Piedro Schweertman (Ned)
11/5 , 11/4, 9/11, 11/9 (59m)
[2] Alan Clyne (Sco)
21-Apr, Qualifying Finals:



Paul Coll (Nzl) 3-0 Sanjay Singh (Mas) 11/3, 11/8, 11/7 (30m)




Shehab Essam (Egy) 3-2

Chris Fuller (Eng) 7/11, 9/11, 11/9, 11/8, 11/9 (87m)




Mohamed Elgawarhy (Egy) 3-1

Carlos Cornes (Esp) 11/9, 14/16, 11/6, 11/5 (66m)


George Parker (Eng)

3-1 Mark Fuller (Eng) 11/4, 11/6, 9/11, 11/2 (43m)



20-Apr, Qualifying Round One:

Paul Coll (Nzl) 3-0 Brian Byrne (Irl) 11/2, 11/5 , 11/9 (32m)
Sanjay Singh (Mas) 3-0 Keith Moran (Irl) 11/2, 11/5, 11/8 (25m)
Chris Fuller (Eng) 3-0 Rory Byrne (Irl) 11/3, 11/9, 11/5) 31m)
Shehab Essam (Egy) 3-1 Michael Craig (Irl) 6/11, 11/8, 11/2, 11/9 )62m)
Carlos Cornes (Esp) 3-0 Robbie Downer (Eng) 11/5, 11/7, 11/2 (3mm)
Mohamed Elgawarhy (Egy) 3-1 Sean Conroy (Irl) 11/6, 11/9, 16/14, 11/9 (55m)
George Parker (Eng) 3-0 Dougie Kempsell (Sco) 11/9, 11/3, 11/9 (53m)


Mark Fuller (Eng) 3-0

James Huang (Tpe) 14/12, 11/4, 11/5 (40m)
Irish Open 2015
20-25 Apr, Dublin, $15k
Round One
22 Apr
Quarters
23 Apr
Semis
24 Apr
Final
25 Apr
[1] Madeline Perry (Irl)
11/7, 11/4, 11/4 (18m)
[Q] Leonie Holt (Eng)
[1] Madeline Perry
11/6, 11/6, 7/11, 11/3 (40m)
[7] Olivia Blatchford (Usa)

[1] Madeline Perry

7/11, 11/5, 11/7, 11/8 (45m)

[6] Aisling Blake

[1] Madeline Perry

11/8, 11/6, 11/8 (43m)

[2] Nicolette Fernandes

[7] Olivia Blatchford (Usa)
11/8, 8/11, 11/5, 11/6 (37m)
[Q] Cyrielle Peltier (Fra)
[6] Aisling Blake (Irl)
11/7, 11/13, 11/3, 11/7 (34m)
[Q] Tamika Saxby (Aus)
[6] Aisling Blake
15/13, 11/4, 11/3
[4] Delia Arnold
[4] Delia Arnold (Mas)
7/11, 11/7, 11/6, 13/11 (49m)
Laura Pomportes (Fra)
Birgit Coufal (Aut)
11/5, 11/1, 11/2 (25m)
[3] Emily Whitlock (Eng)
[3] Emily Whitlock
11/5, 7/11, 14/12, 12/10 (55m)
[5] Donna Urquhart

[5] Donna Urquhart

11/6, 11/8, 11/8

[2] Nicolette Fernandes

Lucie Fialova (Cze)
11/5, 11/7, 11/8 (29m)
[5] Donna Urquhart (Aus)
Millie Tomlinson (Eng)
13/11, 11/7, 11/4 (53m)
[8] Coline Aumard (Fra)
[8] Coline Aumard
11/9, 4/11, 11/2, 12/10 (44m)
[2] Nicolette Fernandes
[Q] Nele Gilis (Bel)
12/10, 11/4, 11/8 (45m)
[2] Nicolette Fernandes (Guy)
21-Apr, Qualifying Finals:

Leonie Holt (Eng) 3-0 Thaisa Serafini (Bra) 11/9, 11/4, 11/6 (20m)
Tamika Saxby (Aus) 3-0 Anna Klimundova (Cze) 11/8, 11/1, 11/7 (20m)
Cyrielle Peltier (Fra) 3-2 Chloe Mesic (Fra) 9/11, 11/5, 11/8, 10/12, 11/5. (55m)
Nele Gilis (Bel) 3-0 Alison Thomson (Eng) 11/3, 11/2, 11/8 (19m)

20-Apr, Qualifying Round One:

Leonie Holt (Eng) 3-1 Elin Harlow (Wal) 13/11, 7/11, 11/3, 12/10 (25m)
Anna Klimundova (Cze) 3-0 Ciara Moloney (Irl) 11/0, 11/5, 11/6 (17m)
Chloe Mesic (Fra) 3-0 Marina De Juan Gallach (Esp) 11/4, 11/3, 11/5 (23m)
Alison Thomson (Eng) 3-1 Tessa Ter Sluis (Ned) 3/11, 11/8, 11/4, 13/11 (35m)
24-Apr, Semis:


Madeline Perry makes it
to her very last final!

Irish Squash fan's hearts couldn't be broken on a night that saw the top two female Irish Squash players face off in the semi-finals of the GillenMarkets Irish Open 2015. Madeline Perry overcame her countrywoman Aisling Blake in four hard-fought games.

She will face Nicolette Fernandes in tomorrow's final at 3pm in Fitzwilliam Lawn Tennis Club at 3pm. Her last final of her illustrious professional Squash career, which she is ending here in Dublin. Perry has faced Nicolette in this very tournament in 2013, when she won the Irish Open for the last time.

In the me's final Lucas Serme of France will face Egyptian hotshot Ali Farag, who upset the number one seed Mazen Hesham by three games to one, in what was probably one of the best matches ever witnessed here in FLTC.

Daniel Zilic reports

The day started well with a great match between Donna and Nicolette. Nicolette played very well and Donna had to work extremely hard for every point she won. It was close, but a couple more mistakes from Donna made all the difference.

After that we saw Paul Coll's amazing run end in a 3:1 loss to Lucas Serme. I thought it was a good match but Paul will be disappointed, since he just wasn't quite tight enough and made some crucial errors. Nonetheless, I think he'll be in the top 50 very soon, he's certainly playing that way.

Madeline and Aisling's match was slightly scrappy. Aisling played well in parts but was a bit too loose all in all, and Madeline, who didn't play her best Squash either, will be happy to get through in four.

The last match of the day were the expected fireworks between Mazen Hesham and Ali Farag. Mazen is an amazing player and he hit some absolutely unbelievable shots. The crowd were going nuts with some of the shots, but in the end Ali played a terrific match. It really helped him that he knew Mazen and wasn't too phased by the barrage of winners. I think he's the favourite to win tomorrow, but Lucas is a great player and will put up a good fight.

Arthur Curran reports

Donna started off making several mistakes and based shots and with Nicolette playing several lovely shots as well she moved into a 7/2 lead. Although Donna picked up slowly she could not stop Nicolette taking the first 11/6.

Donna started better in the second but Nicolette pulled back slowly to lead 8/6, Donna levelled at 8/8 but Nicolette finished it off at 11/8. Donna again started much the better with a 6/2 lead which she improved to 8/5, but then Nicolette took 6 points in one hand to take the game and the match.

The largest crowd of the week, as expected, turned out for this all Irish clash, and what a class match they were treated to. From the start it was Aisling who put her mark on the match as, playing some of the best squash i have ever seen her play, she took control of the court to take the first game 11/7. However Madeline then started to play like the champion she is taking the sexond comfortably 11/5.

From there onwards, despite Aisling playing some strong and brilliant squash, Madeline just held out to take the last two games and despite Aisling saving three match balls it was unfortunately not quite enough as Madeline finished the match off in fine style.

A real dog fight this match turned out to be, with both players making great shots but also mistakes, with Lucas slightly in front for the first two games, but Paul managed to hold himback well in the third, before Lucas came back in the fourth and took the game and the match thanks to some bad mistakes by Paul.


When you play people you like who are fair and clean, it's always an enjoyable match. So yeah, I really enjoyed the match and I am so happy to win. I knew that with Mazen I only have to worry about myself, and not about the referee or him, because he is so fair.

We know each other well, we have played plenty of times and it does help knowing his style and how good he is with the racket. In the first I only lead because of his mistakes, and then in the second I told myself I need to be more aggressive. Kepp it organized, but also be more aggressive! And it worked!

Now I am playing a completely different player in Lucas Serme - he is very steady and fit. We know each other from juniors and I have a good record against him, but records don't help, tomorrow whoever is better will win. Play my best, and hopefully get the title.

It would mean a lot to me: we were invited for dinner by the Egyptian ambassador yesterday and today a lot of Egyptians came to watch and support. It's not often that we are so well looked after and welcomed in tournaments, so if I can win the title to give something back to all the support from the Egyptians and the ambassador, then that would be great and a very proud moment for me.


23-Apr, Quarters: LADIES REPORT

Home interest survives & good day for Egypt
Paul Nugent & Daniel Zilic Report

One again, a brilliant day of Squash, whice ended weith a guaranteed home finalist as Madeline Perry and Aisling Blake set up an enticing semi-final.

Things started well with a really tough and competitive match between Donna Urquhart and Emily Whitlock, and then Mazen Hesham did his usal outrageous drops and holds and flicks to dispose of Rex Hedrick. Mind you Hedrick played well and made a real match of it. Nicolette Fernandes' win was pretty much expected, though it got tight in the end.

Ali Farag is stil unbeaten in Ireland and after winning the first game against Fathi, he really never looked back. Tomorrow's match against Hesham is a cracker and a match I am really looking forward to.

Paul Coll has been impressive all week and he looked like a top 40 player in the way he took out Shehab in three games comfortably. We were all surprised then that he will be playing Lucas Serme who played a terrific match against Alan Clyne. Everyone was up for a 90mins+ battle, but Lucas was too good on the day.

Mazen Hesham:
I am very happy with my performance today - it was a tough match, he's very fast and moves well, so I had to come up with all my tricks to shake him off and I am delighted it worked. I'm feeling good, Ireland is great, now some stretching a a nap - everything is good!

Playing against an Egyptian is always different, we all know each other well and are all good friends! I play with Ali and Karim regularly in Egypt. I am based in Cairo and my coach is Omar Abdel Aziz and I have a fitness coach, too. Now I hope that both Karim and Ali have a nice long match!

After this tournament I am going to Houston - $25k tournament and where I'm seeded three. I prefer that - being seeded one is too much pressure!

Ali Farag:
First of all, I am very happy to win in three. I knew it was going to be tough and it was, but I was a bit lucky to win the first, After that, my confidence grew, and when I have confidence and I feel my short game, then I play my best Squash.

Tomorrow, yes, another Egyptian - Mazen Hesham. We are even sharing a room! But, you know, there are plenty of Egyptians on tour and you get used to playing one another, but you do also feel that extra bit of pressure.

Tarek Momen was the last Egyptian men's winner here - 2011 I believe - so my aim is definitely to put another Egyptian name on the trophy. That would make me very proud!

Paul Coll:
My plan was to make it tough and make no errors - Shehab had a tough match in qualifying and against Charles too, so I knew he'd be slightly tired if I make it tough. Although I have been on a really good run so far, I do still feel as if I am the underdog going into tomorrow's match against either Alan or Lucas, although having beaten Lucas in Paris does of course help me feel confident. I also feel like the two of them will have a tough match today, so that might help me, too.

Before going into matches I usually talk to my coaches - Tommy Berden and Paul Hornsby. So I''ll send them a message now and then talk to them later on after the match between Lucas and Alan.

Today and throughout the tournament so far, I have had Rex Hedrick on my side coaching me and he has been very good. I tried to help him as well, but today, as you saw, he lost, so I might not be an as good coach as he is!

Lucas Serme:
Tough 3:0 - it's not often that I win 3:0, especially not against Alan, who is famous on the tour for being super-fit and picking everything up.

So yeah, I expected along hard battle, and while it wasn't easy, it wasn't as tough as I expected. I knew that I can't compete with him physically, so instead of rallying on for ages, I decided to be aggressive and attack when I could, and it worked well. That's our third match, and now I am 2:1 in the lead.

Next up Paul, to whom I lost 3:0 in Paris. But all games were really close and I think I was up in all of them. He's a real fighter, almost similar to Alan, also with a great counter drop. When I played him in Paris he played exceptionally well, and I think since then he hasn't lost a match, or maybe even not a game! He's in a good place, right up there, and it's time for me to bring him back to earth! But seriously, sometimes you have those great phases, and good for him!

Now I will talk to my coaches. I have a couple all over the place: England, France, Czech Republic. And my girlfriend watches the matches online too and gives me some really good advice. So I'll prepare with all the people around me, and then hopefully bring Paul back to earth!

After the Irish contingent of Squash players being decimated to two in the yesterday's first round matches, the crowds at Fitzwilliam Lawn Tennis Center were delighted to see the remaining Irish players - Madeline Perry and Aisling Blake - make it through to the semi-finals.

Perry, playing her last professional Squash tournament, had a tricky challenge playing young American Olivia Blatchford - the same player who had beaten her unexpectedly in last year's edition. This tie around Perry imposed herself and was up to the challenge, winning by three games to one.

Blake, the Irish number two, had a tough match on her hands against the number 29 of the women's world ranking Delia Arnold. Blake put on one of her best performances yet in an Irish Open, and enthralled the crowd with her exceptional backhand drops. Result: and unexpected yet thoroughly deserved three love victory,

Now the two Irish ladies face each other in the semis, which guarantees Irish interest in Saturday's final. Both players supported each other during the respective matches, and Perry.

Action resumes at 5pm in Fitzwilliam, and is streamed live on AerTV.ie
Lastly, we are all excited that both Madeline and Aisling made it

Madeline Perry:
Well, I would have preferred a 3-0 but I'll take a 3-1 as well. I had a slight drop in concentration in game three - my length dropped which allowed her to play her shots, but then I started in the fourth game really well.

So then I didn't get nervous.
If things would have continued as in game three things could have gotten messy, but luckily I was able to regroup and see it out.

Now I am going to watch Aisling and hope she makes it through to the semi-finals. I mean, I would prefer if we'd be in separate semi-finals, but if we meet tomorrow, then I'm sure it will be a good match.

And as for what I'll be doing after this tournament: well, this is it! It's the last tournament, and the next big thing I'll be doing, is some charity work in Borneo, for three months in summer!

Donna Urquhart:
Yes, very happy! I am back to playing really good Squash following my injury. Had played a couple tournaments before and while I felt I am getting stronger and fitter again, today I really felt it all come back. It was a good match and we both played well for most of the time. I had lost to Emily last time so I am really glad to turn things around!

I've played both Nicolette and Coline before, and whoever I get, it's going to be tough. I hadn't thought about the semis up until this point, though I did book my flight for after the finals - it's good to be optimistic!

I'm based in Orlando training with David Palmer, which is working out great. It's really super working with him so I try to spend as much time as I can around there, and the many tournaments in the US and Canada certainly help.

Nicolette Fernandes:
It was a good game. Really enjoyed it and I'm obviously happy getting through. I lost the second quite clearly but, you know, you live you learn. I learned what not to do in that game so sometimes these type things can help you later down the road and in this case it really did.

Now I'm playing Donna who had a great match earlier today. We know each other's game very well and I am looking forward to playing her tomorrow. Now I'm going to sit back, relax, and watch a couple of matches.
22-Apr, Round One:

All the seeds - including Ireland's own Madeline Perry - made it through to the quarter-finals in Dublin, but there were plenty of upsets in the men's first round ...

Daniel Zilic Reports

All in all it's been a great day of Squash and the match of the day so far was Ali Farag against Greg Lobban. Lobban started out really well mixing up the pace, but Farag is really quite exceptional and I see him as the biggest threat to Mazen Hesham - who is an amazing player!

Ali Farag:
So yes, the draw was very tough, but since I am unseeded I was up to play any of the top 8 players, who are all very good. In that sense it was Greg who was perhaps a bit more unlucky than I was, since I wasn't seeded.

It was a really tough match, Greg really caught me off guard and he was mixing the pace up very well. I couldn't find my rhythm, but thanks to my coaches Mazen and Hossam I found a way through by injecting some pace.

I am coming off the back of a win in Galway, and so far my stay in Ireland has been great - brilliant people and a beautiful country!

Paul Coll:
It was pretty tough and I am delighted to get through in three and not have dropped a game throughout the tournament yet. Having won in Paris ($25k) is of course great for confidence and I feel I am playing the best Squash of my career so far.

I am based just outside Amsterdam for three months of the year, and that is really working out for me so far. Am three in NZ at the moment, but hope to be threatening those top two places when I return to NZ for a tournament series over there.

Karim Ali Fathi
I played Abdulla just in February and he beat me 3:0, so today was revenge. back then he was simply just playing better Squash than I was. I couldn't stop him hitting nicks from pretty much everywhere. Today was different: I played better length, a better game, better Squash!

About tomorrow and playing Ali - I don't want to think about it now. We know each other well since we play regularly in Egypt and it's going to be a tough one. Anyway, I am enjoying Ireland so far - it 's a great country and I have taken an extra day after the tournament to enjoy Dublin. Lets see how far I get anyway, I played here before and it was a first round exit against Ali Walker back in 2010, so I am one round further already.

Rex Hedrick
I'm very happy to win since he is a very dangerous player, whom I hadn't played before. In the end I just had to keep it tight and try and prevent him from hitting winners. Tomorrow I might be playing Mazen Hesham who is also Egyptian, but there is a difference in the way they play, the Egyptians don't all play the same but they all certainly play the game very well. My aim for tomorrow: I am not here to just make my seeding, I want to do well and get really stuck in!

Next up for me is the British Open and after that I will be leaving London and moving back home to Australia.

Shehab Essam:
Great result for me beating Charles, who is ranked 62 or so. I am only 109 and I am the number 1 under 19s in Egypt, though I am turning 20 soon. And so I am very happy to be in the quarters of a 15k tournament. Was very happy how I played and I found my game plan at the right time.

Ireland so far has been treating me well - I got to the semis in Galway but lost to James Earles, but I was so tired form the quarters. Mind you, James played very well and deserved to win, but at 1:1 I just couldn't push any further. But tomorrow, against Paul Coll, I will give it one big push again. It's great to have so many Egyptians here, they are great support in between games!

Mazen Hesham
I played really well and I was a bit afraid, just because he is the local and you never know. Plus I am seeded one, so that is extra pressure. I can't say I love being seeded one, but today I am happy because I played really well, far better than expected. Last time I was here I lost in qualifying - that was three years ago, so for today I ma just happy to make it to the next round and have a good match with Rex tomorrow.

In the women's we are all looking forward to the big match: Madeline Perry against Olivia Blatchford - lets see if Madeline can take revenge over last year and see her final event out in style.

Coline Aumard:
It was a tense match and we were both a bit nervous. The court is very warm and nouncy and it's hard to slow the game down and control the ball. So that resulted in a few bumps and traffic issues, but that's normal since our styles are pretty similar. We had played in France in a 5k event and I had won, but it was also close. So I was focused and confident going in, but I didn't take a win for granted since I know she is a strong player.

Now I am playing Nicolette, who I admire as a player and I think she is a cool person too. I had also played Nele before and would have liked to play her, but getting a chance to play Nicolette - after not having played her for a year - is something I am really looking forward to.

Donna Urquhart:
I am happy enough with the match I played, we played in Calgary before and had a tight 3:0, and today was not quite as tight. So I like to think that I learned from that last match and played a good steady game. I'll need a good game against Emily tomorrow since I lost last time, but it should be a good match. It's my first tie in Ireland and really happy things are going well so far!

Emily Whitlock:
I played Donna in Chicago before, in qualifying, where we had a very sea-sawy 3:2 match. We should have a great match tomorrow - she has come back strongly from injury and I felt good on court today as well. Had never played Birgit before, and she caught me out with some of her shots.

Now I am taking matches one at a time. I have won a 15k in Calgary before, which has been my biggest win, and I am hoping to do well here too. But I don't look at the draw too much, all I knew beforehand was that I was in the bttom half of the draw and my atch was on the center court at 1pm. Speaking of which: it's great that we have half of the ladies matches on the center court. Just like with the men, we also have friends and family who enjoy watching us on the live stream!

Aisling Blake:
I was wary of her because I lost in Rotterdam in September to her. SO I am delighted to get a win today, and I felt like I knew what I had to do - she is very quick on the volley and plays a good volley boast, so my main aim was to get the ball past her. Worked reasonably well but not always as effective as I'd hope, since the first two games were very close.

After those two games I changed my game slightly to take better advantage of my length, and things worked out well from there.

Next up for me is Delia Arnold, to whom I also lost to last time - 3:2. She's tough, but I'll go back tonight and think about a game plan. Other than that: life is good! This is the first of four events to come, so I am happy to start with a win!
21-Apr, Qualifying Finals


Paul Nugent reports



First up was New Zealand's Peter Coll playing Sanjay Singh Chal from Malaysia. Peter won this easily 3-0 in 30 min and now plays 4th seed M. Mangaonkar from India. Shehab Essam beat Chris Fuller from England in a super match winning 3-2. Shehab now plays 8th seed Charles Sharpe from England.

In the other half of the draw, Mohamed Elgawarhy won vs. Ribadas from Spain 3-1 and now plays Australian 6th seed Rex Hedrick. In the last match, European Under 19 champion George Parker from England won a super match vs Mark Fuller 3-1. George now plays France's Lucas Serme in the main draw.

Ireland's Arthur Gaskin play number 1 seed Egypt's Mazen Hesham in the first round on Wednesday; a tough match for Gaskin who is world number 85 versus the world number 27.

In the women's event, Belgian, Nele Gilis won her match vs. Alison Thomson 3-0 in 19 min and now plays 2nd seed Nicolette Fernandes. The battle of the 2 French players - Cyrielle Peltier and Chloe Mesic was a great match going to 5 games with Peltier wining 3-2 in 55min. She now plays USA's Olivia Blatchford.

Tamika Saxby won vs Czech Klimundova and now plays Ireland's Aisling Blake who is 6th seed. Finally Leonie Holt beat Serafini from Brazil, 3-0 in 20 min and now plays number one seed Ireland's Madeline Perry, playing in her last professional event.

20-Apr, Qualifying begins:


Arthur Curran reports from Dublin



Lots of matches today, but not as many as should have been, with some withdrawals from the womenís tournament, with eight menís matches and four womenís matches.

Comfortable wins for Carlos Cornes and Sanjay Singh in the early menís matches.

Young local player Michael Craig put up a great fight against the much more experienced Egyptian Shehab Essam before losing 3 games to 1. Another local player Rory Byrne then had Englishman Chris Fuller take the next match comfortably in 31 minutes.

Two simultaneous matches then took place on adjoining courts, both which turned out to be hard fought enjoyable matches. On Court 1 another young Irish lad Sean Conroy fought brilliantly against a much more experienced Egyptian Mohamed Elgawarhy, who took the first two games in a close contest.

Then with young Sean fighting for every ball in the third he managed in the end to take the game 16/14. He was still playing brilliant squash in the fourth and at 8/7 to Sean the Irish crowd was hoping for a fifth game decider but unfortunately Mohamed then took four points on the bounce to take the game 11/9 and the
match 3 games to 1 after 55 mins of wonderful squash.

On the adjacent court a match of different substance was taking place between Scotsman Dougie Kempsall and Englishman George Parker. The first game was a real battle with Kempsall keeping a slight lead throughout before Parker took four points on the bounce to win the game 11/9. The second game got very heated as Kempsall was given a conduct warning then a conduct stroke at 3/10 down and allowed Parker to quietly finish the game off at 11/3. Kempsall pulled himself together to keep the score close through the third game but Parker again finished it off at 11/9 and took the match 3Ė0.

Favourite of the qualifiers Paul Coll from New Zealand went through after defeating Brian Byrne of Ireland, although Brian put up a wonderful fight and played some exquisite squash, saving three match points Paul took the match 3 Ė 0. Finally Englishman Mark Fuller followed his brother Chris into the next round after a well fought first game, taking it 14/2, then took the next two comfortably.

Leonie Holt struggled a little against Welsh player Elin Harlow before her experience came through as she won in 4 games. A much easier match in the next womenís as Anna Klimundova beat the young local Irish girl Ciara Moloney in just 17 minutes.

Chloe Mesic from France then defeated young Spanish lady Marina De Juan Gallach in a comfortable 3 sets, before the last ladies match threw up a really entertaining game with English girl Alison Thomson losing the first game to Tessa Ter Sluis, but then taking the next three in grand style, saving game points in the fourth before she got a match ball and ended it 13/11.
Madeline aims for a sixth - and final -
Irish Open title

Irish squash is delighted that the Irish Squash Open, generously sponsored by Cannon Kirk for a decade has found a new sponsor in Gillen Markets, an investment training service led by squash player, Rory Gillen, although Cannon Kirk are still supporting the event.

The tournament will again be hosted by Fitzwilliam Lawn Tennis Club from 20th -25th April, with a 16 player draw for women and men and prize funds of $15, 000 for each event.

Irelandís Madeline Perry, currently ranked #18 in the world, but formerly #3, is seeded number one and will be seeking her 6th Irish Open title, in her last tournament before she retires from the WSA tour.

Nicolette Fernandes of Guyana, ranked 20 in the world is seeded 2. Nicolette reached the final in Dublin in 2013 only to lose to Madeline.

The draw is strong with Emily Whitlock, seeded 3 and World ranked # 25. Emily had the best win of her career so far in the recent Calgary tournament beating world number 15, Rachel Grinham in a superb 5 set final.

Not far behind is Malaysian Delia Arnold, ranked 27 and seeded 4. Irelandís Aisling Blake slots in at 6th seed. Aisling was part of the Irish team which reached the quarter-finals in December's world team championships.

The mensí draw is headed up by 21 year old Egyptian Mazen Hesham, currently ranked 27 and one of 8 Egyptians in the world top 30. His recent win over Stephen Coppinger, ranked #15, in the Houston Open 15 indicates a young man going places. A former winner of this event was the current world number one, Mohamed El Shorbagy!

Seeded to meet him in the final is Alan Clyne, now ranked # 31 and a regular visitor to this event Along the way they will have to contend with two closely ranked players, Egyptian Karim Ali Fathi and Frenchman Lucas Serme, ranked 44 and 45 respectively. Irelandís number one, Arthur Gaskin has a tough first round match against Mazen. Spectators are in for a great spectacle of squash.

Play begins on Monday 20th April with both the menís and the womenís qualifying rounds, commencing at 2.00.pm, which will contain many young and local players.

We urge all squash fans to come along to the fine Fitzwilliam Club and support these fine players, admission all week is TOTALLY FREE!!!


Irish Open Champions: 2014, 2013, 2012, 2011