31st-Oct-2014:
Karim Darwish Retires
Just as he manages to get the Women Worlds to his Wadi Degla's in Cairo, the Dark Prince announces that he calls it a day...

Congratulations to Karim on his fantastic career, not only as seen by his achievements on record, but also by his charismatic presence on the squash scene wherever he went.

Karim was a highly determined squash player with a great work ethic and professionalism. He was a fantastic role model for all the young players around him and a driving force for those of his generation. His huge talent was almost eclipsed by his toughness and will to succeed.

Darwish's new role in coaching and sports management has taken him away from competing as a player, but we are sure he will become one of the very best in that too, ISA.

Wishing you and your wonderful family all the best.


Good luck buddy with the future, just saw you stop playing.

Wishing you all the best, and congrats for all you achieved.



Always and forever in my opinion, one of the best and strongest players I ever had the pleasure and honour to compete against! Congrats Karim.

Good luck to you brother in the next chapters of your life! I pray you and your family are all in the best health ISA.

Till we meet again brother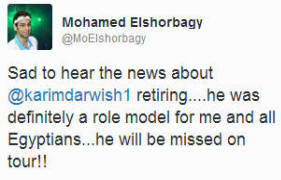 "After a successful 16 year career and achieving most of my goals, starting with winning the World Junior Championship to reaching the top of the World Ranking, I decided to call it a day.

"I started playing Squash at the age of 6, and ever since, Squash has been my only passion.

"I was lucky I had the chance to pursue my dream as a professional Squash player. So it's hard to believe that i won't be competing on that high level anymore.

"No words can describe how grateful I am to my Mum and Dad who have always believed in me, My Brother my soulmate who was the reason I played Squash, my Wife who was always there for me in my ups and downs.

"Of course without my Coaches and the support of my sponsors WADI DEGLA, HEAD and RED BULL, I could have never achieved what i have achieved today.

"I'm now the Sports Director at Wadi Degla Club (One of the biggest Sporting Clubs in the World ), who is hosting the Women's World Championship next December. My new goal is helping the Sport reaching the place it deserves.

Finally, Thanks to my team mates from Egypt, I have enjoyed the success we shared together.

And to all other Squash players on the PSA tour.

Best regards,



Congrats to the Dark Prince on a fantastic career. It was always great to watch you play and fun to travel among the Egyptian team with you.

Thank you for supporting women's squash and best of luck in everything that lies ahead.




My dear friend Karim,

It was such a shock to hear of your immediate retirement. It has been such a privilege to have watched your career blossom at close quarters.

I was fortunate to be there at most of your great moments – especially in Saudi when your win took you to the World No. 1 spot.

You were more than a great talent – you were a charming boy that grew into a lovely man in front of my eyes.In your new career I am sure that you will be a great success. Egypt is lucky to have you as a son.

I want to wish you, Engy and Omar, a continued life of family love and harmony.

Please stay as a friend – I am always here for you if you need advise. My love to you and your delightful family.


PS I will say some special words about you in Doha next month.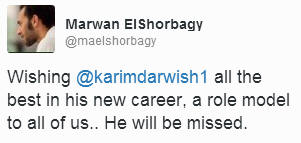 "On behalf of the PSA and everyone involved with the professional game I would like to congratulate Karim on a fantastic career and wish him all the best for the future.

"Karim has been been both a tenacious competitor on the court as well as a source of guidance and advice for many young professionals off the court throughout his career and his presence at PSA World Tour events will be missed."



PSA Press Release

Former World No.1 and winner of 23 PSA Word Tour titles Karim Darwish, the 33-year-old Egyptian, has announced his immediate retirement from professional squash.

The man from Cairo first joined the professional ranks in March 1999 and enjoyed a meteoric rise through the standings, taking just two years to break into the World's Top 20 at the start of a career that would see him go on to contest 42 tournament finals and compete in 500 world tour matches.

He reached the top ten for the first time in 2003, where he would remain for a combined 118-months, with the crowning moment of his career coming in January 2009 when, after winning the PSA World Series Saudi International in December, upsetting Amr Shabana, Nick Matthew and Gregory Gaultier en-route to the title, he topped the world rankings for the first time.

He held on to the World No.1 ranking for 11-months during 2009, a year which also saw him crowned PSA Player of the Year.

Darwish also represented Egypt in seven successive Word Team Championships since 2001, winning the title twice including in 2011 when he upset the odds to defeat James Willstrop in the deciding match to take the title away from top seeds England.

Off the court, Darwish is married to former women's World No.11 Engy Kheirallah, with whom he has a two-year-old son called Omar.

He is heavily involved as sporting director of the famous Wadi Degla Sporting Club in Cairo, where the 2014 Women's World Championship will be held this December.