Macau Open 2015
15-20 Sep, Centro de Bowling, Macau, China, $50k
20-Sep, Finals:

[1] Laura Massaro (Eng) 3-0 [7] Nouran Gohar (Egy)
11/8, 11/3, 11/9 (40m)

[5] Max Lee (Hkg) 3-0 [6] Fares Dessouki (Egy)
11/9, 11/6, 11/0

Massaro ends Gohar run
as Max makes Macau fans happy

Top seed Laura Massaro ended the sensational run of Egyptian teenager Nouran Gohar with a straight game win in the final at Friendship Square in the heart of Macau City.

Gohar, the world junior champion, had beaten second seed Nour El Tayeb and home favourite Annie Au, the fourth seed, to reach the final but Massaro, the former world senior champion, proved too strong in the final as she claimed her 15th tour title.

It was double defeat for the Egyptian finalists as Hong Kong's Max Lee made the Macau fans happy with a straight game win over Fares Dessouki.

Lee had beaten defending champion Tarek Momen in the semis while Dessouki had taken out third seed Borja Golan on his way to the final. It was Lee who was on top in the final, taking the three games with increasing authority to claim his 11th and biggest tour title.
Alex Wan reports on the Finals

Massaro wins first title since becoming World Champion

Englandís Laura Massaro bagged her first title since winning the delayed 2013 World Championships in Penang, Malaysia back in March 2014. She came into the todayís final, though seeded much higher, somewhat as an underdog, given the form Nouran Goharís been in since winning the World Junior title.

It was Gohar who started better between the two, always being in front up to 6-5 in the first game. While Massaro seem to be finding her way around the court, Gohar was somewhat fearless in going for her shots and was catching Massaro off guard with her forehand boasts. While many of them were returned, they were loose and opened up more opportunities for the Egyptian to do the Egyptian thing Ė put the ball in the front corner.

Massaro slowly found her touch and drew level at 6-6. She manages to get another 3 points consecutively, starting with a low backhand kill in the front that was sublime quality, then a serve that sailed by the side wall so nicely it was unreturned and then catching Gohar off guard with a forehand boast. Gohar manages another 2 points before she tins at game ball down.

Massaro started from where she left off and started off really well, winning the first 3 points by dictating the pace of the rallies and then finishing off when an opening came. In the last of the 3 points, Gohar was given a taste of Egypt when Massaro delayed a shot so well before she flicked her wrist to hit a boast, the Egyptian just stood and watch the ball go by.

Somehow, Gohar, who normally hits the ball with such power, wasnít playing her game but instead was allowing herself to fit into Massaroís game. Very quickly the 2nd game went by. Gohar simply did not stand a chance in this game. It was either Massaro sending Gohar around to force a loose shot before finishing it, or the Egyptian would send the ball into the tin.

The first rally of the third game was long and it was a display of what this game could have been. Gohar was hitting the ball through like how she did all week. The pace was upped and Massaro had to do more work. It paid off as the Egyptian won the rally and let out a rare roar just to show how much it meant to her. Massaro then drew level with yet another delayed shot finishing with a boast, something that has been working well for her all night.

The pair would trade points, never more than 2 points separating them. When Massaro won her 8th point, she let out a loud ďcome onĒ and followed it up with a cross court drop that totally sent Gohar the other way. Massaro loses the next rally through a lazy looking forehand boast into the tin.

By now, the audience was cheering for Gohar, not because theyíre genuinely supporting, but more so because they have not gotten enough of action yet. But it was not going to make a difference as Massaro stuck in there. At game ball up, she hit a very, very tight drop but a let was given to Gohar, one which I suspect wouldnít have been if it wasnít for match ball. Massaro was obviously unhappy but kept her composure. Gohar sends a forehand straight drive into tin in the next rally to hand Massaro her first title since becoming world champion.

Laura Massaro said :
I just knew going into the match today that she was playing very well and that I would have to play well to even have a chance. Maybe the little experience of playing in finals helped me through today too. The 1st and 3rd games were really tough and I had to stay strong mentally.

Itís my first title since winning the Worldís in Malaysia. It does feel like a long time now. I guess everyoneís improved over the year. Maybe, if I am being honest, I did not push hard enough after that.

But I worked really hard over this summer. It feels good to have confidence in my ability to play back to back matches. The hard work (over the summer) has definitely paid off. Iím playing well and I knew I worked hard , but I really donít know if Iíve improved until now.

Nouran Gohar said :
Iím not really happy with the way I did today. But Iíve been playing well the last two weeks. I basically played her game and not mine. Thatís why I lost today. In Shanghai, I had two tough matches against Nicol (David) and Camille (Serme).

Beating Nicol was such a big thing for me. And I was very tired going into the final there. But this isnít the case today. I just wasnít in there mentally today. Laura played really well and it just wasnít my day today.


Lee clinches biggest title in front of adopted home crowd

Itís been a year Max Lee made a 50k final at the Malaysian Open, losing to world number one Mohamed Elshorbagy. Earlier this year he clinched the biggest title of his career, winning the HKFC International on home soil.

Tonight, Lee, a first-time father of a six-week old baby girl, bettered that by winning the Macau Open in front of a capacity adopted home crowd. Having survived a first round encounter from 0-2 down, this was certainly not expected as Lee would say at the post-match interview.

Lee started well, getting up to 4-1 as both players worked to get their lengths and widths. At 4-3, Dessouki hit a tight backhand which Lee missed completely. In the next serve, Lee misses the ball again. Lead changes hands next when Lee tins a boast. A few rallies later, the score tied at 7 a-piece.

Lee next served to Dessoukiís forehand, one which gets slammed into the front left corner. The players traded points and Lee got to game ball 10-9, which was converted thanks to a tin from the Egyptian, whom many commented is akin a navy seal in reference to his built.

Lee was moving really well, akin a ballerina floating on court tonight. The way he would move around the other player is exemplary. Given his smaller frame, itís probably an advantage he uses well, just as Nicol David uses hers.

The first 4 points of the second game went by lightning quick. 3 went into the tin and the other so tight it was not retrievable. 3 in favour of Lee and 1 in favour of Dessouki. In the next point, Lee was sent to all four corners of the court as Dessouki attacks. When changing direction, Lee clips the foot of Dessouki and both players went crumbling onto the ground. Thankfully, no one was hurt and the court attendants came in full force of 6 to dry the courts!

A stroke was awarded against Dessouki and Lee led 5-4. The next rally was competitive, both players having to be on the offensive and defensive. It ended with Dessouki tinning a boast, to which he reacted by throwing his racket. As expected, a conduct warning for racket abuse was given.

Dessouki started to look slower from hereon. He got to 6-6 and never won another point. Some shots, he was forcing himself to reach for it instead of taking the extra step. At 10-6, he pretty much gave up chasing a cross court drive and his body language walking out did not look good.

In the third, it was clear that Dessouki was not his usual self. In the post-match interview, he had cited problems with his quads and hamstring. He couldíve retired, but he did not and credit to the young Egyptian for that. He soldiered on but never won a point and in the last, he playfully hit the ball into the crowd.

Lee was ecstatic. He put his arms in the air, lets out a shout and acknowledges the crowd. Not something you would normally see from this quiet and private man of a few words.

Max Lee said :
I never thought I could get this far let alone win the tournament. I was 2-0 down in the first round! Iíve played in Macau so many times and Iíve never been this far. Itís also my first time having gone far enough to play on this glass court, so Iím very happy about it.

I came into this tournament with no real expectations. I just came and focus on my game and to play my best. Itís my first 50k win. I was in the final in the Malaysian Open (but lost to Mohamed Elshorbagy). I hope this will carry me into the new season with more confidence and motivation.

Fares Dessouki said :
Today I started very well in the first game. But I was struggling mentally. I just felt very tired (mentally) and I kept telling myself that Iím not. I had to keep pushing myself. Then in the second game, I felt something in my leg, probably my quads and also my hamstring. So I struggled with my movement quite a bit and I wasnít comfortable in there.

But all credit to Max. He played a really good game and deserved the win.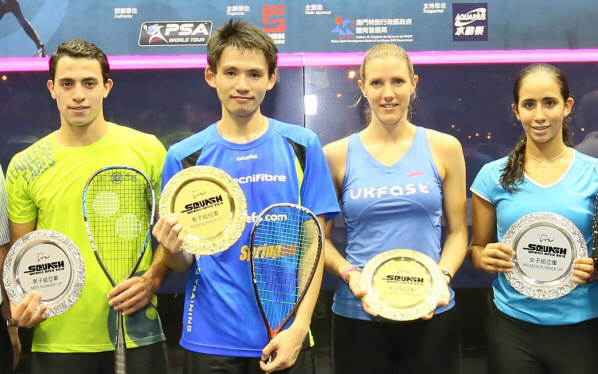 Macau Open 2015
15-20 Sep, Macau, China, $50k
Round One
17 Sep
Quarters
18 Sep
Semis
19 Sep
Final
20 Sep
[1] Omar Mosaad (Egy)
11/7, 6/11, 11/7, 11/4 (41m)
[Q] Karim Ali Fathi (Egy)
[1] Omar Mosaad
7/11, 11/4, 11/8, 6/11, 11/7 (75m)
[8] Nafiizwan Adnan

[8] Nafiizwan Adnan

11/5, 11/3, 11/3 (40m)

[6] Fares Dessouki

[6] Fares Dessouki

11/9, 11/6, 11/0

[5] Max Lee

[8] Nafiizwan Adnan (Mas)
12/10, 8/11, 11/9, 11/7 (72m)
Leo Au (Hkg)
[6] Fares Dessouki (Egy)
11/9, 11/9, 11/1 (26m)
Olli Tuominen (Fin)
[6] Fares Dessouki
9/11, 9/11, 11/4, 11/8, 11/7 (98m)
[3] Borja Golan
[3] Borja Golan (Esp)
11/9, 9/11, 12/10, 11/4 (62m)
[Q] Greg Lobban (Sco)
[wc] Steven Liu (Mac)
11/3, 11/4, 11/6 (13m)
[4] Marwan Elshorbagy (Egy)
[4] Marwan Elshorbagy
12/10, 15/13, 11/2 (48m)
[5] Max Lee

[5] Max Lee

13/11, 11/5, 11/4 (40m)

[2] Tarek Momen

[Q] Nasir Iqbal (Pak)
5/11, 11/8, 11/7, 10/12, 11/5 (58m)
[5] Max Lee (Hkg)
Shaun le Roux (Rsa)
11/6, 11/2 rtd (11m)
[7] Omar Abdel Meguid (Egy)
[7] Omar Abdel Meguid
11/4, 3/11, 11/5, 11/6 (38m)
[2] Tarek Momen
[Q] Rex Hedrick (Aus)
11/6, 8/11, 11/6, 11/8 (43m)
[2] Tarek Momen (Egy)
16 Sep, Qualifying Finals:



Karim Ali Fathi (Egy) 3-0

Ivan Yuen (Mas) 11/4, 11/5 rtd (30m)




Greg Lobban (Sco) 3-0 Chi Him Wong (Hkg) 11/5, 11/4, 18/16 (53m)


Rex Hedrick (Aus) 3-1 James Huang (Tpe) 11/8, 11/4, 5/11, 11/2 (55m)
Nasir Iqbal (Pak) 3-2 Tsz Fung Yip (Hkg) 12/10, 13/15, 2/11, 11/7, 11/6 (66m)

15 Sep, Qualifying Round One:

Karim Ali Fathi (Egy) 3-0 Valentino Bong (Mas) 11-6, 11-6, 11-8
Ivan Yuen (Mas) 3-0 Manuel de Oliveira (Mac) 11-2, 11-4, 11-5


Chi Him Wong (Hkg)

3-1 Tom Ford (Eng) 11-13 ,11-8, 11-7, 11-9
Greg Lobban (Sco) 3-0 Van Keng Hei (Mac) 11-1, 11-5, 11-4 (16m)
Rex Hedrick (Aus) 3-0 Nathan Lake (Eng) 9-11, 11-8, 11-8, 11-6 (55m)
James Huang (Tpe) 3-0 Carlos Cornes (Esp) 12-10, 11-9 rtd (23m)
Tsz Fung Yip (Hkg) 3-0 Cheuk Yan Tang (Hkg) 11-8, 11-6, 11-9 (26m)
Nasir Iqbal (Pak) 3-1 Ahmad Alsaraj (Jor) 7-11, 11-5, 11-5, 11-5 (38m)
Macau Open 2015
15-20 Sep, Macau, China, $50k
Round One
17 Sep
Quarters
18 Sep
Semis
19 Sep
Final
20 Sep
[2] Nour El Tayeb (Egy)
11/2, 11/3, 11/8 (21m)
Delia Arnold (Mas)
[2] Nour El Tayeb
11/7, 11/8, 8/11, 6/11, 11/4 (50m)
[7] Nouran Gohar
[7] Nouran Gohar

11/5, 11/6, 8/11, 11/3 (41m)

[4] Annie Au

[7] Nouran Gohar

11/8, 11/3, 11/9 (40m)

[1] Laura Massaro

[7] Nouran Gohar (Egy)
13/11, 11/6, 11/2 (28m)
[Q] Heba El Torky (Egy)
[5] Joelle King (Nzl)
11/6, 6/11, 4/11, 11/7, 12/10 (54m)
[Q] Joey Chan (Hkg)
[5] Joelle King
13/11, 11/8, 9/11, 11/9 (53m)
[4] Annie Au
[4] Annie Au (Hkg)
11/1, 11/2, 11/5 (20m)
[wc] Liu Kwai Chi (Mac)
[Q] Joshana Chinappa (Ind)
11/8, 8/11, 11/2, 11/4 (38m)
[3] Alison Waters (Eng)
[3] Alison Waters
11/6, 11/7, 11/4 (31m)
Emily Whitlock

[3] Alison Waters

11/4, 11/9, 7/11, 11/9 (49m)

[1] Laura Massaro

Emily Whitlock (Eng)
12/10, 11/8, 11/5 (33m)
[7] Rachael Grinham (Aus)
[Q] Donna Urquhart (Aus)
11/3, 7/11, 11/8, 7/11, 11/7 (48m)
[8] Jenny Duncalf (Eng)
[Q] Donna Urquhart
11/8, 11/7, 11/6 (29m)
[1] Laura Massaro
Dipika Pallikal (Ind)
11/9, 11/6, 11/6 (32m)
[1] Laura Massaro (Eng)
16-Sep, Qualifying Finals:



Joshana Chinappa (Ind) 3-0

Salma Hany Ibrahim (Egy) 11/9, 15/13, 11/9 (30m)


Joey Chan (Hkg) 3-0 Tesni Evans (Wal) 11/6, 11/9, 11/4 (35m)
Heba El Torky (Egy) 3-1 Misaki Kobayashi (Jpn) 5/11, 11/2, 11/8 rtd (17m)
Donna Urquhart (Aus) 3-2 Victoria Lust (Eng) 9/11, 11/5, 10/12, 11/8, 11/9 (55m)

15 Sep, Qualifying Round One:

Salma Hany Ibrahim (Egy) 3-1 Lee Ka Yi (Hkg) 11-6, 8-11, 11-8, 11-6
Joshana Chinappa (Ind) 3-2 Vanessa Chu (Hkg) 5-11, 9-11, 11-3, 11-7, 11-7
Tesni Evans (Wal) 3-1 Tong Tsz-Wing (Hkg) 11-8, 13-11, 9-11, 11-2 (42m)
Joey Chan (Hkg) 3-0 Ho Tze-Lok (Hkg) 11-8, 11-7, 11-4 (28m)
Heba El Torky (Egy) 3-0 Liu Tsz-Ling (Hkg) 11-7, 11-3, 11-8 (29m)
Misaki Kobayashi (Jpn) 3-0 Latasha Khan (Usa) 11-3, 11-6, 11-5 (17m)
Donna Urquhart (Aus) 3-0 Yeung Weng Chi (Mac) 11-2, 11-2, 11-1 (13m)
Victoria Lust (Eng) 3-0 Carmen Lee (Hkg) 19-17, 11-6, 11-2 (31m)
19-Sep, Semi-Finals:


Gohar grabs final spot as
Max takes out defending champ

The upsets continued in the Macau Open semi-finals as Egyptian teenager Nouran Gohar went through to the final with a fopur-game win over local star Annie Au.
In the final she'll meet top seed Laura Massaro, who won her all-English duel with Alison Waters in four games.

Egypt claimed a second place in the finals as Fares Dessouki beat Nafiizwan Adnan in straight games, but the home crowd were delighted to see Hong Kong's Max Lee beat defending champion Tarek Momen, also in straight games.
Alex Wan on the semi-finals

Semi-final matches moved to the ASB all-glass court erected in the heart of Macau Cityís Friendship Square.

With the legendary Grand Lisboa hotel and casino next to it, there is no better central location in what they name the Sin City of the East or City Of Dreams, depending on how you look at it.

Gohar grabs final spot

Kicking things off for the evening was the match between Annie Au of Hong Kong, who has proven to be lethal on the new 17Ē tin and Egyptian teenager and the current player on form Nouran Gouhar. The world junior champion is playing with such confidence at this tournament, it will take something very special out of Annie Au to rattle her.

It was Annie Au who started better in the first, winning the first point and then leading 4-1. But soon, Gohar found her momentum and she was clinical. Whether it was a drop or a boast or a drive, everything just worked her way. That explains the 9 points she won in a row from 1-4 down. From a 3-point lead, Au found herself to be game ball down. She saves one with a dying length at the back before Gohar before Gohar hits a length that died in the back.

The second was pretty much the same story as the first. Only thing being Au never had that lead. Goharís backhand cross court flick was very effective in this game, winning her a couple of points. It couldnít have been worse for Annie Au when a serve went into the nick at the back wall to give her game ball, which she closed out in the first opportunity.

The third saw Gohar opening up a 2 point lead with a dying length to lead 2-0. An honest self-called not up pickup gave the Hong Kong number one her first point. As the game progressed, Annie Au began to feel her way into the match finally and things got more competitive, though Gohar was always in front by a couple of points.

She had her biggest lead at 7-3 before the longest rally of the match thus far turned things around for Au, who then took 7 points in a row to go to game ball. Before that, Gohar had slipped and fell while returning a serve, just to show how hard the Egyptian hits. The last two rallies finished with a no let to Gohar and then a stroke against her to close out the game, bringing loud cheers from the adopted home crowd of Annie Au.

Au had a great start in the fourth, taking a 3-0 lead with some of her deft drops. But Gohar manages to refocus and from then on, was unstoppable. She had a run of 8 points in a row before dropping another 2 and then booked her place in her second successive final, following her feat in Shanghai.

Nouran Gohar said :
Itís my second consecutive final of a big event and Iím very happy. I didnít expect to be in the final at all. The last time we played, I lost 3-2 so I expected a really tough match. In the first two games, I was playing very well. I was doing exactly what I wanted to do. Annie came back and played well in the third and I am lucky to have gained control again in the fourth.

Both Alison and Laura will be tough to play. I will just focus on my own game and try to play my best and not think about winning or losing at all.

Annie Au said :
I feel I played pretty OK. She was attacking very well and put the pressure on me all the time. I started very slowly and it took me a while to get into it. I only got the hang of the momentum in the third game. Itís something I need to work on. Itís my first time playing her on the glass court and I feel itís harder to play her here (than conventional courts).


Massaro Muscles Her Way Through

English number one Laura Massaro faced compatriot Alison Waters in the next semi-final. Both are ranked 4 and 5 respectively in the September rankings and judging from history, this could be a very long encounter.

Massaro started the match very well, feeling her way into court very quickly while Waters seem to still struggle. Massaro raced to a 4-1 and 5-3 lead, followed with two backhands the glued to the wall, bringing her up to 7-3. She drops the next point after being denied a let and then Alison Waters would make two errors in the form of drop shots, first into the tin and the next to the floor. The game ended with a rather harsh no let decision to Waters.

The second game was a lot tighter and it was Alison Waters who first took the lead 2-0. Massaro then took 4 points in a row. Alison Waters never led again in this game, but she was never more than 2 points behind. There were some good old school squash rallies in this game, which drew some comments from the audience right behind me on how ineffective the pair were compared to the previous match. It was a good end to the second game as both girls hit a pair of beautiful tight drops each on the backhand side, first Waters at 9-7 and then Massaro with one that got her to game ball. Waters saved a game ball with a drive that died in the back but tinned the next drop to go 0-2 down.

Just as what Massaro would say later after the match, Alison Waters is not one who will go down without a fight. She came in firing in the third, rushing to a 6-0 lead before Massaro slowly clawed back to 7-4. But the damage in the beginning was already done and Waters would ensure this game went her way. At 9-7, she sent a backhand drop right into the nick, much to the crowdís pleasure before closing out the game.

The first half of the fourth was very much similar to the second game. There were some nice, long rallies from both the girls. A very stubborn moth flying around interrupted play while Massaro was 2-1 up. Both girls tried to get it out, and the court attendants came to help. And then the referee announced for someone to come get it Ė no idea what was he thinking, did he expect someone to shoot it down? For many reasons, Iíve found the referees in this event highly amusing.

The same canít be said about the second half as a majority of the points were based on refereesí decisions. With Waters leading 5-4, a no let was called against her, with another against Massaro next, bringing score to 6-5 in Waters favour now. Waters slammed a backhand into the nick for the next point to go 7-5 up, and then another no let, this time against her and the score was 7-6. An extremely generous stroke allowed Massaro to draw level 7-all. A lucky mishit wins Waters the next point followed by yet another no let against Massaro.

With the score now at 9-7 in Watersí favour, Massaro would win the next 4 points, out of which 3 would be strokes, including the final point.

Laura Massaro said :
I felt good today and made a good start. Iím happy with how fast I came out of the blocks. Alison is someone who never goes down without a fight. In the third, I was disappointed I went 0-6 down. And then in the fourth, it was all about being mentally tough. I worked really hard over the summer and Iím happy to have come out the winner.

I expect a really tough match tomorrow. Nouran is having the form of her life. Sheís beaten Nour (El Tayeb) and Nicol (David) in Shanghai, so thereís really no pressure on me given her form.


Dessouki Makes His Biggest Final

I have always felt that Fares Dessouki does really well against the top players (Nick, Ramy, etc) but somehow struggles with equal or lower ranked players. Tonight, he was nothing like that in his demolition of Malaysiaís Nafiizwan Adnan, who had just a day before deconstructed the Hammer of Thor, Omar Mosaad.

The first rally ended in 5 seconds. Wan went for the kill on the third shot and got it. The next few rallies would go Dessoukiís way who looked sharp with his kill shots. Both players are playing at a slower than normal pace, seemingly trying to get into each otherís heads.

It was 4-1 then 5-3, with the last point creating some confusion when the referee called out 4-all instead. The next rally ended with a decision that drew three difference calls from all three referees, the central referee who held his card at ďNo LetĒ but making a final let decision.

Dessouki continued to hit winners beyond Wanís reach. It didnít help the Malaysianís cause that his cross courts were nowhere near wide or deep enough, creating many opportunities for the Egyptian. It went to 7-4 and then 9-5. The next rally certainly woke the crowd up, as Dessouki slammed a forehand really hard that completely rolled flat out in the front right corner.

The second gameís pace was still rather slow. There were some physical contact in the beginning which first drew a warning to Dessouki and later a conduct warning for physical abuse came complimentarily with a let decision for running into Wan. This game was not pretty to watch, with too many points coming from decisions. But still, the Egyptian was in total control all the while.

At 4-2 up, Dessouki gets a stroke to go 5-2, then a no let against him allowed Wan to close to 5-3. A no let again, this time against Wan and itís 6-3. The next point, Dessouki hit a shot against the back wall that glued to the side wall to force a mistake from Wan. The following rally was by far the most entertaining all game, a long one with both players in offence and defence, which ended in the Egyptianís favour, who then let out a huge roar. Dessouki doesnít drop another point from here onwards and takes a 2-0 lead.

Wan did not look very competitive anymore at the beginning of the third. It was 6-0 to Dessouki pretty quickly until a no let decision against him turned things around for a little while. Wan won the next rally and started to play more like himself. In fact, both players are striking the ball well, but still the rallies went the Egyptianís way. Dessouki drops just another point at 9-2 and a shot into the tin sends him into the final.

Fares Dessouki said :
It wasnít easy in there for sure. It was very tough for me mentally, especially having to compete after such a long match yesterday. I was focussing 100% on my shots and not to make errors. It was a good tournament for him. It will be my biggest final tomorrow and I hope Max and Tarek will play for 200 minutes today!

Nafiizwan Adnan said :
I didnít play good squash today. I couldnít put him under any pressure. Both of us are quite tired from yesterdayís matches, and he played much better than I did. Today, my shots were all just not good enough.


Max Lee Continues to be Impressive

Max Lee, clearly a local crowd favourite here in Macau, had survived a five-game battle against Nasir Iqbal in the first round and deconstructed Marwan El Shorbagy in the quarters. He faced defending champion Tarek Momen today, a man he lost to a year ago at the same event having had match ball in hand.

An entourage of Hong Kong Squash officials and fans, including former WSF Vice President Heather Deayton, ASF Chairman David Mui, head coach Tony Choi and Hong Kong Squash Executive Director Emily Mak, had made the one hour fifteen minutes ferry ride across the channel to cheer on their top player.

Max Lee and Tarek Momen surely did not disappoint the crowd in the first game. Both players gave a display of what top level squash is all about with some smooth flowing rallies that included every shot in the book made to look easy, some ridiculous retrieving and winners that simply swept the audience of their feet. Both were never more than 2 points apart and it ended that way too in favour of Lee, 13-11.

The second was point for point up to 5-all. The great rallies continued, both players still trying hard to pull away from each other. It was Lee who manages to break away and win 6-points in a row to wrap the game up, which included a stroke that got him to 9-5 which I feel was a highly controversial one. There was a discussion between Momen and the referee, whether it was a let or no let in the Egyptianís head. But it went to a stroke to Lee, much to Momenís disgust.

In the third, a clear dip in the competitiveness level of Momen is evident. Max Lee took full advantage of it to forge ahead, build a lead and he never looked back. It must be a real special evening for the Hong Kong number one with his wife, 6-week old baby girl and mom, in the audience together with his many other supporters. The amount of people who came to congratulate him and pose for photographs is a testament to his popularity here.

Max Lee said:
Iím very happy to have won. I never thought Iíd reach the final. Last year I played Tarek and was game ball up and I lost. So Iím happy and I won this time. The court is very warm and bouncy, and both of us had to work really hard. I was lucky to win the first and it was a close crucial game. After I won that, it was a lot easier after I won the first.

I never knew it could have been a 3-0 score and I feel very good about these two (and China) tournaments.

Tarek Momen said :
Iím disappointed obviously. I think I only played the first game. I got very tired in the end. It didnít help that the conditions were so hot and humid in there. But it was on both of us and I think he handled it better than I have. I was ill just before the tournament so maybe that affected my fitness a little. But credit to Max, he played really well.
Alex Wan reports on the quarters

The quarter finals of the 2015 Macau Squash Open turned out to be a shocker as half of the eight matches played today ended in upsets.

Kicking off the evening were menís top seed Omar Mosaad against Nafiizwan Adnan of Malaysia, and womenís second seed Nour El Tayeb and Nouran Gouhar, the in-form world junior champion.

Wan Gets His Second Top Ten Scalp

Nafiizwan Adnan and Omar Mosaad got the evening started with some ferocious hitting, as youíd expect any match that featured the Hammer of Thor Omar Mosaad. At a later point of the match, there was a conduct warning for ball abuse at which I thought, it is very well abused already in the last hour.

Mosaad came out firing, hitting most that came his way hard and low. So much that Adnan seem to have taken a step back further from the T as a precaution. But that meant every single drop or boast would require an extra lunge. Mosaad saw that and took advantage of it in the first half of the first game. In no time he was 7-3 up before a stroke against him turned things around a little. Adnan manages another 3 points before Mosaad slammed a forehand into the nick to take the lead.

In the second game, Adnan controlled the pace a lot better, slowing things down as it deemed fit. This proved to reap rewards as he won 6 points in a row to lead 6-1, 8-2 and 10-3. Mosaad slams the next serve into the nick but Adnan was not going to let this game go any other way.

The third was close up to 5-4, and then Adnan won 3 points in a row to open up a gap. It went back to point for point and Mosaad tins at game ball down to hand Adnan the lead 2-1 games. The pace was upped once again in the fourth and after a lot of running, Adnan was feeling the heat a little. A string of 4 points from 3-2 down did the damage in this game to Adnan, who eventually lost 11-6.

In the decider, Adnan got to a good start with a 4-1 score. Whatís not pretty about the start is that two of the first five points were strokes. That pretty much did the damage to Mosaad, as no player too more than 2 points in a row from there. After 75 minutes of play, Mosaad tins a backhand volley to hand Adnan his second top ten player scalp.

Nafiizwan Adnan :
This is my biggest win. Iím very happy with the results. I played Omar here last year and I lost 3-0 in less than half an hour. Iím a lot more patient this time round and Iím playing well I think. Iím not thinking about tomorrow yet. Iím just letting this win sink in and enjoy the moment. From experience, the more I think further ahead, it stresses me out. Come tomorrow, Iíll just do my best.

Gohar Continues Her Killing Run

At the court next door, two Egyptians battled it out. First, Nouran Gohar, the current talk of town and the other, Nour El Tayeb, the second seed. El Tayeb was already wary of Gohar the day before as she mentioned during the post-match interview. She was definitely right in feeling so.

It was El Tayeb who drew first blood, after Goharís forehand drop found the tin. From 3-3, Gohar started to slowly pull away. It was 8-5 and soon after, 11-7 in 7 minutes. The second saw Gohar playing with more confidence, probably from winning the first. She was playing a lot more aggressively and striking the ball with such aggressiveness and confidence. She manages a 7-3 lead at one point, then 9-7 and allowing El Tayeb just another point before taking a 2-0 lead.

Gohar continued on from where she left off in the second, playing some highly confident squash. But at the same time, El Tayeb had found herself playing better too. Though El Tayeb trailed 5-7 at one point, she did manage pump herself up enough to take the third 11-8.

Winning the third sure fired up El Tayeb, who is known to be a fighter on the tour. She came in strongly and took a 6-1 lead. Gohar tried to claw back from there. She gets nearer but it was never going to be enough. El Tayeb closes the 11-6 and lets out a roar so loud, nearly everyone at the menís court turned around.

In the fifth, El Tayeb took a small lead in the beginning and after, it was all Nouran Gohar. The teenager simply was too good for El Tayeb, who could find no answer to stop her. At 6-3 down, El Tayeb did one of her famous dives to retrieve a ball in the front, and even that did not work today.

For a teenager so young to be playing such matured squash amongst the worldís best is really a marvel. Whatís more scary is she will still be eligible to defend her world junior title the next round.

Nouran Gouhar :
This is one of the toughest match that Iíve played. Nour is a very talented player and you never know where the ball is heading with her. Itís always hard to play another Egyptian. I was 2-0 up and 7-5 up in the third, and I lost a little concentration to allow her back into it. Plus, sheís a real fighter. Iím really glad to have pulled through.

Nour El Tayeb
Iím trying to look into the positive side of things. Iíve lot of time raining all summer and I am seeing a little improvements here and there. Itís the first tournament of the season and I was playing a player who is very confident at the moment. My balls were more loose than usual, just not tight and deep enough. That was the difference today.

Dessouki Comes Back From the Brink of Defeat

The second menís match on court turned out to be another cracker between the young Egyptian Fares Dessouki and Borja Golan from Spain, the third seed of the tournament. The pair had already met twice in 2014, with the Spaniard winning both in matches lasting 60 and 95 minutes, so a long battle seem to be on paper.

Long it was, but I doubt many wouldíve put their money on Dessouki to be 2 games down to come back and win. Like Golanís match yesterday, this one was filled with lots of drama involving the referees as well. There were way too many disruptions, many conversations with the referee.

The first two games were very equally matched, both never more than 2 points apart. But both times, it ended in the Spaniardís favour, after a total of 45 minutes on court. In the third, Golan seem to have shut down and had not much resistance to offer, losing tamely 11-4.

The fourth was a much closer affair, but just around mid-game, Dessouki manages to take 5 points in a row and earned himself a game ball at 10-7. He then hit a lob out of bounds to allow Golan a point to 10-8, before a no let call was given next, thus ending the game.

Fares Dessouki then went into overdrive in fifth as he quickly took a 7-1 lead. However, Golan somehow manages to chase and got to 7-8. Two consecutive rallies that ended with Golan asking for lets were turned down and on both occasions, there was commotion from the Spaniard. That certainly got under the skin of Golan, who didnít win another point more.

At 8-2, a rather awkward situation unfolded. Golan had hit the ball into Desoukkiís racket while attempting a cross court from the back. Now this would be a simple stroke to Golan by the rule book, which is what the referees decided anyway. But both Dessouki and Golan decided it shall be a let and the referee allowed it to be one.

[I have seen cases such as double bounces which the referee calls out but players think otherwise being overruled. But this is a clear cut simple stroke. I am not sure if this should be allowed at all Ė players overruling referees. Alex]

Fares Dessouki:
Itís my first time beating Borja and Iím very happy about it. I was 2-0 down and it was tough mentally. I had to keep telling myself I could do it. It was a bit physical but itís a test for me to know I can last the whole five games. It was even more so a mental test. In the fifth I was 8-2 up and I started to think about winning. That got me a little sluggish. Then at 8-7, I played two good shots. Overall it was hard mentally more than physically and needing to control my emotions.

Borja Golan
It was a difficult first two games and I was lucky to win it. In the third I relaxed a little and I realised he was getting better. He just kept getting better and better. I lost some confidence in the fourth while he was getting even better. I was down in the fifth and I realised he was struggling physically so I told myself, if I was going out I would try to make him work. It was good till 7-8 and I had two bad decisions go my way. But all credit to Fares. He played so well and truly deserves this win.


Annie Au the First Seed in Semis

After 3 upsets, Annie Au of Hong Kong was the first seeded player to check into the semi-finals. Her opponent today was Joelle King, who is using her last pegged ranking in this event. Going by the rankings, Annie Au is certainly the favourite. But for many, it is the reverse.

The first game opened up right from the start in Auís favour, who raced to a 5-1 lead after dropping the first point. Slowly, King pulled back and saved 3 game balls before succumbing. The second game was closely contested. King would be using the pace while Au would be trying to slow it down as how she always does so well. But at 8-all, Au manages to win 3 points in a row to take a two games lead.

Au came firing in the third and established a 5-0 lead. But Joelle King herself did the same at the end to win 4 in a row from 8ó9 down to win 11-9. She even started off well I the fourth, opening up a 4-point lead to 6-2. But at the end, the Hong Kong number one manages 5 points in a row to go 9-7 up. King did draw level at 9-all but it was not enough to save the game, sending Au into the glass court to face Egyptian sensation Nouran Gohar.

Annie Au:
I played pretty well today. I think sheís a little tired physically. Overall Iím quite satisfied with my game today. But I still had a couple of mistakes here and there. Tomorrow, itís going to be tough against Nouran, who is playing very well at the moment.

Joelle King:
I was a bit up and down. I probably let a few refereeing decisions get under my skin. I feel a little flat coming in to a group of events. Iíll be heading home to rest for a week now before going to the US.


Max Lee Avenges Defeat

Two weeks ago, Max Lee was the talk of town when he ousted world number one Mohamed Elshorbagy in Shanghai, but only to fall to his younger brother rather easily in the next round. Today, Lee has a chance to turn things around and he took it in a rather brilliant fashion.

The first two games was beautiful squash from both players. The Hong Kong number one displayed quite a few times what a great retriever he is and this definitely worked to his favour, as it forces Shorbagy to play that shot just a little better. This would of course mean the chances of making a mistake is higher too. Having every winner being retrieved would unsettle even the worldís best, and here it was getting to Elshorbagy.

The first two were dead close, both ending up in Leeís favour through tie-breaks. The third was rather anti-climatic after the first two games. Lee needed only two hands of serve to book his place in the glass court.

Max Lee:
I felt pretty good out there. I had a discussion with my coach on how to play Marwan, having just lost to him in Shanghai. Basically I had to do much better lengths and cut down on my mistakes a lot more, which were aplenty in Shanghai. Iím a little surprised to win in three as heís not an easy player to play with. Playing either Tarek or Omar will be tough tomorrow and I hope it will be good.

Faheem Khan (Max Leeís coach):
Obviously it feels good coming out of such a win. Max already had confidence in himself after beating Mohamed in Shanghai. But he did badly against Marwan there on the glass court. He simply couldnít keep it tight and get the lengths in. We decided he needed to keep the rallies going as long as possible. I am very pleased he stuck to the plan today. Iím not surprised that he won really. Heís a very talented player but heís not peaked at his maturity level just yet.

Marwan Elshorbagy
The first two games were tight. It couldíve gone either way. I had a couple of game balls in the second. Max played better on the bigger points. In the third, he was just everywhere and I couldnít get into the game. Itís a good tournament here but the level of refereeing needs to be improved. I will still look forward to come back here.


Top English Girls Win

Englandís top two womenís players Laura Massaro and Alison Waters both won their matches in straight games, the former against Aussie left-hander Donno Urquhart and the latter against team mate Emily Whitlock.

Massaro did struggle more than Waters, especially in the first two games. When questioned, she mentioned about Urquhart being left handed, making her harder to play. Both spent about half an hour of play, so tomorrow should see a close match between the pair which is likely to mess up the schedule.

Laura Massaro:
I felt pretty OK today. Itís always hard to play someone like Donna whoís a left hander. She throws a few shots into the nicks too. We havenít played for a while, so it took a while to recognise the different patter of play. I felt that she kept changing tactics throughout the match so it was hard to read a pattern. Iím glad to come through in straight games and Iím looking forward to the glass court tomorrow. It should be a good match, both of us are ranked four and five in the world this month. Hopefully I can play my best squash tomorrow.

Donna Urquhart:
Itís always disappointing to lose. Laura played better than me today. I feel I was in it today actually. The small difference could be the last two matches I had (both went to five). Iím really happy with my performance though. Itís my best results in the last 12 months since coming back from the injury.

Alison Waters:
I thought I played well. Emily is a tough opponent as you can see. I knew that coming in and I had to do well to control the pace. Iím enjoying Macau very much and itís going to be good in the semis on the glass court tomorrow.


Close Buddies Square Off with Each Other

Defending champion Tarek Momen and Omar Abdel Meguid both found it hard to be playing each other, as both are close friends. Momen had a good start taking the first games 11-4, 11-3. With Such a scoreline, who wouldíve thought Meguid will seriously be mounting back a challenge.

He did just that, winning the third game but Momenís experience saw him through in a fairly one sided fourth game.

Tarek Momen:
I think my game was good today. Itís hard to play Omar because weíre close friends. We train and play together very often and itís hard to feel like Iím playing in a tournament. Itís easy to lose concentration sometimes. Last year I played Max in the quarter finals and I was match ball down before winning in five. I hope I can put up a good performance tomorrow and win again.

Omar Abdel Meguid:
Itís never easy playing someone youíve been training with since 7 years old you know. I feel I played well in patches. But I made too many mistakes and he played well. Iíve had my best results here in Macau. I got into the semis two years ago, so yeah, I hope I will be back next year.
16-Sep, Round One:
Whitlock and Urquhart gatecrash the quarters

The first round of the Macau Open saw most of the seeded players progress to the quarter-finals - eight out of eight in the men's draw, but a couple of significant upsets in the women's as Emily Whitlock and Donna Urquhart progressed to the last eight.

It was a good day for the Egyptian contingent as they provided five of the men's winners, and are guaranteed a women's semi-finalist.


Whitlock takes out Grinham in three



"Iím happy with my game. I just went in and played well. This is my second time here in Macau. I qualified the last time and I have a good track record here."



"She played better. I shouldíve won the first game as I was 9-4 up. Iím frustrated because a lot of the rallies, I got to the ball but it just didnít get back. That was my day today."



Itís Au v Liu Again

The pair were drawn against each other once again after the re-draw (due to Nicol Davidís withdrawal), having played last year at the same event. Local wild card Liu Kwai Chi had the worst possible start when Annie Au served her an ace.



She didnít do any much better in the game and the following one, earning just 1 and 3 points.

Liu did start well in the third, as she took 3 points in a row after dropping the first point to go ahead 3-1. Annie Au served out at 3-all to give Liu the lead once again after she drew level. The Macau top womenís player manages another point before going out in 20 minutes.

"I didnít play well today," said Ivy. "Only in the third did I feel I played alright. I played Annie last year as well. At least I feel that I played better than I did last year. But Iím still not very happy with my game."

Marwan Outguns Liu

There was not much of a fight on paper in this match, but Steven Liu, the local wild card in the menís event, had a good start. After that Marwan Elshorbagy controlled the rallies well and went short in most of them, and often enough, wins them.

The scoreline of 11-3, 11-4, 11-6 is certainly respectful but the match duration of just 13 minutes pretty much sums up how ruthless the younger Shorbagy was today.



"I had a good game against their local player Steven. I feel heís getting better and better each year. I hope theyíll have more and more juniors in years to come as they have good facilities here.

"This tournament will be interesting for me, as I did well in Shanghai two weeks ago. But thereís no pressure on myself and no expectations too."



Top Seed Impressive

Laura Massaro, the former world champion, had a good game today as she took out Indian Dipika Pallikal in straight games. The first was tight, with Massaro winning 11-.9. The next two games ended with similar 11-6 scores.



"I thought I played well. It was really even in the first all the way to 9-9, then I played a couple of good rallies. In the second and third, I felt more comfortable. Itís the first match of the season. Itís a little unknown how Iíd feel. I started to use the full court a lot more in the later parts."



"I think she played well. She looked like she enjoyed herself. After the summer, you never know how the first game will go. Sheíll be happy with today and sheíll probably say the same to you."



"My game was OK. I havenít played in the last four months so itís a good game to start off again. I leave for America soon and I look at the positives I gained from this match."



Two Each for England and Egypt

In the last four matches of the day, Rachael Grinham was the other seed to fall, going out in three games to 21 year old Emily Whitlock. Third seed Alison Waters and Joshana Chinappa played next, with the latter winning 3-1.

Egyptian pair Omar Abdel Meguid and defending champion Tarek Momen went through too. While Momen was tested by Australiaís Rex Hedrick, Meguid spent just 11 minutes on court as Shaun Le Roux retired with an abductor injury.

Alex Wan reports

The main draw of the 2015 Macau Open kicked off with Borja Golan taking on Greg Lobban on one court while the ladies took centre stage in the show court next to it between Joelle King and Joey Chan. As the Macau Squash Association and Hong Kong Squash have a close working relationship, Joey Chan is very much considered a local player on this island.

Joelle Breaks ďLocalĒ Hearts

In the first match that started a long day at the office, Joelle King faced ďlocalĒ girl Joey Chan on the centre court. The Kiwi started strongly and took the first 4 points in succession before Chan got into the game to close the gap to 5-3. The pace at which King controlled the game troubled the petite Chan, who in no time found herself 9-3 down. She does manage to string 3 points in a row, all with accurate drops before losing the next 2 to the wrath of Kingís backhand drops.

In the next game, Joey Chan came in a much more composed player, controlling most of the rallies. She took a small lead and built it up from there by keeping up with Kingís pace and choosing the right moments to finish the rallies off with her deft touch. From 4-all, she strings a series of 6 points to get to game ball, dropped 2 points and finishing off the game with a backhand volley into nick. Now we have a game!

The third was pretty similar to the game before, but it started in Joelle Kingís favour. However, halfway through, Chan went on overdrive and the 17-inch tin was definitely being fully used to her advantage. From 3-3, she strung another 6-point streak with her volleys and drops to lead 9-3 and finishing the game off with yet another nick.

King turned the tables around in the fourth, pulling away from 2-2 to 9-3. Chan seemed to have lost a little patience in this middle part of the game but a broken strings allowed her a short break to regroup and close the gap to 9-6. But it was a little too late as King holds on to force a decider.

Chan did not have the best of starts I the fifth, tinning a boast on an already lowered tin. But she quickly raced into a 6-2 lead and the local crowd had already smelt victory at this point. But she next tins a loose shot with an attempted drop and that turned things around, allowing King to draw level 7-7. It went point for point from hereon. Joelle King reached game point thanks to a volley lob that went out of bounds, Chan saves it with yet another drop shot. But the comeback Kiwi won the next 2 points with a very low backhand drop and a ball sent out of court by Chan.

"Iím happy to be on the winning side. Joey played really, really well today. I had to figure out a way to stop her. I was 6-2 down in the fifth and then Joey tinned. That switched the momentum. She was playing well to her advantage with the 17Ē tin. Every match for me in this year is finding back my confidence."

Joelle King

"I feel I played very patiently today. Perhaps my focus in the middle was a little up and down. But overall Iím happy with my performance in this tournament. I feel I was very into the game today."



Golan Tested by Lobban

Former world number 5 Borja Golan was put to the test by Scotlandís Greg Lobban in a rather memorable match, one marred with questionable decisions that went against both players. While the match duration states 62 minutes, it was definitely much closer to 90, including an injury time out and multiple discussions with the referee. Despite all this, credit must be given to Lobban whom I feel played well above his ranking of 44.

The first was close in the earlier stages, until at 5-5, Golan had accidently stepped on Lobbanís foot, who was then denied a simple let. The decision affected Lobban who then lost 5 points in a row to face game ball. He saves 2 of them but thatís all he manages in the game. As he walks out, he is still unsatisfied with the decision of the referee, who has now refused to entertain him any further.

The second started close. Both players were trading points equally. Itís deja vu as this time, it was Golan who runs into Lobban and denied a let when the score was at 6 a piece. The same thing happened, the decision affected Golan, and the Scot taking advantage of it to move up to 10-7. A not up call moved Golan to within 2 points and then another controversial no let decision against him wins the game for the Scot.

The third and fourth games, both won by Golan, had far too many disputes with the referee. The squash had simply gone downhill and the protests were loud. In the end, Golan walked out the victor and Lobban the (literally) bleeding, battered one.

"It was a really tough match. Itís my first match in this tournament so it was hard for me to find my shots at first. Iím happy that I played better as the match progressed. Greg was playing really well as well today.
The referees have a difficult job. They try their best and perhaps today is not a good day for them."



"I felt I played well. I played Borja before and it was 3-1 to him too. But today definitely felt a lot closer. The third game was pivotal. Had it gone my way, perhaps things could be different. Refereeing decisions always make a difference. And I guess Borja dealt with them better than I did today.



Olli Ousted by Young Egyptian

Veteran Finn Olli Tuominen and Egyptian youngster Fares Dessouki took to court next in the menís court just as their match was initially scheduled to finish.

The first two games were close, Though Tuominen was controlling most of the rallies but in the end it was Dessouki who played the last few critical points better, with both games finishing 11-2 to the Egyptian.

The rallies were of high quality as one would imagine coming from this pair. It was a clean and fair contest, with minimal decisions, making it a much nicer match for the spectators.

Sadly, the veteran sustained a calf injury in the beginning of the third and credit to him, he continued to the end without conceding the match.

"I was struggling the two games and he was controlling it mostly. Olli is a good player and very experienced. Iím glad to be through. Itís my first time in Macau and I like it, itís a nice place. If I do well, Iíll come back every year. I hope Macau will be nice to me.



I played OK in the beginning, but then I hurt my calf and I couldnít push it. It wouldíve been nice if I could play the whole match in a good condition.



Gohar Continues to Impress

Coming off a historic win over Nicol David and prior to that winning the World Junior title, did not perturb the young Nouran Gohar, who took on her senior compatriot Heba El Torky.

The first game had some high quality rallies and the scoreline between the both players were always close, with Gohar eventually winning 13-11.

The second game was a lot more comfortable for Gouhar, who practically controlled most of the rallies. She drops 6 points in the game and in the third, it got even more comfortable as she won 11-2. The manner and maturity of her game is simply astonishing and it will be really interesting to see how she fares against second seed Nour El Tayeb tomorrow.

"I played well today. Itís hard to play a good friend. Sheís been my roommate for the last few tournaments. Iím trying not to pressure myself (on her good run of results) but just enjoy and focus fully on my game. "



"I wasnít happy with how I played and I expected to do better. She played well today, like she has been recently. I started with a game plan, but I didnít stick to it till the end.

"Itís my second time in Macau and Iím happy to be here again. I hope the event goes on and grows more, maybe into a World Series event."



Max Lee Squeezes Through

Nasir Iqbal of Pakistan payed his second successive 5-setter today in his loss against Hong Kongís top male player Max Lee, the tournament fifth seed. It was Iqbal who drew first blood when he won 11-5 in the first game.

Lee then took the next two games, having better ends in the later halves of both the games to go ahead 2-1. In the fourth, Lee opened up a small lead but Iqbal eventually caught up and forced the tie break which he won to bring it to a deciding game.

But the brutality of the fourth had done damage to Iqbal who was a lot less competitive in the fifth. Lee, having beaten world number one two weeks ago, inevitably has some expectations placed upon him, and he delivers (just) today to justify his seeding.

"I played just average. There were quite a number of mistakes. I shouldíve won the fourth game. I pulled away and allowed him to catch up again. In the fifth I opened up a lead. But it was a really tough game."



"Iím happy with my game. Max is a good player and he just beat the world number one. I played the first game really well and then I had a problem with my foot. Iím happy overall with how I did in Macau."



El Tayeb Unsettles Delia

Egyptís Nour El Tayeb and Malaysian Delia Arnold, who is riding high with a career-high ranking of 12 this month, have both never faced each other. This was used effectively by the Egyptian in the first two games by playing at an inconsistent pace, mixing some hard hitting and soft touches, which troubled the Malaysian badly. The scoreline of 11-2, 11-3 is a clear indication of how things went.

In the third, Arnold finally seem to have gotten the hang of it and raced to a 5-1 lead. But this lead was cancelled out as quickly, starting with a stroke to bring her to 5-2. Three volleys in a row would win her the next three points to draw level.

From here on, it was point for point up till 7-all. A lucky nick on the backhand side on the sidewall gave El Tayeb the advantage for the first time in this game. The next three points was then gifted to the former world number five as Arnold lost focus and gave them, and the match away rather easily.

"Iím very happy to get through. I knew Delia have been doing upsets lately. Itís always in my mind and I knew I had to start strong. I was worried about her good form and I was tensed before the match. I had to stay focused and maybe in the end I was a little too confident. The last game was tricky, if she won it, things couldíve been different. I am glad to get through in three. Macau is very nice but it would be nicer if I win!"



"I had a slow start in the first two games. I have never played her before and I couldnít read her game well. In the third I got used to it and was controlling it a lot more. It was just that I hit too many loose shots in the beginning.



Urquhart Creates First Upset of the Day

Aussie Donna Urquhart served the first upset of the day when she edged out Englandís former world number two Jenny Duncalf in five games. The left hander started off well to take the first game 11-3 with some power hitting. Duncalf then came back to take the second in a closely fought game, 11-7.

The third had some questionable calls by the referee in the second half of the game. A decision that went against Duncalf, plus a few lucky nicks from the Australian, had rattled her, and the last few went in Urquhartís favour quickly. She came back to win the next to force a decider, but it was Urquhart who had the final say.

"Iím happy to be through. So stoked. Iím a little disappointed that I was inconsistent. At times I was playing well, and at times I just wasnít. Good thing is it means I can improve more. Jenny is a tough opponent as you can see right to the last point. Even though I think I can play better, Iím still just happy to go through."



"I felt patchy. I struggled to find a rhythm. I havenít played Donna for a while so itís a little hard to read. Iím disappointed at the end of the third. I let a bad decision get to me and I was feeling sorry for myself. "



Hammer Of Thor Through

Top seed Omar Mosaad, whoís appearing in the event for the fifth time, booked his place in the quarter-final after ousting team mate Karim Ali Fathi. Both Egyptians, who like to hit through their shots, provided great entertainment for the audience, which was by this time, pretty big. The power hitting and strong volleys of the pair were a joy to watch.

The first two games were shared. In the third, it was the big Egyptian who slowly built up a lead from 5-3 and maintaining it up to 7-5. He next produces two backhand drops that were tight which Fathi could not keep the ball in play. Mosaad eventually closes out at 11-7.

The fifth game saw Mosaad build a lead at the start, then slowly opening up a much bigger lead to 10-6, after which Fathi had already given up.

"It was a bit difficult being the first match of the tournament. Iím still not at 100% having travelled to China and back to Egypt and now back to here again. Itís a little tough on the body. Karim is also a talented player and we have pretty similar styles.

"We both like to strike the ball. The first game went well and I lost some concentration in the next. The third was important as I wanted to be up and then the fourth was smooth for me.

"Tomorrow, itíll be hard to tell. There are so many players here. Itís not about ranking anymore. Itís about whoever plays well on the day will win."



Adnan Gets a Little Help

The pair of Nafiizwan Adnan and Leo Au are no strangers to each other, and it clearly shows in their matchup. The familiarity with each otherís games meant longer rallies and both these boys showed some great athleticism in the rallies.

Au narrowly lost the first in a tie break but took the next game. Adnan then got lucky in the end of the third as he was awarded a no let decision against Au, which was heavily disputed. The decision threw Auís focus away for a bit. The fourth game, like the previous, unfortunately, ended in a decision. This time, being a stroked against Au.

"Iím happy with how I played, especially now that Leo is in good form. He beat me 3-1 the last time we played. I managed to put pressure on him and especially in the fourth. Tomorrow I play Omar (Mosaad), who is in the top ten. I will just want to play well and try my best."



"I think I was playing alright, but Nafiizwan was playing very well today. I think the third game was crucial and especially with the decisions in the last point, I lost a bit focus. "




16-Sep, Qualifying final
Top men's seeds through to Main Draw


Alex Wan reports



Top four seeds in the menís qualifying all justified their seeding by beating their Asian opponents to make it into the main draw.

Top seed Karim Ali Fathi beat a second successive Malaysian in as many days when he ousted Ivan Yuen, the world number 95. After going down 4-11 and 5-11 in the first two games, Yuen conceded the match. When contacted later, the Malaysian explained he wasnít feeling well due to food poisoning.

The win sets the world number 42 up against fellow Egyptian and top seed Omar Mosaad. The pair last met at the 2014 World Championships which Mosaad won comfortably.

After yesterdayís upset, Hong Kongís Wong Chi Him continued to impress. Scotlandís Greg Lobban won their encounter in straight games, but was kept on court for 53 minutes with the third game stretching to 18-16. Lobban plays Spainís former world number 5 and third seed Borja Golan tomorrow.

Australiaís Rex Hedrick next took to court against James Huang, the first player from Taiwan to join the PSA Tour. Hedrick took the lead with a close-ish 11-8 first game, before dominating the second. Huang managed to pull one back but ran out of steam and conceded the fourth game, winning only two points. Hedrick drew second seed Tarek Momen, and both have never played each other in the last two years.

The last match of the menís proved to be a cracker in an all-Asian match-up. Pakistanís top men Nasir Iqbal eventually coming out victorious against Hong Kongís Yip Tsz Fung after a 66-minute battle. The first two games both went to tie-break and shared between them. Iqbal seem to have ran out of steam in the third, losing for just two points, but came back to take the next two. Nasir Iqbal will play yet another Hong Kong player Max Lee.

Chinappa and Urquhart upset the odds to qualify

Joshana Chinappa celebrated her 29th birthday by crashing into main draw after beating Egyptís qualifying top seed Salma Hany Ibrahim in three closely contested games. While it may be an upset on paper, only four ranking places separated the pair, who both have a highest world ranking of 19. The reward for the Indian will be a clash against Englandís Alison Waters, the third seed.

Joey Chan ensured there will be additional home representation in the main draw (joining team mate Annie Au) as she beat Welsh number one Tesni Evans in 35 minutes. The left hander will next play New Zealandís Joelle King, who will be competing in her fourth event since coming back from a ten-month injury layoff.

It was third time unlucky for Misaki Kobayashi as she was forced to retire with a leg injury while trailing 1-2 games against Egyptís Heba El Torky, who also beat her at the China Open qualifying finals two weeks ago. The loss marks the third successive time the Japanese has lost in the qualifying finals of a $50k and above event. El Torky will be playing Nouran Gouhar, her compatriot who is currently in stunning form, having won the world junior crown and following it up with a win over Nicol David in China.

Like the menís final match of the evening, the ladies one too went the distance. Donna Urquhart, the left-handed former world number 13, took out Englandís Victoria Lust, having to come back from 1-2 down and will next play Jenny Duncalf in the main draw.



15-Sep, Qualifying round one:
Wong Chi Him stars in opening day upset
Alex Wan reports

Hong Kongís Wong Chi Him provided the only upset of the opening day of the Macau Squash Open as he took out Englandís Tom Ford in four games in men's qualifying round one.

After losing a close first game 11-13, Wong, the world number 130, bounced back to win the next three games. The win earns him a shot in the main draw when he plays Scotlandís Greg Lobban tomorrow, who was hardly troubled by local Hei Van Keng.

In an all-Hong Kong clash, Yip Tsz Fung defeated his much lower ranked compatriot Tang Cheuk Yan in 26 minutes. Yip will next play Pakistanís Nasir Iqbal, who won the last match of the evening, defeating Jordanís 20 year old Ahmad Al-Saraj in four games.

Earlier in the afternoon, there were mixed fortunes for the Malaysian camp. Ivan Yuen, who celebrates his birthday today, dropped just 11 points in his straight games victory against local junior Manuel de Oliveira.

His compatriot Valentino Bong did not have such good fortune as he was sent packing by qualifying top seed Karim Ali Fathi of Egypt. The Egyptian will play the 95th ranked Malaysian Yuen, who has dropped to his lowest ranking since breaking into the top 100.

It was certainly not a great day in the office for Spainís Carlos Cornes, who after losing two very close games 10-12, 9-11, was forced to retire injured in his match against Taiwanese James Huang. The 30 year old from Taipei next faces Rex Hedrick, the 26 year old from Melbourne, who had had to come back from a game down before edging out Englandís Nathan Lake 9-11, 11-8, 1-1-8, 11-6.

Joshana and Salma survive Hong Kong challenges

Seasoned Indian campaigner Joshana Chinappa survived a major scare to come through the first round of women's qualifying. The former Indian number one was trailing two games down before clawing her way back into the match to win 5-11, 9-11, 11-3, 11-7, 11-7 against Hong Kongís Vanessa Chu, who is ranked 40 places below.

Chinappaís opponent tomorrow will be Egyptís qualifying top seed Salma Hany Ibrahim, who was given a tough challenge by another Hong Kong player Lee Ka Yi, winning in four games.

Welsh Tesni Evans edged out Hong Kongís Tong Tsz-Wing 3-1 in 42 minutes. She was 2-0 up before the 23 year old Tong pulled one back. But in the fourth Tong went out tamely, winning just two points. Her compatriot Joey Chan had a straightforward victory against Ho Tze Lok, winning in just under half an hour.

Egyptís Heba El Torky and Japanís top player Misaki Kobayashi will fight for a main draw slot after both won in straight games, El Torky putting out Hong Kongís Liu Tsz-Ling and Kobayashi taking out American veteran Latasha Khan in straight games.

Donna Urquhart played the shortest match of the day when she easily put out Macau junior Yeung Weng Chi in just 13 minutes with the loss of only 5 points. The Australian will square off with Englandís Victoria Lust, who came through a 31-minute battle with Hong Kongís Carmen Lee. After a close first game that ended 19-17, Lust simply cruised through the next two.




Check out travel stories from Latasha Khan and the players


Macau Open 2015 Launch

The Macau Squash Open 2015 is organised by the Macau Squash Association and sponsored by the Macau Sports Development Board (MSDB).

Present at the opening press conference were Director of Sports Association & Training Support Division of MSDB Mr. Wu Iao Ut, President of Macau Squash Association Kuan Vai Lam, Tournament Director of Macau Squash Open Kenneth Lei Kam Fai, Tournament Referee Victor Hoi and Macau players participating in the event, Steven Liu Tsun Man, Liu Kwai Chi, Yeung Weng Chi, Van Keng Hei and Manuel Chan Gassmann De Oliveira.

Held annually, the Macau Squash Open continues to be one of the high-profile tournaments on the PSA World Tour that have always been regarded as the opportunity to enhance the local squash standard and as a platform to demonstrate the skills of both local and international players.

The menís and womenís event is a four-star tournament with a total prize money of US$50,000 for each category. The tournament has attracted five men and ten women from the worldís top ten, including defending champions Tarek Momen of Egypt and Nicol David of Malaysia [update - David out with injury].

This year's six-day event will be held from 15 to 20 September, with qualification scheduled on 15 and 16 September. The main draw matches will follow on 17 to 18 September at the Bowling Center located at Avenida da Nave Desportiva, while matches from the semi-final onwards will be played at the glass court of Amizade Square.

To celebrate the launch of Macau Squash Open 2015, there will be a Macau Squash Carnival on 19 and 20 September. All Macau citizens are entitled to enjoy free entry throughout the tournament and tickets are distributed on a first-come first-served basis. For more details, please call the ticketing hotline on 6579 4873.

The Macau Squash Open 2015 is sponsored by the Macau Sports Development Board and supported by the Coca-Cola Beverage Company Limited Macau.

12-Sep:
David out with injury

Defending champion Nicol David has withdrawn from the Macau Open with a calf injury. Laura Massaro becomes top seed, with Nour El Tayeb elevated to second spot.

David's withdrawal guarantees that Raneem El Welily will stay as world number one next month.





Check out travel stories from Latasha Khan and the players
Preview:
Momen and David mount Macau defences

The draw for the 2015 Macau Open has been confirmed with defending champions Tarek Momen, the world #9 from Egypt, and Malaysia's world #1 Nicol David returning to defend their crowns at the Centro De Bowling in Macau.

Momen is aiming to retain a title for the first time in his career after becoming the fourth Egyptian in a row to taste victory in the tournament courtesy of his triumph over compatriot Omar Mosaad in last year's final.

Mosaad, who claimed success at this event in 2013, is seeded number one as he looks to build on the form that saw him end the 2014/15 season with victory at the Sporta Internacional in Guatemala.

Third seeded Spaniard Borja Golan is likely to meet Mosaad in what could be a mouth-watering semi-final match-up if both players make it that far while Momen could do battle with fellow Egyptian Marwan Elshorbagy as the duo bid to reach the final.

World No.1 Nicol David heads a superb looking field in the Women's event, in a draw that also contains highly-renowned players such as England No.1 Laura Massaro and the dangerous Egyptian Nour El Tayeb.

David is seeded to face El Tayeb, the third seed, in the semi-final as she bids to retain the title she won last year, while Massaro could face fourth-seeded compatriot Alison Waters in the semis.

Massaro may also have a difficult tie against Annie Au in the quarter-finals should both players win their opening fixtures.

ďThe Macau Open has attracted a number of the world's greatest players in recent years and this year looks to be no different with the draw hosting a wealth of talent,Ē said Tournament Promoter Kenneth Lei.

ďWith no less than 17 of the world's top 20 players taking part across both the Men's and Women's events, we look set to see some intense matches take place on court.Ē