Nour El Sherbini signs with Orouba Misr Construction & Development ...

by
Framboise Gommendy



On December 10th 2013 Team Sherbini and Orouba Misr Construction and Development company have reached a mutual agreement to sponsor Full time professional Squash player Nour El Sherbini - 2009 Alexandria Athlete of the year and triple World Junior Champion Nour.

Orouba Misr has decided to promote Squash, starting with building Squash courts in all their private compounds and projects. The next logical step was to secure a partnership with one of the stars of our sport, hence their decision to sign a partnership with Nour El Sherbini.

Orouba Misr Company is considered one of the few Companies in Egypt to sponsor pro Squash players, while others are turning all their attention to football (and everybody knows what I think about that sport..!!!)

In October this year, Orouba has opened their new courts at Sedra compound and to ensure the success of the courts inauguration they invited Nour for the opening.
After long talks and negotiation, Orouba Misr and Team Sherbini have reached an agreement to sponsor Nour for a period of two years. That deal will help her to fulfill her dream in return... On top of the normal arrangements, Nour and Orouba Misr will organise exhibition matches all over Egypt to help kids in different locations to benefit from Squash (both small and large cities).

The signing was carried out officially by Orouba Misr Management Team, CEO Mr Hazem el Deeb, Commercial Director Mr Karim el Massry and Sales and Marketing Director Mr Ahmed el Mahdy.

Also, Omar El Sherbini, Nour's brother and manager was present, along with Nour's Father Atef El Sherbini who actually told the assistance about Nour's history and her breakthrough into the Squash world.

Of course, they needed a cake to seal it off! And while people were enjoying the desert, we hear that discussions were held about hosting a series of WSA events around Egypt under El Orouba Misr but still nothing confirmed... Watch this space...

Sponsorship agreement like this should help Nour and her Team to develop more by buying more equipment for training and extra funds for the Team to be present with her all around the world to help achieve their goal by producing the youngest ever world number 1....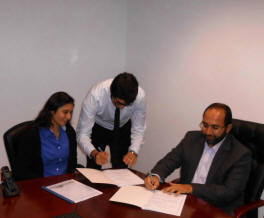 "In my opinion, Squash needs more people like Orouba Misr Company with potential to innovate and promote good causes in our lives like sports and Squash in particular.

I am glad today that this partnership has happened and looking forward to more in the future"



" Well it's really great to be sponsored by such a huge Organization like El Orouba Misr. They are really unique in terms of supporting Squash and Athletes in their projects.

It's really beautiful to live in a private modern compound with all the sports you need...

This Sponsorship deal is a dream for any athlete and I am glad to have these guys by my side looking forward to not letting them down and see you all in 2014"