Individual Finals:

Eric Galvez (Mex) bt Jorge Ferreira (Mex)
5/11, 11/6, 11/8, 5/11, 11/8

Samantha Teran (Mex) bt Tara Mullins (Can)
11/4, 11/7, 11/4
21-Oct:
Mexican doubler for Galvez & Teran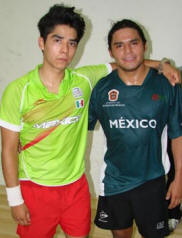 Top seeds Eric Galvez and Samantha Teran celebrated a Mexican double after contrasting successes in the individual finals of the Panamerican Squash Championships in Ambato, Ecuador.

Galvez, the world No37 from Puebla, eased into the men's final after a four-game win over Canadian David Phillips – and faced a surprise opponent to produce an all-Mexican climax.

Jorge Ferreira upset second-seeded Brazilian Rafael Alarcon in the other semi-final to make the final for the first time.

Ferreira, ranked 15 places below his compatriot, took the opening game. But Galvez, champion for the first time in 2005, bounced back to win the match 5-11, 11-6, 11-8, 5-11, 11-8 to claim the regional title for the second time.


Samantha Teran confirmed her status as the best woman player in the region by reaching the other final without dropping a game.

The world No16 from Mexico City's opponent was unheralded Canadian Tara Mullins, who made her breakthrough in the quarter-finals by despatching second seed Silvia Angulo Rugeles, from Colombia. The 32-year-old from Toronto then had a walkover through to the final after the withdrawal of another Colombian Catalina Pelaez.

But Teran was too strong for her opponent in the final, winning 11-4, 11-7, 11-4 to secure the title for the fourth time since 2002.
20-Oct:
Mullins to face Teran in Final

Tara Mullins of Canada advanced to the final in women's play on Monday at the Pan American squash championships while compatriot David Phillips lost his semi-final match in men's competition.

Mullins didn't need to play on Monday as her semifinal opponent Catalina Pelaez of Colombia was injured earlier in the day playing a doubles match and could not compete.

In Tuesday's final, Mullins faces top-seed Samantha Teran of Mexico, currently ranked 16th in the world. Teran defeated Thaisa Serafini of Brazil in the other semifinal. Mullins, is currently ranked 70th in the world and was a member of the 2008 senior women's world championships team and the 2006 Panamerican championships team.

In men's semifinal action, Phillips lost to top-seed Erick Galvez of Mexico 11-5, 9-11, 11-4, 11-9.

"David played very well against a tough opponent," said Canadian national men's team coach Yvon Provençal. ''Galvez is use to playing in these condition (high altitude) but it was a close match for two thirds of the way. It augurs well for the team tournament. David has played a lot this year and has really improved. In addition he's learned to deal with difficult situations like playing at altitude here.''

Team Seeds Announced

The seedings and draw for the team event which starts Wednesday were also announced. Canada is seeded fourth in both men's and women's competition.

The top-seeds in the men's draw are, in order, Mexico, Argentina and Colombia. Canada is in a pool with Colombia, Venezuela and Bermuda. Canada opens against Bermuda on Wednesday.

''Mexico is the favourite for sure,'' said Provençal. ''After that it's very close between ourselves and couple of other teams. Playing well under pressure will be a key to success. Our guys are eager to get the team event going.''

For the women, the top-seeds are Mexico, Colombia and Brazil. Canada is in a pool with Mexico and Guatemala. Canada's first match is Thursday against Guatemala.

19-Oct:
Canadians advance to semis in Ecuador


Tara Mullins of Toronto completed an exhausting day of competition on Sunday with a five-game victory over number-two seed Silvia Angulo of Colombia to advance to the semifinals at the Pan American squash championships.

Mullins beat Angulo 12-10, 11-5, 11-13, 1-11, 11-9 in the evening quarterfinal. Earlier Sunday she eliminated compatriot Samantha Cornett of Ottawa 12-10, 11-7, 3-11, 11-8 in the round of 16.

"In the second match I was starting to get tired a lot faster," said Mullins, a member of Canada's 2008 world championship team. "When we got to the fifth game I just wanted to play smart, focus on ball placement and keep her on the run. I also had a good match against Samantha. It's never easy to eliminate another Canadian. I know she wanted to go deep in this tournament as well."

Mullins faces third-seed Catalina Pelaez of Colombia in her semifinal.

Alexandra Norman of Montreal also played twice on Sunday. In the round of 16 she defeated fourth-seed Tatiana Borges of Brazil 11-2, 14-12, 11-7 but lost her quarterfinal to top-seed and world number-17 Samantha Teran of Mexico 11-5, 11-5, 11-8.

"This was a very good experience," said Norman representing Canada for the first time at an international event since relocating from England. "I was happy to get the opportunity to play Samantha and I'm pleased with my overall performance at the tournament."

In men's play David Phillips of Pointe-Claire, Que., won two matches as well. In the round of 16 he beat Vinicius Costa of Brazil 11-5, 4-11, 11-8, 11-2 and in the evening semifinal he ousted Esteban Casarino of Paraguay 11-7, 11-8, 11-4.

"There are no easy matches in this tournament," said Phillips, a member of Canada's world championship team last month. "It's been a big challenge so far dealing with the altitude and the bouncier balls on the court. But I'm playing well and my goal is to win the gold here."

Phillips plays top-seed Erick Galvez of Mexico in his semifinal.