Punj Lloyd PSA Masters 2010
13-19 Dec, New Delhi, $192k+$36k
19-Dec, Finals:

[1] Jenny Duncalf (Eng) bt [2] Kasey Brown (Aus)
11/5, 11/5, 11/4
[1] Nick Matthew (Eng) bt [2] James Willstrop (Eng)
11/7, 11/8, 11/7

Malcolm reports from Delhi

Duncalf finishes in style

Neither Jenny Duncalf nor Kasey Brown has had easy passages to the Punj Lloyd WISPA Masters final : Duncalf beat Camille Serme 3/2 and Brown had to survive some quite wonderful play from Annie Au before winning 3/2.

Duncalf was quicker away leading 5/1 and looking stronger than at any time in the championship she led 6/2. Brown, though, is persistent as she needed to be to beat Au and she fought back to 5/6. A delayed winner, a stroke, another winning drop and Duncalf led 9/5. A winning backhand drop and a forced error from Brown gave Duncalf a well earned 1/0 lead.

Duncalf is strong into the front backhand and it was showing better than at any time this week. Duncalf led 6/3, holding the ball to great effect on three occasions to win rallies. Another backhand drop took the score to 7/5, at which point Brown was on the end of a hard rally, which ended in a let. That did her no good at all and Duncalf, with a backhand volley kill went to 10/5 and won the game at the first attempt 11/5.

It had been an impressive display by Duncalf so far and if she maintained the quality, Brown's task looked more than difficult.

Two winning forehand angles got Duncalf off to a 2/0 start as she continued to play to the world no 2 status. 2/0 became 4/1 and Duncalf won a demanding and protracted rally to go 5/1, a stroke to 6/1, as she played to world no. 2 standards.

Two winning drops by Brown gave her a hope at 4/7 but not for long as Duncalf led 9/4 and with a clever backhand flick went 10 10/4 serving for the Punj Lloyd WISPA Masters title. One serve was enough.

It was a top class performance by the world no. 2, raising her game for the occasion.

Matthew takes another title

The final of the Punj Lloyd PSA Masters, 2010 was a repeat of the CWG and more recent the world championship finals and Nick Matthew confirmed his standing as the new world no. 1 come January, 2011 with a comprehensive 3-0 win.

Matthew began the quicker, Willstrop struggling to find his accuracy, Matthew playing at his usual high pace. He took the first game 4/5, but Willstrop was more into the match by the end of the game.

Willstrop had looked under physical pressure in the first game and although he continued to compete, Matthew met everything he offered and gave back plenty in return.

The squash, though, was never less than entertaining and Willstrop never stopped trying, but when Matthew won the second game 11/8, it was never likely that Willstrop could turn a 2-0 deficit around.

Matthew maintaining high pace and getting everything back with interest won the third and the match 11/7. Willstrop's efforts were not flattered by the score, but almost from the beginning, Matthew looked the probably winner.

Both players will welcome a well earned rest from the rigours of what has been a demanding season for the professional players.

There was a large and appreciative crowd for the matches and although they both ended 3-0, they were entertained by the high class performance by the two champions.

signing off from Delhi ...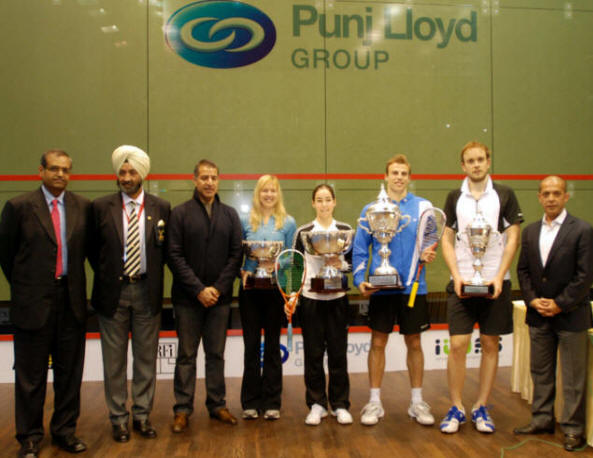 PSA Masters 2010
14-19 Dec, New Delhi, $192k
Round One
Top 14, Bot 15 Dec
Round Two
16

Dec

Quarters
17 Dec
Semis
18 Dec
Final
19 Dec
[2] James Willstrop (Eng)
11/13, 11/5, 11/2, 11/9
Ali Anwar Reda (Egy)
[2] James Willstrop
11/7, 11/6, 11/9
[11] Omar Mosaad

[2] James Willstrop

12/10, 11/1, 11/3 (38m)

[10] Cameron Pilley

[2] James Willstrop

11/8, 11/2, 11/5 (32m)

[15] Hisham Ashour

[2] James Willstrop

11/7, 11/8, 11/7

[1] Nick Matthew

[11] Omar Mosaad (Egy)
11/8, 12/10, 12/10
Harinder Pal Sandhu (Ind)
[6] Wael El Hindi (Egy)
12/10, 11/5, 11/7
[Q] Siddarth Suchde (Ind)
[6] Wael El Hindi
7/11, 3/11, 14/12 rtd
[10] Cameron Pilley
[10] Cameron Pilley (Aus)
11/2, 11/2, 11/7
[LL] Sandeep Jangra (Ind)
[4] Thierry Lincou (Fra)
11/8, 11/2, 11/4
[Q] Joe Lee (Eng)
[4] Thierry Lincou
14/12, 11/8, 11/2
[14] Olli Tuominen

[4] Thierry Lincou

11/7, 6/11, 12/10, 11/5 (51m)

[15] Hisham Ashour

[14] Olli Tuominen (Fin)
13/11, 11/6, 11/3
[Q] Campbell Grayson (Nzl)
[7] Laurens Jan Anjema (Ned)
11/7, 11/4, 11/5
[Q] Kamran Khan (Mas)
[7] Laurens Jan Anjema
6/11, 11/6, 9/11, 11/8, 11/6
[15] Hisham Ashour
[15] Hisham Ashour (Egy)
11/7, 11/6, 11/6
[Q] Chris Simpson (Eng)
Aaron Frankcomb (Aus)
11/8, 11/6, 11/9 (45m)
[12] Ong Beng Hee (Mas)
[12] Ong Beng Hee
11/8, 12/10, 11/7
[8] Mohamed El Shorbagy

[8] Mohamed El Shorbagy

11/8, 11/9, 11/9 (47m)

[3] Amr Shabana

[3] Amr Shabana

11/9, 11/4 rtd (22m)

[1] Nick Matthew

Mohammed Abbas (Egy)
11/9, 15/13, 3/11, 11/7 (58m)
[8] Mohamed El Shorbagy (Egy)
[Q] Adrian Waller (Eng)
11/7, 12/10, 11/6 (40m)
[15] Saurav Ghosal (Ind)
[15] Saurav Ghosal
11/6, 11/5, 6/11, 11/9
[3] Amr Shabana
[Q] Steve Coppinger (Rsa)
11/7, 11/6, 11/4 (28m)
[3] Amr Shabana (Egy)
Joey Barrington (Eng)
11/6, 12/10, 11/9 (48m)
[9] Daryl Selby (Eng)
[9] Daryl Selby
w/o back injury
[5] Peter Barker

[9] Daryl Selby

11/9, 11/7, 13/11 (56m)

[1] Nick Matthew

Omar Abdel Aziz (Egy)
12/10, 8/11, 11/6, 11/2 (48m)
[5] Peter Barker (Eng)
Tom Richards (Eng)
11/3, 1/11, 11/3, 11/9 (37m)
[16] Jonathan Kemp (Eng)
[16] Jonathan Kemp
11/6, 11/4, 4/11, 11/2
[1] Nick Matthew

[Q] Dick Lau (Hkg)
11/6, 11/4,11/4 (26m)
[1] Nick Matthew (Eng)
13-Dec, Qualifying Finals:

Steve Coppinger (Rsa) bye
Adrian Waller (Eng) bt Deepak Mishra (Ind) 11/2, 11/8, 11/3
Dick Lau (Hkg) bt Sandeep Jangra (Ind) 8/11, 14/12, 11/3, 9/11, 11/9
Campbell Grayson (Nzl) bt Ivan Yuen (Mas) 13/11, 15/13, 8/11, 11/4
Chris Simpson (Eng) bt Gaurav Nandrajog (Ind) 11/3, 11/6, 11/9
Joe Lee (Eng) bt Kush Kumar (Ind) 14/12, 11/2, 11/6
Siddharth Suchde (Ind) bt Ravi Dixit (Ind) 11/3, 11/1, 11/4
Kamran Khan (Mas) bt Martin Knight (Nzl) 12/10, 11/8, 11/6
WISPA Masters
15-19 Dec, Delhi, $36k
Round One
16 Dec
Quarters
17 Dec
Semis
18 Dec
Final
19 Dec
[1] Jenny Duncalf (Eng)
11/5, 11/4, 7/11, 11/3 (33m)
Gaby Schmol (Sui)
[1] Jenny Duncalf
4/11, 11/9, 11/8, 11/2
[7] Joey Chan

[1] Jenny Duncalf

11/8, 8/11, 11/3, 8/11, 11/5 (49m)

[3] Camille Serme

[1] Jenny Duncalf

11/5, 11/5, 11/4

[2] Kasey Brown

[7] Joey Chan (Hkg)
11/5, 11/6, 11/3 (23m)
[Q] Sina Wall (Ger)
[3] Camille Serme (Fra)
11/4, 11/2, 11/1 (20m)
[Q] Aparajita Balamurukan (Ind)
[3] Camille Serme
11/7, 11/8, 11/3
[6] Low Wee Wern
[6] Low Wee Wern (Mas)
11/3, 11/4, 11/5 (23m)
[Q] Anaka Analkamony (Ind)
Joshna Chinappa (Ind)
11/6, 7/11, 11/8, 7/11, 12/10 (54m)
[5] Annie Au (Hkg)
[5] Annie Au
9/11, 11/7, 15/13, 11/9
[4] Jaclyn Hawkes

[5] Annie Au

116/, 11/9, 3/11, 2/11, 11/8 (64m)

[2] Kasey Brown

Siyoli Waters (Rsa)
11/6, 11/5, 11/9 (37m)
[4] Jaclyn Hawkes (Nzl)
[Q] Lisa Aitken (Sco)
11/6, 11/9, 11/3 (29m)
[8] Dipika Pallikal (Ind)
[8] Dipika Pallikal
11/5, 11/5, 7/11, 6/11, 11/5
[2] Kasey Brown
Siti Munirah Juson (Mas)
11/6, 12/10, 11/8 (50m)
[2] Kasey Brown (Aus)
15-Dec, Qualifying Finals:

Lisa Aitken bt Josefa Bertilsson 11/7, 11/3, 11/3 (20m)
Aparajita B. bt Saima Shoukat (Walkover – no show by Saima)
Anaka Analkamony bt Anwesha Reddy 11/3, 11/6, 12/10 (19m)
Sina Wall had a bye into the main draw
Semi-Finals:
Willstrop & Matthew set up
World Open repeat

Hisham Ashour's ranking in the twenties belies his current ability. He played well against Nick Matthew in Saudi Arabia and beat Laurens Anjema and Thierry Lincou on his way to the semi finals.

He started his semi-final against James Willstrop at pace, seeking to attack at every opportunity and it was only after some hectic rallies and later in the game that Willstrop took his measure, playing well into the front backhand.

Willstrop quickly established a long lead in the second game, as Ashour was unable to resist and he took a 2-0 lead 11/1.

Ashour came out with renewed resolution in the third game and held his own until midway through it, but Willstrop led 8/5, at which point there was a brutal rally with movement all over the court.

It did Ashour more harm than Willstrop, who then drew clear to win a place in the final 11/5.

Nothing in it to 4 all in this repeat of the World Championship semi final when Nick Matthew won 3-0 against Amr Shabana, 2 games going to tie break.

A winner off the serve by Matthew and an error from Shabana gave Matthew a 7/5 lead. Another error and it was 8/5. Then Shabana hit a shot at himself and Matthews was comfortably clear. A winning angle of the serve took him to 10/6. Shabana saved three game balls, the third with a delicate backhand drop, but an error gave Matthew the game 11/9, after both players had shown plenty of positive intent.

A couple of well executed forehand winners by Matthew helped him to a 3/1 lead, the world champion seeming happy to mix it with the man whose crown he took.

Shabana led 4/3, but Matthew using the angles more than usual won a fine rally to level at 4 all.

Matthew applies pressure better than anyone and he forced four consecutive errors out of Shabana to lead 8/4 and then 9/4, as he began to dominate. It was all happening quickly and Matthew won the game 11/4.

Suddenly and taking the good crowd by surprise, Shabana offered his hand conceding the match.

So a repeat of the world final between two players who are standing up to the rigours of the world tour better than can be reasonably expected.

Men's Quarter-Finals:

Willstrop soldiers on

James Willstrop has been on the road since the end of September and, like several others, must be close to the end of this tether – physical and mental. But it certainly didn't show in his match with Cameron Pilley.

Looking focused, he began sharply and at 7/1 Pilley was struggling, but, to his credit, he then put together some excellent rallies, using his own considerable skills to take the first game into a tie break. Willstrop won it, however, 12/10 and from then on it was one way traffic as he won the second game 11/1 and the third 11/3 for a comprehensive 3-0 win.

Hisham takes advantage

With Hisham Ashour currently in fine form and Thierry Lincou with a strapping above the knee, this quarter final was no foregone conclusion.

Ashour has confidence from his newly acquired fitness; add his racket ability and he is a formidable opponent, as he showed in a hard five set win over Laurens Anjema.

Lincou, as everyone knows, is retaining his form remarkably, but Ashour was sure to begin strongly and he did, taking the first game 11/7.

He made errors, though, in the second, as Lincou persisted and Lincou led 6/3. A fine rally which Ashour won took him to 6-8, but an error gave Lincou game ball at 10/6 and he was level 11/6.

It was an interesting contest as Ashour sought to attack off Lincou's precision. Lincou did not look particularly comfortable even with a 7/5 lead and Ashour led 8/7 before Lincou leveled at 8/8, as the game became concise. Now 9/9 – a couple of big rallies to come and both knew it, as a heavy rally ended in a let. A piece of Ashour magic gave him a game ball at 10/9. Ashour went for it on the volley, but tinned it – tiebreak now – a delayed backhand short angle – 11/10 –a mishit and Ashour led 2 games to 1.

Lincou with it all to do now: long first rally, won by Ashour; 3/1 as Ashour put Lincou all over the court, 4/1 and things looking black for the Frenchman. Ashour was not all over the place, but won the rally to go 5/2. 9/4 to Ashour and no way back for Lincou now surely.

One match ball gone, but the second was enough: Ashour will be delighted to have made a super series semi final and in his recent form it was not such a surprise as it may seem.

Shabana wins all-Egyptian clash

Here was a domestic clash of high interest. Shorbagy plays at pace, but whether he could sustain it against the maestro was another matter.

He started confidently, leading 4/2 and at 6/4 pushed Shabana heavily without a sufficient enough reprimand from the referee. Shabana gradually got on level terms at 7 all and led for the first time 8/7. Two errors took Shabana to game ball and he won on a stroke 10/8. Shorbagy had much of the game and it was by stealth almost that Shabana won the game.

Shabana was producing sublime moments every now and again, but Shorbagy, moving well and playing at pace stayed in touch and with a vicious forehand winner led 8/6. A massive rally at 9/8 when Shabana had regained the lead, ended in a let. An error by Shabana, 9 all; a winning forehand volley 10/9 to Shabana; a let, another let, another let – a forehand drop by Shabana and 11/9; 2-0. How well do the world's best players win the big points!

It would be hard enough for Shorbagy now, that's for sure. The referee got confused at 2/3 and almost certainly reached the wrong conclusion. Shabana went 6/3, but Shorbagy, still looking energetic reached 6 all and the lead 7/6.

Shabana led again 9/8, seeming to know which points he needed most and then winning them. At 9 all, a crucial rally for both, which would be followed by another crucial rally.

Stroke to Shabana: 10/9 match ball – a cagey rally finished with an exquisite backhand volley.

Matthew sets up Shabana semi

The final match of the night – all English meant that the semi finals would be both Egyptian v. English.

Daryl Selby played well in Saudi Arabia and a walkover here at the expense of the injured Peter Barker meant that he would be fresh for his quarter final against Nick Matthew, the newly crowned world champion.

Heavy, contested rallies saw the score to 4 all and a marvelous rally at that point forced an error from Selby. Matthew pressed on to 9/5, and an error meant 10/6. Selby came back to 9/10, but a forehand volley into the tin sealed the game.

There were no easy points, but Matthew's pressure was forcing errors from Selby and he led 7/2 as Selby's resistance lessened. A lucky bounce gave Matthew game ball at 10/7 and he went 2-0 up.

Matthew was not likely to let go now and he gathered pace, as he does, when he has opponents rocking. A bad error from Selby gave Matthew a 4/3 lead and a surprising one from Matthew gave Selby a 5/4 advantage, 6/4 then 7/5, before Matthew, aided by a poor angle from Selby led 8/7; 9/7 on a no let. A fine backhand volley from Selby made it 8/9. The ball hit Selby in the middle of the rally and its 10/8 match ball; a tin from Matthew and at 10/9 an immense rally which provides Selby with a lifeline and a tie break.

Another massive rally which ends with a Selby error and 11/10 – error from Matthew 11 all; a forehand volley cross court in the next match ball and Matthew has another encounter with Amr Shabana.

Nick's win today means that he will regain the World Number One ranking in January ...

Women's Quarter-Finals:

Duncalf overcomes slow start

Top seeded Jenny Duncalf faced promising Hong Kong youngster Joey Chan in the first of the quarter finals.

In no way overawed, Chan settled well and led 6/2 on merit and with Duncalf not so well settled and a bit loose, Chan won the first game 11/4, without having expended too much energy.

Duncalf, realizing the need to get playing went quickly to 4/0, then 8/3, playing with much more authority and precision. At 10/6, she served for the game, but Chan played three excellent winners to get to 10/9, before Duncalf was able to level the score.

Duncalf led 6/3 in the third, but she was playing without real conviction and Chan remained in contention, playing with skill and assurance. Duncalf's experience kept her in front and she won the game 11/8 to lead 2-1.

Each girl had plenty of assistance with national coaches Tony Choi and David Campion in their corners. Chan's efforts were not sustained early in the third and it became surprisingly easy as Duncalf raced to 10/2 and an 11/2 victory.

Duncalf may not have been at her best, but Chan is a player of immense promise.

Serme sails through

The second women's quarterfinal features two very promising young players, France's Camille Serme, world young player of the year 2009/2010 and the talented Malaysian Low Wee Wern.

Serme began alert and purposeful, Low, slightly built and quickly elegant. Serme it was who took control leading 7/1, putting the ball in good places, looking strong. Aided by errors from Serme, Low recovered to 6/9 before Serme served at 10/6 for the game, and won it 11/7 with a forehand drop.

Serme continued to select her shots shrewdly, keeping her nose in front all through the second game as Low worked hard to stay in touch. She did manage to reach 8 all, but Serme took three points in a row to lead 2-0.

Fortified by her advantage, Serme was in early control in the third 8/1, before too long, winning it easily 11/3.

Serme is impressive and it is good that France has a woman player of real consequence to follow in the footsteps of Thierry Lincou and Gregory Gaultier. Her future looks assured.

Low Wee Wern, rather like her male Malaysian counterparts, appears to have much going for her. They seem not to quite produce – perhaps there is a missing ingredient.

After the contentious nature of some of the men's matches, it was a pleasure to watch the women playing without incident and without challenging officials in an unacceptable manner. The cure for that, though, is in the referee's hands.


Au holds on to beat Hawkes

Here was a match between two girls who have tasted much success in 2010: Jaclyn Hawkes, gold medalist in the Commonwealth Games at this venue and world universities champion and runner up in the recent Asian Games in China, Annie Au.

Au had to survive a 12/10 in the fifth against Joshna Chinappa to reach this stage. There was a contrast too, the taller, rangy Hawkes against the compact smaller Au.

The early rallies were short and quick: 4/0 to Au became 4 all; lets abounded in a messy start to the match and Hawkes now led 8/4. Au, composed and unfussy, recovered to 8/9 before an error gave Hawkes a game ball. What should definitely have been a stroke to Hawkes was given as a let at 10/9 and Hawkes' displeasure was evident. She won what has been a disappointing first game 11/9: too many lets, too much contact.

For whatever reasons – maybe just a clash of styles – the girls kept on getting in each other's way. Au led 9/5 as the game became a little cleaner and began in part to live up to expectations. A cross court winner by Au took her to 10/7 and she served out the game immediately – one all.

From early uncertainty, Au was looking much more confident and led 4/0 in the third, Hawkes under pressure. Two backhand errors by Au gave some encouragement to Hawkes at 6/8. A stroke to Au meant 9/7 and a fine forehand angle 10/7. Hawkes forced an unlikely tie break, which Au won 15/13 collisions and lets returning to spoil the match.

Hawkes was dealing with the distractions less well than the imperturbable Au, was led 3/1 only to be quickly overhauled 5/3, as the game turned.

A fine forehand winner by Au brought her level at 5/5, a heavy rally at 6/5 to Hawkes ended ina let, as usually happens. 6 all now and a tense match even more tense. Hawkes went to 9/6, a fifth beckoning. 9 all as Au remained calm and focused. She served at 10/9 for the match: a let – Au's first word as she wanted what was a let – only one word at that –and with a beautiful backhand drop off the volley, the match was hers.

Her win may have been a triumph of temperament.

Pallikal pushes Brown all the way

The Indian press headlines 'a dull day for India' after quite excellent performances by Saurav Ghosal against Amr Shabana and Joshna Chinappa against Annie Au, who has gone on to ___ the form.

They have high expectations, often not well founded, so Dipika Pallikal was under the spotlight inher match with Australia's top class and in form Kasey Brown. If the girls matched the quality of the outfirs, there was much to come.

Pallikal, with plenty of support, began confidently and led 3/0, but Brown was soon on the move and led 6/3. Pallikal created two good chances, but missed them both for Brown to lead 8/4. Brown won the game on a stroke 11/5, a score unflattering to Pallikal's contribution.

Pallikal was showing plenty, but there is as impetiousity in her game, which is reflected in taking the ball in too early or inappropriately.

Brown remained controlled, building rallies, like the top class player she is. She led 8/2 and won the game 11/5 after a spectacular rally won with a magnificent volley drop by Pallikal at 10/4. Pallikal, still moving well played two free winners to lead 5/3 and was now playing with more patience, necessary against a player or Brown;s class. She led 9/6, playing her best squash of the match and served for the game at 10/7 and with a wonderful backhand drop from deep she deservedly won it 11/7.

At 3/1 to Pallikal, Brown spoke to the referee for the first time –a sign perhaps of some unease. Pallikal was well in contention leading 6/4 with a blinding cross court winner. Another cross court winner, this time on the backhand and it was 7/4, 8/4 on a stroke, Pallikal in full cry – an error from Brown 9/4 and a fifth game in sights; another cross court and 10/6 game ball – Brown seriously anxious now; a cross court volley into the nick and it was 2 all – a quite amazing fight back by the young Indian.

What now? Brown, with her new resolve led 7/0, her greater experience telling, Pallikal unable to get involved and at 10/5, Brown served for the match, after Pallikal fought back determinedly. Brown won but whether the Indian crowd or press recognize it, Pallikal's performance was remarkable. She is a star of the future.




16-Dec, Round Two
Pilley powers past El Hindi

Cameron Pilley and Wael El Hindi kicked things off in one of several matches of interest in the second round.

Pilley's early disappointing exit in Saudi Arabia could be an advantage here and he looked fresh in the early rallies. Well worked rallies were punctuated with the odd error as the score reached 4 all. At 7 all, he game had been free of interference as Pilley kept the ball away from the front backhand. El Hindi, playing fluently and variously, drew clear at 10/7 and won the first game on a no let at the first attempt.

Pilley came out with renewed intent for the second game and led 8/1 with surprising ease, dominating totally and leveling at 11/3.

Interesting now to see what happens next. It was El Hindi's turn to control matters now and he led 7/3, Pilley breathing hard. In a match of swings of control and fortune, Pilley came back to 8 all. At 9/8 to El Hindi, Pilley was given a let, which was a stroke and a proper stroke to the Egyptian gave him game ball at 10/8. At 10/9, there was much contentiousness and Pilley was level on a stroke. Another stroke and 11/10 game ball to Pilley, El Hindi loud in his complaints to the officials, the match now less than pleasant. An error -11 all – another error from Pilley – 12/11. After a protracted break for an injury to El Hindi he appeared to be severely injured. He returned, won the game, but Pilley was given a let wrongly: Pilley won the game 14/12 and El Hindi collapsed on the court heavily. The match was now out of control and no advertisement for the professional game.

At this point, El Hindi conceded the match – which was a blessing as the proceedings has become farcical.

Hisham ousts LJ again

Much interest in the repeat of their meeting in the world championships, when Ashour won 3-0.

Early rallies were sharp and quick as the serve moved to 4 all. A couple of angles into the tin from Ashour had the score level again at 6 all. Anjema then took a clean lead 10/6 and won the game 11/6, clearly intent on putting his Al Khobar experience behind him.

Anjema was playing much more accurately than in Saudi Arabia and Ashour was thus unable to dominate as he likes to do. He raised his game and led 7/3 and 10/4 with the aid of a couple of lucky bounces. A backhand volley into the tin at 10/6 made it one all.

With the impetus of the second game, Ashour went to 4/1 quickly, but in a trice it was 4 all, then 6 all, as the rallies remained sharp and positive, the match entertaining to watch at 8 all now – tense times; 9/8 Anjema in front in the game for the first time – 10/8 a lob well out – 10/9 and after outbursts by Ashour, when he was wrong about a ball he thought doubtful, Anjema led 2/1.

For the second match in a row there were outbursts of an unwarranted kind, all from Ashour. He managed to draw level 11/8 and then won the fifth 11/5, his rantings at the officials detracting from his performance.

Willstrop wins through

James Willstrop is one of several players, struggling for energy and motivation, but dissatisfaction at one of Mossad's pickups early in the first gave him the impetus he needed and recovering well from 4/1 down, moving sharply as he had to, to deal with Mossad's pure striking, he won the game 11/8.

Controlling matters he won the second game 11/6, though at no time was it ever easy, since Mossad's racket ability is high class.

Just as in the previous two matches, the match was not played in the best of spirits and indeed the whole afternoon had not made good watching or been an advertisement for the sport.

The third game was close, as Mossad continued to resist, but Willstrop finished off strongly to win 11/9, having been behind almost throughout. He may not have enjoyed the match, but he will be glad to have won it 3-0. He now plays the amicable Cameron Pilley and hopefully that will make for better viewing.

Shabana stops Saurav

The largest crowd of the week gathered to support Saurav Ghosal in his second round match against the great Amr Shabana and they were not to be disappointed in the quality of the match or the sporting manner in which it was played, refreshing after the dubious earlier matches.

The match begun with a gargantuan rally, which, as they invariably do, ended in a let. Ghosal competed will to five all, but aided by a couple of errors, Shabana drew away to win the first.

The crowd were not to know it and maybe they didn't after they witnessed it, but Shabana played sublime squash to perfection to 7/0 in the second, leaving Ghosal open mouthed. To the young Indian's credit he salvaged six points before going 2-0 down.

But now came a surprising and dramatic turnaround: Shabana either dropped or was feeling the pace and Ghosal, to his credit, came on strongly, seizing his opportunity to win the game conclusively 11/5. Nor was that the end of it. Shabana continued to look less comfortable and after Ghosal had saved a match ball at 10/8, Shabana hit a cross court nick off the serve, when a tiebreak may not have been what he wanted.

Shabana, like many of the top players, may have been feeling the exertions of the season, but Ghosal has had a heavy time of it too, and he can feel more than happy with his performance, though he would certainly have fancied a 5th.

Lincou still impressive

Thierry Lincou, at 34 years old, continues to impress with the quality of his performances even at the highest levels.

He played extremely well in Saudi Arabia, even if Nick Matthew proved too much for him and here in Delhi, he was seeking a quarter final place in the Punj Lloyd PSA Masters against Finnish No. 1 Olli Tuominen.

Lincou, wearing a knee strapping, hasn't always been the best of starters, but realizing that it is a good idea to start well these days, won the 1st game after a long battle and then the second 11/8 after stiff resistance from Tuominen.

Moving the ball around skillfully, he went 10/2 up in the third, as Tuominen struggled to cope with the Frenchman's precision and at 11/2 it was all over.

Lincou's next challenge will come from Hisham Ashour.

Dipika last Indian hope

Indian players Saurav Ghosal and Joshna Chinappa and Harinder Pal Sandhu have all performed with great credit, but 19 year old Dipika Pallikal was the country's last interest when she took on qualifier Lisa Aitken.

Always looking in control, Palikal won the first game 11/8 against her determined and mobile opponent and led 6/1 in the second, until a couple of angles into the tin and another error made the score 6/4.

Pallikal continued to make errors which brought Aitken back into the game at 7 all. A backhand drop won the game 11/9, for her, despite all the errors.

The third game was more comfortable as the error rate reduced and Pallikal led 5/1, as Aitken persisted. At 10/3, Pallikal served for the match and won it on the first match ball.





Round One, Bottom:
Shabana chops Coppinger

The players who had progressed in the world championships have so far been struggling a little to get back on track and here, 4 times world champion and semi finalist in Al Khobar Amr Shabana faced the talented South African, Steve Coppinger.

Shabana, relaxed as he always is, helped by errors late in the game took the first 11/7.

Shabana is a model for all players – he structures rallies better than anyone, finishes clinically better than anyone and his demeanour and fairness are beyond reproach.

In control, despite Coppinger's best efforts, Shabana eased his way towards a 2-0 lead and at 11-6, it was 2-0.

Coppinger does a lot of things well and is able with the racket, but Shabana, as the whole world knows, is no ordinary player. Whenever necessary, he turned the screw and at 11/4 secured his passage into the second round and a match against Indian no. 1 Saurav Ghosal.

Barker sets up Essex challenge

Second match on the second day of the 1st round was between Peter Barker after his heroics in the world championships, where he came close to reaching the final, and Omar Abdel Aziz.

It can be no easy matter, especially after such an ardurous season, to get back into the preparation and playing rhythm and Barker, looking rusty began shakily against Omar Aziz and was soon 5/1 down. He seemed to be having trouble rousing himself.

Aided by errors from Aziz he got to 8/9, but the Egyptian fought to clinch the game at 10/8 and 10/9. A fluke gave Barker a game ball at 11/10 and gratefully he took it. Aziz surprisingly perhaps, went 5/1, again quite quickly in the second game.

A conduct stroke against Barker took the score to 6/2, when he elbowed Aziz out of the way. The incident enlivened Barker and gave the match an edge, previously not there. It also helped Barker back to 7 all. A mishit gave Aziz a 9-8 lead and a stroke gave him a chance to lead the match, a backhand drop into the tin and it was one all.

It was Barker who led in the third 5/1 and two incisive winners made the score 7/2. At 10/5 he served for the game and took a 2-1 lead at the second attempt.

Barker, concentrating well now and doing everything a lot better led 8/1 and it was plain sailing and at 11/2 it was all done and dusted.

Barker now faces friend Daryl Selby in a heavy last 16 match.

Saurav secures home success

There was plenty of Indian support in the crowd for the country's leading player Saurav Ghosal, fresh from retaining his national championship and a bronze medal in the Asian Games.

He has strong English connections with a first class degree in economics from Leeds University and lives in Leeds, training at Pontefract.

Adrian Waller, his opponent, is a tall rangy Englishman, one of a group of promising young English players.

Ghosal pulled away at the end of the first game to win it 11/7, but had to play and win a sustained rally at 10/9 down in the second to settle the second game 12/10.

He repeated that at 4/5 in the third, when having been on the receiving end, he turned the rally around and won it, less crucial, but quite damaging for Waller. Ghosal took the third and match 11/6 for a second round meeting with Amr Shabana.

Waller looks a player of some promise, his short game, skillful and incisive.

Shorbagy shines

Here was a first round match which illustrates the strength of the world tour between the experienced Mohammed Abbas, recovered from long term injury problems and world junior champion and already a threat to most, Mohammed El Shorbagy.

Abbas was away to a flier, 3/0 in no time, 3/0 became 5/2, but Shorbagy, generating the fast pace he enjoys, pulled back to 5 all and lead for the first time 6/5.

He led again, attacking variously, 8/7 – a fluke took him to 9/7, an error to 10/7. Two fine winners by Abbas made the score 9-10, but a forehand placed wide won Shorbagy the first game 11/9.

Shorbagy continued to raise the pace, pushing forward at every opportunity, but Abbas maintaining rhythm, squeezed errors out of him and led 7/4. Shorbagy, though was soon level at 7/7, but Abbas led 9/7, controlling the pace skillfully. A clever angle by Shorbagy made it 9 all and he served at 10/9 for a 2-0 lead. Abbas then hit a backhand cross court nick off the serve to earn a tie break. His turn for gameball at 11/10; cross court winner from Shorbagy 11 all; 12/11 to Abbas; 12 all, crucial times, especially for Abbas; 13/12 Shorbagy, but on the serve in this rally:13 all – a lob out by Abbas 14/13 and Shorbagy is 2/0 up –tough on Abbas.

Errors by Shorbagy gave Abbas a 5/3 lead, another 6/3, yet another 7/3, looking surprisingly ragged, as Abbas moved to 10/3 with ease. 11/3 and Abbas had the game he deserved. It had been an odd game, the third. What next, was the question?

Re-focussed, as he needed to be, Shorbagy led 8/1, Abbas losing his way this time with error upon error. A fine cross court volley gave Shorbagy match ball at 10/3 and he was in the second round only at the fifth attempt, as Abbas fought vainly for survival.



The qualifying competition was completed yesterday and the eight qualifiers were:
Steve Coppinger, Grayson Campbell, Chris Simpson, Adrian Waller, Siddharth Suchde, Dick Lau, Kamran Khan, and the lucky loser, Sandeep Jangra, who after an 11/9 in the fifth loss to Dick Lau, benefited from the non-appearance of Azlan Iskandar. The other five setter, which was probably the toughest match of the day, was between Grayson Campbell who prevailed, though it must be said that Ivan Yuen was on the end of a series of harsh decisions.

Top qualifier Coppinger is rewarded, if that is the correct word, with a match against present day great Amr Shabana and Indian No.1 Saurav Ghosal plays Adrian Waller.

Ramy Ashour will be missed, as he is in England, having treatment on his hamstring, but the draw, headed by World Champion Nick Matthew, has a fascinating look about it and quality and entertainment are guaranteed, which is what the Punj Lloyd Masters deserves.

The women's championship, too is no less interesting and has a high class look about it. The players are just beginning to appear, as they start later than the men.

World No. 2 Jenny Duncalf heads the draw and is seeded to meet the much improved Kasey Brown, who was instrumental in Australia's recent world team success.

Commonwealth Gold Medalist Jaclyn Hawkes, outstanding young French woman Camille Serme, Indian's top two Joshna Chinappa and Dipika Palikal all add colour to the draw to say nothing of Hong Kong's Annie Au and Joey Chan, Malaysia's Low Wee Wem and Egypt's Engy Kheirallah

It has a fascinating look about it and these are sure to be some high quality matches from the first day.

El Hindi just in time

The first match of the first round proper just happened: Wael El Hindi had mistaken his time and only just made it. Appropriately, his opponent was Siddharth Suchude from Bombay, one of four Indian players in the first round.

Suchude began brightly – perhaps El Hindi was unsettled – and he led 4/0. At 4/1, there was a delay for a mysterious lost ball. On resumption, El Hindi looked more comfortable and went to 6/5 with some ease.

There was a preponderance of lets on the backhand side, where El Hindi's clearance often leaves something to be desired, which broke up the rhythm of the game and did not help Suchde's cause.

A forehand overhead volley gave El Hindi a first game ball at 10/8, but an equally fine backhand straight volley took Suchde to a tiebreak. At 11/10, El Hindi served for the game and this time he made no mistake.

A couple of strokes helped El Hindi to a 5/1 lead, but with El Hindi's movement causing Suchde problems, the lead extended to 10/4 and at 10/5 El Hindi El Hindi was 2-0 up.

Not it was Suchde who was unsettled and looking distracted, understandably perhaps, as the disruptive lets continued. El Hindi served for the match at 10/5 and it took him three match balls to settle the matter 11/7.

Suchde will be not too happy with it all, but he played with a degree of promise.

Pilley quickly through

Cameron Pilley will be eager to make amends for his surprise exit in the first round of the world championships and the defection of Azlan Iskandar from a potentially dangerous first round opponent in Jonathan Kemp, who had played so well against David Palmer in Saudi Arabia.

Sandeep Jangra, the lucky loser, became his first round opponent and the Indian was never able to cope with Pilley's class.

He was seen off quickly 3/0 and Pilley will have Wael El Hindi in the last 16, a more demanding task.

LJ stops Khan

Kamran Khan's task in the qualifier was simplified by Martin Knight's abductor problems, but he showed enough to pose Laurens Anjema a few problems, the Dutchman eager no doubt to make up for a disappointing 3/0 loss to Hisham Ahour in Al-Khobar.

Anjema, imposing himself, led 5/2 against the smooth moving Malaysian, who fought back to 6/7, before Anjema re-asserted to 10/6, leading 1-0 on the second game ball 11/7.

Anjema, looking focused, pressed on to 5/0 early. Khan though, recovered to 4/6, before, as happened in the first game, Anjema quickly went 2/0 up 11/4. Khan, still looking like a player, was finding it difficult to cope with Anjema's presence, inevitably making the error.

A couple of forthright winners from Anjema took him to 9/4; another error from Khan and another and it was all over. Anjema can probably look forward to a rematch with Hisham Ashour.

Karan Khan, Ivan Yuen, Nafiizwan Adnan, three Malaysian youngsters all look to have a great deal to recommend them: movement, racket ability, sound temperament. Somehow, they seem not to produce as they should.

Hisham on song

Hisham Ashour hardly lives in the shadow of his genius of a brother, because he has a magnetic personality. There was not much wrong with his game in Saudi Arabia when he beat Laurens Anjema and played well against Nick Matthew, almost winning the third game. His new fitness regime is the reason, or so he says. Chris Simpson played well in the world championships too, so every prospect of a competitive match.

Ashour, looking very concentrated, building rallies on the confidence of his acquired fitness, won an enjoyable first game 11/7 with a cross court volley nick. Simpson, now injury free, has improved and his range and variety are much greater.

Ashour, though, can create winners out of nowhere and is, as a result, always a danger. There was little in it in the second at 6 all, but Hisham produced some Ramy-like magic to reach 10/6 and serve our for a 2-0 lead.

Ashour continued to impress and at 5/1, Simpson was struggling to stay in touch. He did get to 6/9 before Ashour put the match to bed.

Playing as he is, Ashour looks a threat and is certainly playing to top 16 standard.

Willstrop wins through

James Willstrop is one of several leading players arriving in Delhi who must be on the point of physical and mental exhaustion. Doubtful, therefore, if he fancied his first round match with the able Anwar Reda very much.

He began quite sloppily and although Reda was soon competing well, Willstrop mostly looked the probably winner of the first game. However, he lost it 10/12 mainly down to Reda's play rather than any weakness on his part.

Willstrop came out determinedly in the second and soon levalised 11/5 and then ran away with the third 11/2. He continued to control matters, but at 10/5 asked for the floor to be swept. Reda then recovered to 9-10 on resumption, took a heavy fall, a 3 minute injury break and looked so bad that it appeared he might have to concede.

He re-appeared, ran as if all was well, but lost the rally and the match – no easy ride for the no. 2 seed, but he has a rest day to freshen up.

Mosaad stops Sandhu

From all accounts Harinder Pal Sandhu had played outstandingly well in his recent Indian championship, having lost 3/1 to Indian no. 1 Saurav Ghosal.

Here he faced a tough task against the powerful and clean striking Omar Mosaad, who had perhaps disappointed a little in his 3-0 loss to Thierry Lincou in Saudi Arabia.

Pal Sandhu soon got involved, playing a wide range of shots, using his drops effectively. In each of the three games he held the more experienced Mosaad until late on and as is often the way, the experience shows then. The higher ranked player tightens up, the lower rated player presses too much or feels the added pressure.

Pal Sandhu lost the first 11/8 and then two tie breaks, both 12/10. He can feel happy with his performance and Mosaad will be happy too, that he had to stretch himself.

Lincou lingers on ...

Evergreen Thierry Lincou had played very well in the world championships, his movement as good as ever. Seeded 4 here in Delhi, he had the promising young Englishman Joe Lee as his first round opponent.

Lee is neat and tidy, moves well and is clearly open to much improvement. He competed strongly in the first game, losing it 7/11 after 15 minutes. Lincou though, was working the ball well and the effort Lee made clearly took its toll when he lost the second game very quickly 11/1.

Lincou continued to play with his characteristic accuracy and although Lee kept going to the end, it was all uphill.

He will learn from experience and Lincou will remain hard to beat at the highest levels.

13-Dec, Qualifying Finals:

Steve Coppinger (Rsa) bye
Adrian Waller (Eng) bt Deepak Mishra (Ind) 11/2, 11/8, 11/3

Dick Lau (Hkg) bt Sandeep Jangra (Ind) 8/11,14/12,11/3,9/11,11/9
Campbell Grayson (Nzl) bt Ivan Yuen (Mas) 3/11, 15/13, 8/11, 11/4

Chris Simpson (Eng) bt Gaurav Nandrajog (Ind) 11/3, 11/6, 11/9
Joe Lee (Eng) bt Kush Kumar (Ind) 14/12, 11/2, 11/6

Siddharth Suchde (Ind) bt Ravi Dixit (Ind) 11/3, 11/1, 11/4
Kamran Khan (Mas) bt Martin Knight (Nzl) 12/10, 11/8, 11/6
Malcolm reports from Delhi ...
Kamran Khan v
Martin Knight

Qualifying matches may not have the glamour of the later stages, but for the players concerned they are of immense importance: progress in the event, which means more experience, points and money.

The early exchanges were untidy with many lets. There was not much in it at any stage of a contested first game, but at 7/9 Knight took a 3 minute injury break for an abductor problem. He recovered well enough almost to win the first game, but ended up losing it 11/9.

Although Knight was hampered by his injury, he continued to compete and held his own, playing more expansively, but Khan pulled away towards the end of the second game to win it 11/8 and take a 2-0 lead.

Knight's task from 2-0 down looked impossible and gamely though he tried, the issue was never in doubt and Khan qualified 3-0.



Siddharth Suchde v
Ravi Dixit

Siddharth Suchde faced Ravi Dixit in an all Indian qualifier, the more experienced Harvard graduate likely to prove too strong for his younger talented opponent.

He led 7/2 and when Dixit hit a forehand volley into the tin, Suchde served for the game at 10/3 and won it at the first attempt, without Dixit offering much of a challenge.

Dixit, quick enough and able with the racket, seemed to be playing without much belief and Suchde eased into a 10/1 lead, winning the game 11/1, meeting little resistance.

Not much changed in the third game either, as Suchde continued to dominate and Dixit seemed unable to raise his game, although he looked capable of it. Suchde proceeded to the first round with the minimum of fuss.


Campbell Grayson v Ivan Yuen

The second New Zealand – Malaysian clash was between Campbell Grayson and Ivan Yuen, Kamran Khan having beaten Martin Knight 3/0 in the first one.

Although Grayson led 3/0, Yuen, composed and fluent, soon recovered to go ahead 6/3, but Grayson was back on level terms at 8 all. Now it was Yuen who took the initiative to serve at 10/8, which became a tie break; then 11/10 to Grayson. He didn't finish either. A delicate forehand volley drop gave Grayson another chance and on a doubtful no let, he won the game 13/11.

There continued to be little in it in the second game, but Yuen led 7/4, before Grayson led 8/7 on another harsh no let. To his credit, Yuen was uncomplaining, which helped his focus. A heavy fall by both of them looked bad, but there was no serious damage fortunately. Yuen led 10/9 on a Grayson error, but it was soon a second tiebreak. 11/10 and another opportunity for the Malaysian, spurned again, yet another at 12/11 not converted. Now Grayson tinned when 13/12 – his first chance; another no let – this time fair enough - and on another no let Grayson took a 2-0 lead – tough on Yuen, who, on the balance of play deserved to be on level terms.

A seriously bad no let, again against Yuen, gave Grayson a 3/2 lead and Yuen was certainly not having the best of the refereeing decisions and had every right to feel hard done by. A fine rally ending in a straight forehand winner by Grayson took the score to 4 all. Yuen now was getting disturbed and vocal at the refereeing, hardly a surprise as decision after decision seemed to go against him, often unreasonably.

He managed to maintain his composure though and led 8/5. A cross court winner gave him the chance to stay in the match and a return of serve into the tin by Grayson did the trick at 11/8.

Well over the hour and the promise of more to come. Some justice for Yuen since he would not have deserved to go down 3/0.

Another strange no let against Yuen took the score to 7/3 in Grayson's favour in the fourth and Yuen looked as if he believed the gods were conspiring against him, as indeed they were. At 10/4, Grayson won his place in the main draw at the second attempt.

It had been a decent match, spoiled by too many lets, often so in matches involving Malaysian players who are reluctant to play the ball. This was not the case here, however, and on balance, Yuen may feel quite justifiably that he had a raw deal.

World Stars head to Delhi
Preview from Malcolm Willstrop

The effects of a long hard first half of the season for the world tour were plain to see in Saudi Arabia. Ramy Ashour lasted no time at all with a hamstring injury; Gregory Gaultier pulled up lame in his match with Amr Shabana and Karim Darwish could not compete against Peter Barker, though he did take a nasty fall.

Sadly, none of the three will be in Delhi, but this draw still contains the four semi finalists at Al Khobar: Nick Matthew, the new world champion, James Willstrop, the runner up, Amr Shabana and Peter Barker.

Matthew has Shabana in his half and they had a closer match than 3-0 suggests in the world championship, when two games went to tie breaks. The champion, though, will probably have to stave off either Barker or Daryl Selby, who both played very well in Saudi Arabia and play each other in a tough last 16 match.

Willstrop looks as if he will have to fend off a series of Egyptian challenges, though Cameron Pilley will be out to make amends for his first round loss and Willstrop has a prospective semi finals against Thierry Lincou, if all goes according to plan.

The players who performed well in the world championships will have to face challenges from fresher players, who exited earlier.

The tour's perennial personality Hisham Ashour, re-invigorated by his fitness regime, has a repeat match with Laurens Jan Anjema, who he beat; Mohamed El Shorbagy played well in defeat and India No. 1 Saurav Ghosal, the Indian champion, will be looking to make an impression.

Matthew, though, was only extended by Willstrop and Shabana and being physically as strong as anyone, full of confidence, and still relatively fresh, is favourite to add another title to a quite remarkable year.

Remarkable, too, when he has won two Commonwealth Golds besides the world open and becoming world no.1, that nobody thinks that he was worth nominating for the unsatisfactory BBC Television Sports Personality of the Year. But then it took Steve Redgrave five Olympic golds to get there…..


Malcolm conducts
a clinic in Delhi ...


Injuries Beset Punj Lloyd
PSA Masters In Delhi

Injuries sustained in this week's Saudi PSA World Open in Saudi Arabia have taken their toll on the draw for next week's Punj Lloyd PSA Masters, the tenth and final PSA Super Series squash event of the year which will take place in India from 14-19 December.

Egypt's Ramy Ashour, plus Saudi quarter-final casualties Karim Darwish and Gregory Gaultier, have all today tendered their withdrawals from the championship at the Siri Fort Sports Complex in Delhi following medical advice. All three have suffered hamstring injuries.

Ashour, the world number one, was seeded to retain the title he won for the first time last year in the prestigious PSA event's first staging in India, in Mumbai.

"We are all very disappointed, of course, that the Punj Lloyd PSA Masters has lost three of its top seeds in the past few hours," said PSA Tour Executive Sheila Cooksley. "It just shows how tough this game of ours is and, as with all sports, injuries come at the most unlikely times and it is devastating for the three of them.

"The PSA World Tour has a tough calendar with five major events in the last three months of the year.

"But despite losing these three players, we have no doubt that the event will still be a top drawer tournament because now there is such a tremendous depth of talent on the PSA Tour," added Cooksley.

England's Adrian Grant, the 15th seed, has also been forced to withdraw from the event as a result of a torn abductor.

The revised seeding now suggest an all-English final between Nick Matthew and James Willstrop - the same line-up which brought to a climax the 2010 Commonwealth Games squash competition at the same Delhi venue in October, when world number two Matthew clinched the first of two gold medals at the Games.

The Matthew/Willstrop line-up would also be a repeat of the 2010 World Open final in Saudi Arabia.

03-Aug-2010:
Punj Lloyd PSA Masters
To Promote Squash In India
The Punj Lloyd PSA Masters, the final PSA Super Series squash event of 2010, will be the focus of the largest ever corporate initiative to develop and promote the sport of Squash at the grassroots level in India.

The announcement was made by Punj Lloyd Group, the diversified global engineering, procurement and construction (EPC) conglomerate. The Punj Lloyd Squash Masters 2010 will comprise a series of squash championships to be held across various age groups throughout India, and will culminate in the Punj Lloyd PSA Masters, the US$ 192,500 PSA Super Series event for the top 32 men in the world.

In addition, there will be a major women's international women's event and series of promotional squash tournaments including the Punj Lloyd Defence Services Challenge for all the armed forces and their training establishments; Punj Lloyd All India Inter-School and Punj Lloyd All India Inter-University Championships; as well as the Punj Lloyd Corporate-Club Challenge.

Speaking on the occasion, Atul Punj, Chairman, Punj Lloyd Group, said: "The success of Punj Lloyd PSA Masters 2009 convinced me that, with the right support, squash could gain mass popularity - which is why Punj Lloyd will ramp up its involvement in squash to now include tournaments at School and University levels besides those for the Defence forces and Corporates.

"Year 2010 will be truly memorable for squash and for India, which will see a grand finale of the build-up squash tournaments with two international series featuring the Punj Lloyd PSA Masters 2010," he further added.

India's own Saurav Ghosal, the world No26 from Chennai, and world No38 Dipika Pallikal - both of whom are sponsored by Punj Lloyd - and Joshna Chinappa, the world No28, will be the torch bearers for India at the Punj Lloyd Squash Masters.

Ghosal said: "With initiatives like Punj Lloyd Squash Masters, the younger generation from schools and universities will get an opportunity to play Squash at a national level. I am glad that Punj Lloyd has adopted a hands-on approach to develop the sport at grassroots levels. It is always a pleasure to play on home ground and with Punj Lloyd PSA Masters being held in Delhi this year, there is added excitement!"

The promotional tournaments will be played between the months of August and November, in an individual and team format, across New Delhi, Kolkata, Mumbai and Chennai, while the Punj Lloyd PSA Masters will be played in New Delhi from 12-19 December 2010. The winners from each of the promotional tournaments will play in a pre-event of the PSA Masters in Delhi. Winners will also participate in the squash clinics of some of the leading players in the world and will get one-on-one instructions to better their game.

Each of the promotional tournaments will be organised in association with the Squash Racquets Federation of India (SRFI), the Indian governmental apex body for squash.

Speaking on the occasion, Mr Srivatsan, Secretary General of the SRFI said: "Punj Lloyd's commitment to promote Squash in India will ensure the much needed boost to the game. We commend Punj Lloyd for promoting Squash and bringing an event of international stature to India, thus exposing our young talent to the world's best. Squash was always considered as a niche sport in India and now with its growing awareness we hope to see it as one of the most popular sports in India."