The 12th edition of the South Asian Games takes place in Guwahati, India, with five countries taking part in the squash competition.
10-Feb, Team Finals:

Men: India bt Pakistan 2-1
Saurav Ghosal bt Nasir Iqbal 11-7 11-8 11-7 ; Ravi Dixit lost to Danish Atlast Khan 3-11, 8-11, 11-6, 6-11; Kush Kumar bt Farhan Zaman 11-3 11-8 12-10

Bangladesh and Sri Lanka win bronze medals.

Women: India bt Pakistan 2-0
Joshana Chinappa bt Maria Toorpaki Wazir 11-8 4-11 11-5 11-9; Sunayna Kuruvilla bt Sammer Anjum 10-12 11-7 11-7 8-11 11-6;

Nepal and Sri Lanka win bronze medals.
08-Feb, Finals:

India and Pakistan take singles gold

[1] Joshana Chinappa (Ind) 3-1 [2] Maria Toorpakai (Pak)
10/12, 11/7, 11/9, 11/7
[2] Nasir Iqbal (Pak) 3-0 [3/4] Farhan Zaman (Pak)
14/12, 11/7, 11/9
07-Feb, Semis:

Pakistan guaranteed Gold in men's event

[1] Joshana Chinappa (Ind) 3-0 [3/4] Sadia Gul (Pak)
11/9, 11/7, 11/9
[2] Maria Toorpakai (Pak) 3-1 [3/4] Mihilya Methsarani (Sri)
11/8, 6/11, 11/2, 11/2

[3/4] Farhan Zaman (Pak) 3-1 [1] Saurav Ghosal (Ind)
11/4, 11/5, 10/12, 11/5
[2] Nasir Iqbal (Pak) 3-1 [3/4] Harinderpal Sandhu (Ind)
11/7, 12/14, 11/7, 6/6 rtd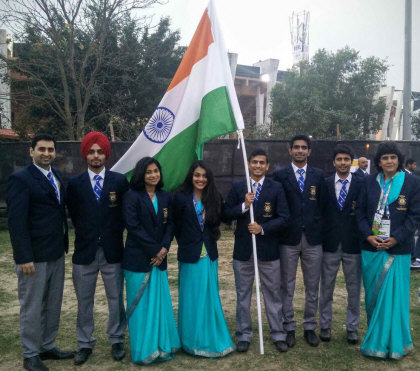 Indian Team assemble in Guwahati

Indian Reports
06–Feb, Day One
Sunayna Kuruvilla's loss a slight dent in Indian fortunes


GUWAHATI: India's fortunes received a slight dent when untested junior Sunayna Kuruvilla went down fighting in the first round which happened to be the quarterfinal on the opening day of the squash individual event in the South Asian Games 2016 here on Saturday.

Sunayna was a last minute replacement for her cousin, the seasoned Dipika Pallikal after the latter citing a shoulder injury was permitted to withdraw from the individual competitions.

Two players from each participating country was the norm so, Sunayna and the top seed Joshna Chinappa were the Indian entries.

The Chennai schoolgirl was new to this level of competition but put up a good fight against the Sri Lankan girl Mihilya Methsarani, a bronze medallist at the Commonwealth Youth Games in Samoa last year. The Indian girl was up by two games to one before losing her was. Mihilya won 6-11, 11-9, 4-11, 11-5, 12-10

Else results panned out on expected lines both in the men's and women's sections. In the men's section the first round happened to be the pre-quarterfinal and both the Indians top seed Saurav Ghosal and Harinder Pal Singh Sandhu who had a bye in the went
through easily to the last four.
04-Feb: Dipika not to play individual event

CHENNAI: On the eve of the squash competition in the South Asian Games 2016 in Guwahati, India's number two woman player Dipika Pallikal has sought permission from the Squash Racket Federation of India and withdrawn from the individual event citing a shoulder injury.

In her message to the National Coach Cyrus Poncha, Dipika, who is ranked 17 in the world and seeded two behind Joshna Chinappa, said she developed a "sharp pain" in her shoulder while playing the quarterfinal match in the Cleveland Classic held in Ohio a few days ago.

Dipika said the pain had intensified on the day after the match and that it had not subsided. She was scheduled to take medical advice in this matter but decided to proceed to Guwahati and play the team event because she felt as the number 2 player she may not have hard matches to play unlike in the individuals. The team events start on February 8.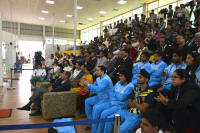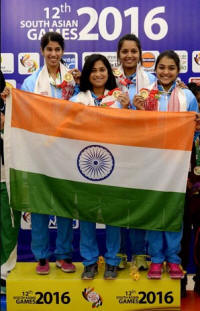 TS Draws - Ind
TS Draws - Teams
About the Games

The South Asian Games, a multi-sport event, is the regional Games of the Olympic Council of Asia.

Since it was first hosted by Kathmandu, Nepal in the year 1984, except for few occasions the event is taking place every alternate year.

This mega multi-national sports event is held among the athletes of the South Asian countries in various locations across the region. The event is presently joined by the eight South Asian countries namely Afghanistan, Bangladesh, Bhutan, India, Maldives, Nepal, Pakistan and Sri Lanka.

The event is unique in itself as it promotes sports with a view to boost up the team spirit as well as an amiable relationship between the South Asian countries.