Courtcraft Nick Matthew Academy
Steel City Open 2015
01-04 Oct, Hallamshire, Sheffield, $10k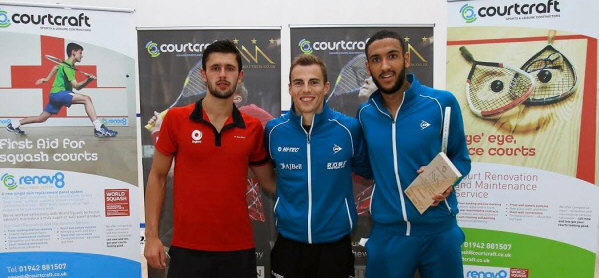 04-Oct, Final:

[1] Declan James (Eng) 3-2 [7] George Parker (Eng)
11/8, 8/11, 8/11, 14/12, 11/8 (84m)

James claims Steel City title

Top seed Declan James climed his fourth PSA title in a row as he beat George Parker in another martathon match at the Hallamshire club in Sheffield ...

Terry Dudley on the spot in Sheffield

All week the Hallamshire crowed have been treated to some cracking matches but none better than the final of the Courtcraft Nick Matthew Academy Steel City Open.

Top seed Declan James (Nottingham) world number 46 who was contesting is fifth PSA final in a row and winning the previous three at Christchurch, Houston, and Ontario while George Parker (Leicester) who has just broken into the top 100 at 98, in his second season on the tour won his first PSA title in Barcelona last weekend.

First blood to James 11/8. Parker replied by taking the next two 11/8, 11/8.

A crucial fourth Parker to win the title and James to stay in the match.

Nip and tuck to 6-all. James started to take control with four points on the trot 10/7 game ball. Parker somehow found unreserved energy and clawed his way back to10 all.

11 all 12 all next two points to James match level.

Again even steven to 5 all, and then James produced a purple patch taking four points on the bounce one more point to Parker before James closed the game out 11/6 and won a match full of high class squash and not short of effort.

Photos by
Trevor Davies,
Pro Squash Events
Courtcraft Nick Matthew Academy
Steel City Open 2015
01-04 Oct, Hallamshire, Sheffield, $10k
Round One
01 Oct
Quarters
02 Oct
Semis
03 Oct
Final
04 Oct
[1] Declan James (Eng)
6/11, 11/5, 11/7, 11/5 (43m)
Ben Ford (Eng)
[1] Declan James
11/4, 11/7, 11/8 (42m)
[5] James Earles

[1] Declan James

11/6, 11/13, 8/11, 11/7, 11/7 (72m)

[3] Richie Fallows

[1] Declan
James

11/8, 8/11, 8/11, 14/12, 11/8 (84m)

[7] George
Parker

[5] James Earles (Eng)
11/9, 11/4, 11/5 (35m)
Daniel Poleshchuk (Isr)
[8] Chris Fuller (Eng)
9/11, 11/8, 11/9, 5/11, 11/8 (78m)
Jan vd Herrewegen (Bel)
Jan vd Herrewegen
11/9, 11/5, 11/9 (43m)
[3] Richie Fallows
[3] Richie Fallows (Eng)
10/12, 12/10, 12/10, 12/10 (79m)
[wc] Ashley Davies (Eng)
[4] Joel Hinds (Eng)
13/11, 11/5, 11/3 (30m)
Lyell Fuller (Eng)
[4] Joel Hinds
11/7, 11/8, 11/9 (37m)
[7] George Parker

[7] George Parker

10/12, 8/11, 11/6, 11/8, 11/7 (79m)

[2] Jaymie Haycocks

[7] George Parker (Eng)
9/11, 11/4, 11/6, 12/10 (78m)
Ahmad Alsaraj (Jor)
[6] Matthew Hopkins (Aus)
11/8, 11/3, 11/4 (30m)
Ismail Rauf (Pak)
[6] Matthew Hopkins
11/7, 11/8, 9/11, 11/6 (47m)
[2] Jaymie Haycocks
Dougie Kempsell (Sco)
11/7, 11/8, 11/6 (33m)
[2] Jaymie Haycocks (Eng)
03-Oct, Semis:
Parker storms into Steel City final
Terry Dudley on the spot in Sheffield

Top seed Declan James reaches his fifth PSA final in a row as seventh seed George Parker produces another upset ...

Compere Andrew Nickeas's introduction predicting that we were in for two cracking matches, proved to be spot on - two five setters with both winners coming from behind.

The question being asked before the first semi-final was would the season professional beat the new kid on the block. We knew the answer some seventy nine minutes later after watching a hard fought scintillating match.

Seventh seed George Parker recovered from two games to love down against second seed Jaymie Haycocks to win three two.

Early exchanges in the first went to Parker, Haycocks reply was four straight points to lead 9-6. Parker took the next four 10-9 to Parker, game ball, the season campaigner levelled and went on to win the game 12-10.

Nip and tuck to 8 all then again experience kicked in, next three points to Haycocks two games to love and one foot in the final. Parker the quicker out of the blocks in the third game 4 points on the trot, exchange of points then another clutch of points to Parker to lead 9-3. Haycocks reply by taking the next three. This time Parker was not to be denied kept is cool and secured the game 11-6.

The fourth started with both players exchanging points like boxers exchange punches, Parker dominant and took four points 9-6. Haycock ground out the next two but Parker secured the game with two finely worked points two all. Game on.

Haycocks started the fifth the more brightly and lead 4-1. Parker's reply was to win the next four rallies five all. Next two points to Parker to lead which he never lost and secured the match 11-7.

Would the second semi-final match the first? Yes it would.

Top seed Declan James controlled the first game taking a 5-2 lead, Richie Fellows kept in contention by winning two points only for James to keep in control and win the first game 11-6.

Richie Fallows came out of the block first in the second and started to out play James, as he himself commented on in his interview after the match.

To James' credit he chased Fallows all the way and lost 13-11 after squandering game ball. Six all, eight all then Fellowes pulled away and secured the game 11-8. Two games to one to Fallows.

James started to take command winning points in batches with Fellows winning the odd rally 11-7 to James. Two all. First two points to Fallows with James replying with a straight six. Fallows started to get a little frustrated but won three points on the trot James to is credit kept the pressure on replied with four of his own 10-5 match ball, two match balls saved before James took the fifth 11-7.

We now look forward to the final - Top seed Declan James against seventh seed George Parker, with James looking to win his fourth title in a row!


Photos by
Trevor Davies,
Pro Squash Events
02-Oct, Quarters:
Parker stars again in Steel City
Terry Dudley on the spot in Sheffield

Seventh seed George Parker was again the star of the night at Hallamshire, carrying over his fine form of yesterday he beat fourth seed Joel Hinds 3-0 in just 37 minutes.

Parker, who had a mammoth five setter lasting 78 minutes last night, was always in command and won 11/7, 11/8, 11/9.

Second seed Jaymie Haycocks beat Australian Matthew Hopkins, the 6th seed, 3-1 in 47 minutes 11/7, 11/8, 9/11 11/6 to book his place in tomorrow's semi-final against the in form Parker.

Richie Fallows took out yesterday's other marathon man Jan vd Herrewegan, the Belgian who who beat eight seed Chris Fuller last evening. Fellows won 3-0 in 47minutes 11/9, 11/5, 11/9.

Top seed Declan James finished the evening with a comfortable win against James Earles 11/4, 11/7, 11/8 in 42 minutes.

Two mouth watering semi-finals in prospect for tomorrow - . Jaymie Haycocks v George Parker followed by Declan James v Richie Fallows.



Photos by
Trevor Davies,
Pro Squash Events
01-Oct, Round One:
Parker sets the scene in Steel City
Terry Dudley on the spot

What a cracking match to start the Steel City Open, as seventh seed George Parker beat Ahmai Alsaraj in a 76 minute marathon.

Alsaraj took the first game 11/9 Parker replied by taking the next two 11/4 11/6 and looked comfortable. Alsaraj came back strongly in the fourth taking a 7-2 lead. The next four points to Parker, then nip and tuck to 9 all, point each before Parker secured the game and match 12-10.

The other three matches in the bottom half went to seeding with the favoured players - Jaymie Haycocks, Matthew Hopkins and Joel Hinds - all winning in three.

In the top half of the draw there were two well contested matches - unseeded Belgian Jan vd Herrewegen beat 8th seed Chris Fuller 11/8 in the 5th in a match lasting 78 minutes, and Richie fallows beat local boy Ashley Davies in 79 minutes with the incredible scoreline of 10/12, 12/10,12/10,12/10!

Top seed Declan James lost the first game against Ben Ford before registering a 3-1 win. Last on court, fifth seed James Earles comfortably beat Daniel Poleschuck.

Quarter-finals start at 17.00 on Friday.