Texas Open 2014
08-13 Apr, Houston, Usa, $50k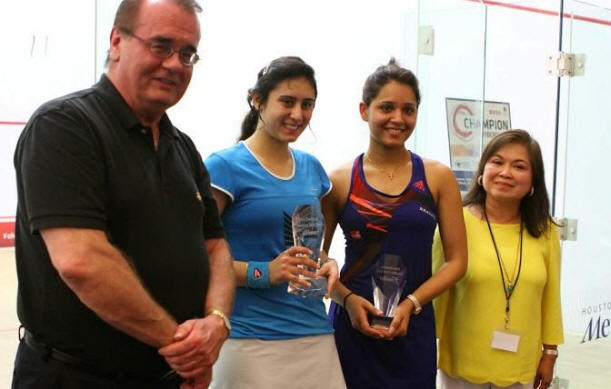 Final:
Nour El Sherbini 3-1 Dipika Pallikal 11/7, 5/11, 11/7,11/8

Sherbini takes her biggest title yet
Larissa Stephenson reports

The Champion Fiberglass TXOpen crowd at the Downtown Club at the Met in Houston was treated to 48mins of superb squash in today's final match.

Nour El Sherbini, the world #13 and recent World Open finalist had little trouble reaching the final while her opponent, world #10 Dipika Pallikal, battled through two tough five game matches in her quarterfinal against Nicolette Fernandes then her semifinal against Madeline Perry.

Both players started off battling some early nerves, getting tangled and playing several lets, but El Sherbini quickly settled to take the first game 11-6.

Both players have similar attacking styles but Pallikal showed more patience in the second set, working solid tight drives and controlling the pace well, giving El Sherbini fewer options to take the ball in short. The referees became the focus in the middle of the second game, with many decisions causing frustration for both players.

Pallikal held on to take the second game, but lost focus in her game plan, becoming increasingly rattled by the referee's decisions.

Nour stepped up in the third game, working in nice holds and great length, adding some of her trademark sublime drop shot nicks to take the lead. More conversations with the referee from both girls, and to Pallikal's frustration the third ended with a stroke to El Sherbini off a Pallikal drop shot.

The fourth was the closest of the games, point for point to 7-all with both girls working more length and showing good patience before attacking.

El Sherbini managed to pull away and gain a couple of points, giving her a cushion at 10-7. Pallikal fought back, holding her nerve and hitting some great shots to work El Sherbini around the court and save one match ball, but that was all she managed as El Sherbini held on to take the match, backing up her impressive form from the World Open to take the title here at the Texas Open.
FROGS' TALK -

CAMILLE ON THE EVENT...



J'avais hâte de revenir à Houston pour ce tournoi, j'en avais un très bon souvenir de part ma victoire il y a 2 ans et de part la gentillesse des gens qui nous reçoivent. Cette semaine aura encore été mémorable, tout le monde y est si gentil et accueillant!

En termes de résultats, je suis déçue bien sur d'avoir perdu en demi-finale. Il n'y avait peut-être pas autant de filles du top 10 que d'habitude pour un Gold 50 mais le niveau des joueuses était tout de même très relevé!

Des le 1er tour, j'ai du batailler contre Amanda Sobhy pour gagner 3/1. Pareil le lendemain contre Rachel Grinham. Comme je l'ai mentionné au championnat du monde à Penang, toutes les filles du tour sont fit et fortes de nos jours, il n'y a plus de premier match facile! Il faut donc que j'apprenne à perdre moins d'énergie sur ces matchs si je veux aller plus loin dans les tournois...

Nour a un beau parcours et revient fort depuis sa blessure.

Avoir perdu en demie me donne encore plus envie de revenir à Houston pour essayer de regagner le titre. Merci à tous ceux qui m'ont supporté de près comme de loin.

Retour à la maison pour travailler....encore et toujours! ;) À bientôt.


Texas Open 2014
08-13 Apr, Houston, Usa, $50k
Round One
10 Apr
Quarters
11 Apr
Semis
12 Apr
Final
13 Apr
[1] Low Wee Wern (Mas)
11/9, 11/9, 9/11, 11/7 (64m)
Sarah-Jane Perry (Eng)
[1] Low Wee Wern
11/3, 11/8, 10/12, 11/6 (46m)
[Q] Nour El Sherbini
[Q] Nour El Sherbini

11/5, 11/9, 9/11, 11/6 (55m)

[3] Camille Serme

[Q] Nour El Sherbini

11/7, 5/11, 11/7, 11/8 (48m)

[4] Dipika Pallikal

[7] Omneya Abdel Kawy (Egy)
11/4, 11/4, 12/10 (29m)
[Q] Nour El Sherbini (Egy)
[8] Rachael Grinham (Aus)
11/7, 11/5, 11/5 (24m)
Joshana Chinappa (Ind)
[8] Rachael Grinham
8/11, 17/15, 11/6, 11/4
(47m)
[3] Camille Serme
[3] Camille Serme (Fra)
10/12, 11/6, 11/4, 11/8 (40m)
Amanda Sobhy (Usa)
[Q] Donna Urquhart (Aus)
12/10, 11/8, 11/5 (36m)
[4] Dipika Pallikal (Ind)
[4] Dipika Pallikal
11/4, 11/6, 10/12, 10/12, 11/5 (64m)
Nicolette Fernandes
[4] Dipika Pallikal

11/7, 11/13, 13/11, 10/12, 11/4 (75m)

[2] Madeline Perry

Nicolette Fernandes (Guy)
12/10, 10/12, 11/5, 8/11, 11/8 (65m)
[5] Annie Au (Hkg)
[Q] Emma Bedoes (Eng)
11/4, 11/5, 4/11, 11/8 (42m)
[6] Kasey Brown (Aus)
[Q] Emma Bedoes
11/7, 9/11, 11/6, 11/8 (48m)
[2] Madeline Perry
[Q] Joey Chan (Hkg)
7/11, 11/4, 11/6, 12/10 (38m)
[2] Madeline Perry (Irl)
09-Apr, Qualifying Finals:

Joey Chan (Hkg) bt Victoria Lust (Eng) 11/5, 10/12, 12/10, 11/8
Nour El Sherbini (Egy) bt Siyoli Waters (Rsa) 11/5, 11/6, 11/6
Emma Beddoes (Eng) bt Kristen Lange (Usa) 11/5, 11/4, 11/5
Donna Urquhart (Aus) bt Anna Kimberley (Eng) 11/3, 11/5, 11/6

08-Apr, Qualifying Round One:

Victoria Lust (Eng) 3-0 Daksha Pathak (Usa) 11/4, 11/3, 11/1
Nour El Sherbini (Egy) 3-0 Larissa Stephenson (Nzl) 11/9, 11/6, 11/6
Siyoli Waters (Rsa) 3-0 Roxanna Keshavarz (Eng) 11/3, 11/2, 11/6
Kristen Lange (Usa) 3-0 Anaka Alankamony (Ind) 11/7, 11/4, 13/11


Anna Kimberley (Eng)

3-0 Belen Etchechoury (Arg) 11/2, 11/6, 11/5
Quarters:
Sherbini downs top seed Low to reach semis ...



10-Apr:
Round One in Houston
John F Leavy reports

In the first match of the day, which lasted 67 minutes, we had an upset as Nicolette Fernades beat World No 11Annie Au. Fernandes used her strength to continually exploit au's backhand and kept her on her heels.

A crowded grandstand were treated to an entertaining first match that kept everyone probably past there 1 hr lunch time

A 36 minute match btw D. Pallikal and D Urquhart which showed the coaching of S. Fitzgerald may be paying off for the lady from India. First game Urquhart had 5 games balls but let Pallikal back in and lst that one. After that one the focus went out of the Aussie and it was 3-0

WSA President K Brown and qualifier Beddoes hit the ball hard on every point. Difficult calls for the ref's on this one but Beddoes better lengths won out. Brown looked strong in the 3rd but Beddoes stepped it up at 6 all and prevailed

M Perry seemed sluggish n the 1st. with J chan hitting good lengths and high lobs. But Perry became clinical in the next 3 moving her opponent with deep lengths and great drops to finish quickly after that

R Grinham looked all of 21 not 37. Against J Chinappa Grinham volley every lose ball into the nick and kept her opponent moving corner to corner. Veteran style against a younger opponent the Aussie looked like days of old

Sobhy's 1st game looked like she was unbeatable. Great lengths, volleys that were strong, and nicks into the front left. But Serme, the 2012 Champ figured out the pace, hit next to no tins in the next 2 games, and had it all figured out how to beat the young American.

Two Egyptians up next. El Sherbini never let her country woman into the 1st 2 games and O. Kawy looked flat. El Sherbini had her opponent gong the wrong way many times with trickle boasts, and drops, that even Kawy was applauding. 3 game was back and forth, and there was a tie breaker but El Sherbini never looked like she was going to give up control

Two different styles, two different sizes, but entertaining to see Perry use her great wrist and Wern use a classic squash style to win. First 3 could have gone either way for both players with some stroke calls hurting both.

In the 4th they collided and both went down with Perry getting the worst of it. After conso with the Physio, on site, and the referee checking on her Perry was able to win the 3rd. But Wern came out in the 4th with a determined look and went up 7-6 and never looked back

Houston gearing up for Texas Open

The Texas Open is the second oldest WSA event on the tour. Alternating with Dallas we are excited on getting back this tournament, in Houston, after last hosting it in 2012.

Having a Gold level, the first time here, is a tribute to how much squash has grown in the last two years in this city. Taking over the HSRA 1 1/2 years ago I received 1-2 mails, or calls monthly about where to play squash and how newcomers could get involved. That number is up to between 12-15 monthly with questions about our squash community.

The HSRA, along with our long time partner Champion Fiberglass, is excited to see the talent we have been able to attract here from April 8-13. The sponsors have gotten together and decided to show off how much they want this sport to match the exciting growth of Houston.

We are happy to welcome not only many 'veterans' who have played here before, such as Camille Serme the 2012 winner here, Madeline Perry, the 2013 winner in Dallas, and also returning are Rachael Grinham, Kasey Brown, and Donna Urquhart.

We also look forward to seeing the ladies knocking on the top players door such as Low Wee Wern, Sarah-Jane Perry, and especially Nour El Sherbini, a surprise at the recent Worlds in Penang.

All players will be treated to entrance to the US Clay Court Tennis Championships, a wonderful Wednesday night party at one of the sponsor beautiful homes, swag bags with many goodies, and a "special" tournament treat.

The HSRA is ready to show off to the world how we can put on a show equalling other top cities.


President, Houston Squash