06-Sep, Final:
Magnificent Shabana takes US Open
Alan Thatcher in Chicago

Amr Shabana overcame a phenomenal fightback from top seed Ramy Ashour to win the Aon US Open final in Chicago.

Shabana raced through the opening two games with some astonishing winners to delight a sell-out crowd around the glass court set up in the open air off Chicago's Michigan Avenue, known as the Magnificent Mile.



Number two seed Shabana was certainly in magnificent form and a quick finish seemed on the cards as he won the second 11-2. Shabana opened up a 4-0 lead in the third game but Ashour began to work his way into the match, taking control from 4-6 down to win 11-7.

Despite that confidence booster, the 21-year-old world champion made a slow start to the fourth game and Shabana won the first five points and maintained that lead to stand within three points of the title at 8-3.

However, Ashour stepped up the pace and produced a succession of blinding winners as the crowd roared their encouragement. Shabana held match ball at 10-7 but Ashour won five points in a row to force the tiebreak and lead 12-11. Shabana levelled at 12-12 but Ashour maintained his push to clinch the game 14-12.



The crowd, boosted by hundreds of spectators enjoying a free view of the action through the front wall, were delighted that the match was heading for a fifth game. Ashour led 3-1 at the start of the final game but Shabana regained control to lead 9-5. Ashour won the next two points and then sportingly conceded that a backhand drop shot was down as Shabana screamed at the referee.

That gesture gave Shabana match ball at 10-7 and although Ashour claimed one more point the 30-year-old closed out an entertaining contest in 57 minutes of spellbinding squash.

Shabana said: "Ramy is such a great player and as a world champion at 21 years old he seems to have been around for years.

"He came back very strongly to win the third and fourth games and I was pleased to win the fifth game.

"The players have all enjoyed this tournament in Chicago and it's great to see such big crowds around the court every night."

The players earned warm applause for providing an evening of outstanding entertainment and Ashour was given an extra ovation for his sportsmanship.

He said: "As professional players we have to be honest with each other on court, even though it gave Shabana match ball. Shabana played very well tonight and made it hard for me in large parts of the match.

"I know I should be angry for losing but I am happy that we made the match very entertaining for the crowd."


REPORTS

Semis
Quarters
Round One
Qualifying
Preview
US Open 2009
01-06 Sep, Chicago, USA, $52k
Round One
02/03-Sep
Quarters
04-Sep
Semis
05-Sep
Final
06-Sep
[1] Ramy Ashour (Egy)
11/2, 11/8, 11/6 (23m)
[Q] Adrian Waller (Eng)
[1] Ramy Ashour
11/4, 11/6, 13/11 (38m)
[6] Wael El Hindi

[1] Ramy Ashour

11/8, 12/10, 11/8 (32m)

[3] David Palmer

[1] Ramy Ashour

11/7, 11/2, 7/11, 12/14, 11/8 (57m)

[2] Amr Shabana

[6] Wael El Hindi (Egy)
11/9, 15/13, 10/12, 11/5 (87m)
[Q] Aaron Frankcomb (Aus)
[3] David Palmer (Aus)
5/11, 11/6, 11/4 11/6 (44m)
[Q] Tom Richards (Eng)
[3] David Palmer
14/12, 11/6, 11/8 (46m)
[8] Olli Tuominen
[8] Olli Tuominen (Fin)
11/9, 11/2, 11/5 (26m)
Hisham Ashour (Egy)
[Q] Julian Illingworth (Usa)
11/9, 11/9, 7/11, 11/9 (63m)
[7] James Willstrop (Eng)
[7] James Willstrop
11/8, 13/15, 11/9, 11/13, 11/8 (85m)
[4] Peter Barker

[7] James Willstrop

11/7, 11/4, 11/9 (42m)

[2] Amr Shabana

Gilly Lane (Usa)
12/10, 11/6, 12/10 (44m)
[4] Peter Barker (Eng)
Saurav Ghosal (Ind)
11/8, 11/9, 12/10 (46m)
[5] Adrian Grant (Eng)
[5] Adrian Grant
11/5, 5/11, 11/8, 11/8 (48m)
[2] Amr Shabana
Shahier Razik (Can)
11/9, 11/3, 11/4 (26m)
[2] Amr Shabana (Egy)

Qualifying:

01-Sep, Finals, Glass Court:

Julian Illingworth (Usa) bt Liam Kenny (Irl) 11/4, 12/14, 11/7, 11/5 (67m)
Adrian Waller (Eng) bt Joe Lee (Eng) 11/7, 11/9, 11/9 (44m)


Aaron Frankcomb (Aus)

bt Martin Knight (Nzl) 11/4, 11/5, 11/5 (49m)
Tom Richards (Eng) bt Christopher Gordon (Usa) 11/6, 11/4, 11/8 (32m)

31-Aug, Round One:

Julian Illingworth (Usa) bt Lefika Ragontse (Bot) 11/6, 11/5, 11/7
Liam Kenny (Irl) bt Wade Johnstone (Aus) 8/11, 11/3, 11/4, 11/6

Adrian Waller (Eng) bt Stephen Coppinger (Rsa) 8/11, 11/7, 11/9, 11/13, 13/11
Joe Lee (Eng) bt Scott Arnold (Aus) 3/1

Martin Knight (Nzl) bt Mark Heather (Eng) 3/0
Aaron Frankcomb (Aus) bt Tyler Hamilton (Can) 3/0

Christopher Gordon (Usa) bt Graham Bassett (Usa) 11/6, 11/3, 11/6
Tom Richards (Eng) bt Patrick Chifunda (Zam) 3/0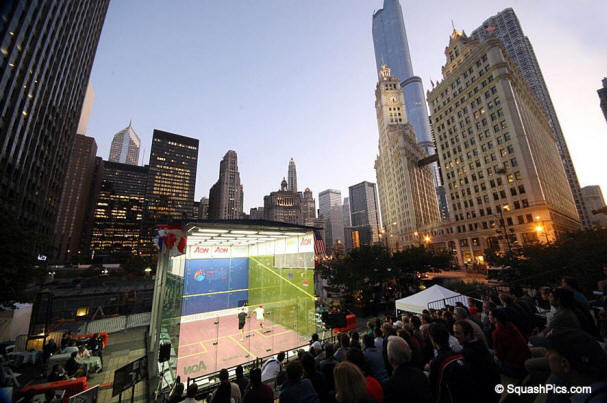 05-Sep, Semis:
Egyptians race into Chicago final
Alan Thatcher in Chicago

Egyptian superstars Ramy Ashour and Amr Shabana blitzed their way into the final of the Aon US Open with straight-game victories over David Palmer and James Willstrop in the semi-finals.

Shabana took 42 minutes to beat Willstrop 11-7, 11-4, 11-9 and Ashour took ten minutes less to overcome Palmer 11-8, 12-10, 11-8.

Those two dazzling performances underlined Egypt's global dominance in the sport and set up a mouthwatering clash between the tournament's top two seeds.



Willstrop, who took 85 minutes to beat England team-mate Peter barker in the quarter-finals the previous evening, started sluggishly and Shabana raced to a 6-0 lead. Once Willstrop settled he threatened to turn the tables and pulled the score back to 6-8 but Shabana quickly closed out the game.

Shabana kept the ball fast, tight and low as he had the 6ft 5in Willstrop at full stretch and the three-time world champion from Cairo raced through the second game 11-4, bringing a huge cheer from another sell-out crowd with an outrageous angled kill shot.

Willstrop battled bravely in the third game but Shabana finished strongly to reach his second final of the season after winning the Malaysian Open in Kuala Lumpur last month.

He will need to be at his brilliant best to stop compatriot Ashour, who is nine years his junior. The reigning World Open champion produced one of his best career performances to overwhelm Palmer with a stunning display of high-speed attacking squash.

Ashour won the opening game in just eight minutes but Palmer responded solidly in the second to reach game ball, only for Ashour to claw back the points to win the tiebreak 12-10.

As well as Palmer played, he was unable to stem the tide as Ashour conjured up more magical shots in the third game.

A smiling Ashour said: "I am so happy to be in the final. Amr and I always have great matches and we are just pleased to be able to entertain such a fantastic audience here in Chicago.

"This has to be one of the best venues for squash anywhere in the world and the crowds have been great all week. That applause helps us to play better."

Shabana was extremely gracious in victory, acknowledging Willstrop's valiant efforts on his return from an ankle injury. He said: "James has come back very quickly after a serious operation and he is always a very difficult opponent.

"It is always a good feeling to be in a final, and I know Ramy is playing brilliantly at the moment. We hope to put on a great final for this wonderful crowd."


REPORTS

Quarters
Round One
Qualifying
Preview
REPORTS

Round One
Qualifying
Preview

04-Sep, Quarters:
Rampant Ramy roars into Chicago semis
Alan Thatcher in Chicago

Top seed Ramy Ashour was in devastating form as he powered into the semi-finals of the Aon US Open in Chicago. The 21-year-old world champion produced a dazzling array of spectacular winners to beat fellow Egyptian Wael El Hindi in straight games in the quarter-finals.

Ashour launched a blistering attack from the start of the match and won the opening two games in quick fashion with a succession of unplayable shots.

El Hindi led for much of the third game but Ashour clinched the tiebreak 13-11 to book a place in the last four against Australia's David Palmer.

Ashour said: "I was very happy with the way I tlayed and I hope it was entertaining for the crowd. I am still learning new ways to play the game and I always ennoy trying new shots."

Palmer, the 2002 US Open champion, also won in straight-games agamnst Olli Tuominen of Finland. It was a repeat of Palmer's semi-final victory over the same opponent as he won last week's Colombian Open in Bogota.

This time Tuominen started strongly but he wasted several game balls as Palmer took the opening encounter 14-12 on a tiebreao after 20 minutes of physical play littered with lets and penalty strokes.

Palmer dominated play in$the second and third games to book his place in the last four against Ashour and said: "I knew it would be tough because I have played Olli so many times and knew what to expect. We seem to play each other seven or eight times a season so I'm not quite sure what's happening with the PSA computer.

"I was very pleased to beat Olli on a plaster court at altitude in Colombia last week because I thought those conditions might favour his game, but I like playing on this glass court and always felt conditions this week would favour me."

No.7 seed James Willstrop triumphed against fellow Englishman Peter Barker in the longest match of the night in front of a sell-out crowd around the open-air glass court off Michigan Avenue.

Willstrop won a brutal battle 11-8, 13-15, 11-9, 11-13, 11-8 in 85 minutes of high-quality squash against the No.4 seed Barker, who won last year's Sweet Home Chicago Open at the same stunning venue.

The result left Barker still seeking his first win against Willstrop after 15 defeats, but this was one of their closest ever encounters as Barker won two tiebreaks to take the match the full distance.

After closing out the first game, Willstrop wasted four game balls in the second before Barker won the tiebreak 15-13. Willstrop edged the third but Barker hit back again to win the fourth game tiebreak. Willstrop started the fifth game strongly and withstood a spirited recovery by his international team-mate to reach the semi-finals.

Willstrop, who played the game with his right ankle heavily strapped, admitted: "This is such a crazy game. The damage we do to our bodies is ridiculous. We throw ourselves all over court, we wake up the next day with aching bodies, and then we show up the next night and do it all again."

Willstrop faces No.2 seed Amr Shabana in the semi-finals after the three-time world champion from Cairo overcame England's Adrian Grant.

Grant tried to match Shabana's shot-making ability but fell in four games of high-quality squash.

Shabana said: "Adrian looked on fire tonight, He is a very good player and was attacking a lot more than usual. James and I always have crazy matches and it should be a very entertaining semi-final."


03-Sep, Round One, Part Two:
Willstrop weathers Illingworth storm
Alan Thatcher in Chicago

James Willstrop, returning to PSA competition after an ankle operation in the summer, survived an injury scare and a phenomenal challenge from American qualifier Julian Illingworth to reach the quarter-finals of the Aon US Open in Chicago.

Willstrop, who since the ISS Canary Wharf Classic in London in March has only played in the World Games in July, won 11-9, 11-9, 7-11, 11-9 in 63 minutes of physically demanding combat and admitted: "I was very relieved to get off court with a win in my first match back. You never know how you are going to shape up in your first match of the season, especially after being out of action for so long.



"First round matches can sometimes be one-sided but I knew that was never going to be the case with Julian. He played out of his skin and showed what a good player he can be. The crowd were on his side and Julian gave them plenty to cheer."

Willstrop entered the open-air glass court with his right ankle heavily strapped and within a handful of rallied he was limping after an accidental collision in mid-court. Willstrop said: "Julian's knee caught me in the calf and the last thing you want is a dead-leg that early in any match, let alone in your first match back after injury."

The match featured several astonishing twists and turns as Willstrop hit back from 6-3 down in the first game and 6-1 down in the second to open up a two-game advantage. The effort seemed to take its toll as Illingworth won the third game but Willstrop hit back solidly to lead 8-2 in the fourth.

Then it was Illingworth's turn to mount a spectacular recovery and he won six points in a row to draw level after a succession of brutal rallies. However, he failed to press home the advantage and some tired mistakes gifted the match to Willstrop. The home crowd immediately rose to their feet to give both players a thoroughly deserved standing ovation.

Illingworth said: "I was disappointed not to do better but it seemed that James was putting me under huge pressure for most of the match, and I was unable to do the same to him."

Willstrop faces England team-mate Peter Barker in the quarter-finals after the left-hander from London removed the second American in the main draw. Wild card Gilly Lane, from Philadelphia, was 10-6 up in the third game but produced a succession of errors to give Barker a straight-games victory.

World number 77 Lane said: "It was always going to be difficult against a player like Peter and I just got a bit over-excited at the end of that third game. I was pleased with the way I played and it was a wonderful experience to appear on the glass court against such a good player."

Adrian Grant made it three Englishmen in the quarter-finals after beating Indian No.1 Saurav Ghosal 11-8, 11-9, 12-10 and he now faces the prospect of meeting fellow left-hander Amr Shabana, the three-time world champion who was in devastating form as he achieved a lightning-quick victory over Canadian No.1 Shahier Razik.


02-Sep, Round One, Part One:
Ashour leads Egyptian Attack in Chicago
Alan Thatcher in Chicago

The Aon US Open, the first major glass-court tournament of the new season, has a familiar feeling with a dominant Egyptian contingent led by world champion Ramy Ashour.

Ashour powered through his first round clash with 19-year-old English qualifier Adrian Waller, winning 11-2, 11-8, 11-6 inside 23 minutes.

Top seed Ashour was pleased with his first outing on the glass court set up in the open air in downtown Chicago. He said: "This is a fantastic setting for a big squash tournament. After playing the Windy City Open two years ago this is my second visit to Chicago and I love it here. The people are so warm and friendly it's just like being back home in Egypt. I love the architecture of the city and it's a very special place. I enjoyed my match with Adrian and he played very well after making a nervous start."

Ashour's victory clinched a quarter-final tie with fellow Egyptian Wael El Hindi. Number six seed El Hindi also faced a qualifier but was kept on court for 87 minutes by Australian Aaron Frankcomb before winning 11-9, 15-13, 10-12, 11-5 in a match littered with stoppages caused by lets and the early evening sun casting shadows across the court.

Like Ashour, El Hindi is enjoying a love affair with the USA. He is touring professional at the City View Squash Club in Queen's, New York, and is promising to unveil a new Rafa Nadal-style clothing range when he takes to the court against Ashour.

After sporting a plain white T-shirt with the City View emblem, he said: "No, I'm not dropping the sleeveless shirts. I will be wearing a new range against Ramy in the quarter-finals."

The only Egyptian casualty on the open-air glass court was Ashour's brother, Hisham, who was despatched in straight games by Finland's Olli Tuominen.

Australia's former world champion David Palmer made a sluggish start against England's Tom Richards and was clearly feeling the effects of his marathon victory over Spain's Borja Golan in the final of the Colombian Open on Sunday.

Palmer lost the first game against Richards and later admitted: "That was my first glass-court tournament since winning at Canary Wharf in London in March and I struggled to see the ball at all. I wasn't feeling well and I hope I will be OK for the quarter-finals against Olli."

Thursday sees the bottom half of the draw with Americans Julian Illingworth and Gilly Lane taking centre stage against English opponents James Willstrop and Peter Barker, who won last year's Sweet Home Chicago Open against Palmer at the same venue.

01-Sep, Qualifying Finals:
Illingworth flies US flag in Chicago
Alan Thatcher in Chicago

Home hope Julian Illingworth powered into the first round of the Aon US Open Squash Championship in Chicago after beating Ireland's Liam Kenny in the qualifying finals.

Illingworth, from Portland, Oregon, won 11-4, 12-14, 11-7, 11-5 in an absorbing contest lasting 67 minutes to clinch a first round clash with England's James Willstrop, the number seven seed, on Thursday.

Kenny was overwhelmed by Illingworth's high-paced attack in the opening game but fought back strongly to lead throughout the second.

Illingworth clawed his way back to take the game to a tiebreak and held game ball when Kenny struck a volley into the tin. However, the Irishman showed great composure to win the next three points to close out the game 14-12 after some phenomenally brutal rallies.

That enormous effort clearly took its toll on Kenny as Illingworth regained control in the third game, maintaining his form throughout the fourth to clinch his place against Willstrop.

Illingworth knows he faces a tall order in stopping the 6ft 5in Willstrop, who is returning to the PSA World Tour after an ankle operation five months ago.

"I was really happy with how I started the match but I don't really know what happened in the second. I was behind all the way there until I held game ball. I was glad to get it together again in the third and fourth.

"I know James is one of the most talented players in the world so I am expecting a tough match. We did a summer coach camp together in Boulder, Colorado, but I have never played him in a tournament before.

"He was ranked two in the world not so long ago and obviously he has a false ranking at the moment because of his injuries last season. It will be nice to have some home support on the glass court. I might need it!"



Fellow American Chris Gordon failed to join his compatriot in the main draw after falling in straight games to rising English ace Tom Richards, who won 11-6, 11-4, 11-8 victory in 32 minutes to book a first round tie against Australia's David Palmer, who won the Colombian Open in Bogota on Sunday.

The tournament top seed, world champion Ramy Ashour of Egypt, meets English qualifier Adrian Waller, who beat compatriot Joe Lee in straight games.

Aaron Frankcomb, of Australia, beat Martin Knight of New Zealand to book a first round meeting with number six seed Wael El Hindi of Egypt.

The Aon US Open is the only tournament in America to be staged in an open-air setting, and the spectacular surroundings of Pioneer Court in downtown Chicago will be echoing to the sound of the world's leading professionals crashing the ball against the all-glass McWil court throughout the rest of this week.

"We had some tremendous matches in the qualifying competition and now it's down to the serious business in the main draw.

"We had some terrible weather for the tournament last year, with the tail-end of a hurricane disrupting the event, but we are keeping our fingers crossed that today's glorious sunshine lasts for the rest of the week.

"It's good to see Julian Illingworth in the main draw. Last year he lost 11-9 in the fifth to John White in one of the longest matches of the tournament and we all hope that he can produce a major career breakthrough with a victory against James Willstrop."


Tournament Director
Preview:
Egyptians set to dominate
US Open in Chicago

An all-Egyptian final is on the cards in the forthcoming US Open with superstars Ramy Ashour and Amr Shabana - ranked three and four, respectively, in the world - the top two seeds in Chicago.

The $52k US Open is the first major tournament of the new season and will be staged in the open air in Pioneer Court, between Tribune Tower and the Chicago River, from September 02-6.

The stage seems set for the event to celebrate an Egyptian champion for the first time. Reinforcing their national presence, and providing four Egyptian players among the top ten entrants, are Wael El Hindi, the No6 seed, and Ramy's brother Hisham Ashour.

Behind them at No3 in the seedings is Australia's David Palmer, who was runner-up to England's Peter Barker in last year's Sweet Home Chicago Open, the first squash event in North America to be staged in the open-air.

Boston-based Palmer, currently ranked six in the world, is also a former world champion and world No1, which illustrates the tremendous depth of the draw. Palmer won both the US Open and World Open in 2002 and at 33 is still competing at the highest level.

English players have dominated the US Open in the past 15 years, with four victories by Peter Nicol, two by Lee Beachill, and further successes by Nick Matthew and Simon Parke.

Barker, last year's Sweet Home Chicago Open champion, is seeded four - ahead of fellow Englishmen Adrian Grant (5) and James Willstrop (7).

Adding a truly international flavour, Finland's athletic Olli Tuominen is seeded eight, with Egyptian-born Canadian No1 Shahier Razik and Indian No1 Saurav Ghosal also in the draw. All three possess a track record of claiming some big scalps in the early rounds of major competitions.

Another player aiming to make a name for himself is Philadelphia's Gilly Lane, the tournament wild card who will be looking forward to pitting his skills against the best players in the world on home soil.


"James Willstrop could spring a few surprises being seeded as low as he is after a spell out of action following an operation to cure a bone spur on an ankle.

"He is one of the most talented shot-makers in the world and assuming he gets through he will certainly be a dangerous opponent for the top seeds in the quarter-finals onwards.

"Peter Barker is also enjoying his highest ranking of seven in the world and the springboard for his rise up the rankings in the past 12 months was provided by his victories here in Chicago and then in Baltimore, where he also beat David Palmer in the final.

"Egypt is certainly enjoying an incredible spell of ascendancy in squash at the moment, and only last week they won both the boys and girls' titles at the World Junior Open in India.

"They have a wave of young players who are dominating the world junior scene and the great news for the game of Squash is that they all seem to mature into adult professionals who have a wonderful attacking flair which produces brilliant entertainment for spectators."


Tournament Director