DAILY UPDATES

TODAY IN PHILLY | Around the Open
MOHAMED TALKS TO FRAM


"For a game and a half I was outplayed by Shabana completely...at 6/2 down in the second he made three errors and gave me the little hope I can get back into this...I felt I was a bit soft at the beginning of the match and I needed to be aggressive so I can control the emotions I had from becoming world number 1... Shabana length was just unstoppable and I felt nervous and under pressure.

"I still can't believe I am world number 1 now... a lot of people think when you get to world number 1 that you reached the end of the ladder but for me this is just the 1st step of the ladder as I am determined to achieve much more and I am going to be working so much harder because I don't want to just protect my ranking I want to also stretch it from the other players.

"Still, I am not thinking about celebrating, all my thoughts are for the World Championship in few weeks as I am not going to let that title slip away from me this year.


"So happy I had my mum with me witnessing this moment and of course I wish my dad and brother were there too.

"I would like to thank the University of the West of England for their support to me for the past 5 years. Also I want to thank Tecnifibre for their huge support as they have been such a great family to me for the past 8 years....I want to also thank my new sponsor Rowe for supporting me so I want to thank Michael Zehe and Peter Schmidl.

"At last but not least, this is the last month for Claudia working for PSA and I told her before this tournament that I really want to become world number 1 before she leaves and I am glad I did...I wish her all the best and we will all really miss her as she has been so great to us.


PREVIEWS & NEWS
CATCHING UP WITH ...
PREVIOUS U.S. OPENS
FULL COVERAGE
USOpenSquash.com
Full coverage:


USOpenSquash.com

Men's Final highlights

Women's Final highlights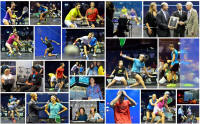 PHOTO GALLERIES

SEMIS | FINALS
Day SEVEN | Day EIGHT
Day FIVE | Day SIX
Day THREE | Day FOUR
Day TWO | Day ONE | Buildup