England are the Champions in Canada

Appearing in their eleventh straight final, England won their seventh Women's World Team title with a 2-1 victory over Malaysia.

Sarah-Jane Perry got England off to a great start with a 3-0 win but world number one Nicol David responded to set up a decider, which Alison Waters took in four games to give England the title - their first since Edmonton 2006, also in Canada.
FINAL: England 2-1 Malaysia

#3: Sarah-Jane Perry 3-0 Delia Arnold 11-8, 11-9, 11-7 (44m)
#1: Laura Massaro 0-3 Nicol David 8-11, 9-11, 3-11 (44m)
#2: Alison Waters 3-1 Low Wee Wern 11-8, 11-7, 8-11, 11-4 (69m)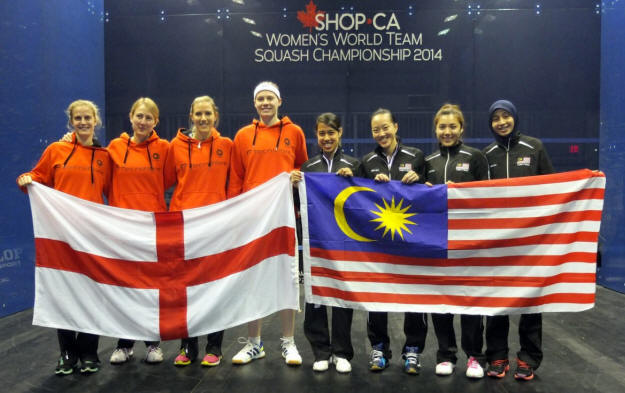 Sarah-Jane so tough


Ok, despite the fact they never played officially, we had the feeling that those two probably won't spend their Christmas break together! They have got such different styles. Sarah Jane, she hits as hard as it's physically possible, then finds lovely drop shots in the front corners, and like to play as fast as possible. Delia, she moves between points in slow motion, loves her lob serves and loves to slow down the pace to frustrate her opponent.

Add to that a little traffic problem on the left side in particular, and you have a bit of a scrappy game, a few too many lets, a bit too much talking to the ref in my taste from Sarah Jane, but nothing too bad really.

Sarah Jane earned her point for the team. She worked extremely hard for it, hit and run and hit and run. In the three games, the middle bit was very close indeed, with SJ dominating the start of the first two while Delila dominated the third. Middle bit, very close, but as SJ said, she managed to get that extra bit at the end of each game. And that each time made the difference.

Job done. England 1, Malaysia 0.
'Nicolawy' relentlessly

Apparently, Nicol never lost a match while playing for Malaysia in the World Team ever. And the way she was happily chatting before the match was an indicator how relaxed and confident she was.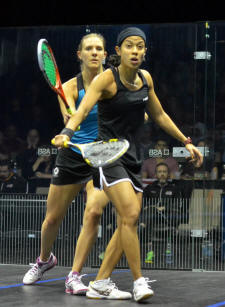 Today, she gave a superb display of her physical abilities in the first two games, while Laura was in front of her, playing superb squash. Nicol just retrieved and straightened Laura shots again and again, and again, to finally or pressure an error out of Laura, or find a perfect Egyptian finish at the front.

And in the third, she finally managed to get in front of Laura, rallies became shorter (15m 1st, 14m 2nd, 10m 3rd), Laura made a few more errors, and Nicolawy found superb winners – told you yesterday about adding an Egyptian layer to her game!

If the 3/0 victory makes you think that it was easy, you are gravely mistaken. First, hardly any errors from the girls. Laura made 5 errors the whole match, Nicol 3.

First game very close 4/4, 5/5, 7/7, 8/8. There, a little discussion where Nicol asks for a let. "you could have got round to get the ball" says Ref to explain the let (at opposed to stroke). "Exactly" confirms Laura. Then keeps on talking to Nicol. Whatever she said could have fired the Tiger in Nicol. She scores the next three points, last one being a stunning rallies where Laura attacked beautifully, and Nicol run and retrieved, finishing by a super crosscourt that surprised the English lady.

Second pretty much the same, 3/3, 5/5, 6/6, 7/7, 9/7 Laura, 9/9, superb rallies to finish the game, two points in a row for Nicolawy, a superb backhand slide to finish.

The third will be all about Nicol, 7/1, 8/2, 10/3 match ball, 11/9.

England 1, Malaysia 1.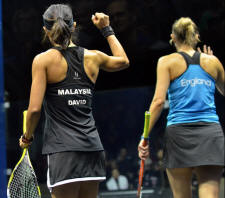 I'm so pleased with my performance today. Beating Laura is never easy, I had to dig deep, and beating Laura 3/0 is a great result. So glad I brought a point to the team, it was such a wonderful feeling to be in the final, it was a dream for us.

Today, Delia did a great match, Sarah Jane is such a competitor, but it was a good effort for Delia.

After her match yesterday, Alison came out firing, and didn't make the errors she played yesterday. And on the other hand, WW managed to find her groove in the middle of each game, but Alison was able to seize the opportunity and did a great match.

Wee Wern no doubt fought all the way, and didn't give an inch. We all did as well as we could today, and there is always more to come.

Well done England.



Alison, perfect game plan

I always get in trouble when I dare say that one of the players was tired. Well, sue me. When the general consensus around was that Malaysia would be carried to the top of the podium, I declared "England will surprise you", knowing that yesterday's match would have taken far too much out of WW.


And if people expected Alison to fail and play the way she did in the semis, they were bitterly disappointed. Alison, fresh as a rose from her 43m match the day before against Joey Chan, was ready to take on anybody I believe. Her body language was completely different from yesterday's. No kicking the ball around like a football – that is I'm told the sign she is lost on there. Alison was ready for war.

Against her, Wee Wern had a superb 86m match against Miracle Girl Nour, who in that occasion, showed she was 19. Yeah, she is… A bit of inexperience on there, coupled with the best match WW produced ever, you have an upset on the day, but also a lot of drained energy, both physical and mental out of the Malaysian.

In other words, WW was flat as a Chinese Pancake.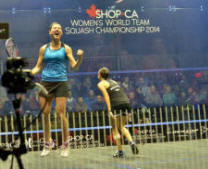 Don't misunderstand me. Alison did what she had to do, and it worked. She powered every single shot in the first two games. Hammered that ball, and again, and again, twisting and turning WW as humanely possible. First game she was up 5/1, 6/2, and if WW claws back to 8/8, she just doesn't have the legs solid enough, two tins plus a big acceleration from Alison, 11/5 in 15m. Second, again a good start from Alison, 3/1, then always a little cushion, 9/5, 11/7 in 11m.

At 6/4 in the third, Alison relaxed and lost her game plan for a little split second. And until the end of that third, WW was the player she was yesterday. Flying on the court, moving very well indeed, she managed to outplay Alison, and squash wise, it was from far the nicest game of the match, the rallies superb and intense.


This has been an amazing event from every point of view and thanks to Squash Canada for doing such a great job.

A massive congratulations to Malaysia for what they've achieved this week – it was a great final
There's been an unbelievable team spirit in the England camp this week – and I honestly believe that's what's made the difference

And without the support of Sport England and the English Institute of Sport (EIS), this would not have been possible.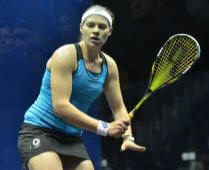 Yesterday, I did my best and made sure I got the job done, but I knew that I had to improve today. And I think I managed to do just that.

I'm happy I managed to find that little extra gear at the end of each game to give the girl that extra boost…

Really had a great week here in WhiteOaks, and we in particular enjoyed having everything in the same place….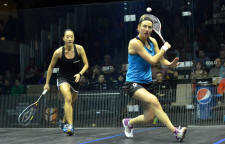 Malaysia did a fabulous job yesterday beating Egypt in the semis, and after her performance against Nour el Sherbini, she was a bit tired today.

The last time we won was here in Canada, in 2006…. What a wonderful feeling!!!!!

I had to put yesterday behind me, and just enjoy my squash, just enjoy the moment, and the team has been fantastic. So is the support we have, England Squash, all the team here and back home, huge effort from everybody. It's important to stress that without the support we get, we wouldn't have a chance to be here.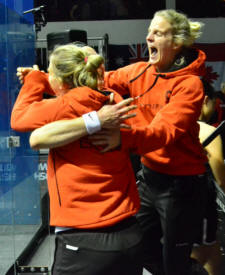 No, not heartbroken at all, being in the final is a fantastic achievement - this is a very special moment for us. It has made us believe we can win. I am very proud of our team, so proud of the girls, and as a player myself, who played in those matches so many times, it's a great feeling to experience this as a manager!

England is such a strong team of course. I thought my girls had a chance today, but Alison took all the opportunities, well played to her. Wee Wern never gave up, but Alison was very calm.

I think that Malaysia is proud of us today, and we will win it in two years time!


Congratulations to England for their win and to Squash Canada for hosting such a great championship. The event has showed that women's squash is fantastic