01-JUl, Finals:

[1] Steve Coppinger 3-1 [2] Thoboki Mohohlo 11-6, 10-12, 11-4, 11-3

[2] Milnay Louw 3-0 [1] Siyoli Lusaseni 11-4, 12-10, 11-6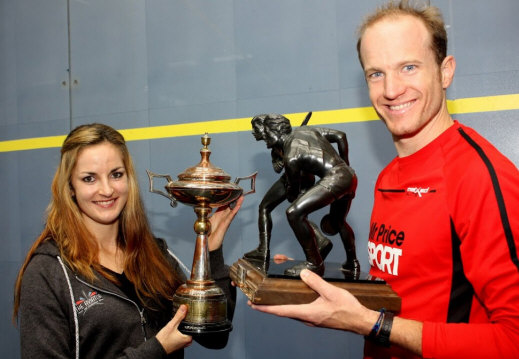 Coppinger and Louw takes the titles

Defending champion Steve Coppinger and Milnay Louw, the second seed, walked off with the trophies when the finals of the S A National Squash Championships were played at the wanderers Squash Club this evening.


It took Coppinger 50 minutes to subdue some spirited play from second seeded Thoboki Mohohlo. The first game lasting only 11 minutes, saw both players testing the waters. Points were level until 6-all with Coppinger then turning up the pressure rattling off 5 consecutive points to take the game 11-6. The talented Mohohlo took the initiative in the second game leading 9-4 before Coppinger turned up the pressure and levelled at 9-all . Mohohlo eventually clinched the game on his second game ball 12-10.

The next two games were one way traffic with Coppinger making use of accurate adept placings which had Mohohlo scurrying around the court to little avail notching 4 points in the third game and 3 in the second.


In the women's final Louw who has been in dominant form all week allowed the top seed , Waters, no latitude. Forcing the pace from the first rally Lou put Waters under pressure which resulted in a string of unforced errors. The second game had Louw run up a 6-3 lead before Waters found a better length and pace and fought back to trail 5-6 . Hard fought rallies followed but again waters made unforced errors and it wa sLOuw who won the game 12-10. Louw's accurate length and pace forced Waters into more errors as Louw pocketed the next five ponts to take her first National title on her first match point.

30-Jun, Semis:

1- Steve Coppinger (KZN) bt 3/4 Rodney Durbach (WP) 11-6 11-3 11-4
2-Thoboki Mohohlo (CG) bt 9/16 Devon Hendrikse 11-4 11-3 8-11 11-8

1- Siyoli Waters (WP) bt 5/8 Elani Landman (CG) 11-6 6-11 13-11 11-4
2- Milnay Louw (N) bt 3/4 Cheyna Tucker (CG) 8-11 11-13 11-9 12-10 11-9

Based in Orlando , USA Steve Coppinger, the top seed, moved a step closer to capturing his eighth SA men's national squash crown when he outplayed 3/4 seeded Rodney Durbach in straight games, 11-6 11-3 11-4, in the semi-final played this evening (Thursday) at the Wanderers Club, Johannesburg.

Despite some entertaining rallies when Durbach went for broke Coppinger, his former pupil, now ranked 24 in the world, has lifted his game a number of notches higher. Coppinger's speed, accuracy and deep drives left Durbach with no answers.

In the final Coppinger will face Thoboki Mohohlo, the young Turk, who will play in his first national senior final. Mohohlo raced through the first two games 11-4 11-3 in his semi-final encounter with Devon Hendrikse who had caused an upset in the quarter finals, by ousting Christo Potgieter , the third/fourth seed. Mohohlo took a commanding 8-5 lead in the third game before Hendrikse gradually gained control . Playing harder, deeper drives he rolled off six consecutive points to take the game 11-8. Points seesawed in the fourth game until 7-all when Hendrikse seemed to run out of steam , made a number unforced errors allowing Thoboki to close in on the match at 11-8.

In contrast with the men's semi-finals the women's matches provided a number of fireworks.

Second seeded Milnay Louw, winner of the recent Western Province Open pulled out all the stops to edge through against ¾ th seeded Cheyna Tucker in 66 minutes.

With both players playing positive attacking squash and moving fluidly, points were hard earned as the score line edged towards 8-all. Louw broke two rackets in the space of a few minutes allowing Tucker to take the game 11-8. The second game followed a similar pattern with long hard rallies but at 7-all the players were not moving so easily and a number of lets ensued. Louw had game points at 10-9 and 11-10 but could not close off. Tucker equalled matters at 11-all winning the game 13-11 to lead by two games to love.

In the third game using accurate placings and deceptive cross courts ,Tucker moved to a 9-6 lead - only 2 points away from victory- to put her in her second consecutive final but she lost focus after a call from the referee which surprised her and Louw won 5 consecutive points to put herself back in the match and trail by 1 game to two.

Despite a number of unforced errors in the fourth game Tucker held match point at 10-9 but Louw clawed back to 10 all and pocketed the game 12-10. A fairly despondent Tucker saw Louw led 6-1 before bouncing back to level at 6 points all but it was Louw who after a number of let situations kept her focus and won the game and the match at 11-7.

The second women's semi final was also a hard hitting battle between two fit and agile athletes. Top seeded Siyoli Waters winner in 2013 and 2014 unleashed some hard attacking drives racing through the first game 11-6 in 5 minutes. Elani Landman , who had defeated ¾ seed Alex Fuller in the quarterfinals started off the second game in feisty fashion powering her way to a 9-1 lead , eventually winning 11-6 . The third game was a topsy turvy affair with waters completely in command running up a 10-4 lead only to see Landman turn the tables save 6 consecutive game points and level at 10 points all. Landman held game ball at 11-10 but Waters called on her experience winning the game 13-11.

Accurate placings moving her opponent all around the caught gave Waters the edge as she won the fourth game 11-4 and secure her place in her third final which is a repeat of 2014 when Waters emerged victorious by 3 games to 1.


29-Jun, Quarters:
Top seeds through to semis

The top seeds in both the men's and women's sections of the S A National Squash Championships – Steve Coppinger, Thoboki Mohohlo, Siyoli Waters and Milnay Louw – moved confidently into the semi-finals when the quarterfinals were completed at the Wanderers Squash Club this evening.

Defending champion Coppinger, seeking his 8th title, raced through the first game 9-2 against Gary Wheadon and took the second fairly comfortably 11-6. In the third game Wheadon found a better length leading 3-1 and 6-3 but Coppinger, ranked 24 in the world, regained control and pocketed the game 11-9 to set up a semi-final clash with his South African coach Rodney Durbach.

Durbach was given the run around by Easterns player Dylan Groenewald, who was celebrating his 21st birthday. Groenewald had caused a minor upset in the second round when he accounted for 5/8 seed JP Brits in 5 tough games. Durbach won the first game 11-9 and led 4-1 in the second before some cleverly placed shots from Groenewald , had him making errors and Groenewald levelled matters at 1 game all. Durbach ran up a 8-3 lead in the third before Groenewald started playing more attacking squash, moving Durbach all around the court and taking the lead at 9-8 and then the game 11-9.

The fourth game followed a similar pattern with Durbach racing to 8-3 but again the talented Groenewald played his way back into the match to trail 5-9 and the 8-9. Durbach was forced to call on all his experience to win the next 2 points and the match at 11-9.

5/8 seed Devon Hendrikse (CG) caused the surprise when a highly entertaining, hard fought encounter he ousted 3/4 seed Christo Potgieter in 4 games. Mercurial Potgieter annexed the first game 11-6. Played at a furious pace with both players covering the court at an amazing rate, Hendricks levelled the score at 9-all and won the next 2 points to take the game 11-9. Potgieter took the lead in the third game only to see Hendrikse level at 6-all and rattle off the next 5 points and the game 11-6.

Longer slower rallies, tight wall hugging drives dominated the fourth game with Potgieter leading 3-1, 5-3 and 7-5 but Hendrikse equalled the score at each stage eventually clinching the match at 11-9 and take his place for the first time in a senior national semi-final.

The final men's match of the evening saw second seed Mohohlo in complete control against 5/8 seed Andrew Martin. Mohohlo needed 29 minutes to subdue his opponent 11-9 11-1 11-6.

Waters , winner in 2013 and 2014, registered a straight game win over Makgosi Peloakgosi (Northerns) but not overawed by her first appearance in the Senior quarterfinals, Peloakgosi unleashed some hard tight drives and cunning drops which had Waters on the run.

Waters now meets former UJ student Elani Landman, seeded 5/8, who caused the upset defeating defending champion Alexandra Fuller in a tough four games encounter. Fuller won the first game 11-9 in 9 minutes. Points seesawed in the second game before Landman won it on her first game point also at 11-9.

The third game was one way traffic as Landman marched through at 11-4. Returning to the court after the compulsory break a determined Fuller cruised to an 8-1 lead. Landman moved her game up a gear and won 10 consecutive points to pocket the match and a place in her first senior national semi-final

Landman's twin Lume, also seeded 5/8 and the winner of a recent tournament in Reunion, had no answers for last year's runner-up Cheyna Tucker, bowing out in straight games 6-11, 9-11 and 6-11.

Second seed Milnay Louw was always in command in her win over Alexa Pienaar also winning in straight games.

Quarter-Final Results:
1- Steve Coppinger bt 5/8 Gary Wheadon 11-2 11-6 11-9
3/4 Rodney Durbach bt 9/16 Dylan Groenewald 11-9 8-11 11-9 11-9 11-9
5/8 Devon Hendrikse bt 3/4 Christo Potgieter 6-11 11-9 11-6 11-9
2- Thoboki Mohohlo bt 5/8 Andrew Martin 11-9 11-1 11-6

Women:
1- Siyoli Waters bt 9/12 Makgosi Peloakgosi 11-7 11-9 11-2
5/8 Elani Landman bt 3/4 Alexandra Fuller 11-9 8-11 11-4 -8
3/4 Cheyna Tucker bt 5/8 Lume Landman 11-6 11-9 11-6
2- Milnay Louw bt 5/8 Alexa Pienaar 11-2 11-5 11-5

28-Jun:
Top seeds through to quarters in Johannesburg
The top seeds in both the men's and women's sections of the SA National Squash Championships had little trouble in moving through to the quarterfinals after the second round was played at the Wanderers Squash Club this evening.

Top seeded Steve Coppinger, looking for his 8th title in 10 years, coasted through in straight games against UJ student Ruan Olivier while second seed, Thoboki Mohohlo accounted for Jacques Kruger of Northerns also in 3 games .

Easterns Dylan Groenewald caused an upset when in a 66 minute struggle he outplayed 5/8 seed J P Brits winning though 12-10 8-11 11-9 5-11 11-8 to enter his first quarterfinal of the senior championships.

A similar pattern followed in the women's section with top seed Siyoli Waters dropping only 3 points against Megan Page of Northerns while Milnay Louw , the second seed, pceted the firts game 11-9 against Muichelle Kohne (CG) but thereafter took command dropping only 2 furtehr points.

All the quarterfinals will be palyed on the ll glass court on Wednesday afternoon starting at 16.00.
Results : Men: 2nd Round:
1- Steve Coppinger (KZN) bt 9/16 Ruan Olivier (N) 11-1 11-3 11-4
5/8 Gary Wheadon (WP) bt 9/16 Alwyn Venter (NW) 13-11 11-4 11-4
9/16 Dylan Groenewald (E) bt 5/8 JP Brits (Limpopo) 12-10 8-11 11-9 5-11 11-8
3/4 Rodney Durbach (WP) bt 9/16 Jimmy Schlebusch(NW) 11-4 11-9 11-3
3/4 Christo Potgieter (NW) bt 9/16 Zuko Kubukeli (WP) 11-8 11-7 11-7 5/8
Devon Hendrikse (CG) bt 9/16 Kyle Maree(CG) 12-10 7-11 11-6 11-8 5/8 Andrew Martin bt 9/16 Sheldon Erasmus 15-13 11-7 11-5
2 Thoboki Mohohlo bt 9/16 Jacques Kruger 11-4 11-2 11-7

Women:
1 Siyoli Waters (WP) bt 13/16 Megan Page (N) 11-1 11-1 11-1
9/12 Makgosi Pelaokgosi (N) bt 5/8 Christine Ferreira (N) 1-4 9-11 12-10 11-8
5/8 Elani Landman (CG) bt 9/12 Cara Fourie (N) 11-7 11-3 11-7
3/4 Alex Fuller (WP) bt 13/16 Barbara Vintcent (WP)11-2 11-6 11-2
3/4 Cheyna Tucker (CG) bt Tayla Diepenbroek (CG) 11-2 11-1 11-5
5/8 Lume Landman (CG) bt 9/12 Karen Schultz (WP) 11-7 7-11 11-5 11-3
5/8 Alexa Pienaar (SWD) bt Sacha West (WP) 11-3 11-4 11-4
2 Milnay Louw (WP) bt 13/16 Michelle Kohne (CG)11-9 11-0 11-2