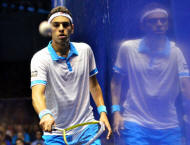 " It was such a brutal match...we both gave it everything we had ... I had a chance to go 2/0 up and another chance when I was leading in the 4th too but he kept coming back at me and never gave up.

There is something that I really appreciate about Nick that he always believe whatever happens on court stays on court..for people who watched they would think we both hate each other because of how agressive both of us we are at each other but in fact that's how squash matches should be played we both fight each other and once the match is finished everything stays on court ...




You have to be aggressive we don't come to squash tournaments to be nice on court or to make friends we come to win squash matches and that's what we both tried to do today and there is nothing mean about that...we both have a lot of respect for each other once this fight was done you could see in our eyes the appreciation we have and the respect that we both got the best out of each other.

I have grown up watching him play and for me he is the most clever squash player I have seen out of his generation ... he is truly one of a kind and the way he fought today was inspirational to me and I will remember it for the rest of my career.

Really want to thank Hadrian for being with me during this week and for the work he does with me in Bristol.

My season is done now and it's been a very interesting one...I have to be happy with it but I know that I am very close to that world Number one spot now and I know that my summer training will be very hard for it"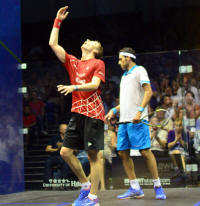 [1] Nick Matthew (Eng) 3-2 [4] Mohamed Elshorbagy (Egy) 4-11, 14-12, 3-11, 11-7, 11-8 ((104m)
NICK: GUTS, ADRENALINE AND WILLPOWER

To be fair, when Mohamed took the first game, and the way Nick looked, drained, white as snow, and a bit sluggish, we thought that we were on for a quicky.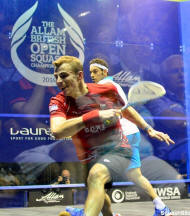 WRONG.

First game, Shorbagy wheezes through 11/4, but still took 12m to do so. He was so fast and offensive, Nick didnít react and like I said, looked out of the British Open.

A truly amazing massive game, hard work doesnít start rendering it justice, both players having their go, a bit of block here, Nick going ďthere is one player blocking, one player trying to play the ballĒ, a little double bounce there, Iím told (couldnít see it myself), another cracker from Nick after a no let three times for the same situation that looked like a stroke for the rest of us ďif I hit him in that position, is that point for me? Yes says the ref. Nooooooo goes MohamedÖ

All happening.


5/1 for Nick, 6/6, 7/7, Mohamed goes up 9/7, kindly playing two tins, 9/9. 10/9, game ball Nick, Mohamed saves it with a huge winner, shouting in Nickís ear. Nick get another game ball at 11/10, and render the favour by shouting in his face.

Testosterone running full blast!!!

Digging in, fighting his way through thanks to intravenous drip of adrenalin, Nick clinches it 14/12, in 33 minutes.

Nick catches his breath in the 3rd, 11/3 in 7m, the shortest game of the match.

Fourth, it could be the end. Yeah right. M Matthew is on the Playing-in-front-of-my crowd Drip again, and dominates the game against a Baggy that looks as white as Nick did in the 1st, 11/7 in 15m.

The fifth, surely, SURELY Nick is going to fold and die gracefully. Or is he? Absolutely not. Shorgagy is beaten. Fighting, yes he is. But itís a lost one. From 2/2, Nick goes from strength to strength, 4/2 8/3, 10/7, and on a tin, Mohamed bows to the Will King, 11/8.

I would have never ever ever ever ever put a penny on Nick today. Ill the whole week, having received physio treatment in his match against Fares, I had all my money on Shorbagy.

Thank Heaven Iím not a betting woman.
Please people, just give another round of applause while I get my breath back!!

"I was running on fumes for the last two hours of that match, and it only lasted an hour and a half!

The pace was relentless, it was a bit of a blur and Iím really lucky to get it in the end.

I think that both of us could have played a little bit better, it got a little bit scrappy at times, a little bit edgy . We both hit the wall at times. In terms of the mental effort, it was up there. There are different ways to win.

I mentioned experience before and I used my experience in the end especially considering the topsy-turvy week that I had, it summed my week up perfectly. In terms of mental effort, it was up there from me. Thereís different ways to win, you have to find that way sometime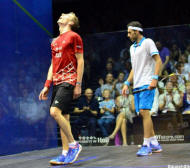 Before I knew it I got it back to 4-4 in that [fifth] game. That was probably a little bit of a turning point and it was down to how I responded there because I knew that he would come back. He did but I just managed to win it. Maybe he just saw that finish line and, as good as he is, I've probably got a little bit more experience than him.

I would have signed for a tough semi-final 48 hours ago when I was ill. Beggars can't be choosers. I've recovered from such matches before. You have a lot of time to recover if you lose but I'd rather be recovering for a match. I've got a physio here who helps me.

I just have to focus on my recovery. The crowd were amazing today, they were very supportive. And I just hope they all turn up tomorrow.