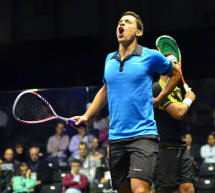 He is such a great player, everybody knows Karim Darwish, and to beat a legend like him is huge. I dreamed of these moments when I was young and now, it's happening…

In the 3rd and 4th, Karim changed his plan, and made the ball very cold, and it was very hard for me to pick up his shots, especially on the glass court. [no, he didn't change his game plan, you just lost your length completely!!!, note from Fram] So when I came back in the 5th, I changed my tactics, and hit very hard in the back corners to make the ball bouncier.

My focus was up and down in that last game, but the end, I played two nice shots, and got to 10/8, but he played a great shot, but I was very lucky that he tinned the next one. Because Karim has got so much experience, he has seen it all, done it all, and he can come back from any situation. I am truly lucky.

This is the biggest win in my career, and I want to thank my mum and dad, my two brothers, my fitness coach Waleed, my coaches Mohamed Elkeiy and Mohamed Mosaad.

Hopefully I can play well in my match against Nick Matthew, the Legend, I have been looking up to him since I'm very young, and I want to be like him.


[Q] Fares Dessouki (Egy) 3-2 [8] Karim Darwish (Egy) 12-10, 11-6, 2-11, 2-11, 11-9 (62m)
LA RELEVE EST LA…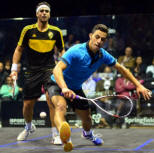 or "Change of the Guard".

Sorry Karim. I know you are not happy reading this. Et je suis désolée. But that's what it looked like tonight.

Thank God Fares reminded us at times he is only 19, by going for stupid shots once in a while, or completely losing the plot and his length for two games, but he also showed that the Future of Squash is in good hands. And now that Karim is going to get full time at the job at Wadi Degla, probably the biggest chain of Sports Club in Cairo/Egypt, he can beat happy knowing that Egypt will probably still rule the world for another 10 years, at least.

What a maturity Fares showed today. Because he beat the Great Karim. It reminded me the Worlds in Qatar, when Mohamed beat him. I told him then, "Mohamed a battu le Grand Karim", "Mohamed beat the Great Karim" because like then, Karim played out of his skin, talent and experience tonight. And it only came down to one tin. One little tin at 9/10 in the 5th.

First game, Fares is outplayed to start with, 5/1 for Karim. Fares changes his tactic, and just hit deeper and harder, twisting Karim a lot. It worked. 5/5, 6/6, then 8/6. But Karim knows the drill, and he comes back, 9/9. Some amazing astonishing rallies there, a few lets, but it's the young man that takes it on his second game ball, 12/10.

The second, Karim looks tired to be honest, and Fares is able to impose his game more freely. From 2/5 down, he'll score 7 points, and takes the game 11/6.

Game over? Naaaaa, Karim like the first day, is keeping us up (you are forgiven). He just plays some of his best ever squash, and just rolls his young opponent into white flour, 11/2, 11/2, 11m for the two games!!! Thanks for coming, Fares, and next time you play a Legend like Karim Darwish, don't go and give him easy shots at the front by losing your length completely, mate.

But that's where Fares shows how great player he is going to become soon. Without any coaching – two Egyptians, so no coaching – he reassesses the situation, and just starts playing the game that got him to lead 2/0. And it works to certain point. Cause in front, we still have Karim Darwish the Great, that just won't go away. That want to live another quarter of the British Open, who HATES losing.


So the match starts all over again. 1/1. 2/2. 3/3. 6/6. 7/7. 8/8. Two superb shots for the contender, that get two no lets. 10/8 match ball. A stunning long drop shot at the end of a gruelling rally, 9/10. But Karim, just a bit too eager, will find the tin in a very short rally, ending the match.

Fares doesn't go wild, doesn't celebrate, just savours the moment. He just beat one of his idols. And he is in the quarters of the British Open.

Doesn't get much better than that.