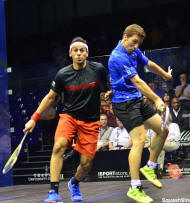 Mathieu is such an amazing player, and he is going to make it, because he is so strong mentally. All credit to him. Actually, I would like to congratulate the French team, with their coach Renan Lavigne, they have improved so much recently, there is a lot of hard work that came into it. So itís only logical they get good results at the end of the season. Well done to Mathieu, and also Grťgoire, that had a great match yesterday against Shabana.

Before the match, I had a game plan, to make the first game as long and as difficult as possible, because I knew he had a few hours of squash in the legs. But the plan failed as he kept running and running and actually played better in the second game than he did in the first!!! And by the time I realised that I had to change my game plan, I had lost the second game!!

So in the 3rd and 4th, I had to adjust my squash and went for it, forget about the ďmake it longĒ plan, just go for it!

But the turning points of the match are in the 3rd and 4th, at 8/6, where I got those two points cushions from 6/6. And I just didnít let them go. Thatís where the match was played. 8/6 on the 3rd and 4th.

Iím actually happy I made a hard game, because it fired my legs, I was a bit slow on court to start with and my backhand was not working as well as I expected. Now it comes down to the last four players, they are logically the hardest to beatÖ.

Jonah Barrington has won this title six times. All I want to do at the moment is win one, and put my name of the trophy.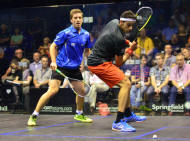 [4] Mohamed Elshorbagy (Egy) 3-1 Mathieu Castagnet (Fra) 11-7, 9-11, 11-6, 11-6 (57m)
ICEMAN IN THE ZONEÖ

I have seen my compatriot play for 10 years now. I saw him as the only thing he could do was run. And run. And run. And little by little, I saw his game evolve. Like Peter Barker, he added a few layers to his game, and now mixes a super physical strength with a lovely attacking game (backhand volley in particular) doubled with a dangerous redrop ability that really put Shorbagy under tremendous pressure, both mentally and physically.

You add to that the fact he doesnít have an ounce of nastiness, or anger, or aggression in his body, he never gets angry at the ref, doesnít push, doesnít argue: he just keeps on playing, hence his nickname, the IceManÖ.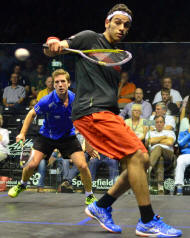 Cut to Paderborn in October 2009. Decider in the semis between France and Egypt. Against all odds, Mathieu is leaving 2 game and 7/4 up against Shorbagy, already ranked much higher than him. Mohamed came back to give his country the place in the final, that led to the title when James bowed to Karim for the first time ever. Canít forget moments like that, they are engraved in my head.

Since then, I think Mohamed and Mathieu have developed a real respect for each other. And I think that Mohamed was dreading this encounter. Remember one thing. Mohamed is here for one thing, and one thing only. To win the title. And for him, matches are like energy hurdles. He sees his opponents like people that are going take energy away from him for the finalÖ

So when the match started, Mohamed was stressed. And Mathieu wasnítÖ

First game went Mohamedís way, but Mathieu already surprising me by the speed he displayed to start with. He matched Mohamed up to 3/3, a bit of a drop of energy (I was not surprised!) for a few points, a few tins, then gets his second wind at3/7. Now itís Mohamedís turn to be a bit tired (heíll make 4 errors in this game, same number for Mathieu), but Mohamedís got the shots and uses them, 11/7.

The second is a bit of a wake up call for Shorbagy. 3/0 for Mathieu. Ah. The game plan, trying to make the Frenchman tired didnít work at all. He is a fresh as a French rose my Mathieu is, and will keep not only retrieve the shots that Mohamed is banging all over the court, but also counterattacking and volleying superbly.

The Egyptian hangs in there, and itís all level, 5/5. Mathieu another push, 7/5, 8/6, and 10/7! It will take three game balls for the French to get it, but he does on a no let, 11/9, games are one all.

The third is probably the most beautiful game wise. Yes, score is less close, but the squash from Mathieu was something I never saw him play before. And Mr IceMan (because he never shows any kind of anger or nastiness) is playing the match of his life.

But like Mohamed stressed in him aftermatch interview, both the 3rd and 4th went to 8/6, and thatís the crunch time. Mohamed hanged to that cushion and made sure Mathieu wouldnít come back. Mathieu didnít score another point in either gameÖ

A very intense match, truly. The score/time doesnít start to reflect the quality, sportsmanship, respect, intensity, ridiculous squash that went on on there.

Bien jouť les petitsÖ.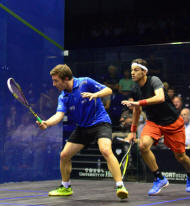 I felt super great on the court today, and thatís all credit to my fitness coach Arnaud Hays. With Renan, they really made me work very hard for 5 weeks in view of the Europeans and the British Open, because we knew that a top 20 ranking was possible. I worked very hard, but after that, I felt like a machine!!!

Today, not too unhappy with the first two games, but to be able to compete with Mohamed, I have to cover so much more ground than he does! So I got a bit tired at the end, went too quickly to the front, and made too many errors.

Just a word about Mohamed, all credit to him and the way he played today, I could feel he was a bit stressed to start with but he is in an ascension phase, going I hope for him to world number 1 and World Champion. And itís such a pleasure to see him play.