29-Mar-05:
Lincou prepares for Bermuda


Thierry Lincou was this past week preparing for Bermuda with Paul Sciberras, one of his two coaches in Lyon, France. One of my spies, Patrick Noirot, from the Bad's Club in Lyon, had the opportunity of chatting a few minutes with them...

"I feel good, I really feel very good. From both a technical and a physical viewpoint, this week has been very beneficial.

"The draw is very hard! I'm a bit lucky, as I'm playing the final qualifier, a local player. In the second round, I should play Amr Shabana, although a victory by Renan is possible, which I hope for him! And then, if logic is respected, it should be Power in the quarters …"

Thierry Lincou
"Thierry is very surprising for several reasons:

"The specific test he just took shows that he is still improving, and in a beautiful fashion. He is quicker and quicker, and can maintain his speed better (what a superb fluidity he's got…). He is still as rigorous as ever in his training, and he has polished his specific work. I found him in very good form, mentally and physically. Our preparation was more focused around a specific mental management. (a technical management of his regular combativeness).

"As there are not so many big tournaments on the circuit, players treat the Bermuda Masters a bit as they would a World Championship. And if Thierry can relax and let go, he should be able to play a top game. His goal is at least the semi-finals."

Paul Sciberras
MAIN DRAW
SquashSite will be bringing you full coverage from Bermuda, with Framboise
on site for the duration ...
VIRTUAL SPECTATOR BERMUDA MASTERS 2005

The Virtual Spectator Bermuda Masters 2005 is a 32 draw professional men's squash tournament also known as the PSA Masters.



The event is licensed by the PSA to the Bermuda Squash Racquets Association (BSRA) as the first tournament in the biggest deal in the history of the sport.

The BSRA signed a contract with the PSA to host the PSA Masters 2005, 2006 and the World Open in 2007, guaranteeing minimum prize money of $350,000 for the three events.

In addition to the PSA Masters, The Virtual Spectator Bermuda Masters 2005 will include an amateur graded event and the Bank of Bermuda Foundation Junior Open. The United States Racquets Association (USSRA) has sanctioned both the junior and graded events, allowing its members the opportunity to earn ranking points on foreign soil.



Photo by Fritz Borchert
Photo by Fritz Borchert


BERMUDA


One of the most isolated and beautiful places on earth, Bermuda is approximately 650 miles off the coast of North Carolina, and just over 3,000 miles from London, England. In travel time, Bermuda is just over two hours from most East Coast gateways, two and a half hours from Toronto, Canada and six hours from London.

Bermuda had been on the map for over a century before it was finally settled. It was the near tragic wreck in 1609 of the ship "Sea Venture" on its way to rescue the struggling colony in Jamestown, Virginia, that led to the eventual colonization of Bermuda. In 1612 the first true settlers arrived. To some it seemed a paradise and so it remained for more than 375 years.


Photo by Fritz Borchert
RESULTS:
Fast Forward Freight National Squash Championships 2005
February 19 - 26

1st Round:
[1] Nick Kyme bt Edwin Wickham walkover
[6] Richard Brewer bt Alisatir McNeish 11-4, 11-9, 11-5 (18m)
[5] Stephen Smith bt Chris Thornton 11-6, 11-9, 11-4 (20m)
[4] Anthony White bt Derek Sickling 9-11, 11-8, 7-11, 11-4, 11-3 (26m)
Colin Alexander bt [8] Jan Brewer
8-11, 11-9, 11-8, 11-5 (26m)
[7] John Stout bt Tony Prentice
11-2, 11-10 (2-0), 11-5 (25m)
[3] Mel Caines bt Graham Counsell 11-6, 11-1, 11-8 (16m)
[2] James Stout bt Rob Hopping
11-4, 11-0, 11-0 (15m)

Quarter-finals:
[1] Nick Kyme bt Colin Alexander
11-0, 11-2, 11-0 (13m)
[4] Anthony White bt [7] John Stout 11-5, 11-9, 11-3 (25m)
[3] Mel Caines bt [5] Stephen Smith 11-2, 11-1, 11-5 (22m)
[2] James Stout bt [6] Richard Brewer 11-3, 11-5, 11-5 (19m)

Semi-finals:
[1] Nick Kyme bt [4] Anthony White 11-0, 11-0, 11-0 (15m)
[2] James Stout bt [3] Mel Caines
11-5, 11-7, 11-4 (25m)

Final:
[1] Nick Kyme bt [2] James Stout
11-8, 8-11, 11-3, 11-6 (50m)


11-Mar-05:
Kyme gets toughest draw


Bermuda's wild card Nick Kyme didn't get the luck of the draw, as he is set to face France's top-seeded Thierry Lincou in the first round ... Full Draw
04-Mar-05:
Kyme nicks
wild-card spot
With the world's top 31 players confirmed entrants for the PSA Masters, Bermuda's Nick Kyme grabbed the wildcard spot by winning the Bermuda National Championships last weekend ... Full Story & Results
02-Mar-05:
World Champion sets
his sights on Bermuda ...


Thierry Lincou, currently #1 in the world rankings and also the reigning World Champion, has confirmed his entry in the Virtual Spectator Bermuda Masters 2005 squash championships, presented by Logic and hosted by Endurance being held in Bermuda from 4th - 9th April.

Born in the tiny Reunion Islands in the Indian Ocean, this 28 year old Frenchman has had a meteoric career in the sport. Lincou burst into the top ten rankings in 2000 and stunned the squash world the following year, when he defeated then world #1 and World Champion, Peter Nicol, in Hong Kong. Since then he has continued to rise through the rankings, becoming the first Frenchman ever to win the coveted World Championship and to hold the #1 ranking.

No stranger to Bermuda, Thierry reached the finals of the Logic Bermuda Squash Open 2003, losing in an exceptionally close and exciting final to Ong Beng Hee of Malaysia. Last year he lost in the first round of the Bermuda Open 2004 in yet another very exciting five game match against up-and -coming young Englishman, Nick Matthew. But he firmly intends to improve on this record in April and win a Bermuda title on his third attempt.



Lincou says of his forthcoming visit to Bermuda, "Born on a French Island I really enjoy my trips to Bermuda. The people are so friendly and the island is just paradise. I will be ready for it. It has been a really good season for me so far and I want to finish it the same way."

Thierry Lincou has the complete package. He is a scintillating squash player, superbly fit and possessing exceptional racket skills along with the temperament and tenacity to maintain his position as the world's #1 player.

However squash in the new millennium is a sport where no one single individual can claim to be completely dominant. During the past season Thierry has suffered several losses - to former world champion, Amr Shabana of Egypt in the British Open, to Peter Nicol in last year's Qatar Masters, and to Australian, Anthony Ricketts in the recent Tournament of Champions final in New York.

In a highly competitive sport there is no doubt that Thierry Lincou will be a force to be reckoned with in April and that he fully justifies his #1 seeding in the Virtual Spectator Bermuda Masters 2005, but he will need to play at his brilliant best if he is to take the title on his third visit to this paradise Island.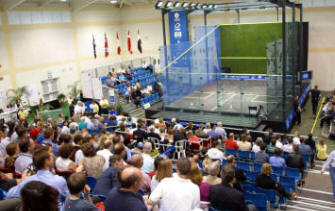 Photo by Fritz Borchert