TODAY at the ROWE British Grand Prix:
Tue 20th, Day TWO Steve Cubbins at the NSC
Round One, Bottom Half:

After a good day for England on Day One, with four of the eight winners hailing from the home country, Day Two belonged to Egypt, with four winners from the land of the Pharaohs, including the only upset as qualifier Tarek Momen overcame Alister Walker in the opening match of the day and Omar Mosaad, Karim Darwish and Ramy Ashour joined him in the next round.

There was more than that to it all of course, read on for all the gory details

[Q] Tarek Momen (Egy) bt Alister Walker (Bot)
11/8, 10/12, 11/6, 11/6 (57m)
Omar Mosaad (Egy) bt Jonathan Kemp (Eng)
14/12, 8/11, 11/5, 10/12, 11/9 (65m)
[8] Thierry Lincou (Fra) bt [Q] Marwan El Shorbagy (Egy)
11/6, 11/3, 11/7 (27m)
Daryl Selby (Eng) bt [Q] Nicolas Mueller (Sui)
5/11, 9/11, 11/2, 11/9, 11/8 (83m)
[3] Karim Darwish (Egy) bt Stewart Boswell (Aus)
9/11, 11/8, 11/5, 11/8 (67m)
[6] Gregory Gaultier (Fra) bt Saurav Ghosal (Ind)
11/4, 11/5, 11/2 (47m)
Cameron Pilley (Aus) bt Aamir Atlas Khan (Pak)
11/6, 11/6, 11/5 (31m)
[2] Ramy Ashour (Egy) bt [Q] Chris Ryder (Eng)
11/8, 11/3, 11/7 (34m)

Day Two QUICKIES, as it happened ...

Ashour 3-0 Ryder: A good start from Ryder but Ramy gets stronger and takes the lead ... the pace continues high, Ryder frustrated to make too many errors in the second, and got tantalisingly close in the third, but the defending champ wins 11/8, 11/3, 11/7.

Pilley 3-0 Khan: Very Tall Cameron vs not that tall Aamir... The Australian in front most of the first game, and it paid off, with Aamir running a lot, while Cam is controlling the middle, 11/6... Same score in the second, with the Pakistani unable to get pass Cam really, having to attack from too far back... Third was quite close up to 5/5, but the Australian just speeded up the pace, and volleyed too much for the Pakistani's good, 11/5...

Gaultier 3-0 Saurav: Greg very confident, not allowing Saurav to get used to the glass court in the first, 11/4... In the next two, a few more long rallies, with the Indian attacking very well and not doing much wrong, but the Frenchman just too calm and composed, never outside his comfort zone, 11/5, 11/2.

Darwish 3-1 Boswell: A cautious Karim who doesn't feel comfortable playing Bozza, with the Australian taking the first 16m game 11/9, but the Egyptian levelling it in 13m, making his opponent work very hard... The Egyptian in control in the 3rd, with a fall for the Australian at 6/2, that seemed to impaired his movement slightly.... Darwish takes a commanding 10/3 lead in the fourth, struggles to finish it off as Boswells fights back, but 11/8 to the Egyptian after 67 minutes.

Selby 3-2 Mueller: A confident Swiss takes the first game 11/5 ... another good start for Mueller 7/3, Selby pegs it back but can't believe his tin at 9/10 ... Selby storms back with a rapid 11/2 in the third ... a more attritional fourth, Selby sneaks it 11/9 to set up a decider ... Daryl will always be ahead in the last game, with Nicki on the backfoot. The Swiss saved 2 match balls, but won't be enough.

Lincou 3-0 Shorbagy: A comfortable first game for the Frenchman 11/6 ... and he's still on top form in the second, Marwan struggling get into it, 11/3 ... Again Lincou in charge in the third, Marwan gets more into it but leaves it too late, 11/7 and Lincou is through.

Mosaad 3-2 Kemp: Mosaad takes a tense opener 14/12 ... Kemp fires into a quick 10/5 lead, takes it 11/8 to level at one-all ... errors from Kemp as Mosaad takes the third 11/5 ... Kemp strikes back in a tight fourth, saving match ball to take it 12/10, we have a decider ... Kemp leads all the way in the fifth up to 9-8, but a couple of crucial tins and Mosaad takes it 11/9. Two out of two for Egypt.

Momen 3-1 Walker : Momen takes the first from 4/8 to 8/11 ... Walker saves game ball to level 12/10 ... Momen retakes the lead 11/6 with some fast scrambling rallies ... he continues to dominate in fourth, 11/6.
[Q] Tarek Momen (Egy) bt Alister Walker (Bot)
11/8, 10/12, 11/6, 11/6 (57m)

Momen speeds past Walker

Qualifier Tarek Momen made it a good start for Egypt as Day Two got under way at the National Squash Centre in Eastlands, getting the better of a high-paced match with Alister Walker.

Walker, now playing under Botswana colours, took the early lead, but the speedy Egyptian hit back with a run of seven unanswered points to take the first game.

He led for most of the second too, but this time it was Walker's turn to come back, saving a solitary game ball before levelling it 12/10.

But the Egyptian's pace, both on the shot and around the court, was telling in the next, and final, two games as Walker struggled to contain his opponent, fell behind early in both and never managed to catch back up.

"I'm so glad I played well today, I was a bit concerned about my fitness after feeling tired early in my final qualifying match.

"But my shots were going in, and my fitness was fine. There were some scrappy moments, but overall I'm pleased with how I played.

"Being able to win today will give me a lot of confidence - I had a good summer training but lost in the first round of the only tournament I entered, then it was Ramadan, so after two weeks of training I wasn't sure what I would be like, but I'm looking forward to the rest of the tournament now ..."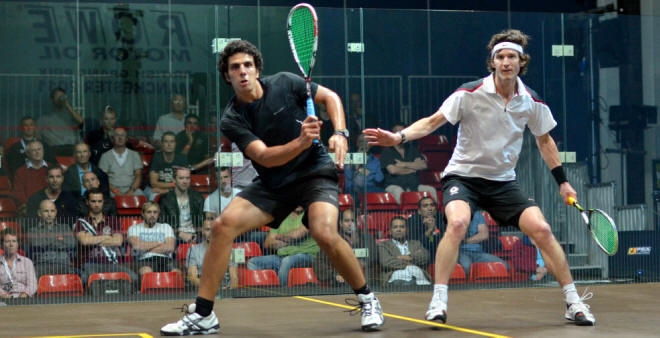 Omar Mosaad (Egy) bt Jonathan Kemp (Eng)
14/12, 8/11, 11/5, 10/12, 11/9 (65m)

Mosaad makes it two for Egypt

The second match of the day turned into a bit of a nailbiter, as Omar Mosaad just about got the better of Jonathan Kemp - probably the closest thing England has to an Egyptian in terms of style - in a match that swung one way then the other, plus a sometimes bizarre mixture of long rallies followed by quick winners or errors.

Having pulled back a deficit in the first Kemp was clearly annoyed with himself for not taking it when he had the chance in extra points, but bounced back to take the second, firing in some typical winners.

It was the Egyptian who took the better start in the third, and from 7/3 he closed it out to regain the lead.

The fourth turned again, Kemp this time taking a 6/2 lead, but Mosaad hauled it back to level at 9-all, missed out on his match ball on a stroke, and Kemp levelled again with a dropshot and a loud "C'mon".

The Englishman carried the momentum into the decider, leading all the way, 6/2, then 8/4. Mosaad never lets anyone off easily though, and he fought back again. A couple of long rallies and it was 8/6, two tins from Kemp and it was 8-all.

An error from Mosaad on the volley gave Kemp the lead again, but another long rally was again won by Mosaad for 9-all. Kemp's service return went into the tin to bring up a second match ball and there was no escape this time as Mosaad his a crosscourt winner to advance to the second round.

"He beat me last time in Ohio, and I'm not used to playing left-handers, so I had to think about how to play the match last night, to come up with a plan.

"I was a bit tentative in the first, making a few errors but he did too and I won that one. He was leading all the way in the second, so it was important to win the third to give me confidence.

"I tried to control the fourth from the start but I couldn't, and I was unhappy to lose it, I didn't want to play a fifth where anything can happen.

"He was leading all the way in the fifth, I was lucky that he made a couple of critical errors at the end, so I'm happy to win.

"I had a car accident two months ago and spent a month off the court, so I spent a bit of time on the beach but it's good to be back on court now."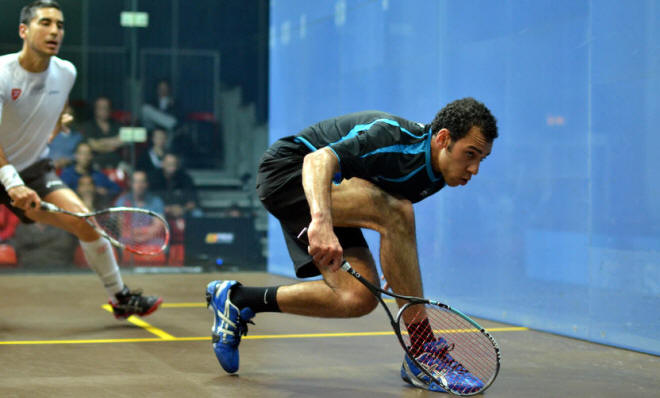 [8] Thierry Lincou (Fra) bt [Q] Marwan El Shorbagy (Egy)
11/6, 11/3, 11/7 (27m)

Thierry takes no prisoners

Thierry Lincou suffered one of his rare shock defeats on this court three years ago when a young Egyptian named El Shorbagy, newly crowned world junior champion, stunned the Frenchman in the last sixteen of the World Open.

That was Mohamed, today the Frenchman faced exactly the same scenario, this time against Marwan, and he was in no mood to let it happen again.

On top from the outset, and confident enough to play many of the flashy shots he eschews when it gets tight, Lincou kept a tight grip on the match and a tight rein on his opponent, with Marwan unable to get a foothold in the match until late on in the third game, by which time it was, of course, too late.

Marwan's time will come, but today not today, not today.

"It's always difficult when new players come along and you don't know what to expect from them on court, like Mohamed three years ago here.

"That match was in my mind, yes, but Marwan, I've seen him play a couple of times so I knew more what to expect, but I knew I had to start fast and keep the pace high, put the pressure on and be attacking.

"I think I surprised him with the pace, he picked it up in the third and stayed with me, it was just down to good shot selection in the end. He has all the basics, it's just about building on it for him now.

"I was pretty happy with my movement, and my knee was solid so that's all good news.

"It's hard sometimes to get motivated for another tournament, especially in the first round, sometimes you wonder what you're still doing here, but the will of performing and expressing yourself on court quickly comes back.


Daryl Selby (Eng) bt [Q] Nicolas Mueller (Sui)
5/11, 9/11, 11/2, 11/9, 11/8 (83m)

Selby Survives

It's been a while since we saw Daryl Selby on court playing a PSA match - six months as it happens. Of course, today he was back on the scene of his greatest triumph when he won the British Nationals in February.

Not that that meant anything to Nicolas Mueller, as the young Swiss took the game to the British Champion from the outset, dominating the first and holding off a Selby comeback in the second - although Daryl couldn't believe the sitter he tinned at 9/10 - to open up a two-game advantage.

Those two games took 12 and 16 minutes, the third took just 7 as Selby stormed back. He led for most of the fourth too, but not by much as Mueller refused to be shrugged off. At 9-all it was in the balance, but a pair of strokes - the first one upheld on video review - saw Selby back to parity.

The Englishman was on top early in the fifth, 5/1, but still Mueller wouldn't yield, levelling at 5-all. Eventually Selby got to 10-6 on another upheld stroke decision, and raised his arms in relief as he drove the ball deep on his third match ball.

"I felt I could have won 3/1, but then so could he, we dominated a game each and won a close one each, so going to five was probably fair!

"I struggled a bit at the start, I didn't realise how long it had been since I played a PSA match, I've played some team events since Canary Wharf but it's a different feeling playing just for yourself.

It took me a while to adjust, and a few crucial points at the end of the fourth went my way, but I'm happy with how it came out in the end - I said to Peter Barker this morning that I didn't care what the score was, I'd be happy with any sort of win and that's how it happened.

"Nicolas is a good player, he plays the right way and lots of younger players would do well to look up to him, so losing would have been no disgrace but I'm happy to get through obviously.


[3] Karim Darwish (Egy) bt Stewart Boswell (Aus)
9/11, 11/8, 11/5, 11/8 (67m)

Darwish pulls through

"Getting Boswell in the first round was a pretty tough draw," admitted Karim Darwish after making it three Egyptians through so far on day two, and how right he was.

The tall Aussie took the game to the former world number one from the start, staying ahead throughout the first game, and only from 8-all in the second did Darwish manage to get on top, taking three points in a row to equalise.

For the next two games it was pretty much all Darwish though, a slip at the front by Boswell at 5/2 in the third didn't help the Aussie's cause, but Darwish already had the game by the scruff of the neck by then.

He dominated the fourth too, taking a 10/3 lead, but struggled to finish it off as Boswell stuck in well, only ay 10/8 did Darwish find a winning volley drop to move into round two.

"I got off to a good start," said Boswell, but he bossed the third, and the fourth too, it was just too little too late in the end ..."

"The first game is always going to be crucial against Boswell, I was trying to move him as much as I could but he played well. He lost a bit of energy from the middle of the second and I had control from then until I was 10/3 up in the fourth.

"I lost my focus and tried to finish things off too quickly, but I not there in the end.

"It's only my second tournament after being injured at the end of last season. I didn't do my best in Australia and had some tough matches in the World Teams, but I'm looking forward to the rest of the season now ..."


[6] Gregory Gaultier (Fra) bt Saurav Ghosal (Ind)
11/4, 11/5, 11/2 (47m)

Gaultier sails past Saurav

Speedy as he is, Saurav Ghosal found that no antidote to a Gregory Gaultier in supreme form today in Manchester.

The Frenchman was in control from the start, rarely looked ruffled let alone troubled, and would often, at the end of a long rally where both covered every inch of the court, come up with a stunning out-of-the-blue winner.

The Indian number one didn't play badly, far from it, but the Frenchman was just about unplayable today.

"I've been playing well since Germany, I've had some good results and good wins. After a really good summer training I'm starting to feel my shots coming in well now, it's all coming together and I'm enjoying what I'm doing every day in training and in matches.

"Saurav was fast today, he played much better than the last two times we met. It's good to get a tough first match, you have to be on your marks from the start rather than putting you on the back foot.

"It was a good game, and I like this court - I've had some good and some bad moments on it, but it rewards good squash and you know that if you're moving well you can play well on this court.

"Daryl next - I've beaten him a couple of times but that doesn't enter my mind. It's going to be a good match and I'm ready for it.

"I feel strong mentally and physically. I'm happy my bad period of a couple of years ago is in the past, I'm just going on court to enjoy every match, play well and have nor regrets. It's all coming together at the moment and hopefully soon I'll be able to win a big tournament. It's what we're all aiming for, there's a lot of good players at the top of the game and I'm confident I can compete with all of them.


Cameron Pilley (Aus) bt Aamir Atlas Khan (Pak)
11/6, 11/6, 11/5 (31m)

Pilley powers past Khan

Pretty similar to the previous match really, as one player looks pretty much in control for the duration while the other, smaller player, buzzes around causing the odd kerfuffle but no serious damage.

Of course the contrast in size was much more marked as Cameron Pilley almost dwarfs Aamir Atlas Khan. The Pakistani, who had a poor World Teams in Germany, led 1-0 in each of the three games, and held level until 4-5, 4-4 and 5-5, but each time Pilley, who had a good world teams, took the initiative to finish off each of them comprehensively.

He's the only Australian left in the draw, but he's looking pretty good all the same ...

"He beat me last time out in the semis in Malaysia, and I was really keen to play him again.

"I wanted to play steadier with a bit more structure to the game, but I had to be conscious of his speed and the fact that the ball seems to turn into a sponge after one game on here so you just have to hit those corners. He gave me a few cheap points but made me work hard for a lot of them too.

"If you can get on top of him early it can finish quickly so that's what I tried to do, I also knew he was on his own here while he had the Pakistani team with him in Malaysia which gave him a boost, so hoped to take advantage of that.

"It's always in the back of your mind that you're representing everyone back in Australia, and obviously it would be better to see eight Aussies in the quarters but I kinda enjoy the pressure of being the last one in.

"If I play Ramy, it's usually 3/1, there's a quick game and a couple of close ones, but you just know that you have to put it on the wall, if he can hit a nick from there then good on him!"


[2] Ramy Ashour (Egy) bt [Q] Chris Ryder (Eng)
11/8, 11/3, 11/7 (34m)

Ashour makes it four for Egypt

So it was left to qualifier Chris Ryder to stop Egypt emulating England's four wins of yesterday. It was always going to be a tall order against the world number two and defending champion, but Ryder at least knew what was in store for him, having drawn the Egyptian prodigy before.

And he made a good enough start, did the Englishman, holding his own for the most part of the third, but it was always more a case of holding Ashour at bay rather than dominating him, and the Egyptian's movement, racket skills and unpredictability held sway at the end.

Ryder was annoyed at letting the second get away from him with too many errors - he saw them as his mistakes but Ashour forces them out of you with his constant pressure - but rallied well in the third, keeping in touch until the very end when once again Ashour pulled away, this time decisively.

" That was a good start, I'd played him before so I had an idea of what he would do, although he played a bit differently this time.

"There's always pressure on you, I have it as the defending champion, Nick has it being #1 and playing at home, you just have to deal with it, as long as you're clear in your mind and physically and mentally prepared you'll play well, that's what you're always aiming for.

"I have some good memories of playing here in Manchester and on this court, I'm happy to be back and looking forward to a good tournament.