TODAY at the ROWE British Grand Prix:
Fri 23rd, Day FIVE Steve Cubbins at the NSC, Fram in France
Quarters take Two,
three Egyptians in the semis ...

Last night we had three Englishmen and an Egyptian on court as Nick Matthew and Amr Shabana secured their semi-final places, tonight saw three more Egyptians and a Frenchman aiming to join them in the last four.

The form book said it would be Karim Darwish and Ramy Ashour, and so it came to pass ...

[3] Karim Darwish (Egy) bt Omar Mosaad (Egy)
11/6, 11/9, 11/7 (57m)



[2] Ramy Ashour (Egy) bt [6] Gregory Gaultier (Fra)
12/10, 11/7, 11/9 (69m)


[3] Karim Darwish (Egy) bt Omar Mosaad (Egy)
11/6, 11/9, 11/7 (57m)

Darwish wins another Egyptian derby

Having already beaten one of his younger compatriots Tarek Momen, Karim Darwish faced another tonight in the form of Omar Mosaad.

It was a different test altogether though - whereas Momen was small, nippy, and loved mixing it up, Mosaad, with a much greater physical presence to call on, was happier to play the patient game that Darwish dictated tonight.

The third seed barely got above walking pace in the first game, stroking the ball around, making Mosaad do the majority of the moving - although at 6'4" he doesn't have to reach a long way for most things!

The first two games were similar, slow tactical battles, with plenty of long rallies, but it was Mosaad's error count that made the difference as the younger player frequently lost patience first.

Seven errors from Mosaad in the first, which he lost 11/5, four in the second which he lost 11/9 after being level at 4-all.

The work he was being made to do took its toll in the third as Darwish quickly established a 5/0 lead.

Mosaad steadied, but Darwish had the finish line in his sights, extended to 8/2, 10/6, and put in a short drive that was too tight on the wall to finish it off 11/7.

Three games, just under an hour, but Darwish never really had to get into top gear and he'll be fresh enough for whatever challenge he has to face tomorrow ...


"I played very patiently today, he played really well to get to this stage but we train and play a lot together and I know his game, I knew I had to try and get him to move around the court and make him turn.

"I'm happy with my performance this evening, I think I'm getting back there after playing a few smaller tournaments at the start of the year, and now Australia and here I'm playing well.

"It's a bit like the Nationals for me, I've played two Egyptians already, and I may have to play a third tomorrow! That's what it's like on tour these days though with a lot of Egyptians around, we've all got used to it.

"The World Teams is a major event, it's very important in Egypt as a World Championship, there was a lot of pressure on my shoulders playing the deciding match.

"Doing well there has definitely improved my confidence - it's 80% in the head when you play the top guys in events like this."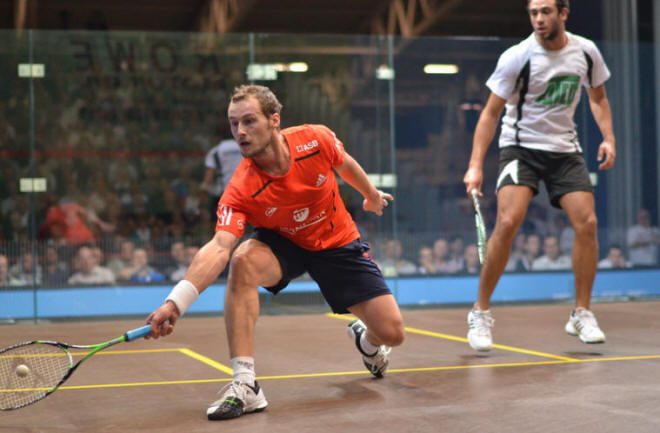 [2] Ramy Ashour (Egy) bt [6] Gregory Gaultier (Fra)
12/10, 11/7, 11/9 (69m)

Ramy in three - "more like ten"

Well, we thought the first match was a long 'un for three games, but the second quarter-final of the night was even longer. It was played at a much higher pace too as Gregory Gaultier and Ramy Ashour thrilled the full house at the National Squash Centre in Eastlands.

"The first game was thee longest ever," declared Ashour afterwards, adding "it was like playing a ten-setter not just three!"

Neither were strictly true, but you get the idea. It was fast, furious, long rallies, short rallies, winners and crucial errors, disputes and the obligatory Ramy dive (which I missed, of course).

Ashour made the better start, leading 3/0 quickly, then 4/1. The Frenchman came back well though, levelled at 4-all and stayed a point or two ahead, getting to 10/8 as Ashour tinned with broken strings.

The new racket worked fine though as he took the next four points to win the game after 27 minutes. Not the longest ever (we had a 34-minute game last night) but longer than most, for sure.

From 4-all in the second it was the Egyptian who asserted, opening out to 6/4, 7/5, 9/6 and 10/7, winning it as Gaultier hit the tin.

He continued to hold the ascendency, moving supremely well as he does and forcing Gaultier to rush shots, creating the occasional error. 3/1 extended to 8/3 and Gaultier, who was starting to have a few 'issues' with the referees, looked in danger of losing focus. He didn't though, he fought back well, getting as close as 8/9 before two errors, both forced, put Ramy through to an all-Egyptian semi-final.

"That was a tough three-setter, it was as hard as a ten-setter! He was on fire, always ready to attack and hitting winners from everywhere, you really have to be on your guard all the time.

"It was a good match, good quality squash and entertaining for the crowd I hope too.

"I'm glad to be in the semis and to be playing my fellow countryman. It's a great tournament and it's been good for me so far, I hop I can play well again tomorrow."