Sat 3rd, Day TWO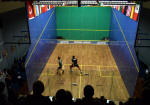 Another full day at all three venues, at the end of which we know all of the quarter-finalists. It was a 9am start for the playoff matches, with the B19 and B13 Round Two starting off main draw proceedings, then it was the last siixteen rounds of all events.
So, it's been a hectic day at both venues, with plenty of upsets, one of the most exciting beings Michael Craig's 11/8 in the fifth win in a tempestuous match to complete the B19 last eight.


The final last 16 match of the day at Abbeydale was another thriller, with Indian 5/8 seed Tushar Shahini saving two match balls to beat Jared Carter 13/11 in the fifth after 66 minutes.


The top two seeds are through to the quarters in all eight events, including favourites for the U19 titles Diego Elias and Nouran Gohar, who have each graced the Abbeydale glass court three times already and will do so once more tomorow.

As usual, check out the stories on the BLOG, schedules and latest results on the DRAWS page, TWITTER for a running stream of updates, and the GALLERY for today's photos.