Mon 4th, Day THREE, Quarter-Finals

It was a good day for England on quarter-finals day in Sheffield, although it was an even better one for Egypt, as expected.


At Abbeydale the action started with Round Three of the G15 event (all eight seeds winning through), and all sixteen quarter-finals on the Glass Court.

The semis of the G19 will feature three Egyptians as defending champion Nouran Gohar was joinred by Nadine Shahin and Mayar Hany, Hany taking out 3/4 seed Tinne Gilis in straight games. Georgina Kennedy kept home hopes alive as the second seed saw a two-game lead slip away before closing out her win over an equally-determined character Zeina Mickawy.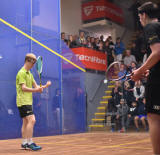 Egyptian will feature in both B19 semifinals as top seed Youseff Soliman and 3/4 Saadeldin Abouaish both won in straight games. Soliman will face England's Kyle Finch who produced a second successive upset to beat fellow-Englishman Patrick Rooney in four games. Malaysian second seed Eain Yow Ng needed five games for the second day in a row as he edged past Karim Desouky, letting a 10-5 lead in the decider slip before taking it 12-10.


In the G15 USA's Marina Stefanoni saw off a typically-fierce challenge from Farida Mohamed (Habiba's sister) in four games, to set up a meeting wirh top seed Jana Shiha. while second seeded Malaysian Aifa Azman will meet Egypt's Nouran Yousef.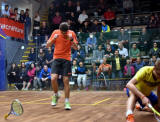 An Egyptian winner of the B15 event is guaranteed, but all four matches were hotly contested. Top seed Mostafa Asal came from a game down to win while second seeded Omar El Torkey saw a two game lead disappear before ending the challenge of Czech Viktor Byrtus. Both 3/4 seeds were beaten, Aly Eltokhy edging past compatriot Mohamed El Shamy in five - despite going 0-8 down in the open ing game -while Moustafa Elserty beat Malaysia's Muhd Hafiz Zhafri.
At Hallamshire the boys' U17 event served up a pair of upsets as 9/16 seed Mostafa Montaser beat 3/4 seed Victor Crouin (France) 3-1 and 5/8 seed Ziad Sakr outlasted 3/4 seed Michael Mehl (Canada) 3-2. Montaser and Sakr join fellow Egyptians Youssef Ibrahim and Marwan Tarek to guarantee an Egyptian winner in the boys U17.

Egypt are guaranteed a girls U17 title too as Hania Elhammamy, Hana Ayoub, Rowan Reda and Amina Yousry won through to contest the semi finals places.

It was better news for the hosts in the U13 events as they saw two semi finalists book their places.

In the boys' U13, Sam Todd justified his top seeding to ease through to the semi finals. It wasn't plain sailing for the rest though as Kareem El Torkey upset the 3/4 seed Youssef Ezzo in an all Egyptian quarter final clash. Elsewhere, India's Neel Joshi continued his giant killing run to book a semi final place. Having beaten the number 2 seed earlier in the week he defeated 5/8 seed Oliver Green to set up a semi final with Malaysian 3/4 seed Muhammad Azhar.

In the girl's draw, 9/16 seed Katie Maliff continued to defy the odds, this time defeating the 3/4 seed Lucie Stefanoni in three to take her place in the semi finals. She will be joined by the Egyptian trio of Nour Aboulmakarim, Habiba Nader and Sana Mahmoud.