Tue 6th, FINALS DAY

Finals day at Abbeydale, eight matches to decide the destination of the titles - plus lots of playoff matches. Egypt claimed another handful of titles, with Malaysia taking two and Peru one.
B19 [1] Diego Elias (Per) 3-1 [2] Omar El Atmas (Egy)
13/15, 11/2, 11/2, 11/3 (55m)
After losing a monumental first game 15/13, top seed and world junior champion Diego Elias took total control of his match with Omar El Atmas, easing through the next three games to add the U19 title and the Drysdale Cup to the U17 title the Peruvian won two years ago.
G19 [1] Nouran Gohar (Egy) 3-2 [2] Mariam Metwally (Egy)
9/11, 11/7, 11/9, 5/11, 11/9 (82m)
Nouran Gohar came through a second successive five setter to take the G19 title, and although she didn't have to save match balls as she did yesterday, Mariam Metwally came just as close to creating the upset.


The first four games were shared in a match that was peppered with lets and collisions and plenty of involvement from the referees, two determined players refusing to give an inch.

Metwally took an early lead in the fifth, but leads of 7-4 and 8-5 didn't prove enough as Gohar rallied to take the title on her second match ball.
B17 [1] Eain Yow Ng (Mas) 3-2 [2] Saad El Din Ihab (Egy)
7/11, 5/11, 11/9, 11/9, 11/4 (78m)
Top seed for the B17, Eain Yow Ng collected a third BJO title, but the gritty Malaysian had to come from two games down to deny Saad El Din Ehab.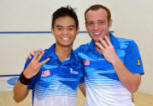 The Egyptian had his chances, with the third poised at 8-all and leading 9-7 in the fourth, but with the crowd going wild for both players the Malaysian took both 11/9 and then pulled away from 3-all in the fourth.
G17 [1] Habiba Mohamed (Egy) 3-0 [9/16] Zena Mekiwy (Egy)
11/2, 11/5, 11/4 (18m)
World junior champion Habiba Mohamed made it four titles for Egypt as she won a fifth BJO in a row, proving too strong for compatriot Zena Mekiwy.

Habiba stormed to an 8-0 lead in the opening game, and try as she might Zena could never get on terms with the powerful top seed.
B15 [1] Marwan Tarek (Egy) 3-1 [5/8] Ahmad Almashad (Egy)
11/7, 10/12, 11/8, 11/4 (36m)
Top seed in the B15 Marwan Tarek made it three titles in a row for Egypt as he proved too strong for compatriot Ahmad Almashad.

After the first two games were shared Tarek took a 9/4 lead in the third, holding off Almashad's comeback to regain the lead and took the fourth with some ease to take the title.
G15 [1] Hania El Hammamy (Egy) 3-1 [2] Rawan Reda (Egy)
11/9, 7/11, 11/7, 14/12 (53m)
A second title for Egypt came as top seed Hania El Hammamy took the G15 title.

There was little to choose between Hania and second seed Rawan Reda for four tough games, and we almost went to another decider, but in the end Hania held her nerve to take the fourth on extra points.
B13 [1] Yehia Elnawasny (Egy) 3-2 Harris Qasim (Pak)
11/8, 11/4, 7/11, 6/11, 11/4 (29m)
Egypt claimed their first title in the B13 event, as top seed Yehia Elnawasny, who looked to be heading for a comfortable win after the first two games, held off a determined comeback by unseeded Pakistani Harris Qasim, taking the decider 11/4.
G13 [3/4] Jessica Keng (Mas) bt [1] Nouran Youssef (Egy)
11/9, 11/13, 7/11, 8/10 injured, match awarded
A controversial end to the first match, what was shaping up to be a terrific G13 final.

After two hotly contested first games were shared, Nouran Yossef took the third and was 10-7 up in the fourth when she collided with Jessica Keng at the front of the court.

The Malaysian was injured, couldn't continue, and after deliberations by the referees the match was awarded to the Malaysian. "Not deliberate, but caused by the opponent, and Jessica unable to continue so match awarded," said the referee.

The Egyptian camp were upset at the decision and considered pulling their players out of the rest of the finals, but thankfully decided to continue.