Mon 6th, FINALS DAY
FINALS

G13: [3/4] Aifa Azman (Mas) 3-2 [1] Jana Shiha (Egy)
11-7, 11-2, 8-11, 8-11, 16-14 (49m)
B13: [1] Mohamed El Shamy (Egy) 3-2 [3/4] Moustafa Assal (Egy)
11-8, 8-11 , 9-11, 12-10, 11-6 (59m)

G15: [1] Siv Subramanian (Mas) 3-2 [3/4] Hania El Hammamy (Egy)
7-11, 11-8, 8-11, 11-5, 11-6 (49m)
B15: [1] Youssef Ibrahim (Egy) 3-0 [3/4] Moustafa Montaser (Egy)
15-13, 11-9, 11-6 (31m)

G17: [1] Habiba Mohamed (Egy) 3-0 [3/4] Hana Basem (Egy)
11-6, 11-3, 11-4 (24m)
B17: [1] Youssef Soliman (Egy) 3-1 [2] Ng Eain Yow (Mas)
11-8, 9-11, 11-5, 11-7 (45m)

G19: [2] Yathreb Adel (Egy) 3-1 [1] Mariam Metwally (Egy)
11-9, 11-9, 7-11, 11-9 (59m)
B19: [5/8] Ahmad Alsaraj (Jor) 3-1 [3/4] Diego Elias (Per)
11-7, 11-9, 8-11, 11-3 (64m)

In the Gallery: Photos, Presentations and Videos
Aifa topples top seed


Well, what a start to the day!

Malaysia's Aifa Azman sees a two-game lead disappear and then comes back from 6-10 down in the fifth, saving six match balls in all before taking the match 16-14 in the decider.

Two in a row for Shamy


Another five-setter in the Boys U13, but this time the top seed triumphed as Mohamed El Shamy retained his title in similar dramatic fashion to how he won it last year..

At 2-1 down and 9-5 down in the fourth it wasn't looking good, as he took a second injury break of the game and looked to be struggling with leg and back problems. But he returned to take a rumbustious fourth game 12-10 - saving a match ball - and was in control in the decider.

Siv does it this time


Another five-setter, this time a seesaw battle between the unflappable top seed Siv Subramanian, runner-up in lat year's final, and the excitable Egyptian Hania El Hammamy, still sporting her forehead bump from yesterday.

It swung one way then the other, with whoever got a lead in each of the games staying ahead until the end, and in the decider it was the Malaysians who were cheering the loudest.

Ibrahim wins his first


After saving a couple of game balls in a tight first, top seed Youssef Ibrahim always had the edge in the next two games of his all-Egyptian final with Moustafa Montaser.

Habiba the fourth

Next up was another all-Egyptian final, and once again it was the top seed who triumphed in straight games.

The irresistible force that is Habiba Mohamed was too strong for Hana Basem as she stormed through to collect her fourth BJO title in a row.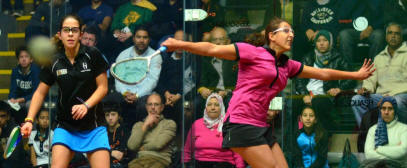 Suliman too strong for Ng


Egypt collected their fourth title - with one more guaranteed to follow - when Boys U17 top seed Youssef Soliman beat Malaysia's Ng Eain Yow - last year's U15 winner - in four games.

The Egyptian looks strong as he took a 10-5 lead in the first, and although Ng closed that gap and took a close second game, Suliman was ion top again in the next two games to claim his first title.

It's five for Yathreb and for Egypt


It was a repeat of their 2010 U15 final, but for Yathreb Adel the Girls U19 final was a sixth in a row, and she repeated her 2010 win over Mariam Metwally - the top seed - in four tough, uncompromising, tense, and fiercely contested games.

Adel edged the first two after early deficits, but couldn't do the same in the third as Metwally pulled one back. Adel was always just ahead in the fourth though, finally clinching her fifth BJO title in just under an hour.

Ahmad claims the Cup


A new nationality was sure to be engraved on the Boys U19 trophy, the Drysdale Cup, as Peru's Diego Elias, the U17 winner last year, took on Jordan's Ahmad Alsaraj.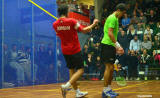 Alsaraj forged ahead in the early stages of both the first two games and held on to those advantages, and although Elias rallied to take the third, it was the Jordanian who was on top from the start of the fourth, capitalising on a 7-1 advantage against a tiring Elias to take the game 11-3 and with it the title.

So ends another Tecnifibre British Junior Open ... see you all next year !!