ISS Canary Wharf Classic 2008
30-Nov-07:
WILLSTROP BIDS FOR THIRD TIME LUCKY AT ISS CANARY WHARF CLASSIC

Englandís James Willstrop will be bidding for a hat-trick of titles when the world's leading squash stars return to London, to show off their dazzling skills in the 2008 ISS Canary Wharf Squash Classic.

This showpiece sports event, now in its fifth year, will take place from March 10-14, 2008, inside the superb East Wintergarden venue at Canary Wharf; with action taking place on the all-glass Harris Brushes ProCourt.

Firmly established as the No 1 Squash tournament in London, organisers are delighted to announce that ISS Facility Services (London) have confirmed a two-year extension of their Title Sponsorship, and that Canary Wharf Group PLC will be continuing as Host Sponsor.

Willstrop will be bidding for a third successive title, having won the inaugural event in 2004 by beating Franceís Thierry Lincou in the final, and then triumphing against Scotlandís John White earlier this year for a second Canary Wharf success.

Co-promoter, Peter Nicol is expecting Willstrop to face some fierce competition. Former world champion Nicol, (who retired last year after 15 years on the pro circuit).
"The competition at the top level is as tough as ever. There are so many great players in the world top ten that it is impossible to predict the outcome of any tournament. However, the Egyptians, Amr Shabana and Ramy Ashour, have been in amazingly consistent form over the past 12 months and thatís why they are at the top of the rankings.

Having said that, it was great to see a British triumph at Canary Wharf this year. James has worked so hard since turning professional that he deserves every success that comes his way, and he was a very popular winner. The crowds really got behind him and all the British players and it was a fantastic atmosphere all week.

Nicol is expecting to see sell-out crowds once again for the 2008 event and is urging squash fans to book their tickets early to avoid disappointment.

"We sold every back-wall seat for every night of play in February and the calibre of squash on show was exceptional. We know there is a great demand to see that level of entertainment. The Canary Wharf crowds are very knowledgeable and extremely vocal, so it all adds up to a superb atmosphere for both players and spectators."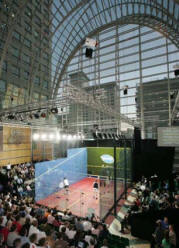 Tickets on sale from 9am Dec 1st

Ticket Hotline,
0844
847 2419

or via the website www.ticketmaster.co.uk

direct link

for this Five-Star ranking tournament on the PSA world circuit, which once again guarantees the presence of the worldís top players.