SYLVAN
master of two trades ...

Sylvan Richardson, who directs 'Lost for Words', the band with strong squash connections, has been here all week wearing his masseur's hat, treating the players before and after their matches in a special treatment area set up in the players' room.

So for those who thought Sylvan was just a musician, think again ...

"I've always had a relationship with anatomy and physiology, stemming from my Kung Fu work [yes, he's an expert at that too], and I guess my time is split roughly equally between this and music projects.

"I've been training for massage for about ten years now, I've been doing it professionally for four, and I've just finished my first full year on the squash circuit doing mainly the UK tournaments but also the World Open in Cairo.

"Squash players need specific massages, the emphasis is generally on stretching techniques, and it works well because you can givetreatments right before a match which really helps them.

"Of the players Thierry is great to work with, I'm getting to really understand his body, I've worked with John a few times now and most of the top twenty - I just need Shabana and Ramy to complete the set!"

Sadly Sylvan won't be available for the finalists later today ... you guessed it, he's off to play a concert in Manchester ...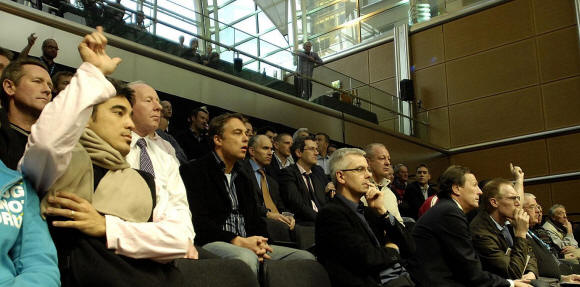 Three better than one ???

As you probably know the new "three referee" system is in use here, whereby we have one central and two side refs, each of whom make their decision on every appeal and make a hand-signal to communicate it to the others with the majority decision prevailing.

A slight adjustment here is that each match is governed by two referees and one player - the player is always one of the side refs - which seems to be working well.

The system was given a stern test in last night's Lincou/Grant match, with 64 decisions required in the 77-minute match. In 59 of those it was a unanimous decision, which is pretty good going by any standards.

Everyone seems to be agreed that the system is good and is the way forward, but, just for the record, we thought we'd get some opinions from players and referees …

"We talked about using the system here, and once it was agreed I really wanted to get the players involved, by using one of them for each match. It's for them after all and it's good for them to get an insight into refereeing and the players get confidence from seeing other players giving decisions.

"One of the pleasing aspects is the high percentage of unanimous decisions, about 90/95%, and very few instances where the central referee is over-ruled.

"It's certainly cut out all the arguments - and some of the long explanations too!


Tournament Referee

"It's good, and it's certainly done what it was intended to, cutting out the arguments and confrontations. There's still a bit of banter, which you don't want to get rid of, but it's taken the heat out of a lot of situations."



"It works well. The players tend to look to the player/referee for their decision first, they have more confidence when one of their own is giving the decision. As long as there's a schedule laid out and everyone knows what they're doing, I'm sure all the players will be quite happy to take their turn in refereeing."


"As a referee you have to get used to the feeling of being over-ruled, it's awkward the first couple of times but it doesn't happen often and you quickly get used to being part of a team.

"In a way you feel as if your authority is diminished, it's difficult if, say, you want to tell a player to make more effort - you might give a no let next time but if the others don't take the same line you can be over-ruled and look a little silly."

"It's unusual to get to the later stages of a tournament with hardly any player reaction over referee's decisions, which proves that the system is working well.

"One of the reasons squash didn't male the Olympics was that the IOC members weren't impressed by the backchat to the referee during the Commonwealth Games in Manchester. The system cuts all of that out, so it can only be a good thing."


Referee

"There's talk of using technology for 'voting by button', but I think the current hand signal system works well. You'll get the odd reaction from a player if you're outvoted, but you don't want to conceal who made what decision.

"You know why you made your decision, but you don't know why the others made theirs, so it's sometimes tricky to see what line they're taking.

"Things to think about include how does it affect the WSF's referee assessment programme (difficult to assess the performance of an individual), should we have a fourth "not sure" signal for things like not-ups, outs and downs so that only the referees who have a clear view make the decision, and how will it work at lower levels where there are only glassback or balcony-viewing courts.

"Overall it's a good system, it works well and it's the best way forward."


Referee
All at Sea ...

The players are staying in the Sunborn Yacht Hotel (owned by title sponsors ISS),which as its name applies is a cruiseliner moored on Royal Albert docks, next to the Excel Arena and London City Airport, just a few minutes from the venue via the Docklands Light Railway.

Some of the players were a little wary of sleeping on a ship - "you never know where you might be when you wake up!" was Wael El Hindi's concern - while others were reassured by Lee Beachill's assertion that you get your water-wings when you check in ...

It's definitely afloat, you can see the slight swing of the huge chandalier that hangs between decks (not floors, decks!), but it doesn't look like it's cruised anywhere for a while, so Wael needn't worry.




A short hop from the DLR station


Welcome aboard ...
Andy Bunting below decks
| | |
| --- | --- |
| The players' shuttle, from Pursers | View from the fifth deck |
Stars give first-timers
the squash bug ...

Setting up a glass court in the heart of Canary Wharf takes some doing, so you might as well make the best of it while it's there.

Title sponsors ISS are members of a grouping called ELBA which, as one of its project runs 'London Legacy 2020' which aims to create a sporting legacy for London using, among others, all the efforts going in to the 2012 Olympics.

So, Tom Soper, their Sports Project Manager, organised for 15 kids from Langden Park School in Tower Hamlets to have their first hit on a squash court.

But it wasn't just a case of putting them on there and letting them get on with it - there to help out was England Squash Area Manager Justyn Price, plus Thierry Lincou, James Willstrop and Lee Beachill - some teaching force!



With Justyn showing them some basics like how to hold the racket and the three stars taking them on court in groups, they all had a great time and Justyn will be making sure it's all followed up on ...

"England Squash were so pleased to be part of the ISS Canary Wharf Squash Classic, and wholeheartedly support the effort made by the world-class players to introduce the great game of squash to children who haven't yet had the opportunity to experience it.

"We now will look to support these children in school-based projects and who knows, maybe we'll find a future Classic winner from right here in London …

Justyn Price
ES Area Manager, South-East




So many Snappers

We're blessed with photographers at this event, there's our own Fritz Borchert, David Barry is over from the States on a family visit, Jos Aarts from the Netherlands is mainly refereeing but also snapping away, Steve Line of course, Patrick Lauson, and photographers from Getty Images and some national newspapers.

So there'sno shortage of quality images coming out of Canary Wharf, but it's getting a bit crowded behind that front wall, and the TV people will be looking for their spots soon so it's not going to get any better ...

All the Galleries



Fritz's Action Gallery
Canary Wharf Corporate Challenge 2007

The first of this year's Corporate Challenge matches took place on Tuesday afternoon, with HSBC (leading bank) taking on FSA (Financial Services Agency) in a match with a definite financial flavour, as you'd expect.

FSA got off to a flying start as their number one Ian Marshall won in four well-contested games, but HSBC levelled when Chris Beeching cruised to a 3/0 win.

That set up a decider between HSBC's Cris Reynolds and Giles Stimson for the FSA, and it was a see-saw affair with Giles having a lead pegged back twice before finally clinching it 11/9 in the fifth.


One-nil FSA ................. One-all


The decider ! Giles & Cris

HSBC 1 FSA 2

Steve Twort 1-3 Ian Marshall
7/11, 11/7, 8/11, 4/11

Chris Beeching 3-0 Andrew Stimson
11/4, 11/6, 11/3

Cris Reynolds 2-3 Giles Stimson
7/11, 11/9, 3/11, 11/9, 9/11
Out on the Wharf

Canary Wharf is a fascinating place to hold a squash tournament. The East Wintergarden venue, with its distinctive high arch, is impressive enough in itself, and is squeezed in between just two of many high-rise buildings in the Wharf area, backing onto the waterfront.

There's many a skyscraper around here, plus someopen spaces, underground shopping malls, the Millenium Dome just across the water, and probably many other surprises too.

A quick walk round yeilded some interesting photos ...
take a look ...



Out and about in Canary Wharf
on a cold March day ...