Canary Wharf EN BREF: Issue #2

Everything you never knew you needed to know about the CW Classic
VIDEO REVIEW

That's it. It was done. And Mister Peter Barker will stay in history as the first one that ever "appeal"ed.

At the start of the match, he was awarded a let, and thought it deserved a stroke. "Mr Barker is asking for a video review," says a Voice coming from far on high. We wait a few seconds, and a few more seconds, the images are coming up on the big screen above the front wall. Then a second set of images, from a different angle. And a replay.

As an actor, I was quite amazed how quickly whoever was in charge of the whole thing managed to provide us with the pics. But of course, when you are on there, and the adrenaline is buzzing through your racquet, it seems very looooooong.

"Well, I'm starting to regret ever asking for a review," laughs Peter. And as nothing still happens, he adds "well, a let will do if it's got to take that long!!!!!"

The crowd loved it, of course, they loved it even better when the call was confirmed!

But Robbie Temple had more success, it has to be stressed, as he asked for four reviews, twice in two games, and every time, he got satisfaction. I was pretty happy too as it was the way I would have gone as well! I'm getting better at this! Still, I guess when you are the refs, and you are overturned four times, mustn't be so easy to accept!

And of course, Peter, after the fourth decision was overturned, intervened: "Ref, could you ask Mr and Mrs Temple to stop refereeing please?!!!!"



My two cents worth. I think it's a great move. Two things. One, we need to make sure that M. Video is bleeping good at refereeing, and Two, I truly believe that if he gets it right, the player should keep his reviews, like they do in tennis, and not only be allowed to two, win or lose, as is the case at the moment.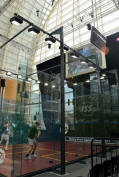 CW & square Mile Shield Final: Smith & Williamson beat Deloitte 2-1
RITCHIE LOVES SQUASH

When you sit in the audience, you hear all kinds of phrases - you have the guy that knows better than the ref, and is adamant that's a no let, whereas the guy only plays club night in Blighmouth Upon the Railway, the secretary that got seats cause his boss wouldn't come, and who doesn't get why the score doesn't move but they are all soooo cute, and then you've got the true squash lover.

Like Ritchie Fallows.

Only 15, a strong south London accent – I live there, I can recognise it - he is passionate and so knowledgeable. He was sitting next to me and commenting on the match between Joey Barrington and Matthew Karwalski for me, and I was quite impressed with his vision of the strategy, his analysis of what they were doing right, or wrong!

"I play in Bexley mostly, and I represented England in the U17 last year when we went in the Czech Republic. I was lucky enough to train with David Campion in the squad, and I just love working with him. He taught me so much, and I really appreciate working with him, I have so much to learn."

Well, if I'm any judge of character, that boy has the passion it takes to become a pro player. I hope that in the coming years/months, I'll come and watch him play on the International scene…
RUNNING FOR THE KIDS

I know we all do our bit for Charity, but I must say running half a marathon to help kids in need is not the first thing that I would personally do.

Well, that's exactly what Miss ChatBox, aka Lauren Selby did a few days ago. Her brother was truly impressed, and to be honest so was I.

Not bad for a girl that was once accused of "not having such a great movement on court yourself," by a ref, after she complained about her opponent's movement!
Canary Wharf EN BREF: Issue #2

Everything you never knew you needed to know about the CW Classic
Issue #1:
ARRIVAL IN CANARY WHARF BY NIGHT…

Well, finding the hotel last night was not that easy. Already I panic at the simple idea of driving into the East part of London, I'm a South London woman. So, to make it simple, I had decided to follow the mini-bus Linda Davie, tournament referee, had booked to take the qualifiers from Wimbledon Squash Club to the Tournament Hotel, in Canning Town.

It seemed a good idea, but it didn't go exactly according to plan, when the driver stopped at the wrong hotel. I followed him. Parked. Took my bag out of the boot, only to arrive in a empty reception hall, as they all went back in the car, and drove off when they realised that they were in the wrong hotel!

It took me a good 10mn to go back to me car, in the boot the bag went again, and on the GPS. And as I arrived to the point where the voice said "you've now arrived", and of course, no freaking hotel in sight, a mini-bus arrives just in front of me. That was my players, the driver got lost, had to turn back, I found myself right back where I intended to be, following the mini-bus.

And within seconds, we could see the hotel sign on the left. That was a bit of a miracle, I tell you…
… AND BY DAY….

Got early to the venue. The sun was gorgeously shining on Jubilee Place, right of the Canary Wharf Jubilee Line Tube station of Canary Wharf. People was enjoying a bit of warm, and the atmosphere was truly lovely.

Inside, people were working hard to put everything into place, stands coming up, posters on stand, normal pre tournament excitement.

But our two PSA Heads, as in Alex Gough and Lee Beachill had a bit more on their plate today than normal, as a PSA Television Match Official (PSA TMO) is on trial this week.

"It's the perfect venue for testing our new system", said Lee. "It will be only used for decisions on lets, no lets and strokes to start with."

I think personally it's a lovely idea, especially as the "Video Ref" will have at his disposal 4 cameras angles he'll be able to review at his will, slow the image, speed it up, look at it frame by frame, and the spectators will be watching with him on the main screen.

"We are trying to get our sport in the modern times, and in line with other sports where the system is already in use. We hope that it will reduce the confrontation between the players and the refs. We are at the moment setting the appeals to two per game, per player, and one per tie-break. We'll review the number of appeals after the trials."

Well, let's see what it brings. Should be interesting, and maybe even fun!!!!!