By ALAN THATCHER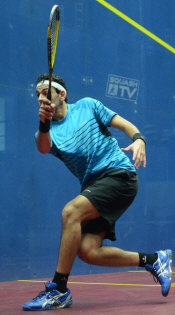 Mohamed El Shorbagy has already played a part in this year's Canary Wharf Classic, refereeing one of the qualifying ties at Wimbledon!

He is seeded three at the East Wintergarden, behind Nick Matthew and James Willstrop, and is looking for a first Canary Wharf title, both for him and for Egypt.

A finalist in the World Championship while still a student in Bristol, he came incredibly close to breaking Ramy Ashour's long unbeaten run. Mohamed enjoys combining his studies and his squash career.

And he has some devastatingly frank views on the differences between how young players are taught in Egypt and England.


1: It's amazing to think that you have reached the final of the World Championship and the top five in the rankings while still a student in Bristol. What subject are you studying and how do you manage to combine your studies with your squash?

I am studying Business Enterprises at the University of the West of England...I don't find it that tough to combine both exams period is during January and May and that's the time when actually you got to free yourself for your studies so I don't think two months a year will do a lot of damage to your squash.

Also, for me, I am the kind of person who likes to have something besides my sport, because if I just had squash in my life I could easily go crazy. I do think that the juniors who just go and play full time is a big mistake, which their parents shouldn't allow them to as it's just very important to be well educated in life and only squash won't just do that.

2: Your brother Marwan, who followed you as World Junior champion, is also in Bristol, studying alongside you. Who else do you train with and who are your main coaches?


I train with Lucas Serme as well there who was european juniors champion and also studying with us at the same university. He is a good player and I believe he can make it to the top if he keeps working hard....I am being coached when I am in Bristol by Hadrian Stiff, who has worked very hard with me in my movement and my technique on court...

And I am being coached by Amr Mansi whenever I am back in Alexandria...I started working with him from last summer and he has been working really hard with me, and I think I have improved a lot with him.

3: Can you share some of the best pieces of advice you have received from squash legend Jonah?

I don't know from where to start to answer this question as I have received millions, sorry I meant billions of pieces of advice from him, but I am a selfish person and I would just keep them all to myself ha ha!

4: How did it feel to reach the final of the World Championship in Qatar in December, beating Karim Darwish in the quarter-finals, James Willstrop in the semi-finals and then facing your compatriot Ramy Ashour in the final?

It was a weird feeling that up to today I just don't understand it...a lot of people do congratulate me for reaching the World Open final and I smile but inside me I don't think anyone will understand how hurt I actually was that you were just three points away from being world champion! And the feeling that this final will never come back again. It could happen again in the future as I hope, but it will never happen again when I am 21!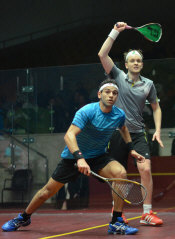 5: Your match with James lasted almost two hours, yet you still had the energy to attack flat-out against Ramy in the final and you came so close to winning. How did your body feel the next day?

I actually didn't have any physical energy left. I went for practice with my brother on the morning of the final and we had to stop midway through training because of how tired I was.

I couldn't see the ball well, I was feeling that my head was going to explode, and I came off court telling my brother I think this is going to be the fastest world open final in the squash history.

And then my brother told me something I don't think I will ever forget "just remember how many people would have wanted to be in your place today ... I wish I had the chance to play instead of you today...you came here to win the tournament, not to just beat Darwish and Willstrop" that didn't change anything physically for me but mentally I was like I am ready to run till I die!!

6: You have had some interesting matches with James Willstrop, so how much did it mean to you to beat him in Qatar?

It meant a lot to beat him in Qatar but what it meant more that I knew I beat him when he was playing well...but one thing I won't forget was how well he shook hands with me after the match...He had a lot of pressure in the tournament, he was seeded one, a lot of people were talking about how good his draw, was which would have put even more pressure on him, and after he lost he took the loss unbelievably well.

But I guess that's what champions do, right? And he is one of them for sure!!

7: Studying in England, and playing the PSL for Bristol, you are very much part of the English squash scene. What are your thoughts on squash in England, the way we develop our players and the young guys coming through?

I unfortunately disagree with the way in England they try to develop their young players. They try to teach them to be disciplined and hit a good length at such a young age when that's the age for me when you should be learning to go for shots as it's way harder to learn how to go for shots when you're like 20.

I am not saying being disciplined and hitting a good length isn't important, because at the professional squash this could be the most important thing, but as I said it has it's time when you should learn it.

8: How would you say the English system differs from the development of players back home in Egypt?

Yea it's not only different it's just the complete opposite which was kind of good for me as when I came to England I started learning the English way of playing, so I could have a mix of the Egyptian English style.

9: Who are your favourite players, and the ones you have learned most from?

The one and only AMR SHABANA! The guy is a legend and I just can't imagine the tour one day without having him! The day this guy isn't on tour will be one of my saddest ever days in the sport!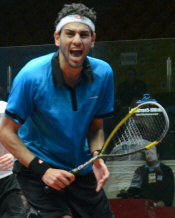 10: How do you see your game developing in the next year or so? What do you need to do to get closer to the number one position?

I need to develop each part of my game. I still think I have a lot of things to work on, which is good as that means there is still room to improve.

11: If squash is successful in gaining a place in the 2020 Olympics, how much would it mean to you to be able to win a gold medal for Egypt?

It would mean a lot. I will be 29...A lot of players peak at that age so that would just be the perfect time for me...If I don't win anything in this sport and just win the Olympic Medal then I will be more than happy to retire after it.