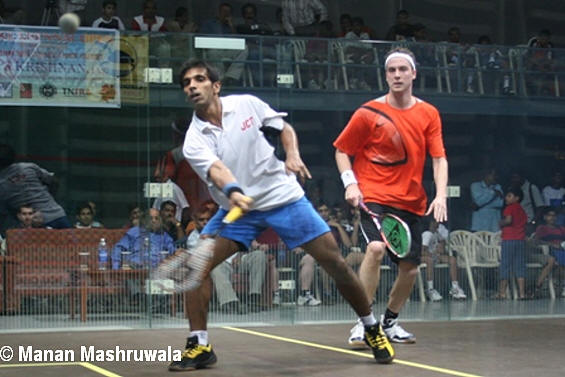 Sun 18th, Final:

[2] Ritwik Bhattacharya (Ind) bt [3] Dylan Bennett (Ned)
11/4, 11/2, 11/7 (25m)
Draw & Results

Ritwik Retains Chennai Title
Cyrus Poncha reports from Chennai

Defending champion Ritwik Bhattacharya made it six wins out of six appearances in PSA finals after winning a fairly one-sided match against the Dutchman in the climax of the 4th ICL Chennai Open.

It appeared that yesterday's semi-final affected Dylan's movement today, he was lethargic and struggled to get into the match.

"This is the first time I have seen Ritwik play so very well. His lengths were crisp and penetrating and his drops were absolutely devastating. He managed to control his opponent with medium paced drives, excellent lobs and killer drops. Overall a pleasure to watch."


Consultant Coach of SRFI

Six for Ritwik

The win continued Ritwik's unbeaten record in PSA finals, and the Indian number one also received a financial bonus from the SRFI as he broke into the world's top 50 two months ago.

Ritwik's Wins:

2003: North Island
2003: Royal Oak
2005: Rocafort
2005: Rochester
2005: Chennai
2006: Chennai

Bigger again for 2007

The SRFI are planning to host a bigger event next year which will be the fifth running of a tournament which has been very successful.
Sat 17th, Semis:

[3] Dylan Bennett (Ned) bt Majid Khan (Pak)
11/4, 11/8, 10/11(1-3), 11/7 54m)

[2] Ritwik Bhattacharya (Ind) bt [4] Saurav Ghosal (Ind)
8/11, 11/7, 11/6, 11/7 (55m)
Draw & Results

17-Jun, Semis:
Bennett &Bhattacharya
in Chennia Climax
Cyrus Poncha reports from Chennai

The first semi-final was an all-India affair between Saurav Ghosal and Ritwik Bhattachara. Ritwik started favourite, as second seed and leading their head-to-head series 4-2, but it was Saurav who looked in control in the early stages as he won the first game 11-8.

Leading 5-0 in the second Saurav looked set to run away with the match, but showing guts and discipline Ritwik clawed his way into the game and thereon kept control over Saurav, who was giving Ritwik many openings in the front of the court, which Ritwik capitalized on with some great drops and drives. Ritwik looked very solid in the third and ensured there was no opening for Saurav to fight back.

Third seeded Dylan Bennett played hugging drives and a great array of shots from the front of the court to dominate Majid Khan from the start of the second semi-final. Majid did not look in the match for the first two games, but played aggressively and fought back from match ball down at 8-10 to win the third game on the tie break in 15 minutes.

Dylan resumed his control from the start of the fourth and wrapped up the match to claim a place in the final

Ritwik will be the favourite to win his first one star PSA title tomorrow, having won five times in six PSA final appearances, but the young Dutchman will be keen to add a second PSA title to his trophy cabinet ...




Ritwik Bhattacharya
(Chennai Open
champion in 2005)


Dylan Bennett
(Crocodile Cup
champion in 2005)
16-Jun, Quarters:
All-Indian Semi-final
in Chennai ...


Major Maniam reports



The day's proceedings at the quarter finals of the 4th ICL Chennai Open 2006 started with former ICL Squash Academy player and the home town favourite Saurav Ghosal against Englishmen Tom Richards. Saurav started rather tentatively whilst Tom's frontcourt touches were brilliant and caught Saurav
time and again. He had Saurav running all over the court and took the first game.

Saurav decided to tighten up in the second and went back to basics and frustrated Tom with his deep straight and cross court drives and secured the second game. The third was a ding dong battle all the way and both players showed great resilience and at the appropriate moment beautiful finishing shots.

Towards the tail end of the game Saurav made less mistakes and edged Tom out to take the third. Saurav came on aggressively in the fourth and reeled off four straight points. Tom fought back briefly but he was beginning to fatigue rapidly. Sensing that Saurav raised the tempo and clinched the game and match confidently.



Dylan romps home



The second match between Dylan Bennett and Wong Wai Hang was not as fiery as the first match.

I have seen Wong at his best before, but today he seemed not to have fire in his belly. He gave away the first two games rather tamely with far too many unforced errors.

The third game looked like it was going the same way until Wong made a distinct effort and tightened up the game. Now it was Dylan's turn to make unforced errors. It went all the way and Wong finished off with a beautiful short straight drive. The fourth started of well with both players playing some really exciting rallies. But somewhere in the middle of the game Wong lost it and unforced errors crept in again. Dylan romped home with a well deserved 4 game victory.



Ritwik roars back



The third match was between another hometown favourite Ritwik Bhattacharya and Yasir Butt of Pakistan. Yasir who will be playing in the forthcoming championships in New Zealand gave a good account of himself though he lost 3-1. The lanky Yasir used his reach extremely well to volley and volley drop Ritwik's cross-courts catching him time and again. Having lost the first game, Ritwik came back with a vengeance, tightened up his game, played lot more straight shots and used his forehand drop shots to great effect.

Once he took the second game, there was no turning back as the third and fourth came rather easily.



Majid muscles through



The final match of the day was between the number one seed Khayal Muhammad Khan against his countrymen Majid Khan.

It was an extremely physical match, which lasted 74 minutes. Although the referee had a good control of the match, there were 16 strokes, 54 lets and 19 no lets.

Both players knew each other's game very well and had some entertaining rallies aside from the physical ones.

In the end Majid Khan kept his cool to upset the No.1 seed 3-2 and the crowd seemed enjoyed it all.


Fri 16th, Quarters:

Majid Khan (Pak) bt
[1] Khayal Mohammed (Pak)
11/10(2-0), 8/11, 11/3, 5/11, 11/5

[3] Dylan Bennett (Ned) bt
Wai Hang Wong (Hkg)
11/4, 11/8, 10/11(0-2), 11/7

[4] Saurav Ghosal (Ind) bt
Tom Richards (Eng)
6/11, 11/7, 11/10(7-5), 11/5

[2] Ritwik Bhattacharya (Ind) bt
Yasir Butt (Pak)
9/11, 11/3, 11/7, 11/3

Draw & Results


Ritwik & Saurav home favourites


Ritwik Bhattacharya


Ghosal and Bhattacharya will be playing against each other in major tournaments for the sixth time with Bhattacharya leading the head-to-head count with four wins, including two in the recent past.


Majid Khan
ICL Chennai Open 2006
13-18 June, Chennai, India, $10k

Round One
May 15
Quarters
May 16
Semis
May 17
Final
May 18
[1] Khayal Muhammad Khan (Pak)
11/6, 11/10, 11/7 (30m)
[Q] Naresh Kumar (Ind)
Khayal Muhammad Khan
11/10(2-0), 8/11, 11/3, 5/11, 11/5
Majid Khan

Majid Khan

11/4, 11/8, 10/11(1-3), 11/7 54m)

Dylan Bennett

Dylan
Bennett

copied from Squas

hSite

Ritwik Bhattacharya

[6] Majid Khan (Pak)
11/6, 11/7, 11/7 (32m)
[Q] Neil Hitchen (Eng)
[3] Dylan Bennett (Ned)
7/11, 11/8, 11/9, 9/11, 11/7 (44m)
Tim Arnold (Mas)

Dylan Bennett



11/4, 11/8, 10/11(0-2), 11/7



Wai Hang Wong

[8] Wai Hang Wong (Hkg)
11/8, 11/3, 11/3 (18m)
Marton Szaboky (Hun)
Parthipan Ayappan (Ind)
11/9, 11/7, 11/5 (18m)
[7] Tom Richards (Eng)
Tom Richards

6/11, 11/7, 11/10(7-5), 11/5
copied from
Saurav Ghosal
SquashSite
Saurav Ghosal

8/11, 11/7, 11/6, 11/7 (55m)

Ritwik Bhattacharya

[Q] Gaurav Nandrajog (Ind)
11/5, 11/10, 11/5 (46m)
[4] Saurav Ghosal (Ind)
[Q] Harinderpal Singh (Ind)
11/5, 11/6, 11/7 (24m)
[5] Yasir Butt (Pak)
Yasir Butt

9/11, 11/3, 11/7, 11/3



Ritwik Bhattacharya

Rob Sutherland (Wal)
11/9, 11/4, 11/6 (26m)
[2] Ritwik Bhattacharya (Ind)
Qualifying Finals, 14-Jun:


Gaurav Nandrajog (Ind) bt
Mohd Nafizwan (Mas) 11/7, 11/7, 6/11, 11/7 (30m)
Harinderpal Singh (Ind) bt Nafzahizam Adnan (Mas) 9/11, 11/9, 11/9, 11/10 (51m)
Neil Hitchens (Eng) bt Vikras Jangra (Ind) 11/5, 11/8, 11/8, 11/7 (36m)
Naresh Kumar (Ind) bt Shahril Shahidan (Mas) 10/11, 10/11, 11/7, 11/6, 11/7 (51m)
Qualifying Round One, 13-Jun:

Mohd Nafizwan (Mas) bt Ramit Tandon (Ind) 11/6, 11/4, 11/10 (18m)
Gaurav Nandrajog (Ind) bt Vikram Malhotra (Ind) 11/7, 11/1, 11/7 (24m)
Nafzahizam Adnan (Mas) bt Ravi Dixit (Ind) 5/11, 11/3, 11/3, 11/1 (20m)
Harinderpal Singh (Ind) bt Supreet Singh (Ind) 11/8, 11/7, 8/11, 11/10 (82m)
Vikras Jangra (Ind) bt Sandeep Jangra (Ind) 11/3, 11/9, 11/9 (22m)
Neil Hitchens (Eng) bt Shakti Singh (Ind) 11/5, 11/5, 11/7 (20m)
Naresh Kumar (Ind) bt Parth Sharma (Ind) 11/6, 11/7, 11/7 (25m)
Shahril Shahidan (Mas) bt Balamurugan (Ind) 8/11, 11/4, 11/6, 11/7 (30m)

15-Jul, Round One:
Ghosal & Bhattacharya
Lead Local Charge Into Chennai Quarters

Ritwik Bhattacharya and Saurav Ghosal will represent local interest in the quarter-finals of the 4th ICL Chennai Open after comfortable first round wins at the ICL Squash Academy in Chennai in India.

Second seed Bhattacharya had no trouble in disposing of Rob Sutherland of Wales in 26 minutes. The 26-year-old from New Delhi will now face Pakistan's Yasir Butt, the No5 seed, for a place in the semi-finals.

Ghosal, the No4 seed, had to work harder to earn his victory against compatriot Gaurav Nandrajog, taking 46 minutes to win in straight games. The UK-based 19-year-old from Chennai will now meet England's Tom Richards, the seventh seed who ended Indian Parthiban Ayappan's run in straight games.

The closest battle of the day saw Dutchman Dylan Bennett overcome Malaysia's Timothy Arnold 7-11, 11-8, 11-9, 9-11, 11-7 in 44 minutes.

14-Jun, Qualifying Finals:
Indians dominate Chennai Qualifying
Cyrus Poncha reports

The Indians dominated the second round of qualifying at the 4th ICL Chennai Open 2006, with three of the four places in the main draw going to locals. This is the first appearance for all the three boys in a one star event, and now makes six Indians playing in the main draw.

Naresh Kumar, playing his first PSA event and ranked 288, defeated Shahril Shahidan of Malaysia ranked 102 places above him at 186. From two games down - both lost on tie-breaks - Kumar was able to clinch the tie with a remarkable comeback. Determination was the key word for Naresh who played brilliant hard drives and delicate drops to beat his higher ranked opponent. Kumar now faces Pakistan's top seed, Khayal Muhammad Khan.

Harinderpal Singh, continuing from the brilliant performance of yesterday, defeated another Malaysian, Nafzahisam Adnan, in a close 4 game encounter. Both players gained the advantages by their opponent's unforced errors, however Singh held his nerves to win the fourth game in a tiebreak.

Gaurav Nandrajog, back into the PSA rankings after a year's gap, proved strong for Mohd Nafizwan, also of Malaysia, to win in four games.

Neil Hitchen of England troubled Vikas Jangra with his pace and depth also winning in four games to deny India a qualifying clean sweep.

Preview:
Ritwik and Saurav carry
home hopes in Chennai

It is that exciting time of the year again when the mid ranked professional Squash players from around the world make a bee-line to Chennai for the 4th ICL CHENNAI OPEN.


What started off three years ago as a tournament to expose our budding PSA players to experience high level competition at home, pleasantly surprised every one when Chennai's Saurav Ghosal made it all the way to the finals in the 2nd edition of this event and current National champion Ritwik Bhattacharya won the last event.

This year we have upgraded the event to a one star event (US$10,000 prize fund), and have attracted participants from Pakistan, Netherlands, England, Hong Kong, Malaysia, Hungary and Wales. Bhattacharya the highest ranked professional (49) is seeded two and will be making a strong bid to retain his title. Ritwik has had a fine run in recent PSA tournaments and will certainly be the player to beat. Saurav Ghosal ranked 64 has been training diligently and as always will be a delight to watch in action. He is seeded to meet Ritwik in the semi final which is expected to be a fiery affair. Ayappan Parthiban who is training for the World Junior Championships has been given a wildcard into the main draw.

The star foreign attraction is Pakistani Khayal Muhammad who will certainly be eyeing the title - as a matter of interest Khayal beat Ritwik in the PSA tournament in Kolkata in September last year. Another seeded foreign participant worthy of notice is Dylan Bennett who together with Saurav Ghosal is the 3rd seed. The lanky 21 year old Dutch No.3 is a full time professional and has won every Junior age category championship in his country.

Mr. N. Ramachandran of the SRFI who has been instrumental in many of the successful squash programmes launched in the city, gave his vote of thanks to the title sponsors - ICL. The Championship will be held at the ICL Squash Academy from the 13-18th June. 8 Professional players and 8 locals will play in the qualification event on the 13th & 14th, with four players making it into the main draw. Harinderpal Singh, Gaurav Nandrajog, Vikas Jangra, Sandeep Jangra, Vikram Malhotra, Supreet Singh, Shakti Singh, B. Balamurugan, Ramit Tandon, Ravi Dixit, Naresh Kumar, and Parth Sharma will play the qualification.

"We look forward to at least two Indians making the main draw from the qualification to join forces with the four in the Main draw to make it a large group, and I believe an Indian will win the title again this year" said a confident National Coach, Cyrus Poncha.

There will be a Press conference for the event at the Savera Hotel on 13th June 2006 at 7.30 pm.


13-Jun, Qualifying round one





Under way in Chennai
Cyrus Poncha reports

The 4th ICL Chennai Open got underway at the ICL Squash Academy in Chennai.

12 Indians were seen in action in the first round qualification, of whom four made it to the qualifying finals.

The closest encounter lasted 82 minutes where Harinderpal Singh defeated his senior Supreet Singh in an enthralling 4 games.

Harinder after taking a 2-0 lead started to make a few unforced errors. Supreet capitalized on this and won the third game. The fourth game was a very close tussle with the service changing hands frequently. At one stage Harinder was down 10-9 and 11-10, he saved the two game points before clinching it 14-12.

A surprise first game win saw Ravi Dixit leading against Nafzahizam Adnan. however Adnan took control quickly to win the next three games comfortably.

Qualifying Finals, 14-Jun:

Mohd Nafizwan (Mas) v
Gaurav Nandrajog (Ind)

Nafzahizam Adnan (Mas) v
Harinderpal Singh (Ind)

Vikras Jangra (Ind) v
Neil Hitchens (Eng)

Naresh Kumar (Ind) v
Shahril Shahidan (Ind)

Qualifying round one results