TODAY in Amsterdam -

Sat 3rd, Day FOUR
England win another
double in Amsterdam ...

The finals had familiar look to them, and England were favourites to claim their 16th consecutive double title, but there was real hope in their rival camps.

The Dutch, buoyed by home support, had their best chance of taking the women's title for the first time, and the French men, boosted by a playing order that for once favoured them, were expected to give England a good run.

Meanwhile the playoff finals will decide the final positions - and the seeding for next year - so there was no lack of emotion on the outside courts ...

Check the results page for full draws & results
Women's Final:
England 3-0 Netherlands
Alison Waters 3-0 Karen Kronemeyer 9/0, 9/5, 9/0 (24m)
Vicky Botwright 3-0 Vanessa Atkinson 9/1, 10/8, 9/3 (36m)
Jenny Duncalf 2-0 Annelize Naude 9/4, 9/1 (17m)

Men's Final:
England 3-0 France
Peter Barker 3-1 Thierry Lincou 8/10, 9/7, 9/1, 10/8 (90m)
James Willstrop 3-2 Gregory Gaultier 9/7, 2/9, 7/9, 9/1, 9/3 (101m)
Adrian Grant 3-0 Julien Balbo 9/1, 9/2, 9/6 (65m)
Lee Beachill v Renan Lavigne not played

It's England again



The ESF voted at is AGM this morning to make all its events over to PAR to 11 scoring over the next couple of months. The first game of the men's final showed why, as Thierry Lincou took the first game for France - saving a game ball at 7/8 -after 30+ minutes of play.

The Frenchman opened up a 6/2 lead in the second, but Barker fought back, and with a determined "c'mon" took the game 9/7 to level it up.

The momentum was with the Englishman as he sailed through the third, but the fourth was another close affair. Barker reached match ball at 8/7, Lincou saved with a perfect volley drop, then levelled. Barker earned another at 9/8 and this time the Frenchman's drop clipped the tin. England one up ..



In the second match it was another long first game, with some tremendous rallies and great retrieving by booth players. This time it was the Englishman who squeezed home, but Gaultier struck back to take the next two.

At 4/1 to Willstrop in the fourth Gaultier slipped, injuring his thigh. After some treatment he carried on, but couldn't stop James taking the game 9/1.

James took a quick 5/1 lead in the decider, at 5/3 Gaultier's thigh went again but the referee insisted he play on. The Frenchman kept going, at match ball his thigh went again, and as the final ball sailed past him he collapsed on court, where he stayed receiving treatment for a few minutes after the match.

It was an uphill task for France now, and sure enough Adrian Grant finished match, but Julien Balbo put up an hour's stern resistance before England's 16th consecutive double was claimed ...
"All credit to Greg for coming out and giving it all after a real battle yesterday. I had to stick to what I was doing, but it's always difficult to play squash on there, you end up just fighting through.

"It's very satisfying to put in a performance like that for the team, beating the world number two/

"Peter and I both showed a bit of guts today, but that's what it's all about. When you've got the guys on the bench cheering you on you just want to play well for your country.

"To go 2/0 up against such a strong team is a great performance, with Adrian and Lee still to come ..."



"I'm obviously very pleased to have put us into a strong position. At 0/1 and 1/6 down it wasn't looking good but I was happy to just grind out the win really.

"At 8-all in the first I totally forgot that I needed to choose one or two!

"There's a lot riding on it when you're playing for your country, you both want to win which makes it a just a hard match .... delighted!"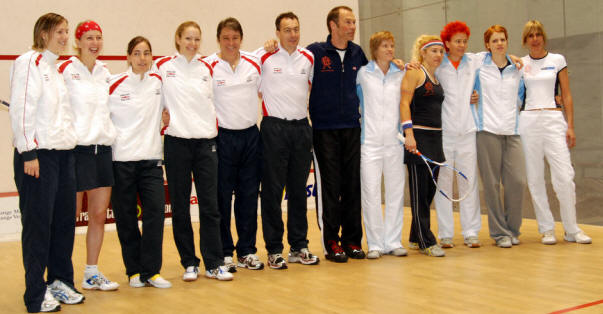 England's women still unbeaten

Alison Waters got England off to the perfect start, racing through the first game with nine unanswered points. Karen Kronemeyer steadied in the second, recovering from 5-1 down to level at 5-all, but Waters reasserted to take the match without dropping another point.

In the top string match Vicky Botwright also made a great start - although she trails Vanessa Atkinson 3-8 on head to head she dominated the first game, taking it 9/1.

As in the first match, the second game was much more competitive. Vicky led most of the way, reaching 8-6, but Vanessa saved game ball and amid noisy support levelled at 8-all. Vicky went ahead again with a crosscourt drop, and a volley error from Vanessa had the Dutchwoman banging the wall in frustration as she fell two games behind.

The third was all Vicky as she raced through to clinch yet another title for England.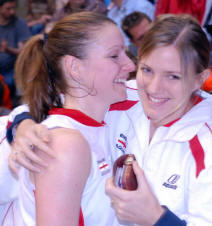 "I haven't been playing as well as I can recently but what really helped me was the support the coaches showed in me, if they were confident enough in me to pick me and play me at number one then that gave me confidence, so this has been a bit of a turnaround week for me.

"As captain, I wanted to do well to help take the pressure off Jenny, playing Annelize in Amsterdam is no easy task as I know well enough myself. The second was crucial, if Vanessa had taken that she would have had the momentum and with the crowd behind her anything could have happened.

"We always come here as favourites, but we never take anything for granted whatever anyone thinks. Like France yesterday, we know they have some good young players coming through so we have to be prepared and never assume we're going to win.


"It's a bit of a double celebration as Stewart [Boswell] and I got engaged last month. We were just walking in the Lancashire hills on a sunny Sunday and he started fumbling around in his pocket. I wondered what he was doing then he produced the ring and asked me to marry him! I said yes, of course, and it was quite romantic for an Aussie!

"We'll be getting married next May, we're trying to fit the date in around this event, the British Open and Dutch League!"