TODAY in Malmo ... Daily Updates

Sat 2nd, FINALS DAY:

After four days of non-stop squash it's finals day in Malmo.

The main events were once again England v France and England v Netherlands, but there was a lot to play for as teams aimed to get themselves the highest possible place, and potentially a better draw for next year's event in Aix-en-Provence, France.

And the final result?

Another double for England ...

Schedule & Results
full results & playoff schedules


Photo Galleries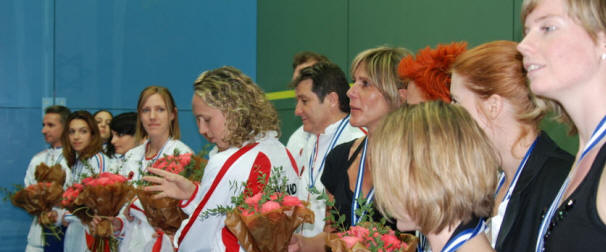 Women's Final:

England 3-0 Netherlands

Alison Waters 3-0 Vanessa Atkinson 12/10, 14/12, 11/7 (35m)
Jenny Duncalf 3-2 Natalie Grinham 11/5, 11/7, 5/11, 8/11, 11/8
Laura L.Massaro 2-0 Annelize Naude 11/?, 11/2

3rd/4th: France 2-1 Ireland

Men's Final:


England 2-1 France

Alister Walker 3-0 Julien Balbo 11/1, 11/7, 14/12 (59m)
Nick Matthew 3-1 Gregory Gaultier 11/9, 8/11, 12/10, 11/5 (65m)
Peter Barker 0-3 Thierry Lincou 13/15, 7/11, 7/11
Adrian Grant 2-0 Renan Lavigne 13/11, 12/10

Men's 3rd/4th: Wales 2-2 Netherlands (Wales win on games)
Women's Final:
Waters puts England ahead - just

Vanessa Atkinson has had the pressure of being Dutch number one in the last six finals. Today, relieved of that burden, she came so close to giving Holland the lead with Natalie Grinham still to come.

Atkinson led the first 7/4, had game ball at 10/9, but Waters just sneaked it to take the lead.

In the second the Dutch player looked like going two down as Waters raced to a 10/4 lead. She may have eased up, but her opponent didn't as she won the next seven points to earn another game ball at 11/10.

Waters pulled herself together just in time to take the game 14/12, and was always ahead in the third to give England the lead ... just.

Jenny does the trick

The scene was set for Holland's new number one, Natalie Grinham to level the match, setting up a decider ... but no-one told Jenny Duncalf the script.

With Grinham hitting a few more tins than usual, Duncalf took a two game lead and an early finish to the final was on the cards. But the Dutchwoman started to find her range, making her opponent move after those lovely flicks, drops and lobs she plays so well. She took the third fairly comfortably, held a slender lead throughout the fourth, finishing with a lovely long drop to level the match.

The decider was tense all the way, neither could make that decisive break. With both teams urging their player on, it was Jenny who edged ahead, 8-6, 9-7. A stroke brought it back to 9-8, but two long drops into the tin from Natalie, and England had retained the title.

"Dead chuffed!

"I got a good start with Natalie clipping the tin a bit, but I tried to stay as focused as I could to keep the momentum. I dropped my length a bit from the third, and she was putting in some good angles, I was just trying to hang in there and go short when I could.

"The fifth was pretty tense, I was pleased to see those last two shots hit the tin.

"You have to do what you can for the team - Al played really well in the first, gave me the best possible platform, and I'm just thrilled to bits to win it for the team today!"



"After getting that lead in the second I just sat back and waited for the game to come to me, but when she made it all the way back I thought 'oh my God'!

"I was very relieved to win the second, coming from two-nil down is hard for anyone, especially in a final.

"In the third I just tried to not think about what happened in the second and concentrated on winning each point as it came.

"We've all been working hard on a lot of things, after what happened in Cairo, so it's great to give the team a good start ..."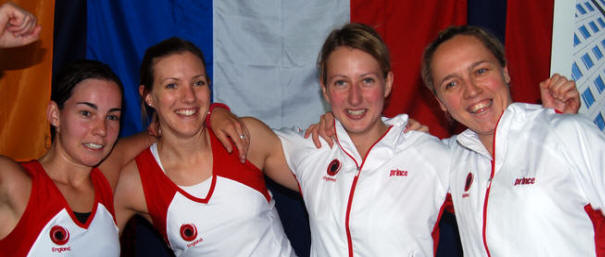 Men's Final:
Walker puts England one up

The French plan these past eight years in their finals against England has been for their numbers one and two to win three-nil and for their three or four to sneak a game, giving them the win on countback.

Sometimes the playing order has worked against them, and England's strength in depth always has, but today represents a good chance for them to realise that plan.

Alister Walker made sure it wasn't to happen in the first match though, as he beat Julien Balbo in an increasingly-difficult three games - the first was easy, the second not quite so, and the third anything but.

A few points down in the third, Balbo stuck in, started playing really well, and caught up. At 7-6 there were a number of tough rallies, all ending in lets, and thereafter the rallies stayed tough, the tension palpable in the packed arena.

The Frenchman led 9/7, but Walker pulled it back, and led 10/9, 11/10, 12/11. Each time Julien put in enormous effort to save the match, but at 13/12 hit his return straight back at himself to end a titanic game in slightly anticlimatic fashion.

Not that Alister cared ... his England were one up ...

"He pushed hard, played really solid squash and I had to work extra hard to take the third, it was really close all the way from the middle of that game.

"It's my first big match in the shirt - you set your standards so you know you're good enough to play for your country, but it's always tense until you've actually done it.

"I'm delighted to win, especially to get off in three as that could be the difference between winning and losing in the end ... the pressure's on the French now ...



Matthew doubles the lead

"I didn't really dominate much of that mach, did I," said Nick Matthew after beating new world number two Gregory Gaultier to double England's lead.

It may not have been one of Matthew's smoother performances, but it was certainly one of his grittiest, as he stuck with the Frenchman throughout a tough 21-minute first game, taking it at the death.

Gaultier levelled, and led 7/2 in the third, but more determined play from the Englishman - "I was just hanging in there for a lot of the time, and at that point I told myself to make him win it, give nothing away" - pulled the lead back, saved a game ball and again he took it at the first opportunity.

The fourth started as another tight game, but from 5-all a couple of errors from the Frenchman put Matthew ahead, and the game seemed to quickly slip away from Gaultier.

"There's no plan," said Matthew afterwards, "you just have to go on and try as hard as you can in every game. I'm just pleased to win after not playing my best squash, and to put the team in with a great chance of winning again ..."

His team needed two more games to be sure ...



Thierry pulls one back

Peter Barker has just overtaken Thierry Lincou in the world rankings, and he beat the Frenchman in the equivalent match last year, so although France really needed a 3/0 win from their talisman to stay in contention, it wasn't going to be easy

It got even harder when the Englishman led 8/2 and 10/7 in the third, but Lincou is renowned for his capacity to come back from deficits, and he showed again just how good he is at it.

Refusing to lose, he finally took the first 15/13 as Barker hit a couple of crucial tins at the end of the game.

Confidence back in his veins - "I was nervous at the start, I didn't feel I was up enough for a 3/0 win I needed, but after taking that game I believed I could do it" - the Frenchman held sway for the next two games, taking both 11/7 and France was back in the hunt ... as Thierry said, "I'm just glad the show has to go on ..."

Grant finishes it off

France needed Renan Lavigne to win. 3/0 and the title was theirs, 3/1 and it went to points countback, anything less and England would retain the title.

And how he tried - as he always does. There was nothing between them in the first game, and the Frenchman came within a point of taking it, at 10/9. But the "tie-breaks" had been going England's way today, and so it was again as Grant took it 13/11.

The second was a carbon copy, nothing in it, great effort from both players and great tension all around. The England team might have worked out how many points they needed in this game, but if they had they didn't tell Adrian.

This time he got to 10/9 first, but Renan saved it. A second chance for Adrian and Renan hit his return into the tin and the England bench applauded, knowing they'd won but not quite sure whether to celebrate properly yet.

France's manager Andre Delhoste came across to shake the hand of David Pearson and the England team, and the celebrations could begin ...



"I felt ok at the start of each game, but as I got nearer to game ball the tension just got to me, I really seized up, I've never felt anything like that in PSA or other matches, this was completely different.

"But the rest of the team had put in a good effort to get us that close, so you have to do them justice.

"We were missing one of our best players but still did the job, which is great credit to the team spirit we have - the boys and the girls together - and the support we get from DP and the rest of the team, which is just immense, they help us perform in these situations, keep us relaxed and allow us to play our squash."


Scotland claim 9th

The prelude to the finals on the glass court was the women's 9th/10th playoff between Scotland and Spain.

Spain took the lead when Xisela Aranda came from a game down to beat Claire Kidd, but Scotland levelled when Frania Gillen-Buchert beat Elisabet Sado in three close games at the top string.

The decider was a thriller, with Lisa Aitken saving one match ball before beating Margaux Moros 12/10 in the fifth.