En Bref #4

Everything you didn't know you needed to know about the Hong Kong Open ...


A VISIT TO THE HK FOOTBALL CLUB

When I was told that the players participating in the Hong Kong Tournament were this year offered a temporary membership to the prestigious HKFC, I thought it would be a good idea to go and have a little visit of the place.

Especially as I could basically see it from my hotel room! As you can see on that photo on the left

, you have first on the right the Jockey Club, that long rectang

ular white building, then the field, and around that field a building with a greenish roof, that's the HK Football Club.

So basically, I went out of the Hotel, took the subway (for our American readers, that's not the tube, it's only stairs going under busy traffic), went under the tram tracks, and arrived just in front of the Jockey Club.

Walked along there, and as Heather describes, "you'll see some horses"! I was wondering what she was referring to, until of course I saw them. Hard to miss really.

Then you turn the corner, and you arrive to another entrance of the Joc

key Club, with a gorgeous statue of a horse and its jo

c

key. A few more meters, and there you are.
The prestigious Hong Kong Football Club, created in 1886 with only two disciplines, Football and Rugby, has now grown into a superb club with 6,000 members and more disciplines that I can count without a calculator!

The building is low by Hong Kong standard, only three floors I believe. From the entrance, you have lifts that take you to the various activities, with basically an

Old England feel to it, sprinkle

d with the atmosphere you also find in the prestigious American Private Clubs.

And what about that great tunnel, crowed with photos, Hall of Honour really, with so many good memories, and some tragedies too, like the Bali disaster that costs the

lives

of

some HKFC members.

Back to the back to the facilities, the squash club is amazing to be honest. Twenty four teams in their leagues, a plethora of courts and two brand new show courts, honestly, it would make a great venue for a major squash tournament.

Of course, it also has the great advantage to have its windows giving onto the Jockey Club grounds! Mr Malcolm Willstrop would adore the place, I can tell you that....



In other words: plenty to do, for all ages, plenty to look at, plenty to drink, and plenty to eat, in a sumptuous decor!


The Bali Tragedy

Little Intro

Our name reflects our origins and distinguished one hundred-year plus history as a club for playing Association and Rugby Football. Although these continue to thrive today as core sports of the Club, Hong Kong Football Club is about much more than football.

As one of the finest sporting clubs in Asia, Hong Kong Football Club boasts superb facilities across a broad spectrum of competitive and recreational sports. One of the largest and most successful clubs in local sports competition, the Club also hosts top international sports events and touring sides.

And, as one of the foremost private members' clubs in Hong Kong, Hong Kong Football Club provides leisure, entertainment and a wide variety of Food and Beverage services that enhance the lifestyle of every member of the family.

In fact family is a key theme of the Club...







OPERATION SANTA CLAUS



Still under the Patronage of the HKFC, along with the South China Morning Post, is organised a big Charity event for the "Operation Santa Claus", the Annual Wing Ding squash tournament.

The title speaks for itself, and this year, Thierry Lincou will be part of the festivities happening, well, tonight! The tournament raised last year a million HK dollars, the equivalent I'm told of £100,000. And they hope that this year, that amount will be even bigger.
En Bref #3

Everything you didn't know you needed to know about the Hong Kong Open ...



RICKY HILL IN HK

OK, like a few of us, he is probably a bit "rounder" than when he was a squash players in the '80s, but it's the same smile!

Ricky now works for Virgin as a pilot - tough job, but - and moved recently from Nice, France to go and live in Dublin (he went and saw the girls in the final during the last Irish Open).

"I really enjoyed the South of France, but it was a bit difficult to commute with Heathrow, whereas from Dublin, it's dead easy," he said.

I live in the South of France, and I don't have that much trouble to commute... !! Oh well...

Still, Heather was delighted to have her Ricky for a few hours, as they've known each other for a good thirty years now, and always stayed in contact....

THEY LOVE HK BECAUSE...


Daryl Selby
There are so many things!!!!

People are always so happy to see you, not only Tony and Heather but all the volunteers, itís just a great feeling

Itís such an amazing city, it reminds me of London, the mixing of cultures, and you wonít find anybody on the tour that says that they donít like this tournament.

Nicol David
Always the food!!!!

So many good memories, my first world Open title, my first international junior tournament, I was 11, for the U13Ö And hopefully, many more to comeÖ



Damian
A lot of people, a lot of different places to shop. A great climate, warm and sunny.
And a great squash centre, with plenty of great players!


Nicol in the Papers, again...


Yeong Hui Min translates for us: Malaysian Ďsister' loves Malay cake... Nicol hopes for Olympic squash gold medal Nicol's tips in staying young
THEY LOVE HK BECAUSE...

Hisham Ashour
HK is so alive! We are always feeling welcome here.

And to be honest, the feeling is different, itís like the players were playing better, were trying harder. Iíve been coming for 7 years now, and for me, itís really a big tournament.

Low Wee Wern
Food is so good!!! Plus, I was injured last year, and I didnít get to play here, so really looking forward to it.

And itís such a short flight, 2 and a half hour. Perfect!

Sina Wall
Very friendly palace, very busy, and a lot to see and shop!!!!

Gaby Huber
A busy city compare to where I live, a big contrast (I live near a lake, mountains, and a tiny villageÖ)



BLESS THE DAD...

On the tour, you come to know the players, the officials, the promoters, but sometimes, you get really lucky, and to get to meet the parents.

And that's when the treat begins!

My latest discovery is Jack Mueller, and you will never be bored sitting next to him! During his son's Nicki's match against Tarek, he started by correcting somehow energetically the ref that was presenting his son as from Germany.

"Hey, hey! No, not Germany. Nicolas Mueller, from Switzerland. SWITZERLAND!!! " The crowd erupted...

Then, walking back from coaching Nicki after a poor second game, "He was just resting" says he to Mohamed El Shorbagy, coaching Tarek, with a cheeky smile...

And the last one, encouraging his son with several loud "Endelay, Endelay", as in "come on" in Spanish!

When I question why on earth he was speaking Spanish, he retorted, "Well, Nicki speak 7 languages, so...."

Where to start.....



BEWARE, VIP WATCHING!!!

HK Squash chairman Mr David Mui and Head Coach Tony Choi were joined by the Secretary for Food and Health, York Y.N. Chow, himself a keen squash player as well as one of the sport's big supporters in the HK government, to watch Joey Chan playing - and beating - Asling Blake.

"I used to play here for many years, when it was an army barracks in the sixties," revealed the Secretary, "and I played in leage competition in University from 1966. I still play one or two times a week, but not to this standard, of course!

"Joey played well," he said of the match, "she's one of a number of promising players that have come through the development programme and it's good to see her reaching the later stages of the tournament.

Joey was a bit scared of disappointing such an audience, she admits.

"I was a bit nervous about playing Aisling again so soon after the final in Macau," Joey Chan told the newspaper SCMP before her first round match, "especially with all the local supporters and I knew that officials from the squash association and the government would be there."

Joey did the business, beating the Irishwoman in straight games to reach the second round for the first time!

REWARDS TO HARD WORK....

The Secretary York Y.N. Chow was rightly pretty pleased with this year's results.

"HK squash have set up a very structured programme and the girls especially are reaching the later stages of individual and team competitions, which is a great credit to the programme and its developers in HK Squash.

"Cycling, wind surfing, table tennis and badminton are some of our important sports but in those a lot of our top players are originally from mainland China. Squash is one of the few sports in HK where we nurture our own players from six or seven years old.

"I was involved in the early years when the government started investing in the infrastructure of squash so it's pleasing to be seeing the benefits of that investment now.

The Secretary enjoyed it that much that he'll be coming back when the event moves to the all-glass court in Victoria Harbour. Hopefully he'll be able to see some more of the HK girls in action then ...


En Bref #2

Everything you didn't know you needed to know about the Hong Kong Open ...
TRAM'ING ALONG..

I must say only now do I realise why the Worlds were so tiring... From the qualifications, we had double the work we normally have, which means that basically, the first two days here felt not as heavy as they normally feel.

Plus, as I have those melatonin thingies - got to get sponsored - I was able to sleep from 8pm last night - after a grrrrreat massage thank you - up to 6am! A record has been beaten.

Meaning that I'm not grumpy, I'm not whinging, to the great relief of everybody on the Tour....

Now, yesterday, I did try and follow the indications I was given to go

walking

straight from the hotel to the venue - remember, I went and bought shoes the first day I walked - as in "you can't miss it, you go left out of the hotel, and you keep going straight on, and you'll arrive to the club".

Off I then went. And I walked. And I walked. And the road was going up. And up. And up. Till I realised that "you keep on straight on" actually was "you cross the road at some point, and take a sharp right"!!!!

Basically, I was sent to the Peak, as in the highest point in Hong Kong. Was I happy? Nope.

I had to take a taxi, of course, that took me all the way up, then all the way down.... Errrrrr....



So today, when at breakfast Shabana explained to Greg how simple it was to take the Tram, I thought I would try it at last. We met with Greg and Aamir at 10.45 and off we went.

Well, I know, Cubs has been telling me for years how great the tram was, but the previous years, it was a bit of a journey, walking and changing and all, and well, taxis were widely available in front of the hotels.

This year, no taxis, and the tram is basically at the door

, number 123

.

We didn't wait more than 30s, and the lady driver was extremely helpful, we started by coming in the exit, she smiled, didn't mind us and the sign "tourists" printed on our forehead!

She indicated us where to stop. And funnily enough, you pay on exit! I didn't have any change, HK$ 2.20. Greg had plenty, and paid for me, bless his heart.



It

wa

s about 15m drive, along some great busy streets, honestly, it's amazing feel. Then at the HSBC building, you get off, a few steps, you arrive at a place called Admiralty, with lovely escalators that take the sting of the hill away!

Again, that little walk through that lovely park, and here we were in the Centre!

And I know I've now made it in the world.

As I stepped in, the adorable owner of the cafeteria handed me a jar with deliciously dosed green tea and a real mug.

I feel extremely honoured, sue me!

THEY LOVE HK BECAUSE...

Yvan Yven
Canít not talk about the food, itís also full of nice people, nice shopping too!

Iíve been coming here since the juniors, and itís a great place to be...



Greg Gaultier
We have everything available here. Around the club, youíve got everything you can dream of, hundred of restaurants all around.

And for us, itís not too expensive, cost of life is really affordable, food, shopping, you can take a taxi easilyÖ

The club here, well, itís a super complex. And the great thing is that the organisers make the effort of doing this tournament every year, and we squash players really appreciate that. Not to mention that if you need anything, theyíll provide it for youÖ

We work in good conditions, we donít miss anything, and there is a little plus for us French, the proximity with New Caledonia means that a few French are coming to support us, and that is great for usÖ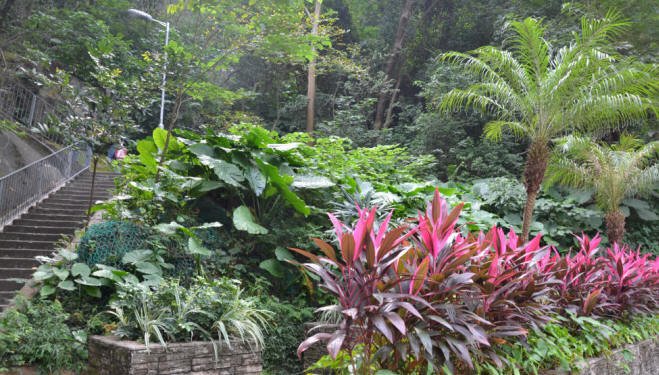 Up the hill I went....
THEY LOVE HK BECAUSE...

Mathieu Castagnet
People are so nice and welcoming here.

Itís a tournament thatís been on the calendar for so many years, and every year as well, itís the one we donít want to miss, and itís such a prestigious event as wellÖ

And itís such a great cityÖ

Lena Hansen
Itís a great place to go out, and their Barbecue Pork is great.

Cameron Pilley
Because itís close to Australia, and I can buy VeggieMateÖ


LOST AND FOUND

I did tell you I forgot my coat on the Express Train that takes you from the Airport to the City Centre.

Well, it was found, and brought back to the Airport Control Room. The concierge of the hotel went and fetched it for me for a small fee, which means that today, I won't be freezing on the Centre Glass Court....

Only in HK...
En Bref #1

Everything you didn't know you needed to know about the Hong Kong Open ...
ARRIVING....

Already the travelling to Hong Kong is not a piece of cake. Well, 12 hours straight in a plane, never a nice one, unless you travel Business of course, which is unfortunately not the case to that destination...

Add to that the tiredness of two major tournaments, Qatar and the Worlds, with only 3 days to recover, then a very heavy recording session on Thursday (yes, I'm still an actress), and you have a very tired Frog that starts by forgetting her Tecnifibre coat on the train from the Airport to the City Centre with her travelling card for London and France in the pocket...

Not a good start.



Arriving at the Cosmopolitan Hotel by 5pm, being given a room with no storage space, minuscule and no window, as the glass is white tinted, with electric light that prevents you from knowing if it's day or night. Feeling a bit like in a cupboard, but too tired to change.

As my ankles look like Beng Hee's quads - going straight for a massage next door, the lady seems very unhappy about the tip I give her. Blast. Been here only 5m, and I have already upset somebody.

Back to my room, putting the alarm clock to sleep only 45m and wake at 8pm. Yeah right. Never heard it, and just carried on sleeping until 11pm. Restaurant just closed, so ordered some fried rice, opened computer - 56 messages. Great.

Why doesn't the world stop while I'm on a long haul????

Bed rather early, 1am, with some one Melatonine pill, supposed to help with jetlag. And it does! I actually manage to sleep until 6am! Five hours on a first night in HK, that's a record for me.

Now sort of refreshed, I plead with the receptionist whose English is about as clear as my Chinese. Eventually, she's fed up of hearing the sound of my voice, and adorably upgrades me to a real room, nice space - especially through HK's standard - and with a great view.

Now I know I'm in Hong Kong. Que la FÍte Commence.....

THEY LOVE HK BECAUSE...



Harinderpal Sandhu
I got to the final of a challenger here, and I just love the place.

There are a lot of people that come to watch us play, everybody is very friendly, and although we are not from here, people are cheering for us, and that is a great support for us players.

Plus, itís such a beautiful cityÖ




Tanya Bailey
Itís easy to get to everywhere, the club, the hotel.

Iím always trying to say something original or exciting, but I just donít! I just enjoy the easiness of it allÖ


Laura Massaro
People here are very friendly, and I like the food, itís really nice.



Room with a view....
THEY LOVE HK BECAUSE...



Omar Abdel Aziz
I find everything is tight here, the streets, the hotelÖ itís small!

And the skycrappers, weird, they are tall but so tight! And what a high Tech cityÖ



Coline Aumard
Hors du commun, So out of the ordinaryÖ

WALKING ALONG...



The Cosmopolitan Hotel has got the great advantage of being at a walkable distance from the venue. Well, especially if you have a nice man that accepts to carry your load on top of his own. Yes, M. Cubbins of course.

Who also is my banker today, as the cash machine gives me two notes of HK$500, a bit like having two 50 pounds or euros. Great.

Ah, yes, because I also forgot to pack my tong shoes, good idea when you intend to cover Hong Kong and Kuwait.

Told you, I'm slightly KNACKERED, and my blond cells are even slower than normal....

So, here we go, turning right, and Cubs - a fervent user of the walk and tram in HK, where I'm more of the Taxi for Cheap person, shows me around, indicating me that street, and what tram stop I could stop if I wanted to get there by that mode...

And I'm having a quiet smile, thinking that before we started the SquashSite adventure, Cubs never went further than London, and now he is guide-touristing in Hong Kong...

Walking along, a lots of shoe shops, lots of people in the streets, and not many tourists, as we are not in the usual touristic place. The walk is a bit long, especially when we attack the hill, sun is hot, but quickly, we arrive at the Park.

What a great place that is, honestly. Normally, it's full of newly weds that come here to have their photos taken, but for some odd reasons, today, it's newly graduates.

OK...

The turtles are enjoying the sunshine, plants everywhere, refreshing, people enjoying life, and watching the time go by, the water, the trees, and even the incessant noise coming from the traffic is soothing I find.

It's just, well, Hong Kong.
FIRST DAY



The usual suspects are ready to roll, Tony, Heather (with a World Awards for LifeTime achievement fresh on her mantle piece), Iris, Emily - who as a magician, finds an optician within minutes to repair my glasses that have of course, broken down as they do regularly (that was money well spent, they've been breaking down in about 10 countries now in about a year).

The press room is still on that court right at the bottom of the stairs that take you to the courts, and of course, Mr Shabana steps in asking us to leave the premises as he's booked that court.

Bless....

Heather arrives with a bag full of Diet Ginger Beer for Cubs (don't say anything, I've done it for you) and lends me her mug with an Earl Grey, quickly drunk, the internet is working perfectly, the posters are on the wall, the players drop their bags, and use internet. Perfect continuity...

Only thing I now need, is a tea refill and a noodle soup.

To the cafeteria I go. The cafeteria is THE nerve centre here. It's friendly, it's warm, it's always full, and THE place to be. It's the place here that makes you realise where you are. They don't speak much English, but strangely, it doesn't matter. You still get to eat good food, even if sometimes it's not exactly what you expected...



And as I step in, the Cafe Boss sees me, and with a loud voice says "You!!!!!!......... want a TEA!!!!!!

The man didn't see me for two years, I step in, and he recognises me. COME ON. Is that a great feeling or what? OK, some might say it's probably because I bother them so much with my tea he cannot have forgotten me...

Truth is. Already English Breakfast is a bit too strong for me, and here, well, the spoon stands up in a very strong bitter sort of tea, that well, not many people that are not chinese get used to.

So, it is true that I've been asking them to give me a glass of hot water, and the bag on the side... Why do I suddenly feel a bit "Sally" like as in "When Harry met Sally"... So, yes, I guess they would remember me, wouldn't they....

The noodle soup is gorgeous, the room is full with people of all ages that come to the Centre to use the facilities and don't mind us squatting their courts and room for a while.

It's now 1pm. And the matches are about to begin...

THEY LOVE HK BECAUSE...

Camille Serme
Itís such a different world from Europe, one feels really in another world here. And I love the fact that there is a lot of green places, even between the buildingsÖ



Jack Mueller (Nicki's dad)
Only arrived last night, but from what we could see, it looks a bit like Manhattan!



Tom Richards

I love the scenery, itís such a different culture from the West, it makes a big change.

And they have been running that tournament for so long, itís all so well organised, and we are really independent, we can do sight seeing, relax. And the most important, we never get boredÖ