[3] James Willstrop (Eng) bt [2] Karim Darwish (Egy)
11/5, 11/9, 11/4 (53m)
GRINDING KARIM AWAY…

The atmosphere was a bit cooler than the previous day, and just a bit humid, but as we kept praying, no rain kept troubling the magical moment of a Hong Kong Final on the Victoria Harbour.


It was a magical moment indeed, that red junk – that I come to call my boat – that quietly passed behind the court had a bit of a spell, as if times was stopping…

From the first rally, it was James that controlled that time. He made the rallies long, disputed, accurate. Karim was not playing badly at all, but how can I say, he was not movement wise as sharp as he was all week.

After losing the first game pretty quickly, in 12m, the Egyptian turned the energy up. His chopped drop shots started to make a lot of damage on James height, and the Englishman looked a bit tired aroud 2/2, making 3 tins in 5 points. But gradually, the rallies balanced, between I attack you and you get to retrieve, now it's your turn kind of game.

4/4. 6/6. 7/7. James is virtually grinding Karim's movement, and gets game ball at 10/7. Karim, putting all his heart in a COME ON and his spirit in his racquet, give it a big push. His shots are lethal. 8/10. 9/10. But it's James that closes down with a superb drop shot, 11/9.

As James said, the Mountain to climb is as high as the China Wall for Karim. Still, he keeps fighting, but at 1/1, he slips badly, and just gets very cautious with his movement. James takes advantage of it, find winner upon winner up to 10/1 match ball. Karim, rightly proud, won't have such a low score, and gives it a last push to finally lose 11/4.

And as the players come off court, a fine and discreet rain starts to drizzle. The Squash Gods were smiling on Hong Kong tonight…
…… This is….. really a special moment.

Every player who wins a World Series event knows how difficult. It takes a lot of time to put it together in a week like this.

If I was going to win one World Series event, the World Open would be nice - but this comes a close second.

First thing that came through my mind when I won was not about wining a match. It's about the ambition we carry, the will to be the best at what we do, in those great venues, all around the world, that pretty great life we are living.

But most of all, it's about the people around me, that work for me, towards my success. And it's nice to be able to reward them with a win. It's their moment.


Conditions were not as warm as yesterday. Chris [Robertson] did the research, and we were expecting a few degrees down in temperature.

And it was. Which means that, Karim being such an attacker, I had to be ready to go and get whatever he was going to throw at me. And the rallies were not as sapping as they were yesterday, ball was not as bouncy, especially in the back corner.

We all know each other's game pretty well, but it's even more the case for our generation, Karim, Mathew, Gaultier, Barker. We played each other thousands of times in the juniors. But you have to accept and be ready for the fact that it's not always the same player that comes on court, and that you need to adapt.

I got a good start today, the court like I said was a bit deader, but like yesterday, it was all about being consistent with my length and width. In Paderborn, it was just not my day at all, he played very well, sometimes, things just turn a certain way, out of all sorts.

But today, I thought he was not as effective, maybe due to the pressure I was applying especially on the backhand wall. I think it was working very well on that side.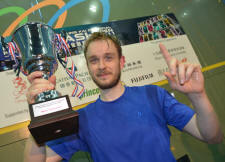 And again like yesterday, I won at the crucial times, and I got on top. 1/1 is a completely different complexion of the game. 2/0, it's a huge mountain to climb.

Today, things went for me, mentally, I kept focused, composed, and concentrated on what I wanted to achieve.

Well, I have 3 hours before my flight, so if anybody here from Emirates, an upgrade would be nice, thanks! No, no time to celebrate, onto the next event, but still going to enjoy the moment with Chris and Jade [ES Physio].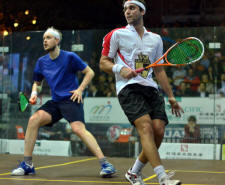 The second was crucial. Had I taken it, maybe things could have been different.

I was struggling a bit to go pass him today, I didn't have a clear path to the ball a few times. But all credit to him, he played a very accurate squash…

In the third, after I slipped, I got really got scared to injure myself. In Saudi last year, it was exactly the same situation, and I slipped and damaged my hamstring, so, I was really worried. I lost concentration, and to be honest, I'm just happy that I finished the match not injured…