07-Sep, Day FOUR, QUARTERS
Watch the Replays - five hours, six matches

[1] Annie Au (Hkg) 3-0 [5] Joey Chan (Hkg)
11/8, 11/4, 11/6 (28m)
[3] Joshna Chinappa (Ind) 3-2 [8] Liu Tsz-Ling (Hkg)
11/8, 8/11, 12/10, 10/12, 11/3 (50m)
[4] Tesni Evans (Wal) 3-2 [6] Dipika Pallikal Karthik (Ind)
10/12, 11/9, 11/4, 9/11, 11/3 (62m)
[2] Nour El Tayeb (Egy) 3-0 Ho Tze-Lok (Hkg)
11/4, 11/5, 11/6 (22m)

[7] Leo Au (Hkg) 3-0 [Q] Vikram Malhotra (Ind)
11/8, 11/7, 11/8 (38m)
[5] Omar Abdel Meguid (Egy) 3-1 [4] Tsz Fung Yip (Hkg)
11/8, 11/2, 6/11, 11/9 (55m)
[3] Omar Mosaad (Egy) 3-1 [8] Campbell Grayson (Nzl)
11/4, 8/11, 11/9, 13/11 (83m)
[6] Nafiizwan Adnan (Mas) 3-2 [2] Alan Clyne (Sco)
6/11, 10/12, 11/6, 11/8, 11/7 (104m)

Dallas Reid Reports on the Blog


Leo and Annie fly the flag for HK
as Adnan refuses to relinquish title

Quarter-finals day of the HKFC International at Hong Kong Football Club saw the top four seeds reach the women's semi-finals as the cull of the seeds continued in the men's draw.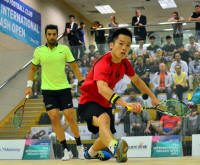 Leo Au, seeded seven, ended the run of Indian qualifier Vikram Malhotra, who yesterday beat the top seed, with a comfortable enough three-nil win 11/8, 11/7, 11/8 .

The all-HK semi-final predicted by the seedings was denied by Omar Abdel Meguid, one of three Egyptian winners on the day, who came through another physical encounter to beat fourth seed Tsz Fung Yip 11/8, 11/2, 6/11, 11/9.


"I just didn't start the third smart," said Meguid. "I was playing well, playing the right game but changed it in the third and by the time I got back I was too far down.

"A couple of decisions went against me in the fourth and instead ob being 9-3 it was 7-5 and a battle to finish it."

Omar Mosaad joined Meguid in the semis as he repeated last week's win in China over Campbell Grayson, but the Kiwi came close to forcing a decider before losing out 11/4, 8/11, 11/9, 13/11.


"After China I knew it would be another tough match, so I had to be focused from the start," said Mosaad.

"The glass court here suited his game more, so I'm happy to get through without it going to five. We played a good match, I felt the refereeing was inconsistent today I hope that improves tomorrow."

He'll meet defending champion Nafiizwan Adnan, after the sixth seeded Malaysian refused to give up his title, coming from two games down to beat second seed Alan Clyne in a marathon five-setter 6/11, 10/12, 11/6, 11/8, 11/7.


"He played well in the first two games," said Adnan, "but I told myself that I wouldn't give up, and after a good Summer's training I knew that I was going to be able to play and win a long match. I got a dead leg after a collision at 7-all in the fourth, but after a break I came back and just carried on.

"I didn't think about being the reigning champion, I just wanted to show that I could get back and win. Two more matches to go, I'm feeling fine physically and looking forward to it."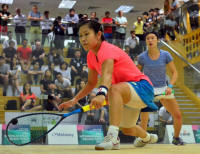 At the top of the women's draw top seed Annie Au was in control throughout as she beat long-time rival Joey Chan 11/8, 11/4, 11/6.

An all-HK semi was denied here too, Liu Tsz-Ling fading in the fifth after taking third-seed Joshna Chinappa all the way before losing 11/8, 8/11, 12/10, 10/12, 11/3.

"She's really fit," said Liu, "she played at the same pace and had the same shots for all five games. The crowd support helped, and I'm happy that I played better than in our previous matches, but I dropped a bit in the fifth and she didn't!"


Second seed Nour El Tayeb continued to impress as she beat Ho Tze-Lok 11/4, 11/5, 11/6, but the HK youngster improved as the match went on, giving the Egyptian a real test in the third.

"She was controlling everything, but I'm happy with the way I played," said Ho, who beat former world #1 Rachael Grinham in the first round.

"It's been a great experience playing against these top players."


Progress to the semis wasn't as simple for fourth seed Tesni Evans, who took just over an hour to beat Dipika Pallikal. After losing a close first game Evans almost overcame a 2-8 deficit in the fourth before completing the win 10/12, 11/9, 11/4, 9/11, 11/3.

"I nearly snuck the fourth, but was happy with how I came back in the fifth," said Evans. "It was a tough match, I had to concentrate there, but I'm happy to be through!"

Semi-finals start at 18.00 on Friday.