06-Sep, Day THREE, Round ONE
Qualifier Malhotra takes out top seed in massive HKFC upset ...

Round One of the HKFC International at Hong Kong Football Club saw most of the seeded players progress to the quarter-finals, with one minor and one major exception.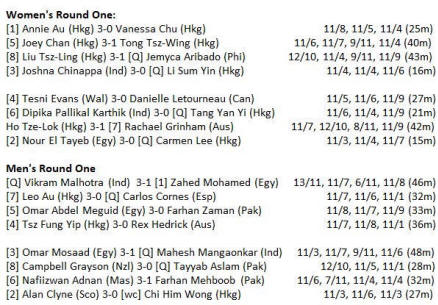 Ho upsets Grinham as four HK players advance


The women's matches featured nine Hong Kong players with two guaranteed quarter-finalists. Top seed and HK champion Annie Au set up a quarter-final meeting with HK number two Joey Chan after both beat unseeded compatriots to advance.


Liu Tsz-Ling made it three home winners in the top half as she ended the run of qualifier Jemyca Aribado in four close games with the Philippines qualifier coming close to taking it to a deciding game.

"I'd never played her before so it was a bit of a surprise," said Liu. "She battled back well and I don't think I was at my best so I was delighted to get through that fourth."


She'll face third seed Joshna Chinappa, one of two Indians to advance at the expense of local qualifiers. Compatriot Dipika Pallikal Karthik will meet Tesni Evans after the Welsh tiger despatched Danielle Letourneau in straight games.

Second seeded Egyptian Nour El Tayeb was first on court, and took just fifteen minutes to dismantle HKFC champion Carmen Lee.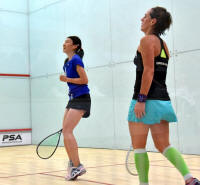 She'll face another local after Ho Tze-Lok turned in a composed performance to beat former world #1 Rachael Grinham, seeded seven here, in four games.

"That was getting a bit tense at the end," said Ho. "I was leading in the third and she came back, and she nearly came back in the fourth too!

"It's the third time I played Rachael and the first time I won, so really pleased to reach the quarter-finals."
Malhotra takes out top seed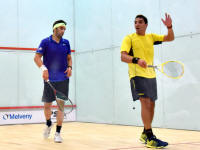 The top of the men's draw is missing the number one seed after Indian qualifier Vikram Malhotra produced his best-ever result to beat Zahed Mohamed in four games.

Malhotra took a two game advantage and although the Egyptian reduced the deficit he couldn't claw back Malhotra's lead in the fourth, angrily leaving the court after his final shot was called 'not up'.


"That's my biggest ever win in ranking terms," said a delighted Malhotra, "it's hard to come close to big wins and not cross the line so it's good when the hard work finally pays off.

"I prepared for this by going to Colombia to get my butt kicked at altitude by Miguel [Rodriguez] and it seems to have dome me good!"

He'll face local favourite and HK champion Leo Au for a place in the semis after Au eased past qualifier Carlos Cornes in straight games.

"Leo and I played a lot in juniors, but not yet in seniors," said Malhotra. "I'm looking forward to it and I'll ty to come out firing."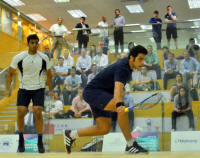 There will still be Egyptian interest in the quarters after Omar Mosaad and Omar Abdel Meguid won, Mosaad beating his Indian qualifier Mahesh Mangaonkar in four games while Meguid bounced out Pakistan's Farhan Zaman in three physical games.

Mosaad will face Kiwi Campbell Grayson while Meguid meets Hong Kong's Tsz Fung Yip, both comfortable winners in three games.


The bottom of the draw sees defending champion Nafiizwan Adnan. seeded six, take on second seeded Scot Alan Clyne.

Adnan helped to make sure that none of the five Pakistan players here progressed as he beat Farhan Mehboob in four games while Clyne took out wildcard Chi Him Wong in three games.

Quarter-finals start at 17.00 on Thursday on two all-Glass Courts.