More upsets as Leo keeps home hopes alive

Semi-Finals of the HKFC International at Hong Kong Football Club saw more upsets as HK top seed Annie Au was beaten, but at the end of a long day Leo Au upset the seeding to keep home interest on finals day alive.
First up was a marathon women's match in which India's Joshna Chinappa beat top seed and home favourite Annie Au in five tough games.

Chinappa recovered from an early deficit in the first to take the lead and almost did the same in the second before Au held on to level. The Hong Kong player had good starts in the third and fourth, Chinappa once again fought back to take the third but couldn't do so in the fourth as Au set up a decider.

Again in the fifth Au led early, but Chinappa recovered to lead 8-5, and although Au reduced the arrears, two late errors cost her dearly as the India's Asian Champion advanced to the final 11/9, 10/12, 11/7, 8/11, 11/9.
"That was such a tough match, very close from start to finish," said Chinappa. "I had chances in the second but she put the ball away well, but then I should have taken better advantage of being 8-5 in the fifth.

"It's always tough to play Annie in HK, and very hard to beat her, so I'm maybe a bit lucky but very happy to be in the final, having Vik and Mahesh in my corner really helped."

The first men's match was even longer as Omar Mosaad overcame defending champion Nafiizwan Adnan in a five game marathon, gaining revenge for his defeat at the Malaysian's hands last week in China.

There was little to choose between them in each of the five games, Mosaad twice taking the lead only to be pegged back, then pulling clear in the fifth to reach the final 11/6, 9/11, 11/9, 4/11, 11/5.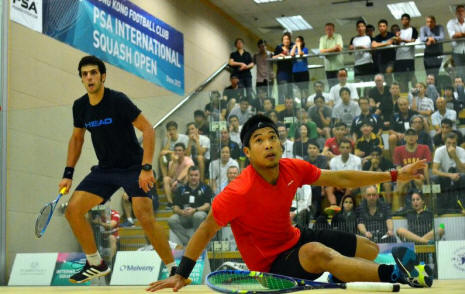 "You have to learn from defeats, and I think I've done that," said Mosaad. "He's a very tough, solid player, I improved against him last week and today I was happy to get the win over him toady and very happy with my mental composure over five games.

"This is the first final I've reached in a year and a half so I'm very happy and looking forward to tomorrow."

The second women's semi was an entertaining affair between Nour El Tayeb and Tesni Evans, who shared the first two games before the Egyptian second seed asserted more and more control from the middle of the third, getting the better of brutal rallies before eventually taking the fourth with some comfort, winning 11/7, 7/11, 11/6, 11/2.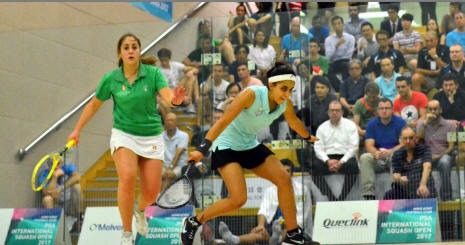 "I was a little nervous at the start and a bit off," admitted Tayeb," Tesni beat me the last time we played so I wanted to make sure I played well, and as I got more into it I felt my form improving and I started to enjoy it.

"This will be the first time I've played four matches in a tournament for two years, so I'm really excited about that and looking forward to the final."

The final match of the night went on over two hours behind schedule, but home favourite Leo Au was quickly into his stride against Omar Abdel Meguid, keeping ahead in the first and then racing through the second as the Egyptian gave up on the final few points, looking frustrated with the turn of events..

That wasn't then end of him though as Meguid battled back to take the third, only for Au to take control from the start of the fourth, rounding it off to reach his first HKFC final 11/7, 11/1, 7/11, 11/8.
"That was a tough match from start to finish with a few decisions that both of us didn't understand, and a long day," said Leo, who had arrived at the start of the session to see Annie play.

"It would have been nice if we could both had made the final, but Annie has already won this event and it will be my first final so I'm really looking forward to it."

Finals start at 15.00 on Saturday.