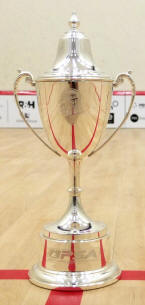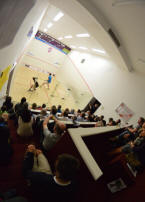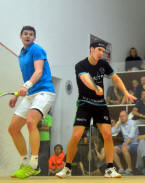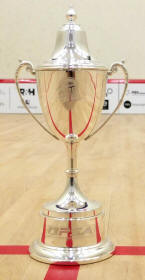 Sun 25th May, FINAL:
[1] Chris Simpson (Ggy) 3-2 [2] Adrian Waller (Eng)
12/10, 8/11, 14/12, 3/11, 11/6 (104m)
Simpson still the Jersey Champion

Chris Simpson retained his Jersey Squash Classic title with a marathon victory over second seed Adrian Waller today at Jersey Squash and Racketball Club.


With just four places separating them in the PSA world rankings a close contest was to be expected, and that's exactly what the packed crowd got, a 104-minute thriller full of momentum changes and tremendous play by both.

The first game alone took 29 minutes, with plenty of long rallies as they matches each other point for point. From 6-all Simpson let his concentration slip with a couple of unforced errors, but from 9-6 up Waller chipped in with three of his own. Waller had a game ball at 10-9 but Simpson took the next three points to lead 12-10.


Waller regrouped to take an early lead in the second, but couldn't hold on to his 4-1 advantage, Simpson drawing level at 7-all, but this time it was Waller who finished the game strongly to level 11-8.

By all rights Waller should have taken the third, he was, if nt dominating then certainly controlling most of the rallies, but by the time the score reached 9-all the majority of Simpson's points had come through Waller's errors - more often than not at the end of yet more gruelling rallies, but still errors.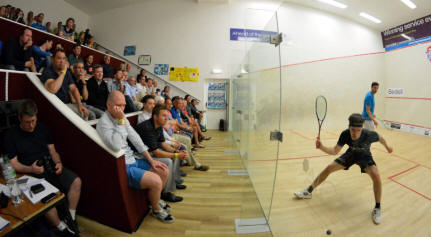 Simpson dug in, issued a few "CMON" cries to himself, saved a game ball again at 9-10 before finally regaining the lead with a low crosscourt beyond Waller's considerable reach for 14-12.

By now they had been on court for 75 minutes and in the fourth the effort seemed to have taken its toll on Simpson. Waller was quickly ahead 6-2, and with Simpson letting a few points go easily he levelled the match 11-3 for a short 11-minute game.


At the outset of the fifth Waller seemed to be the more composed player again, content to take the pace off the ball and wait for an opening. Simpson was pressing more, and led 3-1, but Waller brought it back to 3-all, and then led 5-4.

A Waller tin at the end of a long, patient rally was followed by two more, quicker, errors and suddenly Simpson was ahead again. Seizing the opportunity Simpson put in a trickle boast and a low drive, another Waller tin and it was 10-5 almost out of nowhere.


Two lets, one match ball saved, but Simpson wasn't going to let go of the title now, and soon enough - after 104 minutes to be precise - he was celebrating still being the Jersey Classic champion.

"The was a really, really tough match, played at a ridiculous pace on a hot court," said an exhausted winner.


"He had me on the ropes for a while and I was doing a lot of work, but I was really pleased to com through to win the third especially.

"I ran out of steam a bit in the fourth but I knew I had to give it one more push in the fifth - my plan was to try to stay with him to say 5-aa, then really go for one last surge and it worked to perfection!

"It's been a great week here, massive thanks to all the supporters, sponsors and especially Nick Taylor for making this a really great event, long may it continue!"