Sat 14th, Day FIVE - FINALS

[1] Millie Tomlinson (Eng) 3-0 [2] Hania El Hammamy (Egy)
11/9, 11/5, 11/3 (37m)
[4] Youssef Soliman (Egy) 3-0 Mike Harris (Eng)
11/6, 11/8, 11/9 (40m)
Millie and Youssef are the Jersey Champions

The 2016 champions were crowned as Jersey Squash and Racketball Club in St Clement as Mille Tomlinson and Youseff Soliman won their finals in straight games.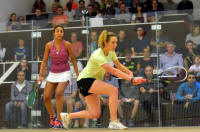 Top seed Tomlinson was up against 15-year-old Egyptian Hania El Hammamy, and the youngster kept pace with her more experienced opponent throughout a first game that went point for point up to 9-all, but it was Millie who took the last two points to take lead.


The Englishwoman was in charge for the next two games, accelerating away in the third as she closed out the match in 37 minutes to become the first Jersey Classic women's champion, claiming a seventh career PSA title.

"It's always tough playing Egyptians these days," said Millie, "it was a good match though, it was really tough to keep ahead of her, and thanks to everyone for their support!"

The men's final also finished in straight games, but here there was an Egyptian winner as Soliman claimed a third PSA title in a row as he beat unseeded Englishman Mike Harris, who had beaten the first and third seeds in earlier rounds.


The young Egyptian - reigning British Junior Open U19 Champion - always seemed to have the slight edge as his mobility and short game caused Harris a few problems.

He pulled clear from the middle of the first game, quickly established a winning lead in the second, and recovered from 4-7 down to take the third and the title.


"I'm really thrilled to win another PSA title," said Youssef, "but it hasn't been easy, we both had some really tough matches to get to the final.

"I think I played well and put him under pressure but he was daling with it well so I' was glad to be able to win that in three.

"I have one more tournament to go, in Kent, so I hope to finish the season with another good performance and maybe a win ...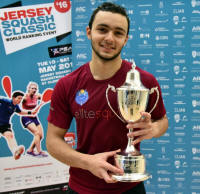 "It's been a really good week, well organised and I've enjoyed my stay in Jersey!"

Harris reflected: "I came here just looking forward to playing some good squash, so to beat two top seeds and reach my first final, I can't complain.

"Youssef is obviously playing well to win three in a row, it's just a pity I had to be that third scalp!"