CIMB KL Open 2008
03-08 Mar, Kuala Lumpur, $53k+$50k
08-Mar, Finals:

[4] Ong Beng Hee (Mas) bt [3] Azlan Iskandar (Mas) 11/8, 15/13, 12/10 (66m)

[1] Nicol David (Mas) bt [2] Natalie Grinham (Ned) 9/4, 9/2, 9/2 (35m)


Perfect finish for Malaysia




Alex Wan reports from KL



With the boys having guaranteed a local winner with their semi final wins yesterday evening, Nicol David overcame Natalie Grinham in a one sided affair to finish a dream ending for Malaysia.



Bengy Limps to his First KL Open

The local boys came into the match both on a high from winning their semi final matches. Whoever won, it was a victory for Malaysia and also for the boys, proving a point that they are still capable of being amongst the best out there.

Both were also definitely nervous and started off very cautiously. Rallies were very slow, as they traded plenty of backhand drives and lobs, to the point it was rather boring to watch. When the opportunity came to attack, the drops and slams came off the walls so high. The first game saw a lot more mistakes from Iskandar and it handed Bengy the first game.

The second had a lot more action, as both players stepped up the tempo with a lot more attacking. It was point for point all the way through the game and at 8-10, a great rally ensued with Bengy winning. A mishap happened next as Bengy accidentally caught Azlanís finger on his swing. The game went into extra points, Azlan held three game balls but was unable to clinch it. Bengy reached his first at 14-13, finishing it in style as he sent Azlan sprawling having sent him the wrong way.



If the second was fast paced and exciting, the third was explosive. Having played each other for the last two decades, these boys know each otherís game inside out. Plenty of fast paced attacks, retrieves and kill shots! Bengy was 7-8 down, two strokes his way brought him to 9-8, but the lead was cancelled out and went Iskandarís way this time. Bengy next slams Iskandarís serve into the tin to hand him his fourth game ball of the match. Again, Iskandar was unable to finish off and allowed Bengy to reach match ball this time. The next rally was long and as Iskandar ran to the back to retrieve, he ran into Bengyís calf, who then fell to the ground screaming in pain. A three minutes injury break was given.

It would have been a big blow to be 2-0 and match ball up, then forced to retire! Bengy came back limping still and was handed the title as Iskandar tinned a simple forehand.

Grinham Hampered as
Nicol makes it Five

The pair have been close rivals for a number of years now, and have occupied the top of the rankings for some time and the last time they played in Malaysia the match lasted well over an hour. So what was expected in this womenís final was a fiery and close one, but this was not the case at all.



The first game was competitive, with long rallies and plenty of running from both the girls. David was superior in every aspect, and it was really her great movement on court that gave her the game. In the next, Grinham was clearly playing well below herself and many could tell there was something wrong with her. Grinham was skipping a lot in the court and didnít seem to look particularly comfortable. Grinham was not in the game at all in the third. She was merely guessing most of Davidís attack and she herself went for the kill on nearly every shot.

It wasnít the match the crowd had hoped for, but credit to Grinham for staying on court and finishing up the match. She could have simply retired injured, but she did not, I believe in order not to disappoint the floods of locals who had turned up despite it being elections day.



"Azlan and I are very close, weíve known each other for many years. Today it was a mind game more than anything, the squash didnít matter as much. It was a matter of who wanted it more.

"Obviously Azlan was under more pressure tody, after he had won the Asian Championships in Kuwait.

The second and third were really close and had I lost either of those, it might have been a different result."



"I was a bit nervous in the start. Bengy held his nerves a lot better today, especially in the end of the second and third games. I was 10-9 up in both those games and I let it slip. Thatís the reality, I just gotta learn from these."



"My ankle didnít really heal after Apawamis. It was alright in the beginning but I was made to twist and turn a lot. Obviously playing Nicol, there was a lot more running as well."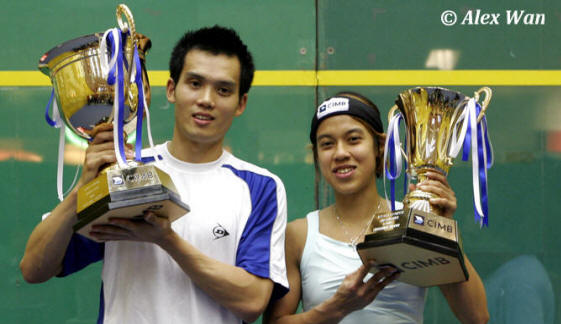 CIMB KL Open 2008
03-08 Mar, Kuala Lumpur, $53k
Round One
05-Mar
Quarters
06-Mar
Semis
07-Mar
Final
08-Mar
[1] Nicol David (Mas)
9/0, 9/0, 9/5 (21m)
Sharon Wee (Mas)
[1] Nicol David
9/4, 9/3, 9/4 (28m)
Laura L-Massaro

[1] Nicol David

9/6, 9/4, 9/4 (37m)

Alison Waters

[1] Nicol David

9/4, 9/2, 9/2 (35m)


[2] Natalie Grinham

[6] Shelley Kitchen (Nzl)
9/7, 3/9, 9/1, 7/9, 9/4 (69m)
Laura L-Massaro (Eng)
[3] Rachael Grinham (Aus)
9/1, 9/5, 9/1 (24m)
[Q] Kasey Brown (Aus)
[3] Rachael Grinham
9/2, 9/4, 7/9, 4/9, 9/2 (65m)
Alison Waters
[5] Vicky Botwright (Eng)
9/1, 9/1, 8/10, 9/6 (39m)
Alison Waters (Eng)
[Q] Donna Urquhart (Aus)
9/4, 9/4, 3/9, 9/0 (25m)
[8] Omneya Abdel Kawy (Egy)
[8] Omneya Abdel Kawy
9/3, 9/10, 9/5, 8/10, 9/3 (50m)
Vanessa Atkinson (Ned)

Vanessa Atkinson

9/0, 9/7, 9/0 (30m)

[2] Natalie Grinham

Vanessa Atkinson (Ned)
9/4, 9/6, 9/5 (35m)
[4] Tania Bailey (Eng)
[Q] Rebecca Chiu (Hkg)
9/2, 9/5, 9/3 (25m)
[7] Jenny Duncalf (Eng)
[Q] Rebecca Chiu
9/7, 9/2, 7/9, 9/3 (51m)
[2] Natalie Grinham
[Q] Madeline Perry (Irl)
9/1,9/2,9/3 (26m)
[2] Natalie Grinham (Ned)
CIMB KL Open 2008
03-08 Mar, Kuala Lumpur, $50k
Round One
05-Mar
Quarters
06-Mar
Semis
07-Mar
Final
08-Mar
[1] Stuart Boswell (Aus)
11/2, 11/0, 11/2 (15m)
Muhd Asyraf Azan (Mas)
[1] Stuart Boswell
11/7, 7/11, 11/9, 11/9 (48m)
[7] Aamir Atlas Khan

[1] Stuart Boswell

11/5, 11/8, 11/7 (46m)

[4] Ong Beng Hee

[4] Ong Beng Hee

11/8, 15/13, 12/10 (66m)


[3] Azlan Iskandar

[7] Aamir Atlas Khan (Pak)
11/9, 11/9, 10/12, 11/9 (44m)
[Q] Farhan Mehboob (Pak)
[4] Ong Beng Hee (Mas)
11/8, 11/4, 5/11, 11/7 (44m)
[Q] Shamsul Islam Khan (Pak)
[4] Ong Beng Hee
11/9, 5/11, 11/2, 13/11 (60m)
[6] Omar Mosaad
[6] Omar Mosaad (Egy)
11/4, 11/8, 11/6 (27m)
[Q] Matthew Karwalski (Aus)
Dylan Bennett (Ned)
11/4, 11/2, 11/8 (14m)
[5] Jonathan Kemp (Eng)
[5] Jonathan Kemp
11/8, 11/5, 11/7 (35m)
[3] Azlan Iskandar

[3] Azlan Iskandar

11/5, 11/8, 11/9 (62m)

[2] Adrian Grant

Tarek Momen (Egy)
11/7, 11/1, 11/6 (23m)
[3] Azlan Iskandar (Mas)
Kashif Shuja (Nzl)
10/12, 11/4, 9/11, 11/5, 11/7 (41m)
[8] Mansoor Zaman (Pak)
[8] Mansoor Zaman
7/11, 11/6, 11/5, 11/5 (40m)
[2] Adrian Grant
[Q] Nafzahiham Adnan (Mas)
11/2, 11/5, 12/10 (24m)
[2] Adrian Grant (Eng)
ITíS DAVID AND GRINHAM AGAIN


Alex Wan reports from KL

The Dutch Battle

Playing in her first tournament as a Dutch national, Natalie Grinham took on the many-time Dutch national champion and former world champion Vanessa Atkinson. Yesterday, Grinham was stretched by Hong Kongís Rebecca Chiu, and it would have been easy to assume that sheíd struggle even more against Atkinson tonight. This was certainly not the case in most parts of the match. To a certain extent, the scoreline does look like a thrashing, but it was nowhere near that and the match duration of 30 minutes would say quite a fair bit too.

The first was over in a matter of minutes. Grinham attacked and sent Atkinson to all corners of the court. The rallies were long, but Grinham was in control in most of them and Atkinson wasnít moving very well. 9-0 to Grinham! The first two points in the next game went Grinhamís way as well before Atkinson finally got her first point. It was neck to neck from here, Atkinson getting into the game and at times punishing Grinham with her fast paced game. The game ended in a rather anti-climax as Grinham was awarded a stroke in a situation where she delayed her shot and Atkinson moved in front of her. Even the three referee systemís decision was not unanimous! Grinham came back very strongly in the third and once again didnít drop a single point.

Duracell Bunny Halts Waters

World number one Nicol David halted the giant-killing run of on-form British champion Alison Waters. The pair played a very energetic match but the Duracell bunny was once again, superior. David moved very well and was in her element, Waters certainly didnít play badly at all. In fact, she put a very strong challenge in the first, putting away several great winners.



Bengy Aces It

Bengy came on court first against former world number four Stewart Boswell. Kitted mainly in red, the traditional lucky colour for the Chinese, Bengy did not show any of his usual slow start trait. The players were engaged in long rallies, taking turns to attack and defend rather equally. There were plenty of exchanges in the front backhand corner and most of them were won by Bengy, catching Boswell with crosscourt backhand drives, who guessed otherwise.

Bengy looked very relaxed today and nothing like the previous two days. The other big difference was that he attacked a lot more than his usual self. Bengy has often been criticised for his lack of attack in his game and today he proved otherwise. Boswell meanwhile, didnít look very comfortable in there and had problems with his racket that seem to be slipping off his grip. Bengy said later, ďI played a lot better today and Boswellís mistakes certainly helped. After two matches, I feel a lot more relaxed and was able to enjoy my squash.Ē

It was certainly an entertaining match for Malaysians watching from all angles of the shopping mall. A victorious Malaysian who was recently under fire with the Squash Rackets Association of Malaysia and the press, winning in front of many home fans, it must be a major confidence booster for Bengy. Perhaps it was the red colour that brought him his good fortunes!



Azlan Completes the Puzzle

Newly crowned Asian champion Azlan Iskandar completed the perfect finale for tomorrow as he ousted the second seed, English number five Adrian Grant. The pair have met numerous times on Malaysian soil in the last two years, with the Malaysian emerging victorious each time. Things were the same today, and this must be one of their shortest matches here, as each time they meet, it gets very close. 3-0 was the score yet still it took a full hour to complete!

The match began at a steady pace and moving each other around. There was really nothing much exciting, particularly in the first. It was just that Grant was the one who crumbled with mistakes more than Iskandar, allowing the Malaysian to lead 1-0. The second saw both of them fully warmed up now and attacking a lot more by comparison, and Azlan once again squeezed through 11-8.

The third was a different ball game altogether, as Grant seemed to get his shots in this time round. The first half had both players neck and neck, but it was Grant who broke away to 9-5. At this point, many would have thought the fourth was in view, but Iskandar stepped up his game. He attacked once again, pushing in some very tight straight forehand drives to force a weak return and finished it off with a straight drop. This must have worked at least four times, as he slowly crawled back and won six consecutive points to earn the victory.

"I would definitely have taken the 3-0 part, but not the 5-9 down in the third!

"This all Malaysian final tomorrow will be great. The last time I played Bengy in Kuwait, it went on for two hours. The Squash Rackets Association of Malaysia canít ask for anything better than this, the both of us in the final. Today Bengy and I proved that we still have what it takes to be up there."





"I expected a tough match from Alison, especially after her high from her win yesterday. Even after such a long hard match, she came very strongly today.

"I had to keep the pace high and each time she stepped back, I increased the tempo.

"Tomorrow will be an exciting day for Malaysia, with both the boys in the final and also me playing Natalie. We always have very close matches, so it should be a great match."


06-Mar, Quarters:


MENíS SEEDS SAFELY THROUGH


Alex Wan reports

Matches in the menís event all went according to seeding as the top four seeds booked their places in tomorrowís semi finals.



Bengy and Azlan Keeps Hopes
for an all-Malaysian Final Alive

Ong Beng Hee and Azlan Iskandar once again overcame their hurdles today in a bid to face each other in the final on Saturday.

Bengy, the former world number 7 from Penang, spent an hour on court before managing to shrug off Egyptian youngster Omar Mosaad. Compatriot Azlan Iskandar, by contrast, had the quickest menís match against Englandís Jonathan Kemp.

It was a high tempo match and the crowd simply enjoyed the display. In the end, the lanky six-footer just couldnít match Iskandarís speed and was sending the ball to the tin far too often, especially in the second and third games.

Top Two Also Advance

Stewart Boswell, losing finalist to Mohammad Abbas last year, beat reigning Asian Junior Champion Aamir Atlas Khan of Pakistan in four closely contested games. The young Pakistani had last year stretched Abbas to five and he is certainly one to look out for the future.



Adrian Grant of England also moved into the semi-finals after eliminating another Pakistani, Mansoor Zaman. Grant took a while to settle into the match, often shaking his head in frustration and soon allowed Zaman to take the first game.

After the break, he seemed to loosen up, gained composure and played very smart and simple textbook squash to win the next three rather comfortably and book himself a semi final date against Iskandar, who ousted him in 2006ís semi final and also last yearís Malaysian Open quarters.



MORE UPSETS IN WOMENS

Waters and Atkinson Continue Killing Runs

British national champion Alison Waters claimed her biggest scalp when she eliminated Rachael Grinham in five games in the longest match of the evening. The first two games were won rather comfortably and Grinhamís usual chops were all picked up without much fuss. Waters looked set to cruise through the third as well, up to 7-4, after which



Grinham did not drop another point in the game to force the fourth. Grinham was in total control in the fourth and it looked as if Waters had lost her chance. Most people in the crowd by now expected Grinham to cruise through the fifth, but control changed once again as Waters raced to an 8-0 lead. Grinham saved match ball and managed just another 2 points.



Vanessa Atkinson meanwhile, upset Egyptís Omneya Abdel Kawy. Though unseeded it was only four years ago that the Dutch champion was crowned world champion here. An upset it was, but this was definitely a match that could go either way from the start.



Atkinson could have won it 3-0, and one might argue she was unlucky to lose the two games, both on extra points. Atkinsonís court coverage was far better than Kawy's, whose shots also did not come in as well as they normally do. Atkinsonís win earns her a semi final clash with Natalie Grinham in a repeat of the 2004 world Open final.



Chiu troubles Grinham

Rebecca Chiu of Hong Kong continues her great form after beating Jenny Duncalf yesterday, as she troubled Natalie Grinham.

The first game was close, players breaking off to lead and then the other caught up. Service changed hands a few times at 7-7 in the first before Grinham clinched it, and followed it up with an easy 9-2 in the second.

All looked lost but Chiu came back to take the third, only to eventually bow out to Grinhamís superiority in the fourth. Chiu definitely played one of her best matches Iíve witnessed and it was also aided by Grinhamís trouble with seeing the ball in the brightly lit complex.





The last match of the night between world champion Nicol David and Laura Lengthorn began at 10pm, just as the shops in the mall were shutting. David was in devastating mood and Lengthorn never looked dangerous enough to trouble her.

05-Mar, Round One:


LOCALS BOYS ADVANCE


Alex Wan reports

Malaysian hopes Azlan Iskandar and Ong Beng Hee both advanced to the quarter final of the 2008 CIMB KL Open in contrasting styles. Shamsul Islam Khan, a KL Open champion back in 2005, had Beng Hee on court for 44 minutes while Iskandar took just half the time against Egyptian qualifier Tarek Momen. Beng Hee started well with some very patient play and took the first comfortably. As the match progressed, Khanís deft touches in the front backhand corner began to trouble the Malaysian.

Top two seeds Stewart Boswell and Adrian Grant also advanced with little resistance from their local opponents. Stewart dropped just four points against wild card Asyraf Azan while Grant disposed off Nafzahizam Adnan. Jonathan Kemp, the lanky English, spent just fourteen minutes on court as he saw off Dylan Bennett.

Aamir Atlas Khan, the seventh seed won the battle of Pakistan when he saw off the stiff challenge of Farhan Mehboob. They both had the most delicate drops youíd find here in the tournament but they both know each other games just so well. It was Khan who came out victorious, the final point coming from a no let against Mehboob.

Omar Mosaad, one of the up and coming Egyptians, had qualifier Matthew Karwalski all over the court with his accurate shot making. Mansoor Zaman, meanwhile had a neck to neck battle with New Zealandís Kashif Shuja. Both played together a lot in their junior days representing Pakistan, and Shuja today, I must say, played well above his ranking. Though it was Zaman who walked out the winner in the fifth 11-7, it was one that could go either way.



BAILEY & DUNCALF EJECTED



It was a bad day at work for the English camp, as all their seeded players were beaten by lower ranked opponents. Former world champion Vanessa Atkinson scored the biggest upset of the day when she ousted Tania Bailey. Whilst the score of the match read 3-0, it certainly didnít do justice to the many close rallies they both had.

Asian Championship finalist Rebecca Chiu of Hong Kong meanwhile, surprisingly took just 25 minutes to end the challenge of Jenny Duncalf. Alison Waters, the new British champion, completed the upset of all seeded English players when she ousted team mate Vicky Botwright to earn a shot against the elder Grinham tomorrow.

The Grinham sisters both advanced also to the quarters. Natalie, the second seed and playing as a Dutch for the first time, didnít have much problems in beating Madeline Perry. Elder sister Rachael meanwhile beat compatriot Kasey Brown 3-0.

Local darling Nicol David had little problems in moving onto the quarter final as she comfortable beat Sharon Wee. Wee gave it her best but just couldnít keep up with the speed of David. "I haven't played Sharon for a long time, she gave me a good fight in the third set," said Nicol. "It was a good first-round match and I hope to play better in the glass court at the Berjaya Times Square tomorrow."

Omneya Abdel Kawy, once Davidís nemesis back in the junior days, was made to sweat by Australian qualifier Donna Urquhart in their match, dropping a game in the process.

There was some relief for the English camp in the last match of the day as Laura Lengthorn-Massaro overcame sixth seed Shelley Kitchen in five games, the longest match of the day.


Malaysian hopes stay on course The New Straits Times
NICOL David cruised into the CIMB Kuala Lumpur Open quarter-finals while an upset-laden first round saw the exit of four women's seeds at the National Squash Centre in Bukit Jalil yesterday ...



NO GLASS ...

In a rather surprising move, the organisers of the 2008 CIMB KL Open decided that all matches would be played at the side courts to be fair to all players.

With an amazing all glass court available here at the National Squash Centre, I find it an absolute waste that it is not being utilised. The reason of being fair to all players must also be a first, as I do not believe there is anywhere in the world where organisers will be able to accommodate all matches in a tournament of this size on the all glass court.

Also, the whole National Squash Centre has recently undergone a major refurbishment. The all glass court has had its floor sanded and painted, whilst the films of all walls have also been changed. If indeed fairness is the way to go, the court should see no action over the Malaysian Open as well.

What would it then be used for, one would question ...




Qualifying complete in KL

...



After two recent Tour defeats by his younger brother, Nafzahizam Adnan restored family pride by beating Mohd Nafiizwan Adnan in today's qualifying finals of the CIMB KL Open.

Nafzahizam, aged 23 and ranked 123 in the world, recovered from a game down to upset 21-year-old world No77 Nafiizwan and joins Australian Matthew Karwalski and Pakistanis Farhan Mehboob and Shamsul Islam Khan in the first round.

There was Malaysian disappointment in the final qualifying round of the women's WISPA Gold event when 17-year-old Low Wee Wern went down to Hong Kong's experienced Rebecca Chiu.

Chiu came through the qualifiers alongside Ireland's Madeline Perry and Australians Kasey Brown and Donna Urquhart - who pulled off a surprise win over Egypt's world No16 Engy Kheirallah.

Back to KL ...

Having already held a series of NSC Satellite events this year, Malaysia's National Squash Centre welcomes some of the world's top players for the 2007 edition of the CIMB KL Open this week.

Local favourite Nicol David is top seed in a women's event which features all the world's best, while Malaysia's top men - Azlan Iskandar and Ong Beng Hee - are seeded three and four behind Australian Stewart Boswell and England's Adrian Grant.

For the quarters onward action moves to Berjaya Times Square.

Nafiizwan aiming for breakthrough in KL Open
The Star KUALA LUMPUR: National back-up player Nafiizwan Adnan wants to make an impressive outing in the CIMB Kuala Lumpur Open at the National Squash Centre this week to help him in the bid to achieve his target to get among the top 50 in the world before the year is over.

Some must toil in the qualifiers
The New Straits Times: WHILE Sharon Wee gripes about having to face World No 1 Nicol David in the first round of the CIMB Kuala Lumpur Open, other national players are not so fortunate as they toil in the qualifiers at the National Squash Centre in Bukit Jalil today

Squash: Breaking the jinx
The Star: KUALA LUMPUR: National No. 1 menís squash player Ong Beng Hee has run into the top seeds in the last two Kuala Lumpur Opens and got bounced out. This year, he intends to set the record straight.

Squash: Sharon cries foul over draw
The Star: Malaysia's number two woman squash player Sharon Wee is crying foul over the draw for the CIMB Kuala Lumpur Open, which begins on Wednesday ..