12 July 2006

We've known for a while that Linda Elriani was going to retire from competitive squash - the emotion when she played her last game for England at the Euro Teams in Vienna, and her half-announcement on the podium there made it pretty obvious.

But now it's official, and it's officially the end of an era.

70+ caps for England, untold Euro Team wins, World Team Champion, 86 unbroken months in the world's top ten, 3 Commonwealth Games, 14 WISPA titles in 16 years on the circuit, National Champion - at last - in 2005 ... been there, seen it, done it, got the t-shirt ... is it any wonder she's ready for a rest!

Well, not exactly a rest. Along with husband Laurent she'll be moving out West to take up a coaching position at Greenwich - a club she has fond memories of, winning there in 2003 and 2005.

She'll be sorely missed on this side of the Atlantic, and we just hope the Americans realise what a gem they're getting.

Best of luck Linda, from all at SquashSite ...
Why have you decided to stop your career now?

I still enjoy training and playing squash, but I'm not getting any younger and at some point you have to move on to the next stage of your life, and I feel ready to do that now.

I've always known I wanted to go into coaching after playing as I've always done coaching throughout my career, really enjoyed it and found it very rewarding, so when the two jobs came up for Laurent and I at the Field Club of Greenwich in Connecticut, USA, we decided it was a fantastic opportunity for us.

It's great as Laurent can still play some PSA events around his coaching commitments, especially as there are so many tournaments in the USA, but I'm going to concentrate 100% on coaching and the new job.

We've just finished doing three weeks of camps at the Field Club in Greenwich which we thoroughly enjoyed and it was so great to get to know the families etc before we're there full-time. We're also lucky to have some great people to work alongside.


Where are you going to be living, and have you found an apartment yet?

We'll be living in Greenwich and we've luckily found an apartment to move straight into when we return on 21st August. It's only five minutes' drive to the club and also within walking distance of the main avenue in Greenwich where the restaurants, shops, bars and cinema are, so it should be a good location for us.








What are you going to miss about playing professionally?

I suppose I'll miss the competing to a certain extent and I'm probably going to miss the atmosphere at certain tournaments and the friendships I have with other players and people I've met in different places around the globe. Also visiting different and new countries.

What's great about the circuit is that you visit cities and countries that you may not get the chance to visit or holiday to, so consequently we get to see all sorts of cultures, environments and ways of living, and it adds to the whole experience of being a squash professional.

I've got numerous photo albums from my 16 years of travelling and playing. It's so funny to look back at them and it brings back so many great memories.

I'm also going to miss my on-court sessions with my coach Mike Harris and when we move to the USA the biggest thing of all will be missing our family and friends in England. One thing that will soften the blow will be that we already have several friends that live in and around the area we'll be based in.

What are you NOT going to miss?

I'm not going to miss having jetlag so regularly, trying to sleep on planes, checking in at airports and living out of a bag.
Best memories of playing?

Wow, I have so many great memories from the last 16 years, so it's pretty hard to single any out. I suppose my five highlights have to be:

Winning the British Nationals last year ('05), especially after so many attempts!

Winning the bronze medal in the Manchester 2002 Commonwealth Games doubles with my best mate Fiona Geaves and having both my parents there to see it after all the support they've given me over all the years.

I've always loved playing for England so I've enjoyed every one of my 70+ caps.

My England highlight was being captain when we won the World Team Championships in 2000.

And lastly my highest world ranking of 3 and English ranking of no 1.

Worst memories of playing?

I luckily don't have too many bad memories and I try my hardest not to concentrate on the negative side of things and try to focus on the positive and move on.


Looking forward to the future, or regretting the past?

I feel that I've achieved everything that I am capable of in squash and that I gave it a good go, so I have no regrets. I now want to concentrate on being the best coach I can possible be. I'm totally looking forward to the future.

As I said, I'm ready for the next phase of my life and we're also looking forward to starting a family in the next year or so.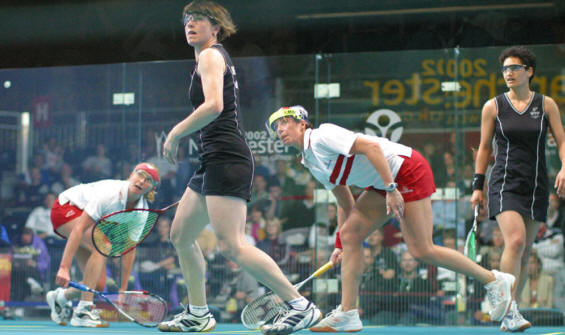 Lastly, just a HUGE thankyou to everyone who helped, influenced and supported me throughout my career.

It's been a fantastic journey and I've been lucky enough to share it with some amazing people.

To be honest, I feel more excited than sad, as I'll still be working in the sport I love and I'll be just as involved in squash as before – just from a different perspective!

Hope to see you all sometime in the US of A !!!


WISPA WORLD RANKINGS



Tour Victories:

1993: Swiss Open
1996: Art of Squash
1997: Aachen Open
1999: Exterieur Open
2000: Marsh McLennan Open
Exterieur Open
2001: Bronxville Club Open
2003: Greenwich Open
Monte Carlo Classic
2004: Marsh McLennan Open
Washington Summit
2005: Greenwich Open
Dayton Open
2006: Dayton Open

National Champion 2005