CIMB Malaysian Open

2007
23 - 28 July, Kuala Lumpur, Malaysia
28-Jul, Finals: Full Draws

[5] Azlan Iskandar (Mas) bt [1] Stewart Boswell (Aus) 13/11, 11/8, 11/4 (44m)
[1] Nicol David (Mas) bt [4] Tania Bailey (Eng) 9/4, 9/3, 9/2 (36m)

Home Double for Azlan & Nicol


Alex Wan reports from KL

It was double delight for the Kuala Lumpur fans in the Curve Shopping Mall on finals day with two home victories to savour.

Azlan proves seeding
wrong again ...

Azlan Iskandar, fresh from his first ever win against Lee Beachill, scored his third successive upset of the tournament when he won 3in straight against Australiaís Stewart Boswell. Unlike yesterday, Iskandar was very much playing his game right from the opening, no slow start today.

Bozza drew first blood as he led for most of the first game, reaching game ball at 10-8. The determined Malaysian, spurred on by the home crowd which more than doubled from previous days due to the weekend, clawed back, forced the tie-break and took his first game ball. The next two games saw Iskandar pretty much in control as Bozza didn't seem to be hitting the ball as accurately as he normally does.

In the end it was victory for Iskandar, much to the delight of the home crowd. A rather sad birthday prelude for Bozza, who turns 29 tomorrow, but a second Malaysian title for Azlan, reclaiming the crown he won in 2004.





David Delivers



In a repeat of last yearís final, Nicol David beat Englandís Tania Bailey to claim her third successive Malaysian Open title. The pair met last year at the same stage, when Nicol needed 5 games and 83 minutes to beat the Lincolnshire lass.

This time around David was in devastating form and needed just 36 minutes to overcome Bailey. No evidence of her usual slow start today, as she played a very confident game and was moving very freely as she sent Bailey to literally every inch of the court.

Her popularity in Malaysia is something which I do not believe you will find with any other player, as the atmosphere in the Curve shopping mall was electric. The crowd that turned up was certainly not let down by their local hero.



"I was under a lot of pressure against Lee yesterday, being two games down. So today, I just told myself to relax and just enjoy the game.

"Winning here at home is great and everything went my way. In the last week, Iíve been sleeping on my own bed and eating the foods I want, so I am a happy man."



"I was not hitting the ball very well today. I made a good start in the first game, but just couldnít continue doing so. Itís just not my day."



"After a three month break, this is a great way to start the second half of the year.

"I was physically very ready for today and this tournament. I played well and my match yesterday against Rachael did not drain me physically, though it was mentally exhausting.

"Itís really great to win at home. So many people turned up and thatís a very good thing for squash."

Nicol David

"Nicol played very well today. I didnít do too bad either. I hit the balls into the corner but she just returned everything.

"The court is also very bouncy, making it harder. If the temperature was cooler, it wouldíve been a lot easier."

Tania Bailey
27-Jul, Semi-Finals: Full Draws

[5] Azlan Iskandar (Mas) bt [2] Lee Beachill (Eng) 5/11, 2/11, 13/11, 11/9, 11/2 (64m)
[1] Stewart Boswell (Aus) bt [6] Cameron Pilley (Aus) 11/9, 11/2, 11/7 (36m)

[4] Tania Bailey (Eng) bt [2] Natalie Grinham (Aus) 9/2, 9/4, 9/0 (28m)
[1] Nicol David (Mas) bt [3] Rachael Grinham (Aus) 0/9, 9/2, 9/5, 4/9, 9/4 (72m)
27-Jul, Semis:

Azlan keeps home
double hopes alive

The first men's semi-final at the Curve shopping mall saw home favourite Azlan Iskandar defeat a second consecutive higher-seeded English opponent. Having beaten defending champion Adrian Grant yesterday he went on to take out second seed Lee Beachill in five games.



Beachill was in complete control for two and a half games, but at 7/4 down in the third Azlan noticeably upped the pace, and it started to pay off.

The Malaysian clawed his way back into the match, took the third and levelled as he took a fourth game that went point for point all the way.

Lee took his time returning to court for the decider, but Azlan wasted no time in racing to a 6/2 lead. A Beachill request for an injury timeout was denied - 'no visible injury' - and Azlan quickly wrapped up the match.



The all-Australian second semi-final didn't live up to the last two five-game meetings between Stewart Boswell and Cameron Pilley, as top seed Boswell eased to a straight game win in just over half an hour.

"Bozza was just a step above me today. We've played each other so many times so I know what to expect really, and he just moves so well.

"I was up a couple of points in the first and at 9-all, I told myself I had to get the next point. But unfortunately, he got the next two.

"I came into the second thinking too much about the first, that intensity and all. It was a good six points before I got into it."



Cameron's new site



Tania topples Natalie

In the first women's semi Tania Bailey inflicted Natalie Grinham's first non-Nicol-David defeat for 32 matches, as the English number one eased to victory in under half an hour.

Struggling with injury at the end of her marathon with Jenny Duncalf yesterday, it became apparent that the younger Grinham hadn't fully recovered in time for the match, and was unable to compete at her usual level.

Sister Rachael so nearly made sure a Grinham was in the final though, as she got off to a flyer against defending champion Nicol David, taking the first 9/0. The home heroine fought back to take the next two, but Rachael rose again to force a decider. After 72 minutes Nicol kept her hat-trick hopes alive and set up a repeat of last year's final against Bailey.

"Rachael played very well today. My focus was out then and there was just nothing I could do in the first game. My focus was in and out throughout the match, hence my game was up and down too.

"It will be tough tomorrow as Tania will definitely go all out again. I will have to bring my game up another notch."



"I felt OK in there and sometimes I get a little slow, especially when I play boring squash. In the end I did feel a little exhausted mentally. It didn't help that a few calls were made against me which I didn't like.

"I'm really happy with my game though and mostly, I moved well. Generally I'm in good form and good shape. It's good to have such a tough match like that."



"I feel really lost at the moment. I worked so hard for over an hour and then to win it in three minutes in the fifth is no fun. No one likes winning games like that.

"In the third and fourth I just ran, dived, anything and everything I could. But I really don't feel good at all winning today. It's really unfortunate it had to end in such a way."



"I lunged for a shot and while I walked back, I felt something was wrong with my Achilles tendon. I asked the referee for three minutes and he said I was lying, that he saw no visible injury.

"I've played squash for 20 years now and I've never lied. Certainly, three minutes wouldn't have made much difference at that point of the match, but a lot of things happen in the court that the referee does not see.



"I played really well the first two games and Azlan played terribly. Then he played really well the next two, while I played badly.

"It's difficult to lose like that when you are in so much control in the beginning. I should have won the match 3/0 really."



"It's really tough to keep concentration against an injured player. Even with one leg, Natalie is a lot faster than a lot of people, so I had to concentrate.

"I was thinking too much yesterday and was just hitting a lot of blanks. I'm glad I played much better today and I'm looking forward to tomorrow. I didn't look beyond the semi finals for this tournament, so I'm really happy.

"I reached the final here last year and that was the start of my great season. The crowd here is good to me too."



"My foot is still very painful. I was trying to see if I could pull another one like yesterday against Jenny.

"It didn't work out and I didn't want to push too hard as there's the Singapore Masters next week. I also didn't want to take the chance of ruining the season."


26-Jul, Quarter-Finals: Full Draws

[2] Lee Beachill bt [Q] Farhan Mehboob (Pak) 11/4, 11/5, 11/5 (22m)
[5] Azlan Iskandar (Mas) bt [3] Adrian Grant (Eng) 11/8, 11/8, 11/9 (58m)
[6] Cameron Pilley (Aus) bt [4] Ong Beng Hee (Mas) 11/8, 11/8, 6/11, 11/4 (39m)
[1] Stewart Boswell (Aus) bt [Q] Yasir Butt (Pak) 11/4, 11/2, 11/4 (20m)

[2] Natalie Grinham (Aus) bt [8] Jenny Duncalf (Eng) 9/1, 9/10, 4/9, 10/8, 9/4 (82m)
[4] Tania Bailey (Eng) bt [Q] Kasey Brown (Aus) 9/4, 9/7, 9/5 (50m)
[3] Rachael Grinham (Aus) bt [5] Vicky Botwright (Eng) 9/2, 9/1, 9/0 (27m)
[1] Nicol David (Mas) bt [6] Omneya Abdel Kawy (Egy) 9/4, 9/3, 9/0 (27m)
26-Jul, Quarters:
Azlan dethrones Adrian
but no joy for Bengy ...
Alex Wan reports from KL

Action moved to the spectacular Curve Shopping Mall today, with the men's quarter-finals in the afternoon, followed by the women's matches this evening.



Beachill cruises through



Lee Beachill opened play at the Curve against the giant-killing teenager from Pakistan, Farhan Mehboob. However, it was a totally different story today as another upset was never on.

The former world number one was in total control and was hardly troubled by the left hander. There isnít much to be said in this match, Beachill simply a few notches above the young Pakistani, who should be proud of himself for making it this far in such a big tournament.

Azlan gains his revenge

At the Malaysian Open last year, Azlan Iskandar was the top seed and eventual champion Adrian Grant was the one who took him out at the quarter final stage. Today, Azlan gained sweet revenge with a solid display, winning in straight games. It may have been 3-0 to the Malaysian, but it took almost a full hour for him to upstage the Englishman.

Azlan and Adrian have similar games and are both extremely physically fit. It was a delight for the crowd as they traded blow for blow in fiery paced rallies. It was the Malaysian who held on in all three games to win.

"It wasnít easy at all on there. Though it was 3-0, it took a whole hour to break him. In the third, I made only one error, and it was 11-9, thatís how close it was.

"I played a bit smarter today but not entirely satisfied with my performance. At certain points, I was lazy mentally and not as clinical as Iíd like.

"Iíve never beaten Lee before, but itíll be a good game. I know what I need to do and Iíll try my best. Iíve pretty much got everything planned in my head."



"I feel I didnít play too well today. I was a little anxious and made too many errors.

"Azlan played very well too and he kept his nerves on the crucial points. Itís just the few points in the end that kept us apart really.

"Iíll be training through this and aim to peak for the big four Ė Saudi, Qatar, Hong Kong and Worlds. Iím going back after this to carry on my training."



Cameron beats Bengy
at home again

Malaysia seems to be a good place for the lanky Cameron Pilley as he repeated his performance last year, taking out the higher seeded Bengy in four entertaining games.

After yesterdayís indifferent performance the Malaysian performed a lot better on the glass court. But Cameron was the star of the day, keeping his cool throughout the match. The first two games were close, just three points separating them.

The third saw a determined Bengy come back, much to the delight of the home crowd. But that was shortlived in the next game, as Cameron quickly raced to a 6-1 lead.

At this point, Bengy was a total wreck, apparently demoralised and frustrated. A stroke decision brought the tall Aussie to 8-2, after which Bengy tried to slam Cameronís next serve into the nick, but instead found the tin, 9-2 now. Cameron got to match ball at 10-3, which Bengy saved but that was all he could do as a stroke gave Cameron his path into the semis.



Easy for Bozza

Stewart Boswell eased himself into the semi finals when he ended the gallant run of another Pakistani teenager, Yasir Butt. The top seed was never seriously troubled, and now faces compatriot Cameron Pilley, in a repeat of their recent Australian Open final.

"Itís good to get through 3-0 at this stage. Iíve never played him or seen him play really, so I had no expectations going in today.

"Iím expecting a tough match against Cameron tomorrow. He beat me the last time we played but we always have close games. Itís hard to judge my form really because weíve been having an off-season and been training."



"It was pretty comfortable today. The perfect second round match, nice to win it at 3-0.

"I moved well and am still getting used to the glass court. The court is quite light and can be difficult to see at times, but I guess everyone faces that.

"Iíd never played Farhan before and went in expecting it to be tough. Itíll be tough tomorrow and any one of us four can win it."



"Iím very happy!

"I was just telling Bozza that I think I can only beat Bengy in Malaysia and nowhere else. I love playing here, the weather is pretty much like home.

"I played a bit better than Bengy today basically, but it was very close right to the end.

"I am happy with my game here. I am normally a slow starter but I didnít get that yesterday and it spilled over today as well.

"If Stewart gets through this, it will be our third meeting in the last few months. The last two went to five games with each of us winning one."



"Iím very disappointed and what happened today is a shock to me. I trained well for this and expected to do well, hence Iím so disappointed.

"Cameron played well of course and he kept the ball real tight. I also feel there is a certain amount of self destruction within me. I am physically ready for the matches, but I seem to be mentally not.

"Iíve played a lot of squash on court but I havenít worked on the mental part."



Top four through
but tough for Natalie

The evening women's quarter-finals saw the top four seeds - the top four in the world - go through, but it was easier for some than for others ...

Match of the day -
Jenny just short

Englandís Jenny Duncalf was just a whisker away from ousting world number two Natalie Grinham in the quarter final stage today. Natalie couldnít have asked for a better start to his match, two strokes taking her to a 2-0 lead in the first game, which shestretched this lead all the way to 8-0 with some ruthless play, never allowing the English lass into the match. Jenny finally got her first point but it wasnít long before Natalie wrapped it up.

The next game saw a new Jenny come onto court - she finally arrived! It was point for point and there was never more than a solitary point separating the pair, 2-2, 3-3, 5-5. Natalie was the first to reach game ball at 8-7, but a no let decision forced the deuce. At 8-apiece, serve changed hands a number of times before Natalie got two consecutive strokes to get to game ball again. Jenny saved it, drew level and levelled the match with a backhand drop that was too tight for Natalie.

The third saw Jenny rush to a big 5-0 lead with some accurate play. She moved Natalie all over the court, and not many can do that effectively to the quick Aussie. Jenny allowed just four points and then wrapped it up to lead 2-1.

The fourth was once again close, Jenny opening up a 4-1 lead before Natalie claw back to draw level. The English lass had two match points at 8-6 and 8-7 but just couldnít finish it. Natalie meanwhile took the opportunity to draw level and force the decider.

In that decider Natalie drew first blood, taking a 1-0 lead before serve changed hands. Jenny then wrong footed Natalie, who overstretched her ankle and was given an injury break where she had her ankle bandaged. At this juncture, Natalie was in pain and went for her shots at every opportunity, a move which worked her way as she sent a very disappointed Jenny Duncalf out of the tournament.





Tania stops Kasey



Tania Bailey stopped Australian qualifier Kasey Brown in the quarter finals today. While the score was a straightforward 3-0, this didnít do justice to the quality of the match - the duration of 50 minutes speaking volumes. The Australian in fact gave Tania quite a lot of trouble and long quality rallies were aplenty.

Tania plays Natalie tomorrow in a repeat of last year's semi final. The English lass won that one in five thrilling games and might have a slight edge again this time round, given the fact that Natalie had a much longer match and hurt herself in the process.





Vicky caught napping



Rachael Grinham today embarrassed a very frustrated Vicky Botwright with her fast deceptive play. From the start, the elder Grinham was in total control of the match, sending Vicky scrambling all over the court.

The leggy English girl was simply never in the match and managed a mere three points. Having earned two of those points at the beginning of the match, she then allowed Rachael to take the next 13 points before grabbing her third and last point, after which the next 13 again belonged to Rachael. Game and match in 27 minutes.



Nicol puts on a class act

The atmosphere when Nicol David is playing at home is something you very rarely find in squash. Even at this stage and taking into account this was a working day, the small crowd behind her was ferocious. Still quite a long throw from the 2004 World Open when she played Natalie Grinham in the semi final though!

She and Omneya Abdel Kawy have long been rivals, but Nicol has surged a level ahead. She showed this today, dropping a total of just seven points in the entire match. Her accuracy, speed and pace was far too much for Omneya, who had yesterday outplayed another Malaysian, Sharon Wee.



"Jenny played much better than I did today and probably deserved to win it more than I did. Sheer luck got me through!

"I couldnít move in the fifth and I think Jenny choked a bit and panicked there. I just went for my shots and they worked."



"I think this is the best Jenny has played in many years! Itís always difficult playing an injured player and that fact must have put her under a lot of pressure."



"Iím a bit surprised today with my match as she didnít seem to get into it. I felt I played well but Vicky just didn't seem comfortable on there and never got into it.

"Iím not too sure about my form, but Iíve been feeling good in training and been looking forward to this tournament. Iíve come as far as Iím seeded so thereís no pressure from here on in.

"I havenít had such great results of late, so Iím really happy to be in the semis."



"Iím all exited about this tournament. Itís the first time on this court in this mall.

"Omneya started well but I soon got my rhythm and felt very comfortable.

"Rachaelís probably playing very well now, judging from her semi earlier and Iíd expect a tough match tomorrow."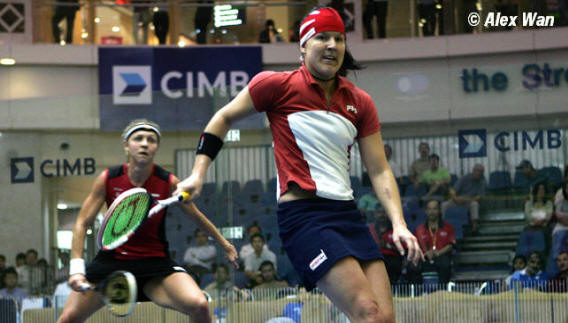 Alex on

Aussie Radio ...


As well as his photographic and journalistic (and other) duties this week, Alex is keeping the Aussie nation up to date with the progress of their players with daily after-play interviews on 1116 SEN.

The booking runs until all the Aussie players are out, so if you detect a note of bias towards Bozza and Camma, Kasey and the Grinhams, you'll understand ...

Of course, should the 'dream finals' of Nicol v Natalie and Bozza v Azlan materialise then our Alex will have a real dilemma on his hands!

CIMB Malaysian Open 2007
23 - 28 July, Kuala Lumpur, Malaysia $43k
Round One
25 Jul
Quarters
26 Jul

S

emis
27 Jul
Final
28 Jul
[1] Nicol David (Mas)
9/2, 9/1, 9/5 (19m)
Tricia Chuah (Mas)
Nicol David
9/4, 9/3, 9/0 (27m)
Omneya Abdel Kawy

Nicol David

0/9, 9/2, 9/5, 4/9, 9/4 (72m)

Rachel Grinham

Nicol David

9/4, 9/3, 9/2 (36m)

Tania Bailey

[6] Omneya Abdel Kawy (Egy)
9/6, 9/0, 9/2 (15m)
[Q] Sharon Wee (Mas)
[3] Rachel Grinham (Aus)
6/9, 9/0, 9/6, 9/3 (45m)
[Q] Engy Kheirallah (Egy)

Rachel Grinham
9/2, 9/1, 9/0 (27m)
Vicky Botwright
[5] Vicky Botwright (Eng)
9/2, 9/2, 9/5 (18m)
[Q] Lim Woke Yah (Mas)
[Q] Kasey Brown (Aus)
8/10, 8/10, 9/0, 9/5, 9/7 (87m)
[7] Madeline Perry (Irl)
Kasey Brown
9/4, 9/7, 9/5 (50m)
Tania Bailey

Tania Bailey

9/2, 9/4, 9/0 (28m)

Natalie Grinham

Rebecca Chiu (Hkg)
9/2, 9/1, 9/7 (28m)
[4] Tania Bailey (Eng)
Shelley Kitchen (Nzl)
9/3, 9/3, 9/3 (34m)
[8] Jenny Duncalf (Eng)
Jenny Duncalf
9/1, 9/10, 4/9, 10/8, 9/4 (82m)
Natalie Grinham
Alison Waters (Eng)
9/6, 9/0, 9/1 (22m)
[2] Natalie Grinham (Aus)

Qualifying, 23/24 July:

Finals:
Kasey Brown (Aus) bt Elise Ng (Hkg) 9/2, 9/1, 9/1 (30m)
Sharon Wee (Mas) bt Delia Arnold (Mas) 9/6, 8/10, 9/6, /3 (58m)
Lim Woke Yah (Mas) bt Line Hansen (Den) 9/4, 10/8, 9/7 (30m)
Engy Kheirallah (Egy) bt Joshna Chinappa (Ind) 9/2, 9/2, 9/5 (17m)

Round One:
Kasey Brown (Aus) bt Joey Chan (Hkg) 9/4, 9/0, 9/2 (27m)
Elise Ng (Hkg) bt Dipika Pallikal (Ind) 9/7, 9/7, 9/0 (28m)
Sharon Wee (Mas) bt Chinatsu Mastui (Jpn) 9/5, 9/4, 9/0 (21m)
Delia Arnold (Mas) bt Wee Nee Low (Mas) 9/1, 9/1, 7/9, 9/1 (22m)
Lim Woke Yah (Mas) bt Josefa Bertilsson (Swe) 9/0, 9/5, 9/1 (14m)
Line Hansen (Den) bt Yan Xin Tan (Mas) 9/1, 9/0, 9/7 (23m)
Joshna Chinappa (Ind) bt Siti Munirah Juson (Mas) 2/9, 8/10, 9/3, 9/7, 9/0 (41m)
Engy Kheirallah (Egy) bt Wee Wern Low (Mas) 9/0, 9/1, 8/10, 9/7 (46m)
| | |
| --- | --- |
| | |
CIMB Malaysian Open 2007
23 - 28 July, Kuala Lumpur, Malaysia $43k
Round One
25 Jul
Quarters
26 Jul

S

emis
27 Jul
Final
28 Jul
[1] Stewart Boswell (Aus)
11/6, 11/9, 11/4 (30m)
Omar Mosaad (Egy)
Stewart Boswell
11/4, 11/2, 11/4 (20m)


Yasir Butt

Stewart Boswell

11/9, 11/2, 11/7 (36m)

Cameron Pilley

Stewart Boswell

13/11, 11/8, 11/4 (44m)

Azlan Iskandar

[8] Aamir Atlas Khan (Pak)
9/11, 11/7, 11/6, 11/9 (39m)
[Q] Yasir Butt (Pak)
[4] Ong Beng Hee (Mas)
11/8, 12/14, 9/11, 15/13, 11/7 (66m)
[Q] Tarek Momen (Egy)
Ong Beng Hee
11/8, 11/8, 6/11, 11/4 (39m)
Cameron Pilley
[6] Cameron Pilley (Aus)
11/6, 11/3, 11/2 (21m)
Bradley Ball (Eng)
Shahid Zaman (Pak)
11/4, 11/4, 11/6 (16m)
[5] Azlan Iskandar (Mas)
Azlan Iskandar
11/8, 11/8, 11/9 (58m)
Adrian Grant

Azlan Iskandar

5/11, 2/11, 13/11, 11/9, 11/2 (64m)

Lee Beachill

Mohd Nafiizwan Adnan (Mas)
11/6, 11/9, 11/4 (29m)
[3] Adrian Grant (Eng)
[Q] Farhan Mehboob (Pak)
6/11, 4/11, 11/2, 11/6, 11/7 (36m)
[7] Mansoor Zaman (Pak)
Farhan Mehboob
11/4, 11/5, 11/5 (22m)
Lee Beachill
[Q] Sherif Kamel (Egy)
11/6, 11/2, 11/3 (21m)
[2] Lee Beachill (Eng)

Qualifying:
Finals, 24-Jul:
Tarek Momen (Egy) bt Campbell Grayson (Nzl) 11/7, 11/8, 7/11, 11/9 (32m)
Yasir Butt (Pak) bt Kashif Shuja (Nzl) 11/8, 11/8, 7/11, 11/5 (40m)
Sherif Kamel (Egy) bt Adil Maqbool (Pak) 6/11, 11/7, 11/7, 7/11, 14/12 (57m)
Farhan Mehboob (Pak) bt Omar Abdel Aziz (Egy) 11/6, 7/11, 11/6, 11/5 (36m)

Round One, 23-Jul:
Campbell Grayson (Nzl) bt Jean-Michel Arcucci (Fra) 6/11, 11/5, 11/6, 12/10 (50m)
Tarek Momen (Egy) bt Muhammad Azfar Azan (Mas) 16/14, 11/3, 11/1 (22m)
Kashif Shuja (Nzl) bt Ivan Yuen (Mas) 11/7, 11/9, 9/11, 11/9 (39m)
Yasir Butt (Pak) bt Muhd Asyraf Azan (Mas) 11/6, 9/11, 11/8, 11/9 (45m)
Sherif Kamel (Egy) bt Choong Kam Hing (Mas) 11/6, 11/7, 9/11, 4/11, 11/8 (60m)
Adil Maqbool (Pak) bt Amr Mansi (Egy) 7/11, 11/3, 4/11, 11/3, 11/6 (37m)
Farhan Mehboob (Pak) bt Nafzahizam Adnan (Mas) 12/10, 11/7, 11/5 (22m)
Omar Abdel Aziz (Egy) bt Elvinn Keo (Mas) 11/3, 11/6, 11/6 (21m)


25-Jul, Round ONE
Kasey comeback foils Madeline as Pakistani qualifiers progress
Alex Wan reports from KL
Today would be the last day of play at the National Squash Centre, Jalan Duta. There was a heavy thunderstorm throughout the evening, but that didnít seem to stop a healthy turnout of local squash fans.

Play tomorrow moves to the Curve shopping mall. Matches will begin at 2pm and play is scheduled to end at 10pm, but I think that will never happen. It will be a long day at the office, but thatís the price we pay for trying to bring squash to the masses.


All-Pakistani Upsets

Pakistani teenagers Yasir Butt and Farhan Mehboob continued their killing run as they took out their more established compatriots to reach the last eight, earning quarter final berths against the top two seeds of the tournament.

Playing in the first slot of the evening, Butt went on court first against Asian Junior Champion Aamir Atlas Khan. The tall Butt played a very patient game against the much smaller Khan in a closely contested match watched by the entire Pakistani entourage.

Apart from the players and coaches, there were also the Malaysian-based Pakistanis here, so they make quite a crowd. Dropping the first game, Butt clawed back to take the next two to lead. In the fourth, there were some signs of comeback from Khan, but Butt stopped it just in time to book his place on the glass court tomorrow.

Mehboob meanwhile ousted Mansoor Zaman, a familiar name in KL. Prior to his professional days, he was always Bengyís main nemesis in their junior days in the Asian region. Mehboob and Zaman were the last to finish for the night, with the former victorious in 36 minutes. Rallies were fast and retrieving from both players was awesome, but it was the younger of the two who walked out happier.


Egyptians crash out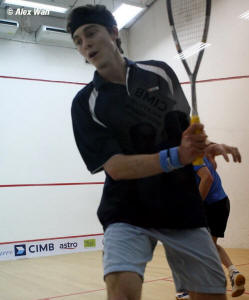 Egypt will have no representation in tomorrowís quarter finals as all three players crashed out today. Omar Mosaad, the tall up-and-coming youngster, was shown the door by top seed Stewart Boswell. Bozza, second time around to be top seeded in KL for the year, stamped his class with a convincing 3-0 win in exactly half an hour.

Egyptís two qualifiers both crashed out too, in rather contrasting styles. Lee Beachill spent just 21 minutes demolishing Sherif Kamel, simply a class above. Tarek Momen, the baby faced teenager, meanwhile, nearly took out local favourite Ong Beng Hee.

Momen held four match balls in the fourth game, but was unable to convert any of them as Bengy who used his experience and stayed calm to stay in the match. The fifth was Bengy all the way, with the whole home crowd behind him. Do not be deceived by the size of Momen, for he strikes the ball as hard, if not harder, as the hardest hitters around. His best weapon is by far, his overhead smashes, most of which land just a centimetre above the tin! Lucky escape for Bengy, who sets up a mouth-watering quarter final clash against Cameron Pilley, the Australian who last year sent him packing at the same stage.


Azlan and Adrian Rematch


Adrian Grant and Azlan Iskandar eased themselves into the quarter finals in similar fashion. Grant was too sharp for local wild card Nafiizwan Adnan while Iskandar was too fast and furious for Shahid Zaman. Their wins set them up for a repeat of last yearís semi final, where Grant took out the then top seeded Malaysian before going on to win the title.


Kasey on a roll
Kasey Brown created the only upset of the day in the womenís event when she clawed back from a two-game deficit to edge out Irelandís Madeline Perry in the longest match of the day Ė 87 minutes. Having dropped the first two games closely 8-10, she won the third with a convincing 9-0 scoreline. The next two games saw a close fight between the pair and in the end Kasey made sure there were no Australian casualties on the day.


Nicol sole survivor
Nicol David beat one of her closest friends, Tricia Chuah in a lop-sided affair. They were only on court for 19-minutes. They both train together with Liz Irving and practically grew up together on these NSC courts too.

Nicol will be the sole flag bearer of the nation from hereon, as Sharon Wee bowed out tamely to Omneya Abdel Kawy in straight games. Having made a great start in the first game, where Wee climbed back from 1-6 down to draw level, a few unforced errors gave the Egyptian her rhythm. A 12-point run saw Kawy get to two games up and the third wasnít much of a contest.

Lim Yoke Wah, playing in her biggest tournament so far, was a shadow against Vicky Botwright. The petite Malaysian was no match in every department. With her lanky figure, Botwright sent Lim to all corners of the court with relative ease and finished in just 18 minutes.


Grinhams move on too
The younger Grinham, Natalie was the first to get on the main court and she was in devastating form today against Alison Waters. The English lass had no answer to the speed and accuracy of the world number two, bowing out in 22 minutes. Rachael, meanwhile had more resistance from Egyptian Engy Kheirallah. Engy did manage to grab the first game, but Grinham's deceptive play was just too hot for her to handle in the next three.


The pair of sisters face English opponents tomorrow, Rachael against Botwright, and Natalie plays Jenny Duncalf, who had a surprisingly easy match against the hard hitting Kiwi Shelley Kitchen.

Joining the English army tomorrow also is Tania Bailey, who also had an easy encounter with Rebecca Chiu. Tania had a gallant run in last yearís edition, scalping top seed Vanessa Atkinson and Natalie Grinham en route to the final, where she then stretched Nicol David to five games, keeping the Energizer bunny on court for 85 minutes.


24-Jul:

Qualifying

results




Qualifying Finals


Alex Wan reports from KL

Engy and Kasey moves on easily

Engy Kheirallah opened play of the evening with a rather easy win over Indiaís Joshna Chinappa. The qualifying top seed needed just 17-minutes to wrap up the match, which saw very short rallies and both players throw shots at each other.

Kasey Brown followed suit in similar fashion, but taking a longer time against Hong Kongís Elise Ng. Both players play a very conventional basic game, which explains the longer match time. Engy plays Rachael Grinham, while Kasey faces Madeline Perry.

Yoke Wah stuns Line

Lim Yoke Wah scored a notable victory today to qualify for the main draw, defeating Dane Line Hansen in straight games. The lanky Dane, who won three satellite events in Kuala Lumpur this year, was bundled out in 30 minutes by the hardworking Malaysian. Limís win earned her a place against world number five Vicky Botwright tomorrow.

In an all-Malaysian battle, Delia Arnold failed in her bid to join close friend Lim in the main draw when she went down fighting against compatriot Sharon Wee, who is ranked a good 29 rungs above her. Their last meeting ended up in a five game thriller and they didnít disappoint again. This time round though, Wee dropped just a game to win her berth against Omneya Abdel Kawy.

Two each for Egypt and Pakistan, bad day for NZ

Pakistanís pair of teenagers shone in the qualifying finals today when both Yasir Butt and Farhan Mehboob made it to the main draw in similar fashion Ė upsetting higher ranked opponents, winning in 4 games and taking just under 40 minutes.

Butt beat Pakistani-born New Zealander Kashif Shuja, who is ranked a good 70 places above him, with his deceptive and accurate style of play. The cool left handed Mehboob, meanwhile, beat Egyptís Omar Abdel Aziz, who is ranks just 10 places above.

In the longest match of the day, Sherif Kamel edged out Khawaja Adil Maqbool in just under an hour. In a match full of intensity, the duo served the little crowd that had stood outside the court some spirited display. All the games were close and what better way to finish off a close match with a tie-break, the Egyptian winning 4-2.

In the last match of the evening, Egyptian teenager Tarek Momen ensured Egypt matched Pakistanís additional representation in the main draw when he beat Campbell Grayson of New Zealand in four




Men's Draw
round one results now in
Women's Draw
KL set for world's best

After a series of Satellite and Super Satellite events over the last three months, Kuala Lumpur's National Squash Centre is ready for the return of the world's best.

Nicol David, who in 2005 became the first home winner in 27 years, will be seeking a hat-trick of titles and is guaranteed fervent home support.

She is expected to resume her rivalry in the final with Natalie Grinham, who ended the world champion's 51-match unbeaten run in their last meeting in Seoul, three months ago.

In the men's event Australian Open champion Stewart Boswell is top seed, with Englishmen Lee Beachill and defending champion Adrian Grant expected to battle it out for a place in the final from the bottom half.

For the quarter-finals onward the event moves to KL's Curve Shopping Mall, one of the Malaysian capital's biggest and busiest shopping venues.

CIMB, the Kuala Lumpur headquartered bank will also be title sponsoring the new Singapore Masters event to be played at the Kallang Squash Centre.



"The three-month break was used to plan for the second half of the year. I used it to analyse what else I can do to further fine-tune my game.

"I will see how it goes during the Malaysian Open, hopefully it all comes together.

"I did not even know how many matches I had won consecutively until someone told me. I feel that itís not all about setting records, itís more about training hard and hoping for a good performance when you play against other players.

"If the unbeaten streak happens again then it will be something to look forward to. I will be ready for anything and I will continue to learn."

to the Star
Malaysian Open - Women's Event History

WINNER

RUNNER-UP

1975

Helen Chinchen (Singapore)

Glynne Wong (Malaysia)

1976

Annette Andrews (Singapore)

Glynne Wong (Malaysia)

1977

Annette Andrews (Singapore)

Rose Tablante (Philippine)

1978

Annette Andrews (Singapore)

Tracy Oh (Singapore)

1979

M Miyagishina (Japan)

B Kumari (India)

1980

Sue Paton (Singapore)

Tracy Oh (Singapore)

1981

Sue Paton (Singapore)

B Kumari (India)

1982

Sue Paton (Singapore)

M Miyagishina (Japan)

1983

Chia Chew Lan (Singapore)

Geraldine Yeo (Singapore)

1984

Lim Siok Hui (Singapore)

Barbara Hartman (Swiss)

1985

Geraldine Yeo (Singapore)

Miyuki Adachi (Japan)

1986

Lisa Opie (England)

Lucy Soutter (England)

1987

Lucy Soutter (ENG)

Alison Cummings (England)

1988

Lisa Opie (England)

Michelle Martin (Australia)

1989

-

-

1990

Lisa Opie (England)

Danielle Drady (Australia)

1991

Michelle Martin (Australia)

Cassandra Jackman (Engand)

1992

Michelle Martin (Australia)

Robyn Lambourne (Australia)

1993

Michelle Martin (Australia)

Sarah Fitz-Gerald (Australia)

1994

Michelle Martin (Australia)

Cassie Jackman (England)

1995

Liz Irving (Australia)

Michelle Martin (Australia)

1996

Sarah Fitz-Gerald (Australia)

Cassie Jackman (England)

1997

Sarah Fitz-Gerald (Australia)

Michelle Martin (Australia)

1998

-

-

1999

-

-

2000

Stephanie Brind (England)

Maha Zein (Egypt)

2001

-

-

2002

Carol Owens (New Zealand)

Rebecca Macree (England)

2003

Cassie Jackman (England)

Nicol David (Malaysia)

2004

Vanessa Atkinson (Netherlands)

Nicol David (Malaysia)

2005

Nicol Ann David (Malaysia)

Vanessa Atkinson (Netherlands)

2006

Nicol Ann David (Malaysia)

Tania Bailey (England)